A fluffy vegan vanilla cake that is soft and delicious, has a strong vanilla flavor, and a light texture, thanks to apple sauce instead of eggs and oil. Made with 6 main ingredients in under 45 minutes, this dairy free cake is perfect for any celebration.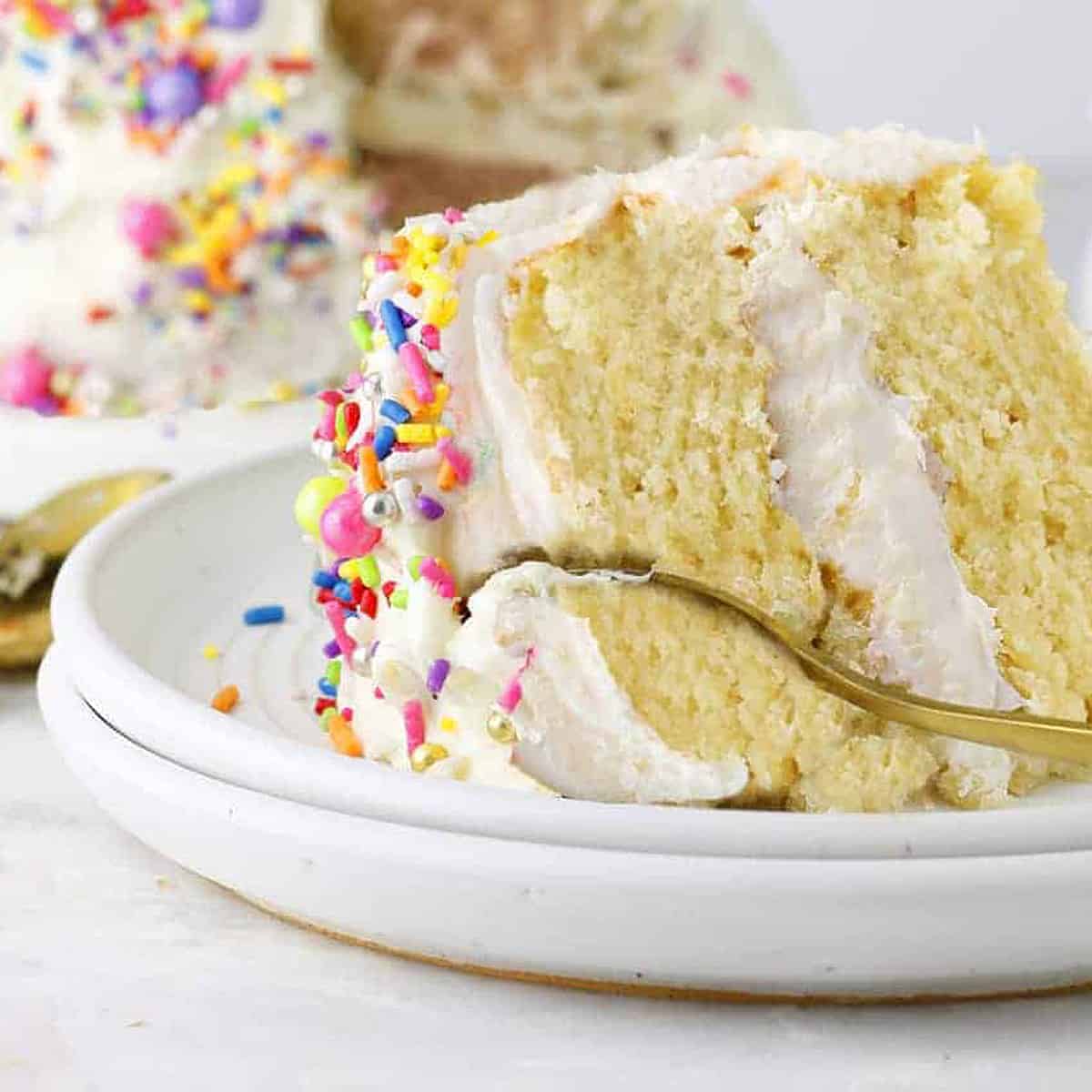 There are lots of vegan vanilla cake recipes out there, so why try mine? Because my cake is lighter than the traditional vegan cake which can be a bit heavy, and my steps are simple, flexible, and have helpful substitutions including to make it gluten free. So you can have your cake and eat it too!
I love this soft vanilla sponge cake with my bright white frosting recipe, which includes a special trick to make it white, or even with my chocolate fudge frosting, which tastes like cocoa in a frosting. It's easy to make it as a layer cake, perfect for decorating a vegan birthday cake, or a sheet cake or even mini cakes. This is my family's favorite cake and hopefully will soon become yours.
Jump to: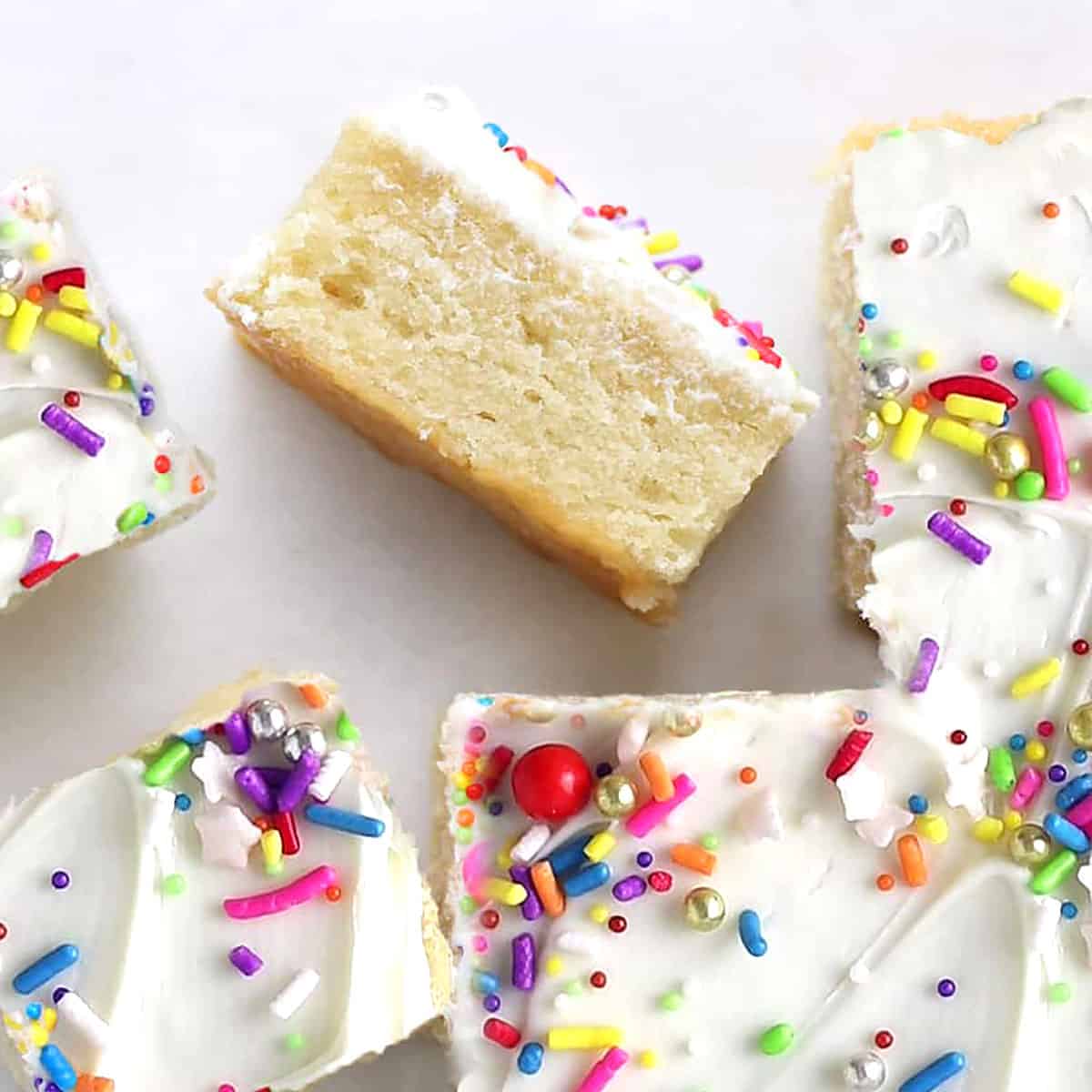 Why You'll Love This Recipe
Versatile. This fluffy vanilla cake recipe can be used for a layered cake, sheet cake, and cupcakes. You can use all purpose flour, gluten-free flour, or even oat flour though that result will be heavier.
A Lighter Crumb. I call this cake fluffy because it is thanks to the simple technique of grinding the sugar first. The use of lemon juice in milk also creates an acidic environment best for a fluffy texture.
Ingredients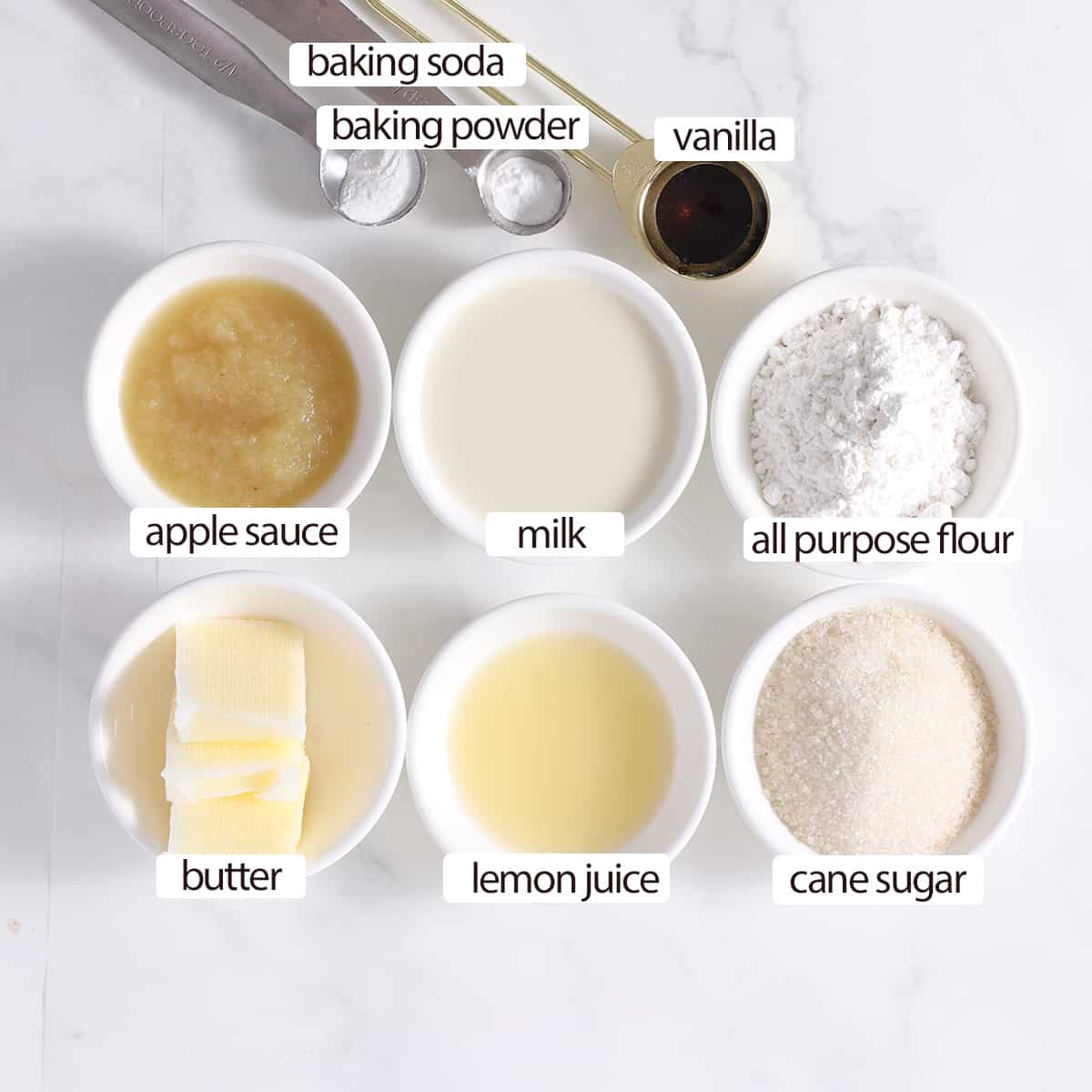 Oat flour or All Purpose flour - both work well but have different measurements. (Oat flour needs 3 cups, while AP flour needs 2 ½ cups). Oat flour is naturally gluten-free; but if your cake needs to be gluten-free be careful to choose a brand that sports a certified GF seal. The cake made with oat flour will have a heavier texture.
Cane Sugar - This recipe tastes sweet so you can consider reducing the sugar by ¼ cup if less sweet is more ideal for you. See steps for instructions about grinding it for a lighter cake texture. I recommend using organic cane sugar if you can because it tastes better.
Butter - Use Earth Balance or Miyokos brands, or your favorite vegan butter. Use the stick version, not the whipped that comes in a tub.
Apple Sauce - I use unsweetened. This replaces eggs and oil.
Vanilla - I use a high quality version because the vanilla flavor is important in this vanilla cake.
Leaveners - baking soda, baking powder, and lemon-juice-activated milk.
See the recipe card at the bottom for full information on ingredients and quantities.
Substitutions
Flour. You can use oat flour instead of all purpose, but use more, 3 cups instead of 2 ½ cups. Gluten free baking flour also works.
Lemon juice. You can use apple cider vinegar or white vinegar instead of lemon juice to curdle the milk into buttermilk.
Apple sauce. Instead of apple sauce, you can use ⅓ cup of aquafaba, the liquid from a can of unsalted chickpeas. Whisk the liquid, and make sure it is at room temperature, before adding it to the batter as you would the apple sauce.
Step by Step Instructions
For more detail, visit the complete recipe at the bottom of this post, but here are general steps.
Preparation
1. Grind your sugar. A key step in this recipe is to grind your cane sugar for 5 seconds in a blender or food processor. This gives your sugar a finer texture and the sugar the ability to melt faster, softening the cake texture. Do not use powdered sugar.
2. Stir lemon juice into your milk and set aside.
3. Melt butter in microwave for 10 seconds.
4.Prep your pans. Butter and dust with flour the cake pans. I used 2 (6-inch round pans here) or use 7-inch round cake pans, or a square pan.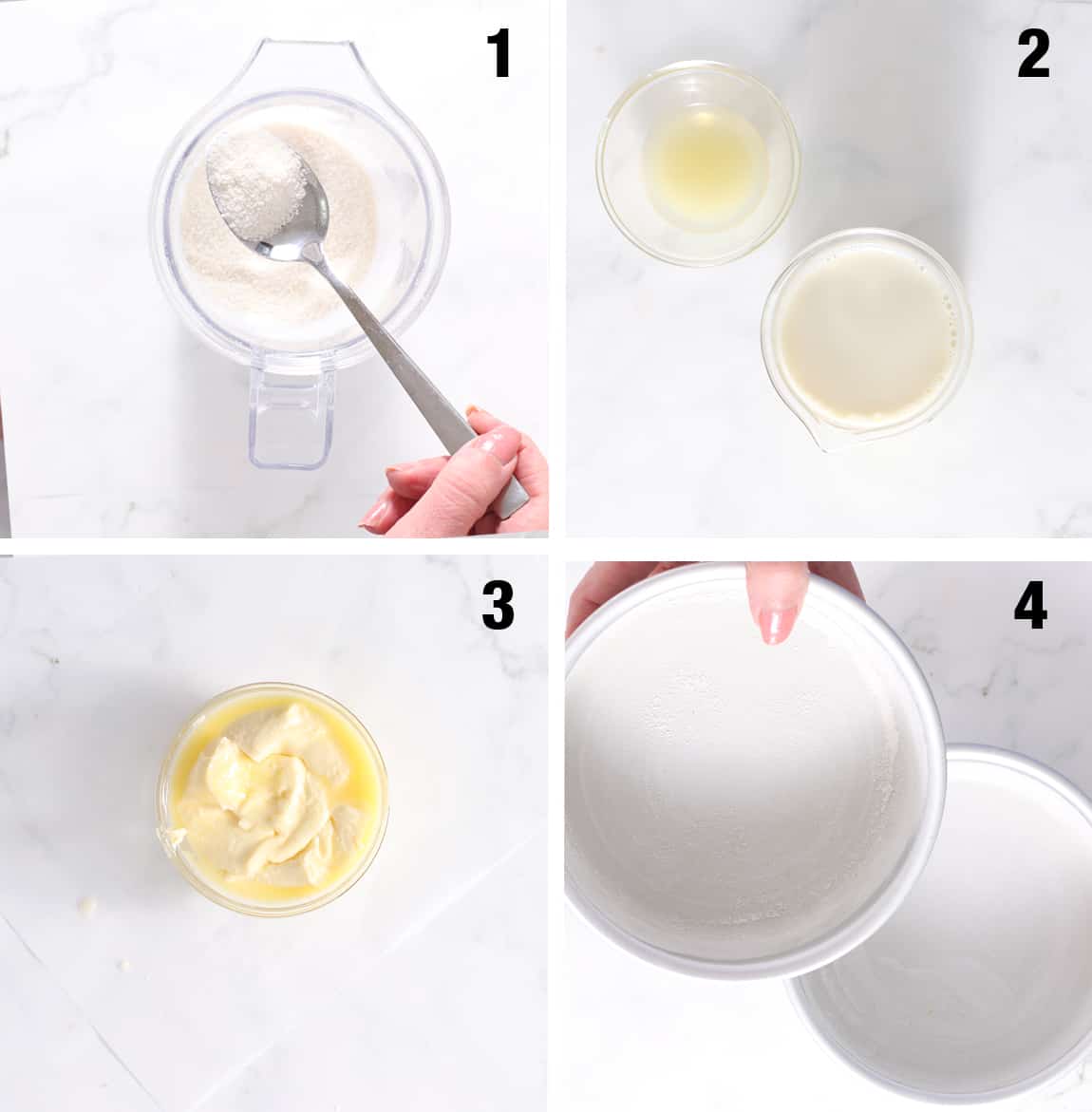 Make The Cake
Step 1. Add sugar, the lemon and milk mixture, apple sauce and vanilla to a bowl.
Step 2. Mix with a spoon or mixer until the sugar is dissolved. Press your spoon against the side of the bowl to gauge the crunch. You can't over mix this step, you want the sugar to dissolve.
Step 3. Add the melted butter and mix again.
Step 4. Whisk up the dry ingredients and add them to the wet ingredients.
Step 5. Mix the batter until combined, only 30 seconds or until the flour has disappeared. Don't overmix or the texture of the cake could turn rubbery.
Step 6. Divide the batter evenly between the two cake layer pans.
Step 7. Tap the pans to remove air bubbles.
Step 8. Bake for 30-35 minutes or until a tester is clean. Cool, and frost!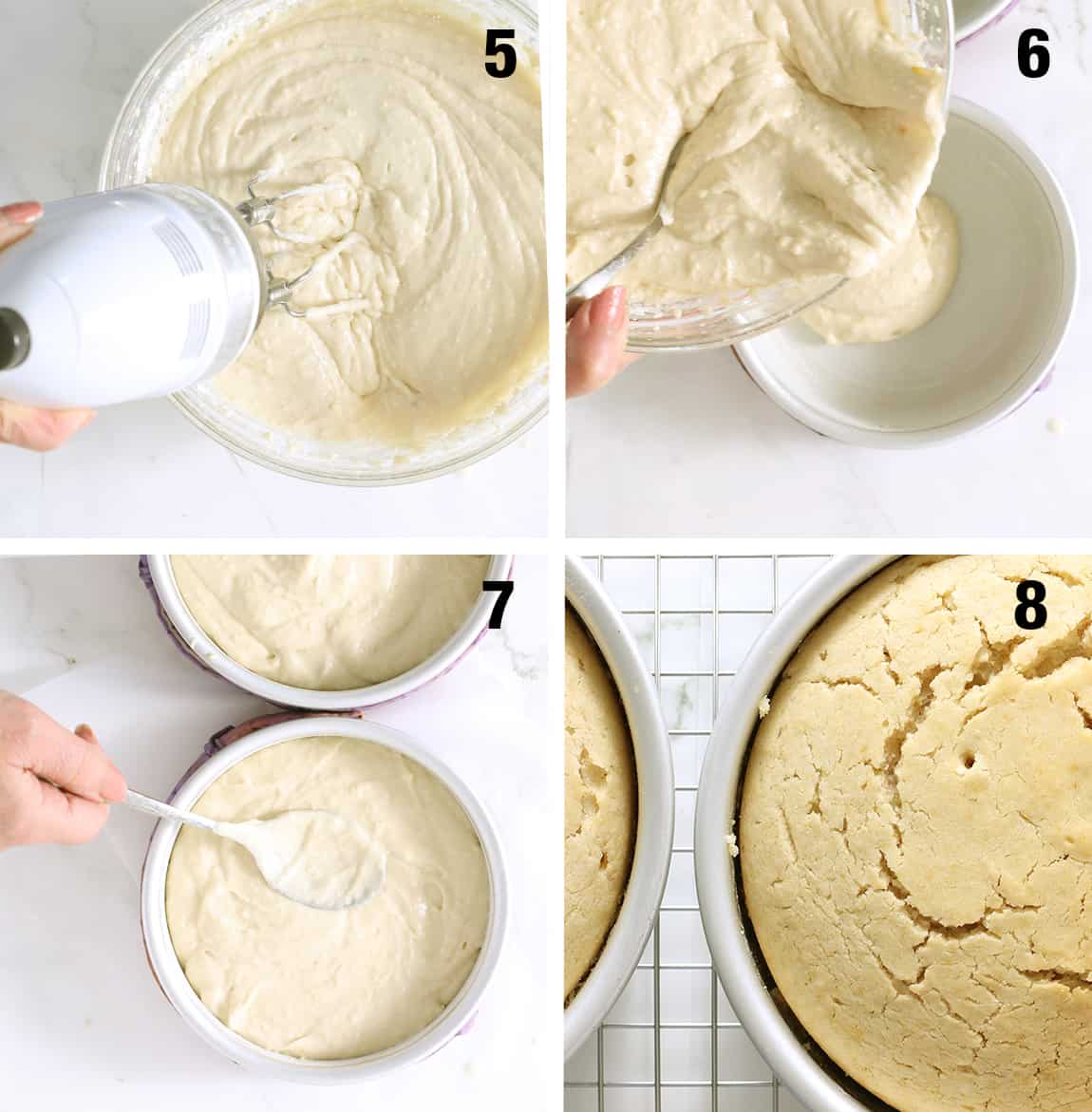 Recipe Tips
1. Grind your cane sugar for no more than 5 seconds in your blender or food processor. It will still be granulated; it will not be a powder, just smaller granules. If you choose to not grind your sugar first, then stir your wet ingredients longer to allow the sugar more time to dissolve. Do not use powdered sugar.
2. Test your baking powder and soda to be sure they are active or buy fresh. Scroll down to see how to test.
3. Add lemon juice to milk at least 5 minutes before mixing. This creates a buttermilk that gives the batter an acidic environment that will lead to a fluffy cake texture. When baking soda encounters an acid it kicks off a chemical reaction that produces a carbon dioxide gas that causes food molecules to expand, creating a light and fluffy texture.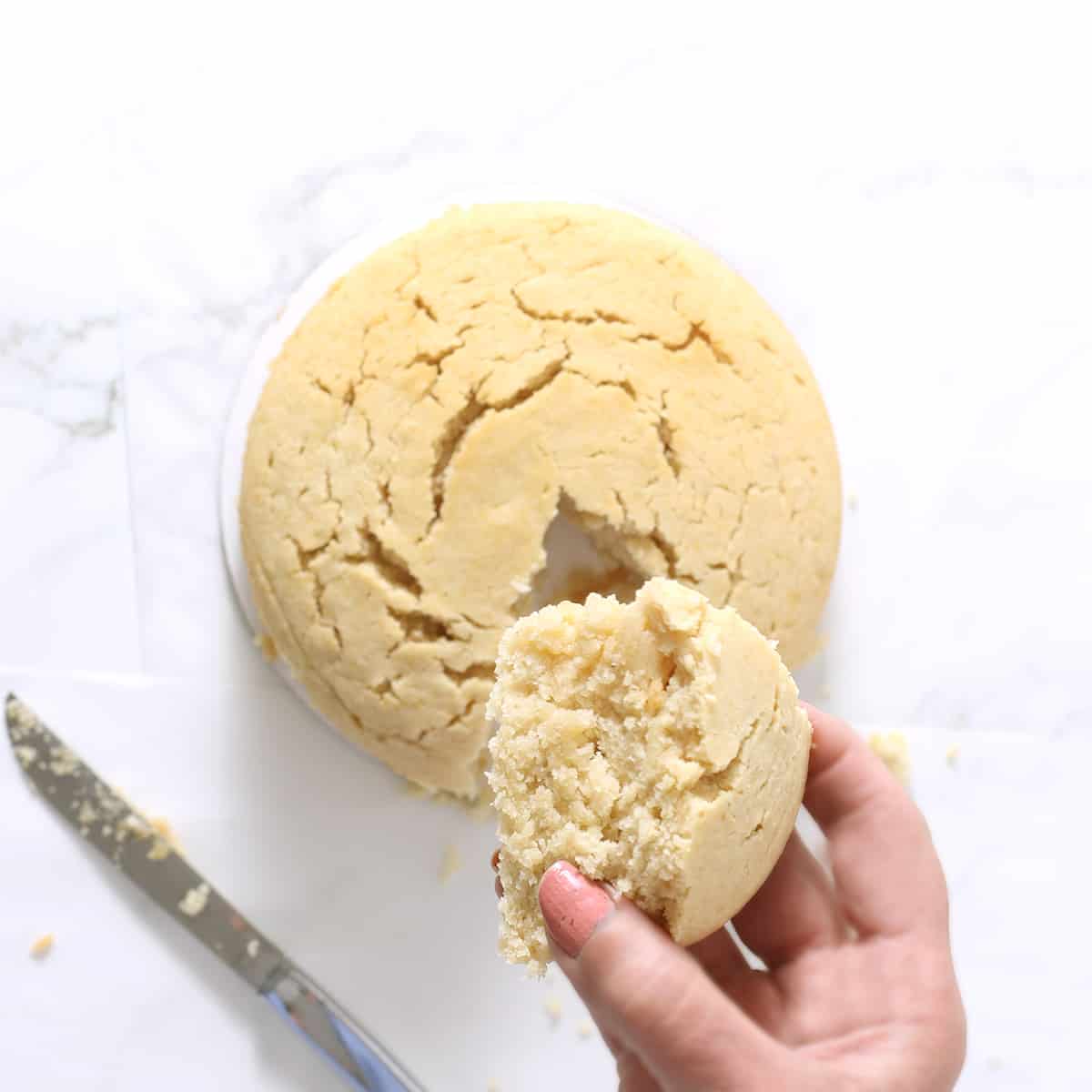 Storage & Make Ahead
Storage. This fresh vegan cake can last moist and fresh 3 days at room temperature in a sealed container whether frosted or not. After that, in a sealed container, the cake will last a week refrigerated. The texture will begin to dry however as the days go on.
Make Ahead. This cake can be baked 2 days ahead of time. Let each layer cool completely and then wrap in cling wrap and store in the refrigerator. Remove after two days, frost and serve.
Variations
Lemon flavor. You can make my lemon cupcakes here, or give this cake a hint of lemon flavor by adding 3 tablespoons of lemon zest and 1 tablespoon of lemon juice to the batter, removing 1 tablespoon of apple sauce.
Chocolate chip cake. Add ½ cup of mini chocolate chips to the batter before pouring batter into the pans. Frost with my vegan buttercream with mini chocolate chips added.
Strawberry shortcake. To turn this cake into a strawberry shortcake, simply wash 3 cups of fresh strawberries, slice them thinly and layer them on the first layer before spreading a white frosting, then add the top cake layer and layer that with a layer of sliced strawberries.
Test Baking Powder And Baking Soda
You should test them both periodically or buy new. It's a smart move because if either the soda or powder is inactive, your recipe will not rise.
To test baking powder, add ¼ teaspoon to a ¼ cup of boiling water and watch for a foamy, fizz reaction. If you get no reaction, your baking powder needs to be replaced.
To test baking soda, add ¼ teaspoon to a ¼ cup of room temperature white vinegar and watch for a foamy, fizz reaction. If you get no reaction, your baking soda needs to be replaced.
FAQS
What Makes Vegan Cakes Fluffy?
To make your vegan cake fluffy, be sure to mix the sugar and wet ingredients thoroughly first to be sure the sugar dissolves. That is one key step to a fluffy vegan cake.
How is Vegan Cake Different from Regular Cake?
A cake is vegan because the ingredients are not from an animal. That means no eggs. I also make my cakes without oil, using apple sauce or vegetable purees like pumpkin or sweet potato or beets instead. Check out my chocolate fudge cake here for an example of a chocolate vegan cake.
Is There a Vegan Cake Mix?
I think there are a few specialty boxed vegan cake mixes now. Some commercial cake mixes can be made vegan if you don't use eggs as they instruct, and instead use egg substitutes such as apple sauce, flax eggs or aquafaba. You'd have to check the box ingredients however to be sure there are none that are milk-based.
Why are Vegan Cakes so Dense?
Often vegan cakes end up dense because of the lack of eggs. I replace the eggs with milk curdled with lemon juice and with applesauce. Both react with baking soda to provide lift.
Why Does My Vegan Cake Fall Apart?
A vegan cake can fall apart if the moisture balance is off, and that can come from mis-measured flour. You can measure flour accurately with a scale, or by the spoon method. Loosen the flour in the bag with a fork. Then spoon it carefully into a measuring cups, and tap to level.
Other Healthy Cake Recipes
If you tried this recipe or any other recipe on my website, please leave a 🌟 star rating and let me know how it went in the 📝 comments below. Thanks for visiting!
📖 Recipe
Fluffy Vanilla Vegan Cake
A fluffy vegan vanilla cake that is soft and delicious, has a strong vanilla flavor, and a light texture thanks to applesauce instead of eggs and oil. Made with 6 main ingredients in under 45 minutes, this dairy free cake is perfect for any celebration.
Ingredients
Wet Ingredients
6

tablespoon

unsweetened applesauce

¾

cup

butter

Earth balance or Miyokos vegan butter in sticks

1

cup

dairy free milk**

1

tablespoon

lemon juice

3

teaspoon

vanilla extract***
Instructions
Prep
All ingredients need to be a room temperature

Add the lemon juice to the milk at least 5 minutes before baking.

1 tablespoon lemon juice,

1 cup dairy free milk**

Grind your cane sugar in a blender or food processor for about 5 seconds. You will see powder on the sides of the container, the texture will be a smaller grain but still granulated - don't process into a powder. Do not substitute with commercial powdered sugar.

Line baking containers with parchment and/or grease and flour. I used 2 (6-inch round pans) but you can use 7-inch round cake pans or 1 (8-inch) square pan. Or add to 12 -18 cupcake liners.
Mix Wet Ingredients + Sugar
Add applesauce, milk, vanilla and sugar to a large mixing bowl and stir with a spoon or mixer for several minutes. This step is key to dissolving the sugar.

6 tablespoon unsweetened applesauce,

1 cup dairy free milk**,

1 tablespoon lemon juice,

3 teaspoon vanilla extract***,

1 cup organic cane sugar

Melt the room temperature butter sticks for 10 seconds in the microwave, and add that the wet ingredients. Use the mixer to combined.
Add in Dry Ingredients
Add dry ingredients to wet mixture and use a hand mixer to just combine batter.

2 ½ cups all purpose flour*,

1 teaspoon baking powder,

½ teaspoon baking soda,

¼ teaspoon salt
Bake
Pour the batter into your pans of choice.

Bake 6-inch or 7-inch layers cakes at 30-35 minutes or until a tester comes out clean.

Bake cupcakes at 20 minutes each. This recipe makes 12-18.
Cooling & Storage
Cool in the pan for 10 minutes, then remove and cool on a rack. Then frost.

Cake can be refrigerated for 48 hours but then freeze after that or else texture will become crumbly.
Notes
Grind your cane sugar no more than 5 seconds. Do not use powdered sugar.
*Flour options. Use 2 ½ cups of all purpose or a gluten-free baking flour, or use 3 cups of oat flour.
**Use a high fat milk

such as almond or cashew milk.
***Use a quality vanilla, vanilla paste if possible for a strong vanilla flavor in this vanilla cake.
Nutrition
Calories:
401
kcal
Carbohydrates:
58
g
Protein:
5
g
Fat:
18
g
Saturated Fat:
11
g
Polyunsaturated Fat:
1
g
Monounsaturated Fat:
5
g
Trans Fat:
1
g
Cholesterol:
46
mg
Sodium:
294
mg
Potassium:
160
mg
Fiber:
1
g
Sugar:
27
g
Vitamin A:
651
IU
Vitamin C:
3
mg
Calcium:
75
mg
Iron:
2
mg