Soft spicy vegan gingerbread cookies made with pumpkin puree! No oil, No eggs! This cookie is healthier and easier than the traditional recipe, made with pantry ingredients, egg-free, refined-sugar-free, vegan, paleo and gluten-free! Cut into gingerbread person shapes or spoon to bake round cookies.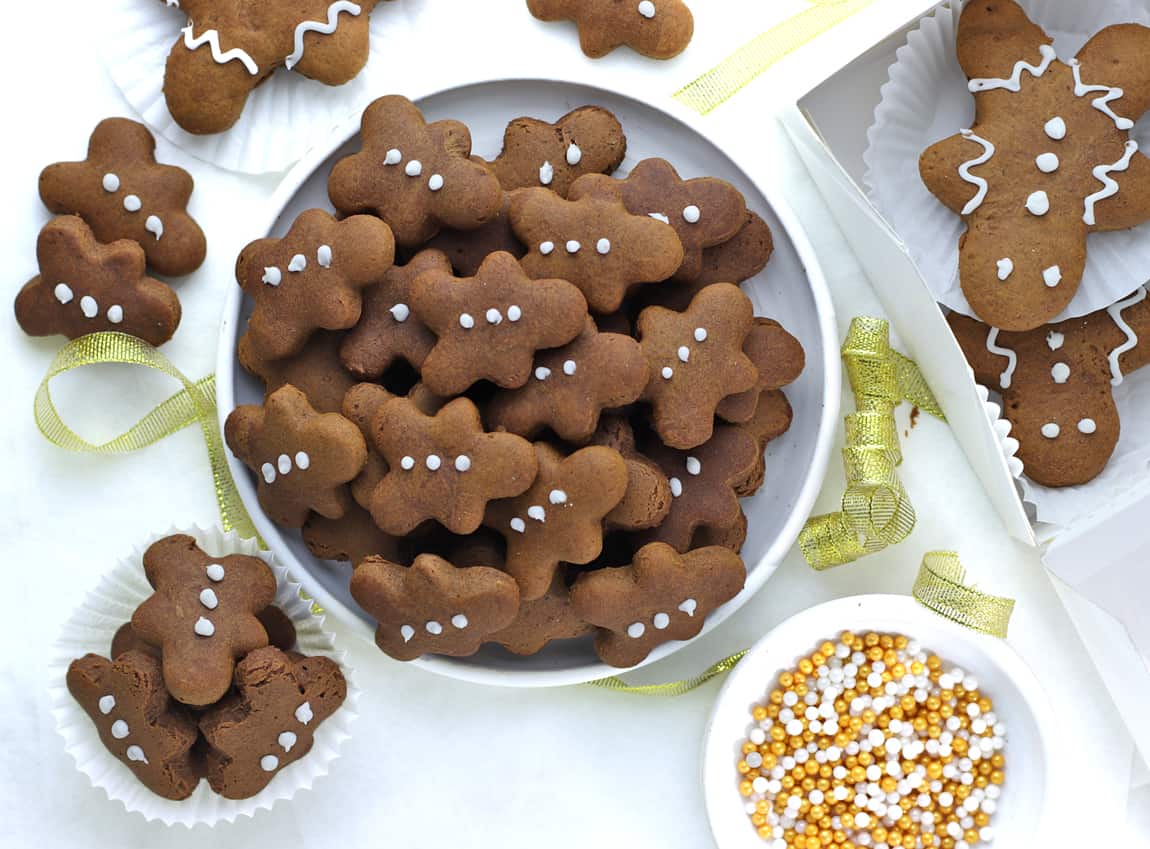 Vegan Gingerbread Cookies
Vegan gingerbread cookie recipe that uses a secret ingredient, FRESH ginger! So delicious and healthy. Most recipes use only powdered or ground ginger, but fresh ginger brings a zing to your healthy gingerbread cookie that can't be beat. And this recipe is easy - only 5 ingredients plus flour and spices.
Also try my vegan royal icing on these cookies.
Not only does this recipe call for fresh ginger, it also uses a veggie puree - specifically pumpkin - instead of eggs and oil. AND maple syrup instead of refined sugar.
The result is delicious soft spicy gingerbread flavors. Top with my easy vegan royal icing for a festive holiday finish and a bit more sweetness.
Should Vegan Gingerbread Cookies Be Hard or Soft?
In general gingerbread cookies are hand cakes so they should certainly be soft to bite into. And yet sturdy enough to hold the shape of a gingerbread person. Am I right?
My recipe does this perfectly. The pumpkin puree helps give the cookie structure while the puree helps keep the texture soft.
What Are The Ingredients of Gingerbread?
Basic gingerbread is made with flour, molasses and spices. Lots of recipes use eggs but not so with this vegan gingerbread cookie recipe. And I also left off the oil. A healthy veggie puree replaces eggs and oil perfectly.
I used pumpkin puree but sweet potato puree and butternut squash puree are easy to buy and use here as well. Or make it fresh.
How Healthy Are My Vegan Gingerbread Cookie Ingredients?
My vegan gingerbread cookies are super healthy. I will list the basic ingredients here along with their purpose and nutritional contribution:
Molasses - Full of flavor and essential minerals, including tons of calcium, magnesium, and iron.
Pumpkin puree - I use canned but fresh is fine if it is pureed smooth. This replaces egg and oil in these delicious cookies and provides fiber and tons of vitamin A which boosts your immune system.
Fresh ginger - Just a bit for flavor, although if you want to add more, do so! If you are using the juice that's added liquid so replace the same amount of the milk in the recipe.
Ginger spices - I have a four holiday spice recipes here and one is gingerbread. Or just buy a commercial gingerbread spice or use the select few individual spices listed in the recipe.
Flour - I used all purpose gluten free flour (red bag by Bob's Red Mill) but BRM blue GF bakin flour is also fine, and of course if you don't need gluten-free, regular all purpose flour is also fine.
The remaining ingredients are dairy-free milk (I used almond milk), baking powder, baking soda, and salt. The baking powder and baking soda amounts are small enough to make the cookies be airy and rise only a tiny bit. These cookies are soft, but cut outs do not spread and keep their shape.
How Do You Make Vegan Gingerbread Cookies From Scratch?
Easy! Just blend the wet ingredients - maple syrup, pumpkin puree, molasses, milk and add to that sifted dry ingredients - flour, baking powder, baking soda, salt and gingerbread spices.
Roll 2-inch balls and bake or roll dough flat between two pieces of parchment and cut out shapes.
If the dough is sticking to the cookie cutters, chill it rolled out and flattened in the freezer for 15-20 minutes and then cut with cookie cutters.
Either way, line a cookie sheet with parchment paper and bake at 350 F for 10 minutes. These cookies are not that sweet - more deeply spicy - so it's best to use a sweet icing on them.
I used my vegan royal icing that is so easy to make, also without eggs. Cooking without eggs is not only a joy because of the cruelty-free factor, but also because there is no risk of salmonella on your counter and in your sink from raw eggs!(win!).
Which Molasses is Best for Healthy Gingerbread Cookies?
I used unsulphured original molasses . It's rich in calcium, magnesium and B vitamins so it's great for thinking, sleeping and anxiety.
Tips to Make Perfect Vegan Gingerbread Cookies
These cookies are EASY to make but here are some tips and tricks to help you out.
1. If you intend to roll them out, make sure you have parchment paper on hand. You don't need the mess of flour if you simply put the dough between two sheets of parchment paper. I use quarter-sized cookie sheets so I keep 10x16 inch parchment paper on hand ALWAYS for all sorts of recipes.
2. The dough does not have to be chilled unless you are having trouble using cookie cutters. If it tends to stick to your cookie cutter, set the rolled out dough in the freezer for 15 minutes and try to cut again. You can either cut out cookies and lift and put them onto a parchment-lined cookie sheet or you can cut out cookies directly on a parchment-lined cookie sheet and use a tooth pick to pull away dough that is between the cookies.
3. Bake the cookies for exactly 10 minutes - no more or less.
4. Don't try to check on them, you can't tell if they are done by looking. 10 minutes baking time should be exactly enough time.
5. Don't frost them until they are cool. I'd say about 30 minutes after baking.
6. Store these cookies at room temperature but in a sealed container for 4 days. After that refrigerate or freeze, although they will dry out. They are best for 4 days after baking. The dough can be frozen for three months however.
What is The Best Icing for Gingerbread Cookies?
Why I am so glad you asked. My very own vegan royal icing is the answer. My vegan royal icing is so simple, and of course no eggs are involved.
I provide the basic recipe here but if you want a more detailed recipe, visit my vegan royal icing recipe post here. I give you explanations and troubleshooting and substitutions galore.
Can You Add Chocolate to Vegan Gingerbread Cookies?
I would say you can add chocolate to anything, so I am sure this recipe can be adjusted to become a chocolate gingerbread cookie. Let me know on IG or by commenting if you do that! And I'll update this post here when I try that too.
Other Holiday Cookie Recipes You Might Love
7 Vegan Holiday Cookie Recipes
Molasses Hermit Cookies
2-Ingredient Sugar Cookies
Healthy M&M Cookies
Healthy Samoa Cookies
Healthy Milano Cookies
I invite you to keep up with me on: Facebook | Pinterest | Instagram | Twitter
Don't miss a thing, subscribe here to get recipes delivered to your inbox!
If you try my recipes, please leave a comment and rating below and tag me on your Instagram post with @greensmoothiegourmet so I can see and share your remakes!!
Healthy Vegan Gingerbread Cookies
Soft spicy vegan gingerbread cookies made with fresh ginger and pumpkin puree! This cookie is healthier and easier than the traditional recipe, made with pantry ingredients, egg-free, refined-sugar-free, vegan, paleo and gluten-free! Cut into shapes or spoon to bake rounds.
Ingredients
Wet
½

cup

maple syrup

⅓

cup

pumpkin puree

¼

cup

molasses

original or blackstrap

¼

cup

dairy-free milk

1

tsp

fresh ginger puree

or 2 tbsp fresh ginger juice, replacing 2 tbsp of milk
Dry
2 ¾

cups

all purpose flour

I use GF all purpose flour

½

teaspoon

baking powder

½

teaspoon

baking soda

½

teaspoon

salt

1 ½

teaspoons

ground ginger

½

teaspoon

ground cinnamon

½

teaspoon

ground cloves

½

teaspoon

ground nutmeg
Vegan Royal Icing
4

tbsp

aquafaba (liquid from a chickpea can)

3

cups

organic powdered sugar

(vegan means no bone-char)

1

tsp

glycerine

(optional, but keeps frosting from yellowing after a few days)
Instructions
Prep
Line two cookie sheets with parchment paper.

Peel and chop three inches of ginger. Push chopped ginger through a garlic press and preserve the pulp and liquid that you squeeze through. It will be about 1 tsp, enough to spark up your cookie flavor. If you want a more potent ginger flavor, you could also add commercial ginger juice. I use this brand for homemade shots. To this recipe, I would add about 2 tbsp and remove 2 tbsp from the milk.
Make gingerbread cookies
In a large mixing bowl, mix the liquid ingredients together using a spoon, maple syrup, pumpkin puree, molasses and milk.

Place a sieve over the mixing bowl and to it add the flour, baking powder, baking soda, salt and spices.

I have a Gingerbread spice collection so I added 1 ½ tbsp of that. If you don't, you can make one by using my gingerbread spice recipe here, or just add 2 tsp ground ginger (Yes, even with fresh ginger, we need ground ginger), 1 tbsp cinnamon, and ½ tsp each of cloves and nutmeg.

Shake the sieve or tap the side of it or run a spoon around the flour mixture to send it through the sieve.

Use a spoon or hand-mixer to mix up the dough. It will be sticky dough.
Bake gingerbread cookies
You have two choices now.

You can either roll 2-inch balls and press them into rows of the cookie sheet or you can roll the dough out to use a cookie cutter. If you press them into balls, sprinkle them with sparkling sugar and press a bit to help the sugar stick.

To roll out the dough, I used quarter cookie sheets, so I needed to divide the batter into two, one portion for each pan.

Press the dough flat between two sheets of parchment using a rolling pin. No flour is needed if you use parchment paper or even foil or plastic wrap.

Cut out your shape and lay them on a parchment-lined cookie sheet about ½ inch apart. The cookies won't spread while baking.

Bake for 10 minutes exactly.

Remove pans, let cookies cool in the pan for 10 minutes, then transfer to a cooling rack and allow to cool completely before decorating. I kept my decorating simple but the dough isn't that sweet so I'd advice frosting them more for children.

For adults, they are perfect with tea and so very healthy, the perfect energizing treat.
Store gingerbread cookies
Store these cookies in a container at room temperature for 4 days, and for 1 month refrigerated or longer if frozen.
Nutrition
Calories:
56
kcal
Carbohydrates:
12
g
Protein:
1
g
Fat:
1
g
Saturated Fat:
1
g
Sodium:
50
mg
Potassium:
68
mg
Fiber:
1
g
Sugar:
5
g
Vitamin A:
359
IU
Vitamin C:
1
mg
Calcium:
16
mg
Iron:
1
mg