Ginger shots blender recipe! My shot recipe can be made in five minutes and for pennies! This detox wellness shot of fresh ginger, lemon, water and pepper can boost your immunity, metabolism, energy, mood and more.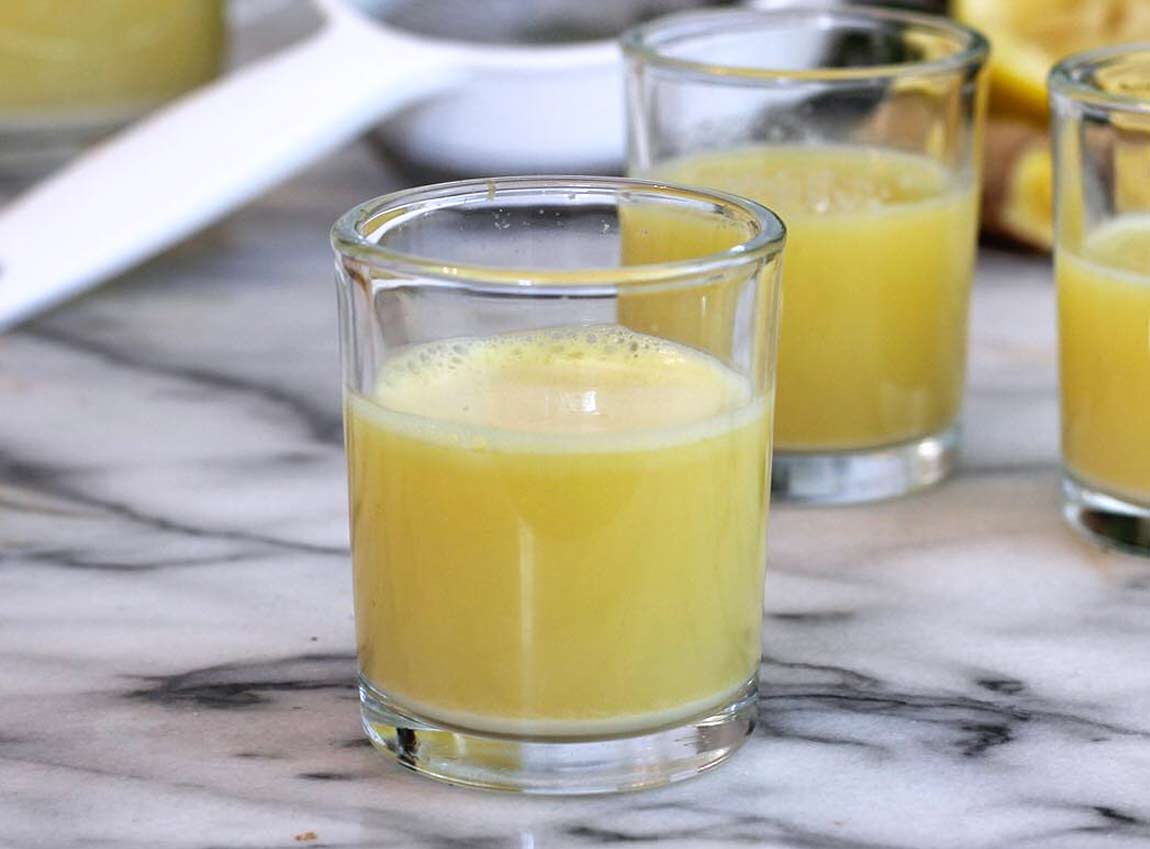 Ginger Lemon Blender Shot! Without a juicer! Sometimes there IS a quick fix!
Ginger lemon blender shot recipe. My powerful detox recipe can be created using a blender, no juicer necessary. In fact, my recipe is so easy it's featured on Wikihow.
So perhaps I've convinced you to try my easy recipe, but now you want to know why would you want to take this daily? So many reasons, including immunity, detox, even weight-control.
Ginger Shot Benefits
Studies show that ginger shots boost immunity, detox, clear mysterious issues to skin, support muscles, assist digestion, help with nausea, are an anti-inflammatory, cleanse, and provide antioxidants. [source] [source]
Specifically the benefits of ginger shots include:
Boost immunity
Improve your mood instantly
Calm stomach aches
Fight colds and infections
Energize your workout
Support weight loss by triggering metabolism
Regulate blood sugar
Help lower blood pressure
And you probably have seen these shots ready-made at the grocery store, right? Whole Foods and other grocery stores stock ginger-lemon shots by brands like KOR and JUS. But they are expensive - $3 at least for two ounces.
Made at home in your blender, your shots will cost a fraction of that, even if you add in the optional cayenne pepper and coconut water.
How to Make Ginger Shots in a Blender
It's really easy to make ginger shots in a blender.
Read my complete recipe below and watch my video for a step by step but here are the general steps:
Step 1. Wash fresh ginger knobs, and and chop them roughly.
Step 2. Juice 4 lemons to achieve about ½ cup of lemon juice. Or use bottled organic pure lemon juice.
Step 3. Blend the chopped ginger, lemon juice, water and pepper.
Step 4. Pour the mixture into a strainer, and press until the remaining pulp is fairly dry.
Step 5. The captured liquid is your shots! Drink half and refrigerate the other half for tomorrow.
Is Ginger Really Healthy?
Yes! Ginger, one of the most common ingredients worldwide, has long been used to solve medical issues, ranging from colds to hypertension. An NIH recent study on ginger says that in recent years the root has gained popularity - and rightly so - for its preventative and detox strengths.
And let's not forget the lemon. This bright citrus fruit kicks up your immune system as well and your vitamin C levels to lofty heights!
And both energize you! Easy to make, try it daily - before breakfast - especially in the winter months to boost immunity. But also try it as an afternoon pick-me-up. One of these shots at 3pm wakens my brain much faster than chocolate.(ok but I still love chocolate)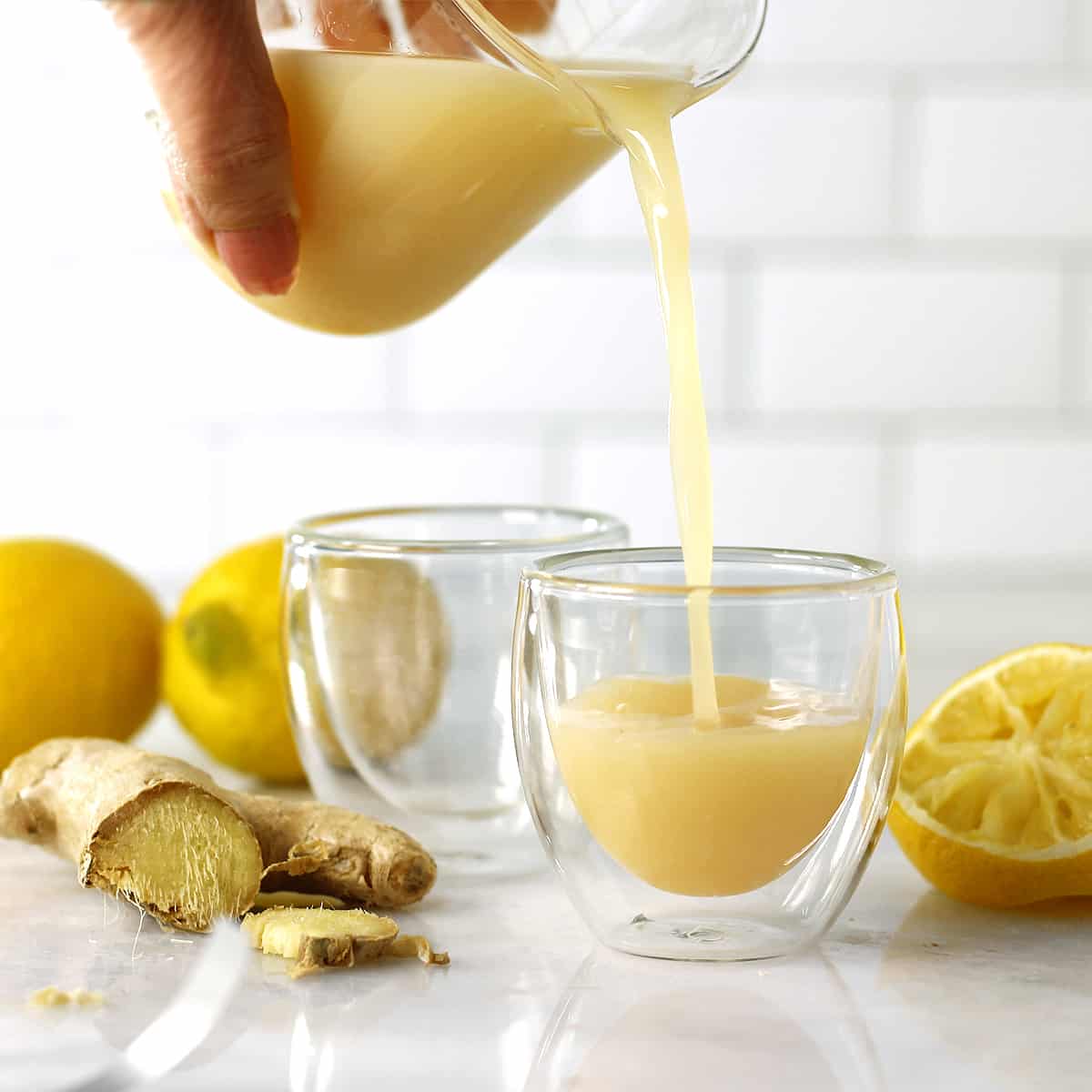 What Makes Ginger Burn?
I know what you might be thinking. Isn't ginger is a bit burny going down? Yep, a bit, but not quite like chili peppers. If you want, chase down your shot with a glass of water, or even drink it diluted in an entire glass of water if that feels better.
Why is ginger so hot? It holds a substance called "gingerol" and yes, that is hot, but much less hot than the capsaicin found in searing chili peppers, according to the Royal Society of Chemistry. Plus the bright taste of lemon actually smooths the edge. I hope you give this recipe a try!
Power it: Add Cayenne Pepper and Coconut Water
Add a pinch of cayenne pepper and use unsweetened coconut water to power up this recipe of ginger-lemon!
Cayenne pepper is known to boost metabolism, reduce hunger and even support digestive health. Meanwhile coconut water - unsweetened, fresh from the coconut version - is loaded with important nutrients that are often short in the average diet of today.
Here are More Detox Recipes to Try:

I invite you to keep up with me on: Facebook | Pinterest | Instagram | Food Gawker | Twitter
Don't miss a thing, subscribe here to get recipes delivered to your inbox!
Ginger Shots Blender Recipe - Sometimes there IS a quick fix!
Make a ginger lemon blender shot easily and for pennies! This detox wellness shot of fresh ginger, lemon, water and pepper can boost your immunity, metabolism, energy, mood and more. The resulting ½ cup of ginger-lemon recipe makes 2 wellness shots. Watch my step by step VIDEO in this post!
Ingredients
Ginger Shot
½

cup

fresh ginger knobs

(wash, chopped; find in produce section)

½

cup

lemon juice

(squeezing 3-4 lemons should produce about ½ cup juice OR use organic bottled juice)

¼

cup

water

(or use coconut water)

⅛

tsp

ground cayenne pepper

(o ground black pepper)
Instructions
Prep
Wash and chop fresh ginger into chunks, just small enough to blend.

Squeeze 4 lemons to gather ½ cup of lemon juice, or measuring it out from a bottle of pure organic lemon juice.
Blend
Add all ingredients to a blender

Blend up the chopped ginger, lemon juice, water and pepper.
Press Mixture
Pour the blended mixture through a strainer into a measuring cup.

Push the mixture through a strainer until the pulp is fairly dry and you have captured most of the juice from the blended mixture.
Pour the Juice
Pour out the liquid into two glasses and drink one ginger shot and refrigerate the other for tomorrow.
Storage
This recipe makes about ½ cup. It can be stored in the refrigerator for a week but declines in potency with each day.
Nutrition
Calories:
33
kcal
Carbohydrates:
9
g
Protein:
1
g
Fat:
1
g
Saturated Fat:
1
g
Polyunsaturated Fat:
1
g
Monounsaturated Fat:
1
g
Sodium:
5
mg
Potassium:
165
mg
Fiber:
1
g
Sugar:
2
g
Vitamin A:
56
IU
Vitamin C:
25
mg
Calcium:
9
mg
Iron:
1
mg