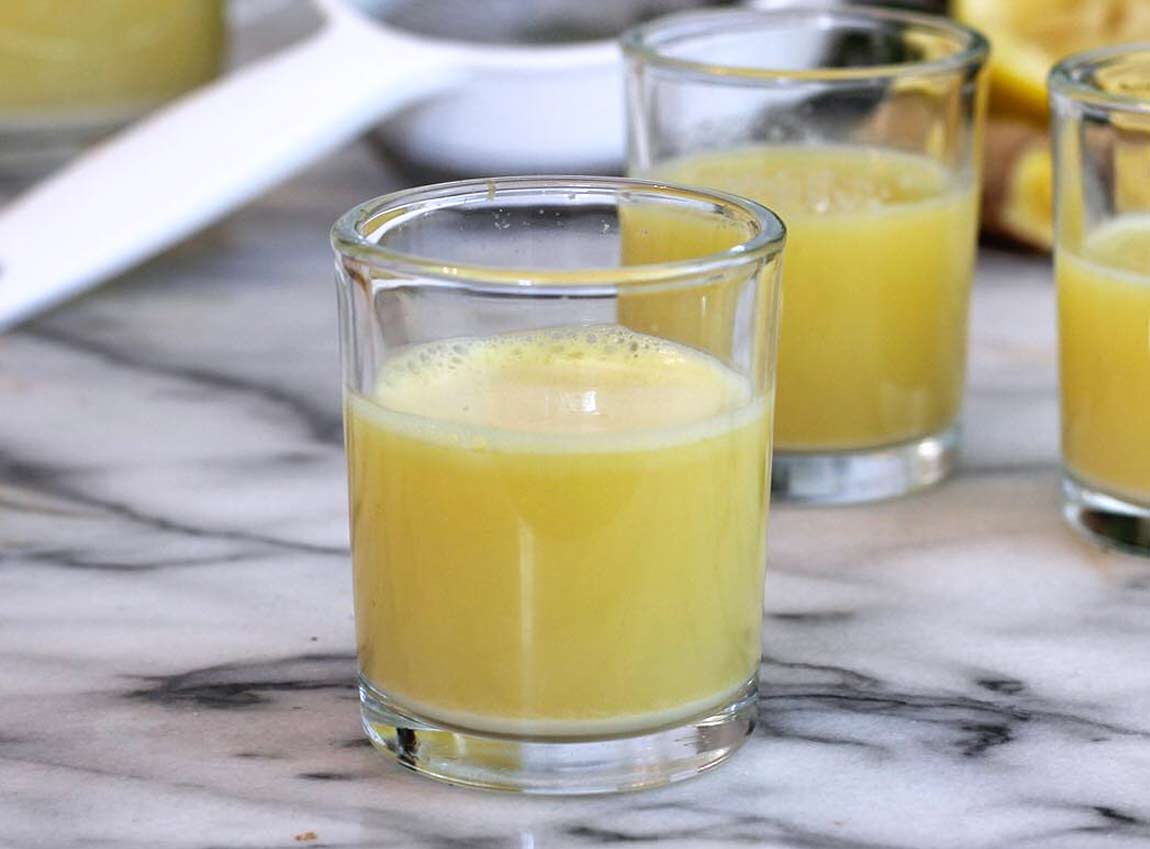 Ginger-Lemon Shots! Without a  juicer! Sometimes there IS a quick fix!
This lovely combo can be created using a blender, no juicer necessary.
This is the famous shot that many say clears mysterious issues to skin, muscles, digestion and more.
Specifically, the ginger helps digestion and boosts your immunity to awesome levels. Also helps with nausea, is an anti-inflammatory, cleanses, detoxes and provides antioxidants.
Lemon kicks up your immune system as well and your vitamin C levels to lofty heights! And both energize you!Easy to make, try it daily – before breakfast – especially in the winter months.
Too burny on your throat? That's because ginger has capsaicin, the same found in hot chili peppers. If you want, chase down your shot with a glass of water, or even drink it diluted in an entire glass of water if that feels better.
If you liked this quick-fix shot recipe, here are are few more to try:
Enjoy!

Ginger-Lemon Shots Blender Recipe - Sometimes there IS a quick fix!
Ingredients
Ginger Shot
1/4

cup

fresh raw ginger knobs

peeled - use a spoon as per Jamie Oliver, chopped

1/2

cup

lemon juice

squeezing 4-6 lemons should produce about 1/2 cup juice
Instructions
Preparing Ginger (3 ways)
There are three ways to prepare the ginger for the recipe, depending on how strong you want the ginger flavor. I have listed methods below starting with least strong ginger flavor to strongest.

FIRST METHOD: Using the edge of a spoon, you can scrap away the skin from the chunks of ginger (doesn't have to be perfectly clear of skin), chop the ginger into rough chunks, and then press each chunk through a garlic press (see equipment list above) and put ONLY the resulting juice in the blender. There won't be much juice per chunk, so this option is least burny.


SECOND METHOD: You can follow procedure above and toss BOTH juice and pulp from garlic press action into the blender.


THIRD METHOD: You can wash the ginger, chop it roughly, and toss it skin ON into a high speed blender. Since you are straining away the pulp this might work for you but only if you have a very strong high-speed blender such as a newer Blendtec or Vitamix

Make the Shots
Once you have your fresh ginger in the blender, now it's time to add the lemon juice.

To do this, squeeze the lemons, and add their juice into blender as well. Try to use fresh lemons as bottled lemon juice is not as nutritious as fresh lemons. Several people have told me warming the lemons produces more juice. And recently I began using a hand-juicer - it has made squeezing lemons SO much easier!

With both ginger and lemon in the blender, it's time to blend.

Blend the chopped/pressed ginger and lemon juice until fairly cloudy, then pour this mixture through a fine-mesh sieve, pushing the pulp against the screen with the back of a spoon to squeeze out as much liquid as possible. Save the pulp refrigerated to add to a fruity smoothie mixture within 24 hours.
Store your Juice
Store the juice you gathered in the refrigerator for 1 week -- drink 1-2 ounces a day, all at once. I use a glass straw and try to avoid getting the lemon on my teeth since lemon can wear away enamel, and the straw makes drinking it very fast and a non-event. Good health!!

The resulting 1/2 cup of ginger-lemon juice provides you with 4 (1-ounce) shots OR 2 (2-ounce) shots. Most people recommend you begin daily ginger/lemon shots with a 1-ounce shot daily, and build up to a 2-ounce shot daily.