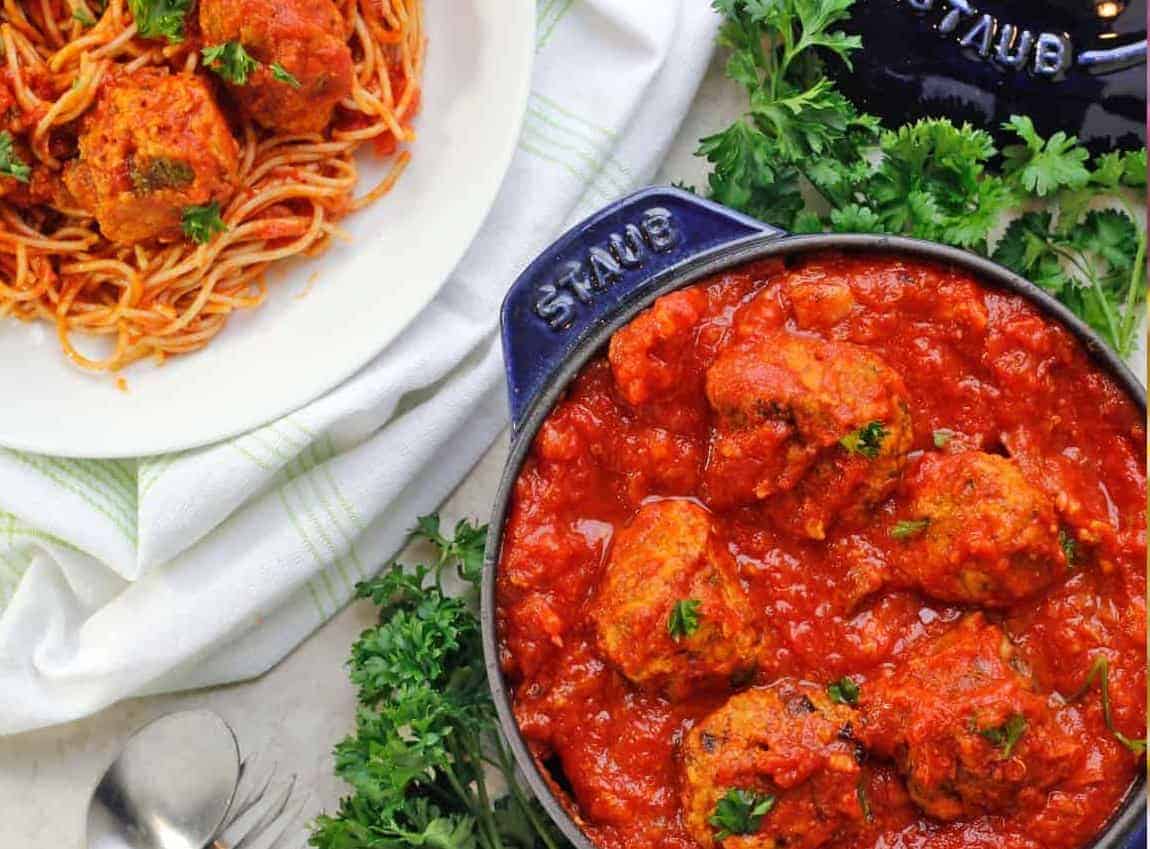 Vegan Italian Meatballs & Marinara Sauce.
Meatballs. Flavorful, filling, comforting, but healthy? THESE are!
The traditional Italian meatball may be out. But, with the healthy eating trend going full tilt and as Esmé would probably say, the VEGAN traditional Italian meatball is IN! (The Unfortunate Events – anyone read it? Esmé is a character who frequently interjects long lists of what is currently IN and currently OUT : According to Esmé, yellow paper clips, postage stamps, anything with chocolate sprinkles, llamas, and ballet shoes are all in whereas bronze cubes, the dark, tools and parsley soda are all out😀).
But I digress.
Back to the recipe. It produces a meatball bursting with flavor, slight crust, tomato-sweet and Italian-spiced and NOT made of meat. Instead the protein, the main ingredient, is a pair of accessible and popular plant-based ingredients probably in your pantry.
AND this recipe also depends on a secret ingredient – also in your pantry, I'm sure! – that clinches the moist and spicy aspect.
First, a bit of background about my experience with Italian meatballs.
I remember being single-digits, standing by my great-grandmother's side "helping" her make her signature meatballs to serve with a marinara sauce and spaghetti. In making the meatballs, she didn't measure in any conventional way, she used "handfuls" – 1 handful of cilantro, 2 handfuls of breadcrumbs and so on, and unfailingly produced moist flavorful meatballs every time which family and friends all ate on bowls of pasta crowding around her huge creaky dining room table each major holiday.
I moved on into adulthood with that recipe embedded in my brain in terms of handfuls and went on to make it successfully many times in my pre-vegan days. But now I wanted to make it vegan, and many others have succeeded before me of course, with vegan meatballs, but I wanted my meatballs to taste like my great-grandmother's.
So I set about converting her handful-measured recipe into vegan plant-based meatballs while trying to stick to her recipe as close as possible.
The marinara sauce was first, and of course the recipe is already vegan. For those who don't want to also homemake the sauce, I suggest this jarred brand because it is vegan and it tastes awesome. If you want to make your own, I also shared my great-grandmother's basic marinara recipe with the meatball recipe below.
Back to my story. So then, I had to convert the recipe for the meatballs.
I wanted them to be moist, and spicy, but most of all, healthy. So what protein to use?
I considered lentils and quinoa and ultimately chose a combo of chickpeas and almond flour – I could have used bread crumbs instead of almond flour, but I wanted these meatballs to be teeny tiny protein packages through and through. And you know what? It worked!
The combination is amazing. The resulting texture is chewy like a meatball, and the secret ingredient made them spicy and moist – like the meatballs made by my great-grandmother's hand, only plant-based.
How wonderful is that? Can you guess the secret ingredient? Tell me in comments!
Healthy Italian Vegan Meatballs & Marinara Sauce
makes 12-24 meatballs depending on size

Ingredients
Plant-based Meatballs
2

flax egg

(2 tbsp ground flax seeds + 6 tbsp water, wait 15 min)

1/2

cup

yellow onion

(chopped)

1

garlic clove

(peeled, crushed)

2

cans

chick peas (bpa-free, organic)

(drained/rinsed but save the (liquid in the can) aquafaba in the refrigerate for a day or so for use in whipped desserts or smoothies)

1/4

cup

almond flour

(or breadcrumbs)

1/2

cup

ketchup

(PETA.org: Heinz brand is vegan)

1/4

cup

fresh cilantro

chopped

1

tbsp

nutritional yeast

1

tsp

ground Italian seasoning

(or oregano and basil)

pinch

salt

pinch

cayenne pepper
Marinara Sauce
1/4

cup

onion

(chopped)

1

garlic clove

(crushed)

2

cups

tomatoes

(cored & chopped)

1

(4.5oz) tube

tomato paste

1/4

cup

fresh cilantro

(chopped)

1

tsp

ground Italian seasoning

(or oregano and basil)

1

bay leaf

pinch

salt and pepper
Instructions
Prep
Preheat oven to 400 degrees F.

Prepare the 2 flax eggs and set aside so they can rest.

Brush a cookie sheet with olive oil

Make the Meatballs
Rinse the chickpeas (I used canned), put in a food processor and spin to a chunky texture - add the flax eggs when they are ready and process until the flax is blended through. The chickpea texture is going to be a bit chunky, not smooth.

(I used my favorite 4-cup mini food processor, but it was a tight fit - if you also use a 4-cup processor, you might want to process 1 can of chickpeas and 1 flax egg, put it in the bowl, then process the other can and egg.)

Add this mixture to a mixing bowl with all other ingredients.

Use your hands (gloved or very wet) to knead/mix, and then roll 12-24 meatballs depending on size, setting them on the cookie sheet. The mixture is very sticky - I kept my hand very wet and was able to handle them without sticking, and this added moisture to the meatballs.

Bake them uncovered for 20 minutes, turning once halfway through, so the balls are cooked soft in center but crusty on the outside.

If you want the center of the meatball to be dryer, bake longer - we like the outside crusty, but the center very soft.

The meatballs seem dry coming out of the oven but this is a good thing, it will hold them together. Bury them in your marinara sauce and they will be awesome the next day, though we also ate them right away.

Make the Sauce
Brown the onions and garlic in a deep skillet or dutch over.


Add the chopped tomatoes and paste, and all the other ingredients including the bay leaf and simmer covered on very low heat for about 30 minutes - add water if it looks too dry to simmer.


After 30 minutes, remove the bay leaf. Cover the sauce and add the meatballs to it when ready. The marinara and meatballs can last several days refrigerated, and easily frozen in single-meal batches.