A celery juice recipe made in a blender and with huge health benefits and delicious flavor thanks to bright ginger, lime and sweet green grapes.


Celery Juice Recipe | Six Health Benefits
Plain celery juice has been touted as a health food miracle by some healthy food experts who credit the drink with a laundry list of benefits. Not all the claims are backed by science, but plenty of studies support at least 6 areas that strongly benefit human health.
But plain celery juice alone tastes like your front lawn, and even experts admit the healthy benefits remain if other ingredients are added. So I added them.
Meet my delicious celery juice recipe that has even more powers, with immune-boosting ginger, cleansing lime, and delicious green grapes.
What is celery juice? Let's start with the table of contents of my post below. I start with answering that question as well as many others about this amazing detox drink.

Table of Contents For this Post
What is Celery Juice?
Celery juice is an intensely healthy drink made from pulverized fresh celery and water that has become popular for its powerful detoxing, anti-inflammatory, immune-boosting, and antioxidant properties.
Benefits of Juicing
Generally, drinking juice you make from fruits and vegetables - with no added sugar and not processed - is an effective way to consume nutrients fast. That's because juices have little fiber, are not digested, and get into your blood stream fast. Of course you need fiber in your diet, but juicing has different benefits. It boosts antioxidants and folate levels [source], especially if you make your juice in a blender as my recipe below does. Juicing boosts brain cognition, and support heart processes and fights disease. [source][source]
Benefits of Celery Juice
Drinking celery juice specifically provides the following benefits:
Boosts immunity
Detoxes the body
Lowers inflammation
Lowers cholesterol
Supports digestion
Benefits joints
And here is the detail of how celery juice benefits can help you feel your best here:
Benefit 1. Celery lowers inflammation because it is full of antioxidants that help combat diseases, including one called "apigenin" which has been shown to actually kill mutating cells that can turn cancerous. [source][source]
Benefit 2. Celery fights infection by prohibiting bacterial growth and boosting the body's immune response. As a juice, the antimicrobial power is especially useful barring infections, such as with the urinary tract. [source]
Benefit 3. Celery juice is considered a strong detoxer and de-bloater. With strong diuretic effect, the juice flushes toxins, prevents bloating and is considered especially protective of the liver and kidneys. [source]
Benefit 4. Celery juice is well-noted for lowering high cholesterol largely because of a substance called 3-n-butylphthalide (BuPh). The juice also supports lower blood pressure by relaxing the walls of blood vessels, allowing easier flow of blood. [source]
Benefit 5. Celery juice actually supports digestion by triggering your stomach to create hydrochloric acid which supports a cleaner, more efficient digestion of foods, especially foods that are normally harder to digest. This benefit actually boosts energy because if your stomach is struggling to digest, it uses energy you could be using to run, read, work or play a video game.
Benefit 6. Celery juice can ease joint pain because of an anti-inflammatory called "Polyacetylene" known for it's ability to sooth nerves, and calm general joint pain from a workout as well as medical-level instances stemming from gout and rheumatoid arthritis.
Need more convincing? Even more current studies show that celery juice reduce glucose levels without increasing insulin. [source]
How to Make Celery Juice Taste Better
So it's clear drinking celery daily is beneficial to the body. But, as I noted earlier, it tastes really green. To make it taste better, and even boost the nutrition, I added three ingredients: fresh ginger, lime and green grapes.
1. Ginger provides a fresh bite to the drink, disguising the green flavor, and boosts the immune-boosting power of the juice, as well as clears brain fog.[source]
2. Lime adds a sightly sweet tang to the juice's flavor. Lime juice and its peel are also strong microbials and contain antioxidants that support the heart and boost immunity. [source]
3. Green grapes curb the bitterness, adding a touch of sweet flavor but not a lot of sugar since the amount is so small. Green grapes also boost the nutrition of celery juice by providing resveratrol, a substance well known for protecting against heart disease, lowering blood sugar and blocking certain diseases. [source]

Okay, so we know celery juice, plain or with added veggies and fruits, is terrific for us. So how do we make it?
How to Make Celery Juice
Make it in a Blender: Science shows juices made in a blender capture more antioxidants! [source] And it's easier, you don't have to buy a juicer! I use my blender to make all my juices and shots. It's quite easy to blend up ingredients and push them through a strainer to capture a fresh, healthy juice or shot.
You might want to check out my wellness shots also made in a blender, including my Ginger Shot recipe and Turmeric Shot recipe.

Make it in a Juicer: If you have a juicer, use it! I have heard the Breville Juice Fountain is the least expensive brand and easiest to clean, a big area of concern for juicer purchasers.
Ingredients for the Best Celery Juice
Of course you need celery. Use organic celery as opposed to not organic since celery is considered one of those vegetables that retains pesticides within its meat. [source]
To make about 16 ounces of celery juice, you'd need about 1 package of celery hearts - they usually hold two bunches of hearts. Chop off the based and dried tips, but retain the celery leaves when you are chopping.
You can make celery juice with water alone. Just add 1 cup of water to blender, along with chopped celery, process and strain.
Or you can use my recipe adding ginger, lime and grapes for a more flavorful celery juice.
Make Homemade Celery Juice Step by Step
Step 1: Prepare ingredients. Wash the celery, and chop roughly, including celery leaves. Wash ½-inch of ginger root, and chop roughly, including skin. Wash a lime and chop in chunks, leaving peel. And wash grapes.
Step 2: Either use a juicer and make the juice or add these ingredients plus water to a blender. If using a blender, process for about 1 minute or until all elements are pulverized and the liquid is cloudy but not chunky.
Step 3: If using a blender, pour the mixture into a strainer, and push through until solids remain behind. The captured liquid is your fresh juice!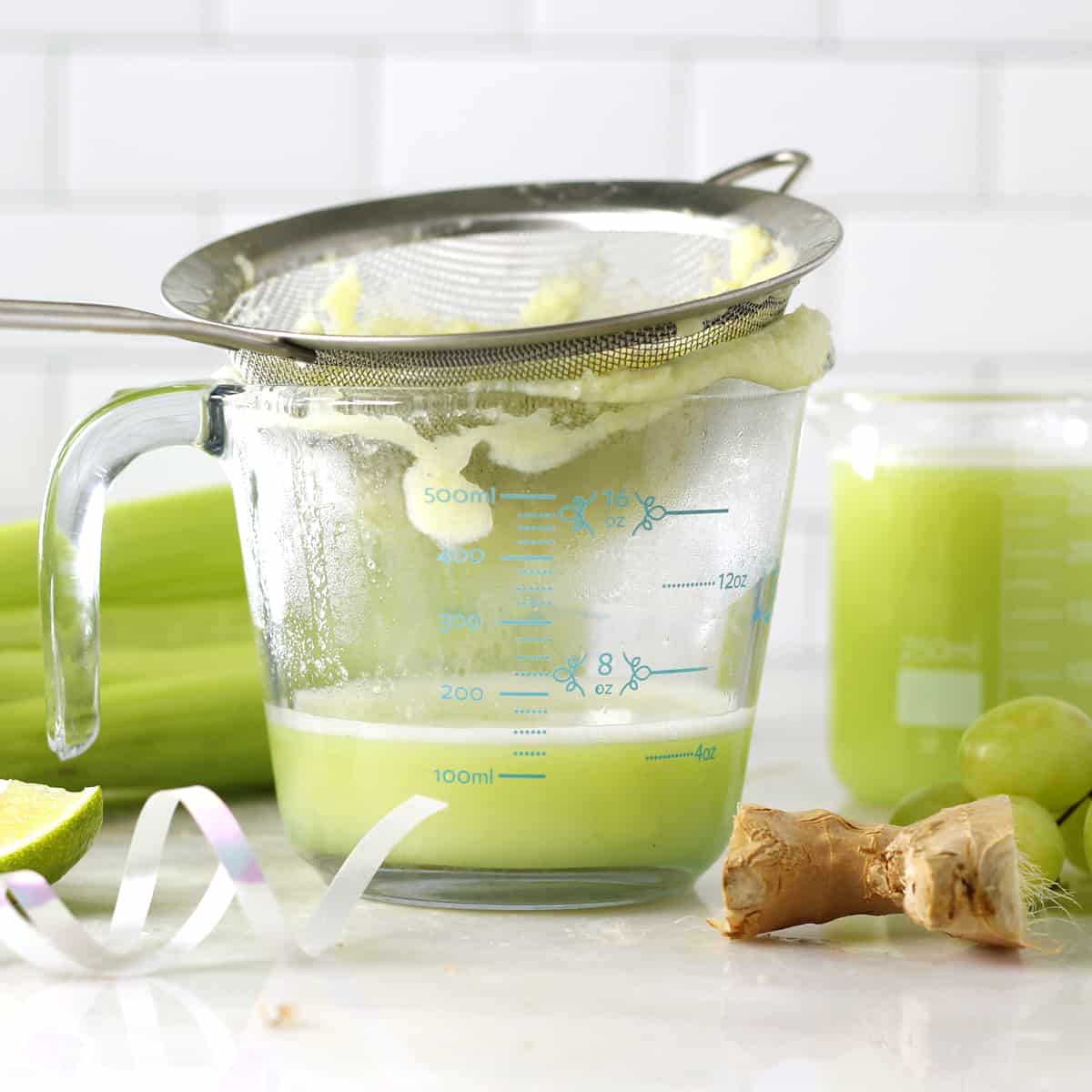 Step 4: Drink the juice right away or save it in an airtight jar for up to 24 hours in the fridge or freeze in ice cube trays to blend up when convenient. I also like it better chilled, so I either drink it over ice or refrigerate for an hour or more before drinking.
Can you Make This Juice Ahead of Time?
Nutrients are always strongest the first hour a fresh juice or shot are made. A fresh homemade juice refrigerated in a tightly-covered jar retains 90% of its nutrients within 24 hours.
However, you can capture this freshness by freezing the juice in ice cube trays, and putting a few in a glass the prior night, refrigerated, so they are melted by morning and ready for drinking.
Negative Side Effects of Drinking Celery Juice
Negative Side Effect 1. Celery juice is high in mannitol, a sugar alcohol that pulls water into your intestines and can cause diarrhea. Some anecdotal stories however indicate that this effect winds down after about a week of regularly drinking a cup or less of celery juice daily.
Negative Side Effect 2. Celery juice boosts hydrochloric acid in your stomach and can increase the incidence of acid reflux, especially if you exercise or lie down within 30 minutes of drinking.
Here are More Detox Recipes to Try:
I invite you to keep up with me on: Facebook | Pinterest | Instagram | Twitter
Don't miss a thing, subscribe here to get recipes delivered to your inbox!
If you try my recipes, please leave a comment and rating below and tag me on your Instagram post with @greensmoothiegourmet so I can see and share your remakes!!
Are you on Pinterest? Perhaps share this image:
Celery Juice Recipe
A celery juice recipe made in a blender and with huge health benefits and delicious flavor thanks to bright ginger, lime and sweet green grapes. Makes about 1-2 cups.
Ingredients
2

bunches

celery

Specifically a package of 2 bunches of celery hearts or a single bunch of celery with leaves

½

inch

knob of ginger

chopped & skin on

1

lime

chopped with peel on or ¼ cup lime juice

½

cup

green grapes

about 10 - 12 grapes

1

cup

water
Instructions
Prep
Wash celery and chop, including celery leaves.

Wash ½-inch of ginger, and chop roughly, including skin.

Wash lime, chop into chunks, keep the peel on.

Wash green grapes, measure out and slice in half.
Make Celery Juice Recipe
Juice these ingredients in a juicer or if you don't happen to own a juicer, you can use a blender instead.

To use a blender, add chopped celery, ginger, lime and grapes to a blender along with with 1 cup of water for about 1-2 minutes.

Pour the mixture through a strainer. Press with a rubber spatula to squeeze out juice.

Drink. I like it better chilled, so I either drink it over ice or refrigerate for an hour or more before drinking.
Storing celery juice
Drink the juice right away, or save it in an airtight jar for up to 24 hours in the fridge or freeze in ice cube trays to blend up when convenient.
Nutrition
Calories:
31
kcal
Carbohydrates:
8
g
Protein:
1
g
Fat:
1
g
Saturated Fat:
1
g
Polyunsaturated Fat:
1
g
Monounsaturated Fat:
1
g
Sodium:
39
mg
Potassium:
181
mg
Fiber:
2
g
Sugar:
4
g
Vitamin A:
209
IU
Vitamin C:
12
mg
Calcium:
33
mg
Iron:
1
mg