Golden Milk, also called Turmeric Milk or Turmeric Latte, has extraordinary healing powers, benefiting your health and sleep, boosting immunity, and served either warm or cold. Make my single serving recipe directly in a mug in minutes. View step by step video in this post.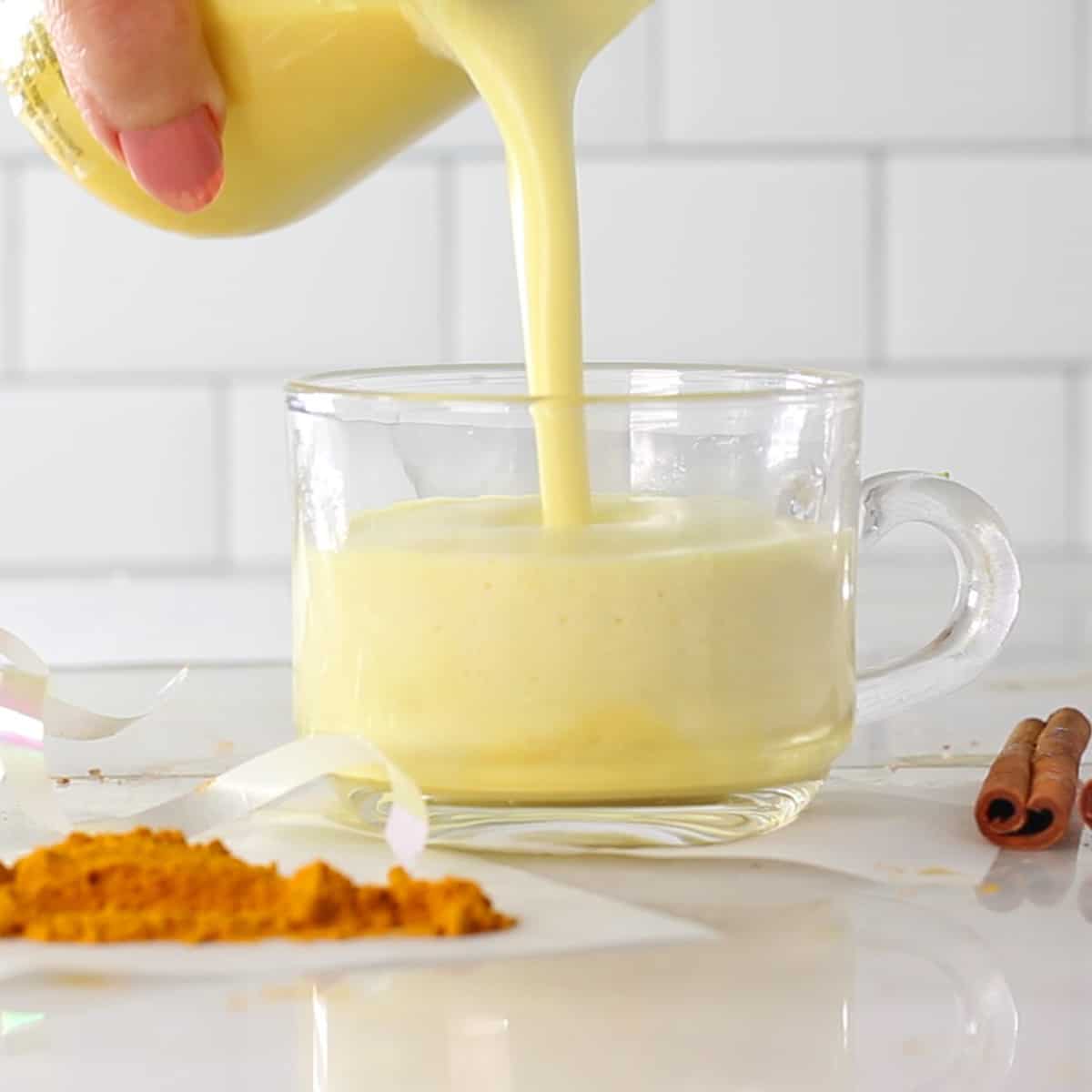 Golden Milk
This golden milk or turmeric latte, also called turmeric milk, is made with the spice, ground turmeric powder, and is your immune system's favorite drink. That's because it is anti-inflammatory, detoxifying and disease protective. Many cultures drink it before bed as a soothing nightcap. I drink it in the morning. Either way, magic.

Table of Contents For this Post
What Is Golden Milk?
Golden milk is a potent healing drink, that support a range of issues regarding sleep, weight, aging, skin, and disease all by adding a simple ground spice, turmeric, to milk.
The drink originated in India, and dates back to ancient cultures who used it to drink for healing powers, to calm spirits and even as a clothing dye.[source] (Yes, turmeric is great at staining clothes and hands so beware.)
How Does Golden Milk Taste?
Just like golden milk, or turmeric milk, a turmeric latte is deliciously creamy, and has a spicy flavor. The texture is definitely like a thick latte, especially if you use a cashew or oat milk.
Is Golden Milk Hot or Cold?
It can be both! I microwave my mug after I have stirred or frothed it, or I pour it over ice to drink it chilled.
How Is Golden Milk or a Turmeric Latte Healthy?
A turmeric latte is healthy because the spice turmeric, the same spice used in curry, has a valuable compound called curcumin which is a powerful anti-inflammatory and a strong antioxidant.
An anti-inflammatory, like curcumin, is good for you because it is generally believed that low-level inflammation powers most diseases so controlling inflammation is the key to fight disease. And antioxidants, of course, are defenders against oxidative damage which is behind aging and disease. [source].
To have both defenses together in one package makes golden milk a powerfully healthy drink.
What Are The Benefits of Drinking Turmeric Milk?
The benefits of drinking turmeric milk are wide-ranging, and include support for sleep, mood, circulation, digestion, immunity and more. Read below for the seven main health benefits of drinking this creamy spicy milk.
7 Benefits of Drinking Golden Milk with Turmeric
#1: Boosts Immunity with Antioxidants [source]
#2: Reduces Inflammation and Joint Swelling [source]
#3: Boosts Memory and Brain Power [source]
#4: Heightens Your Mood [source]
#5: Supports Your Heart [source]
#6: Lowers Blood Sugar Levels [source]
#7: May Block Diseases [source]
How to Make Golden Milk Easily
Golden milk is easy to make. No need to use a pot and boil. Just add ground turmeric and a pinch of pepper to a warm cup of milk and froth it. I use a hand-frother so I can make this drink in literally 2 minutes or less.
You can use ground turmeric or buy fresh in the root section of the produce department in your grocery store. If you work with fresh, you'll need to chop it, blend it with milk and strain it. And be careful, fresh turmeric stains fingers and clothes.
You can use any dairy-free milk. Cashew milk will give you the creamiest milk. Coconut milk will provide you with more healthy fats and acids. You can serve it over ice or warm in at 1 minute in the microwave.
Want it sweeter? Add some maple syrup.
Why Add Pepper To Golden Milk?
The pepper is necessary to trigger the body to absorb the healthy curcumin. Either cayenne or black pepper is fine, and only a pinch is necessary.
Is it Good to Drink Golden Milk or a Turmeric Latte Everyday?
It's excellent to drink golden milk every day. Drink 1 cup a day, and see the anti-inflammation and sleep benefits within 2 weeks.
What Does a Turmeric Latte Taste Like?
A turmeric latte has a spicy taste from the pepper but it mostly carries the flavor of the milk you use as a base. Cashew milk and almond milk will give you a creamy mild-tasting drink. If you use coconut milk, it will taste like coconut.
Q&A about Turmeric Lattes
What is Turmeric Latte Made Of?
A turmeric latte is mix of a spice called turmeric - used fresh or ground, and a milk. You must add black pepper to activate the benefits of the curcumin within the ground spice. For flavor, you can add other spices too such as cinnamon and ginger.
Is There Coffee in Turmeric Latte?
No a turmeric latte does not contain coffee but it does contain milk, hence the "latte" in the name.
Can you Drink Turmeric Latte Everyday?
Yes, a single turmeric latte is safe to consume daily and good for you in that the drink calms and fights inflammation among other benefits. However, drinking more can cause stomach upset among other issues.[source]
And it's best to drink with a straw if you drink it daily as turmeric can stain teeth yellow.
What is a Turmeric Latte Called?
A turmeric latte is also called Golden Milk, or turmeric milk. It is m made of ground turmeric mixed in milk.
Other Healthy Immune-Boosting Drinks
I invite you to keep up with me on: Facebook | Pinterest | Instagram | Twitter
Don't miss a thing, subscribe here to get recipes delivered to your inbox!
If you try my recipes, please leave a comment and rating below and tag me on your Instagram post with @greensmoothiegourmet so I can see and share your remakes!!
Golden Milk | 7 Health Benefits
Golden Milk, also called Turmeric Milk or Turmeric Latte, has extraordinary healing powers, benefiting your health and sleep, boosting immunity, and served either warm or cold. Make my single serving recipe directly in a mug in minutes. View step by step video in this post.
Ingredients
1

cup

dairy-free milk

1-2

tsp

Turmeric

ground powder or 1-2 tsp fresh chopped root

pinch

black pepper or cayenne pepper
Optional Flavor Additions
1

tsp

maple syrup

½

tsp

ginger

½

tsp

cinnamon
Equipment
Instructions
To make with Ground Turmeric
Add milk, ground turmeric and pepper to a mug and froth with a hand frother or stir vigorously if you don't have a frother.

To warm, put in microwave for 1 minute. Sprinkle with cinnamon and you have a Golden Milk Latte!

To serve cold, pour over ice or refrigerate.
To make with Fresh Turmeric root
Chop ½-1 inch of root (unpeeled) which makes 1-2 tsp chopped. Add it and milk and pepper to a blender jar. However, beware that the turmeric can stain a blender jar so I'd advise using ground turmeric and make it in a mug dedicated to golden milk.

If you do blend, pour the mixture through a strain and reserve the liquid as your golden milk.
Storage
Drink a single mug fresh, but if you want to make several mugs at a time, do so and refrigerate for one week.
Notes
Be careful if you want to blend, turmeric stains blender jars so I'd reserve one mug for golden milk or my turmeric latte and always make it in that mug.
Nutrition
Calories:
110
kcal
Carbohydrates:
9
g
Protein:
7
g
Fat:
5
g
Saturated Fat:
1
g
Polyunsaturated Fat:
3
g
Monounsaturated Fat:
1
g
Sodium:
118
mg
Potassium:
358
mg
Fiber:
1
g
Sugar:
6
g
Vitamin A:
927
IU
Vitamin C:
17
mg
Calcium:
332
mg
Iron:
2
mg