There are at least nine benefits of lemon water. From boosting immunity, supporting brain cells, flushing toxins, assisting in weight loss, and anti-aging effects on skin and more. Warm provides different benefits from cold, learn the differences and values of each here! Don't forget to add the lemon peel!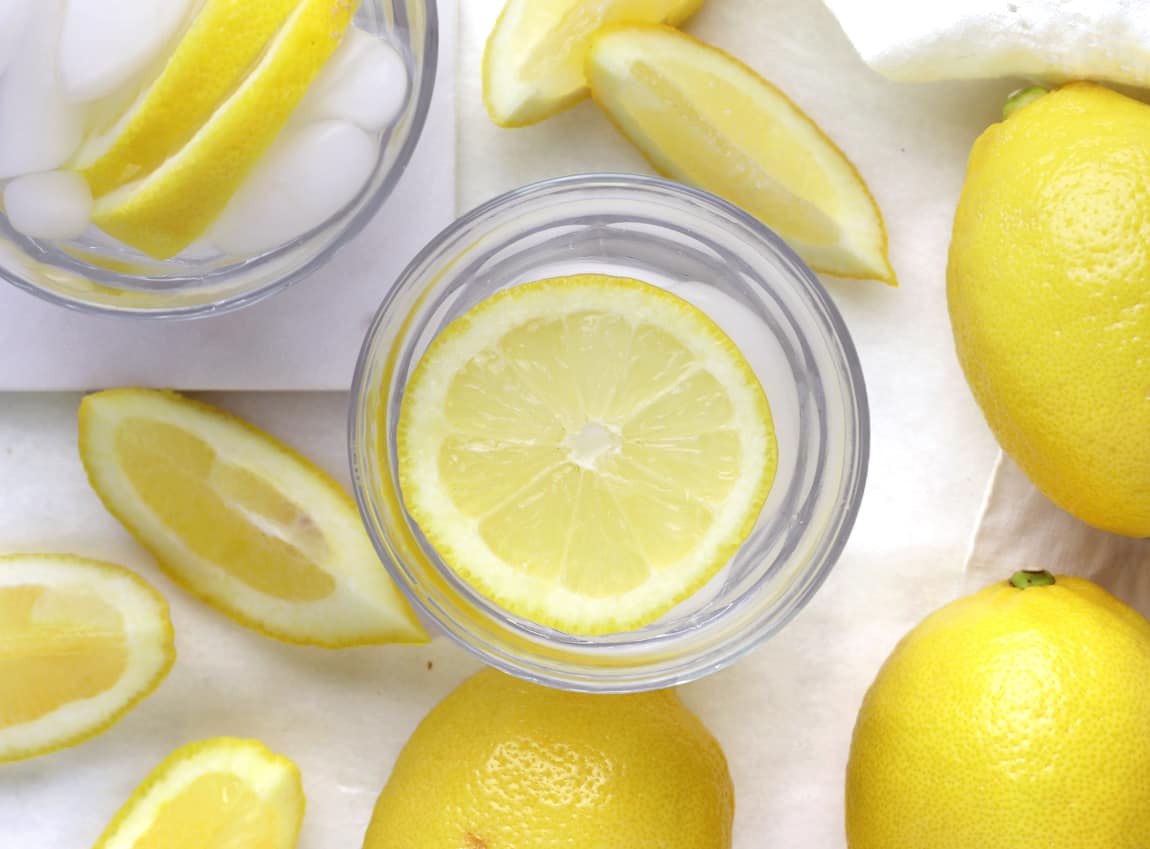 Benefits of Lemon Water
Who knew that adding lemon juice to water could change your life for the better. But it's true, and there is a science behind it.

Table of Contents For this Post
What Is It?
Lemon water is plain water with fresh lemon juice added. It is best to freshly squeeze your lemons and juice them each time for optimum nutritional benefit. Don't buy bottle lemon juice with preservatives or additives that interrupt the benefits of this drink. Buy a brand that has only lemon juice in the ingredient list. But as always, it's best to use fresh.
Squeeze Lemons for Lemon Juice
Generally I squeeze 1 lemon (about 4 tbsp of juice) into 16 ounces of water, and use that as my lemon drink over one to two days. If I want it chilled, I leave it refrigerated; if I want it warm, I warm it in the morning of drinking it.
Add Some Lemon Peel to Lemon Water
I also often add ¼ of a lemon's peel to my water, and blend in a high speed blender. You don't have to add the peel this way, but it increases the nutritional benefits if you do.
Small amounts of lemon peel contain fiber, calcium, potassium and magnesium. And astonishingly, 1 tablespoon provides 9% of the daily requirement for vitamin C.
If you use the peel, buy organic lemons to be sure you aren't in taking pesticides which like to adhere to lemon peels. If you don't use the peel, non-organic is fine; the pesticides don't tend to absorb into lemons past the peel.
9 Benefits of Lemon Water
So why drink lemon water? Here is a list of nine benefits of lemon water.
Drinking water with lemon does the following:
Boosts hydration [source]
Improves skin [source]
Triggers weight loss [source]
Fights germs that cause cavities [source]
Aids digestion and prevents kidney stones [source]
Balances acidity upon morning wake up [source]
Restores electrolytes as a great recovery drink after exercise [source]
The drink also flushes the liver, and reduces pain in joints [https://www.ncbi.nlm.nih.gov/pmc/articles/PMC5439254/]
But most importantly lemon water boosts the immune system in an extraordinary way. [source]
How Does Lemon Water Boost Immunity?
Basically, lemon water, cold or warm, creates an alkaline pH in your body. And an alkaline environment is super hard on illness. Virus and bacteria have a difficult time thriving. And, of course, lemon is high in basic vitamin C, long known for its antiviral and antibacterial strengths. [source]
So it seems we all should be drinking this refreshing water all day long, right?
Wrong. You can drink too much.
How Much Lemon Water Should You Drink Each Day?
The drink is beneficial of course, but there are negatives to drinking too much a day.
Lemons can erode teeth enamel, cause heart burn, trigger ulcers and even migraines for those prone to them. [source] [source]
The solution is to drink no more then 16 ounces or two cups of lemon water a day. Two cups contain the juice from a single lemon, or about 4 tablespoons of lemon juice. So basically you need a lemon a day.
To protect your teeth, also use a straw.
Can I Drink Water With Lemon Every Day?
Sure you can, but as I said, keep it to one to two glasses a day. And when you drink it and what temperature it is matters too.
When is Best Time to Drink Lemon Water?
Drink your first 8 ounces as the first drink of the day - either cold or warm. That's because when you wake in the morning you are dehydrated and acidic.
Your first drink should hydrate you and turn your body to alkaline. You will feel a boost of well-being within 15 seconds of drinking it - try it tomorrow morning and see!
Why Does Temperature Matter?
Temperature matters for several reasons. In general, the temperature can change the molecular structure of lemon juice and affect which benefits are bioavailable.
What Are Benefits of Cold Lemon Water?
Drinking water cold is beneficial because it tastes better and you are more likely to drink more of it. Cold lemon water tastes delicious and so you are more likely to drink more of it. It's particularly alluring in hot weather and after a workout. And after a workout, it is useful to re-hydrate you and replenish body salts and nutrients such as potassium, calcium, phosphorus, and magnesium.
Drinking it cold with the peel is also better for weight loss, with the thinking that the soluble pectin fiber in lemon helps you feel full longer. [source]
What Are Benefits of Warm Lemon Water?
I prefer the taste of cold lemon water, it is delicious and refreshing. But science says the bio-availability of lemon water benefits is higher when the lemon water is warm.
The warm version flushes toxins more easily, and assists digestion gently. For this reason, warm is best.
But not boiling warm - hot water can kill the good effects of vitamin c. Just warm the water, so when touched by your knuckle, you feel it is warm.
How to Make Lemon Water
So how do we make this magical drink, step by step?
Step 1. Prepare the lemons
Set them out the night before so they are at room temperature the next day. This will allow you to get maximum juice from them.
Step 2. Juice the lemons. Roll a lemon on the countertop to weaken the peel.
Cut the lemon in half, and squeeze it into a 2-cup jar, or use a juicer. If you want to get more juice then usual, microwave the lemon for 5 seconds first.
Step 3. Add 2 cups of water to the jar. If you want cold lemon water, add chilled water. If you want warm, microwave the water first about 5 seconds or heat in a pot on the stove. But you only want it warm or just warmer than room temperature.
Step 4. In either case, if you want to add peel, add about ¼ of the lemon's peel (about 2 tbsp chopped), and blend in a high speed blender. Then either serve cold after chilling or warm after warming.
Make Lemon Water Ginger Shots
Ginger Shots are super easy to make, boost immunity, provide a burst of energy, have anti-aging effects and more! Don't buy KOR shots or other expensive brands, just make your own.
I show you three different ways to make ginger shots with fresh ingredients but without a juicer - with a blender! - here: https://greensmoothiegourmet.com/ginger-lemon-shots-blender-recipe/
Or watch my shortcut method to make GINGER SHOTS Youtube video on how to make ginger shots in a JAR using a bottle of organic lemon juice and a bottle of ginger juice or ginger paste from a jar. Look for The Ginger People brand.
Feel free to add in turmeric, beet juice, oil of oregano and more to boost your shot's power. Lemon water provides an awesome base.
Flavor Your Lemon Water
Are you more likely to drink it when it is flavored? Try my other lemon recipes, such as Pear Lemonade here.
Other Detox Drinks
Are you on Pinterest? Perhaps save the recipe there using this image...

or this one...

or this one if you prefer to share warm lemon water ...

If you try my recipes, please leave a comment and rating below and tag me on your Instagram post with @greensmoothiegourmet so I can see and share your remakes!!
I invite you to keep up with me on:
Instagram | TikTok | Facebook | Pinterest | Twitter
Subscribe HERE to get recipes delivered to your inbox!
Benefits of Lemon Water
The benefits of lemon water are many, both warm and cold. A few tablespoons of lemon juice boosts immunity, supports brain cells, flushes toxins, assists in weight loss, and has anti-aging effects on skin and more. Warm lemon water provides different benefits from cold lemon water, learn the differences and values of each here!
Ingredients
Warm lemon water
1

cup

water

(room temperature or slightly tepid)

2

tbsp

lemon juice
Instructions
Cold lemon water
Use water naturally chilled from a refrigerator tap or leave glass in refrigerator for an hour or so.

Allow lemons to be room temperature, roll them on the counter to break up the taute skin, wash them, and slice the long way. Juice with a hand juicer.

Stir in the lemon juice and drink right away.
Warm lemon water
Use water warmed up by allowing it to sit an hour at room temperature, or zap in microwave for 5 seconds, or warm water in a pot on the stove and let cool to room temperature.

Allow lemons to be room temperature, roll them on the counter to break up the taute skin, wash them, and slice the long way. Juice with a hand juicer.

Stir in the lemon juice and drink right away.
Video
Nutrition
Calories:
7
kcal
Carbohydrates:
2
g
Protein:
1
g
Fat:
1
g
Saturated Fat:
1
g
Sodium:
13
mg
Sugar:
1
g
Vitamin C:
12
mg