A healthier chocolate fudge cake, rich and dark, made with pumpkin puree instead of eggs and oil. It is easy to make, super moist, and vegan, gluten-free, oil-free, egg-free and delicious. And it goes perfectly with my rich chocolate buttercream recipe. View step by step video in this post.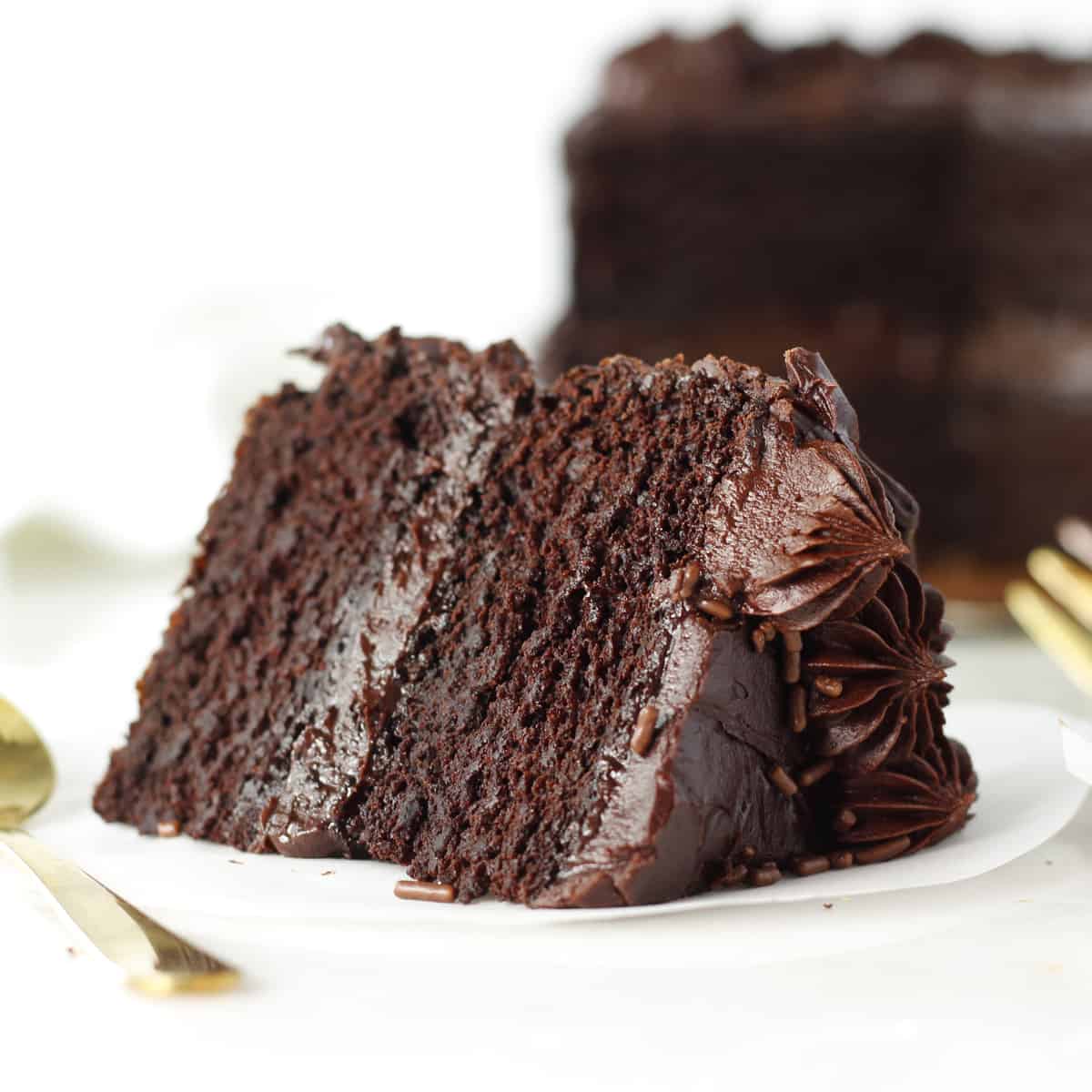 Healthy Chocolate Fudge Cake
This easy chocolate fudge cake makes a delicious two layer cake that is rich in flavor and dark in color. The texture is a cross between dense and cake-like with a tender crumb, and the deep chocolate flavor is amazing. My dark chocolate buttercream frosting is the perfect finish for either a fancy or even just an every day cake.

Table of Contents For this Post

It really is the kind of cake that draws your eye at a fancy restaurant's dessert cart. So it's amazing that it is really so easy to make at home, and a healthier version at that. And a simple ingredient makes the chocolate fudge flavor soar.
I use only a few tricks to create the texture and flavor of this amazing cake, and I'll share them all below.
Before we dive into this chocolatey recipe, though I'd like to invite you to sign up for my free chocolate course. Five lessons hit your inbox with detail on how to create your own simple healthy chocolate desserts.
Okay, so back to this recipe...
How to Make A Chocolate Fudge Cake Vegan and Gluten-free
You may or may not know that all of my recipes on this blog are vegan in that there are no eggs or dairy products used, and that is the case with this cake. Here are my tricks to keep the cake vegan and gluten-free.
1. Instead of using eggs to help the cake rise, I add lemon juice to the milk and let it curdle for a few minutes. This creates a reaction with baking soda and helps the cake rise.
2. To replace the texture that ordinarily eggs supply, I use unsweetened apple sauce or aquafaba, the liquid from a can of unsalted chickpeas, or flax eggs as an egg replacer. All these options replace eggs beautifully in terms of texture and flavor.
3. Oil isn't the worst ingredient to consume but it is highly processed so I made this cake without oil, using unsweetened apple sauce or pumpkin puree instead. If you can't find pumpkin puree, sweet potato puree also works. Be sure to use the brands that don't have any other ingredients besides the vegetable.
4. The recipe works perfectly using all purpose flour or a GF baking flour. I love Bob's Red Mills 1-to-1 baking flour, but their GF all purpose (red bag) works too.
5. The simple ingredient that increases the fudge factor is coffee! I used granulated instant but brewed is great too.
How to Make a Chocolate Fudge Cake
It's easy to make this chocolate fudge cake in one bowl.
1. Begin by prepping pans and activating milk by adding lemon juice and preheating oven.
2. Mix wet ingredients together, and then add dry ingredients.
3. Pour the batter into cake pans and bake 30 minutes.
4. Let cool for a ten minutes in pans, then put cakes onto a cooling rack to cool completely before frosting.
Can I Make Chocolate Fudge Cupcakes?
Sure ! I think it will fill 12 cupcake liners, more or less. Bake for 18 minutes.
What Size Cake Layer Does This Recipe Make?
This recipe fills two 6-inch cake pans, which is our favorite size because then we don't have to deal with leftovers that tend to dry up. But if you want to use two 8-inch pans, just double the recipe. Alternatively, this recipe makes a deep cake using 1 (8-inch) square pan.
How to Store This Healthier Chocolate Cake?
Store this cake at room temperature, loosely covered and frosted. It will be okay for about 2 days before it will begin to dry out. You can also freeze the cake before frosting it for months.
Common Questions
How does Chocolate Fudge Cake compare to a classic chocolate cake or a "Mud Cake"? Well, chocolate fudge cakes are typically darker and denser than the classic chocolate cake.
Some people use the term mud cake to describe a chocolate fudge cake but that is inaccurate as a chocolate fudge cake definitely has a more cake-like texture than does a mud cake which is made with pudding.
Here are more common questions regarding chocolate fudge cakes.
Can I Substitute The Flour?
Yes, you can use gluten-free baking flour instead of all purpose.
You can also use oat flour, just be sure to use a bit more such as 2 cups.
I haven't tried this recipe with wheat flour or cake flour, but I think you can substitute with either if you follow instructions on how to use those flours instead of all purpose.
What is Chocolate Fudge Cake Made Of?
A chocolate fudge cake is darker in color and has deeper flavor the result of using dutch-processed cocoa, which has less cocoa butter and punchier chocolate flavor. The addition of coffee deepens the fudge flavor. If you don't want to use dutch-processed cocoa, you can use unsweetened cocoa powder, with only slight reductions in flavor and dark color.
What is the Difference Between Devils Food Cake and Chocolate Fudge Cake?
Chocolate fudge cakes are typically made with dutch processed cocoa, while devil's food cakes use unsweetened cocoa.
How Do You Know When Chocolate Fudge Cake is Cooked?
This chocolate fudge cake is cooked when the top is shiny and slightly cracked. The color will be nearly black depending on the dutch processed cocoa you use.
What is The Texture of Chocolate Fudge Cake?
Typically the texture is cake-like, with a slight fudginess. It can be described as slightly dense. Again it depends on how much moisture was introduced while you baked it, in your air, your measurement accuracy and the amount of water content in your ingredients.
Is This A Healthy Chocolate Fudge Cake?
The healthy ingredients include pumpkin puree, milk, aquafaba and lemon juice. The neutral or unhealthy ingredients include flour and sugar. Overall this cake has more protein, fiber and essential minerals than the classic chocolate cake recipe does. And it does not have any processed oils.
What is the Best Oven Temperature for a Chocolate Fudge Cake?
I use 350 F for most of my baking, and I use a counter oven. I also test my temperature regularly using an inexpensive oven thermometer I bought online. My oven's 350 F setting is typically around 355 F so I keep an eye on my recipes and test them with a toothpick about 30 seconds before baking time is up. Even so, for this cake, my 6-inch rounds are always done exactly at 30 minutes. So this is a very forgiving cake recipe.
Other Vegan Cake Recipes To Try
I invite you to keep up with me on: Facebook | Pinterest | Instagram | Food Gawker | Twitter
Don't miss a thing, subscribe here to get recipes delivered to your inbox!
If you try my recipes, please leave a comment and rating below and tag me on your Instagram or Facebook post with @greensmoothiegourmet and #greensmoothiegourmet so I can see and share your remakes!!
Chocolate Fudge Cake
An easy chocolate fudge cake, rich and dark, made with pumpkin puree instead of eggs and oil. It is easy to make, super moist, and vegan, gluten-free, oil-free, egg-free and delicious. View step by step video in this blog post above.
Ingredients
1 ½

cups

all-purpose flour or GF flour

or 2 cups of oat flour

½

cup

unsweetened cocoa powder

use dutch processed for darker color

1

cup

organic cane sugar

1

tbsp

granulated instant coffee

(or use liquid brewed)

1

tsp

baking powder

1

tsp

baking soda

½

tsp

salt

1

cup

dairy free milk

1

tbsp

lemon juice

⅓

cup

canned pumpkin puree

(Or sweet potato puree)

3

tbsp

unsweetened apple sauce

or aquafaba or a flaxseed egg

2

tsp

vanilla extract
Instructions
Prep
Preheat your oven to 350 F.

Measure out apple sauce or use aquafaba (liquid from a can of unsalted chickpeas or garbanzo beans) or use a flax egg by mixing up 1 tbsp flaxseed to 3 tbsp of water, stir and set aside for 10 minutes.

Coat the inside of two (6-inch round) cake pans or 1 (8-inch square) pan with butter and dust with cocoa powder. Or double the recipe to use 2 (8-inch round) pans.

Or line cupcake pan with 12 paper liners.

Activate your milk by adding lemon juice to it and let it sit for 5 minutes.
Make cake
To the large mixing bowl, add in the curdled milk, veggie puree, apple sauce (or aquafaba or flaxseed egg) and vanilla. Add coffee here or in dry ingredients.

To another bowl, add the flour/cocoa mixture, sugar, baking powder, baking soda, and salt. Or add to a strainer to use one bowl.

Combine the dry and wet mixtures, and mix until combined, but don't overmix.

Pour the batter evenly into prepared cake pans.

Bake 2 (6 inch round) cakes for 30 minutes.

Bake 1 (8-inch square) pan for 35 minutes.

Bake cupcakes for 18 minutes. Or until tester comes out clean for all of them.

Flatten warm cakes with a spatula or use flattening bands if you want flat layers.

Let cool for a ten minutes in pans, then put cakes onto a cooling rack to cool completely before frosting.
Make frosting
Add powdered sugar, cocoa powder, vegan butter, vanilla extract and 5 tbsp of the milk to a large mixing bowl. If butter is cold, microwave it for 10 seconds to soften.

Use a hand-mixer or an electric mixer to combine. Add an additional 2 tbsp of milk if you need to to create a creamy consistency. You can add more or less milk, but be careful, it can turn too liquidy very fast.

Add frosting to a frosting bag with your chosen tip.
Assemble the cake

Store
To store cakes or cupcakes in the freezer for a month, pack them unfrosted in a sealed container.

Once frosted, the cake or cupcakes are fine at room temperature for about 3 days and then they begin to dry out.
Video
Nutrition
Calories:
120
kcal
Carbohydrates:
25
g
Protein:
2
g
Fat:
4
g
Saturated Fat:
1
g
Sodium:
314
mg
Potassium:
164
mg
Fiber:
2
g
Sugar:
20
g
Vitamin A:
160
IU
Calcium:
71
mg
Iron:
1
mg