A fluffy white frosting recipe with the light bakery-style crunch, and made bright white thanks to a whitening trick, and has a special ingredient that adds antioxidants in your frosting.
My fluffy healthy white frosting that tastes incredible, and pipes onto cupcakes and cakes like a perfect dream, leaving a tiny crunchy surface just like bakery frosting. It's perfect on my fluffy vanilla vegan cake or my chocolate fudge cake, or even as the filling in my cream-filled hot chocolate cupcakes.
And this healthy vanilla frosting is extremely fluffy thanks to my whipping technique. And it is bright white in color despite the addition of yellow butter and brown vanilla extract because of a special trick I'll share with you.

Jump to: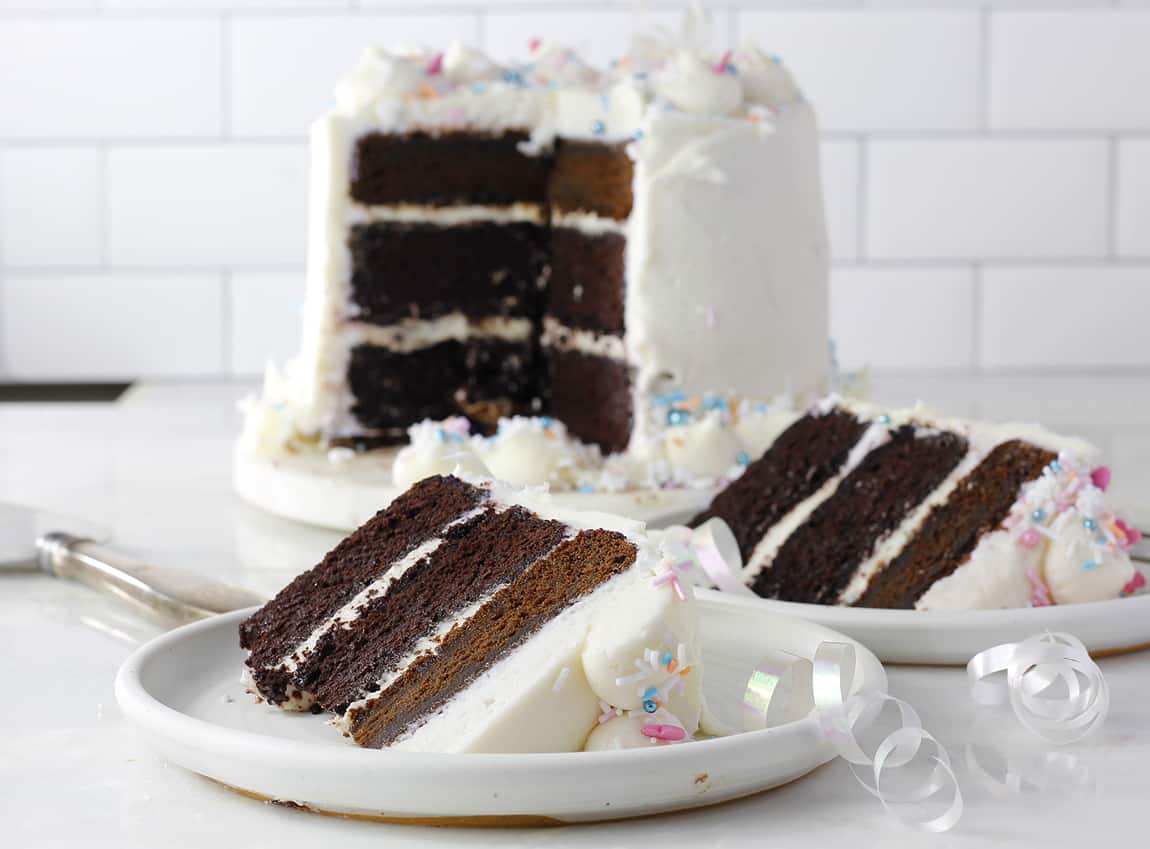 Why You'll Love This Recipe
This healthy frosting recipe texture is light. This frosting recipe creates an old fashioned fluffy texture two ways: (1) ensuring ingredients are at room temperature, and (2) whipping it with a mixer for a minimum of 2 minutes. Both factors allow air to be incorporated, resulting in a light and fluffy texture.
It's nutritious for a frosting. This frosting is dairy-free, vegan and gluten-free. It also uses a healthy shortening made of healthy fats, including coconut oil and red palm oil. Coconut oil benefits are well-known, and red palm oil is considered to be a strong antioxidant that protects against disease and has other skin and heart benefits. It is gaining a growing interest by the medical community as the links between diet and health grow. [source]
It's an exceptionally delicious frosting. That's because of the combination of the palm oil shortening and organic powdered sugar. Organic powdered sugar makes frostings taste so much better than those made from regular powdered sugar in that it contains tapioca instead of corn starch found in most commercial powdered sugars. I challenge you to try it!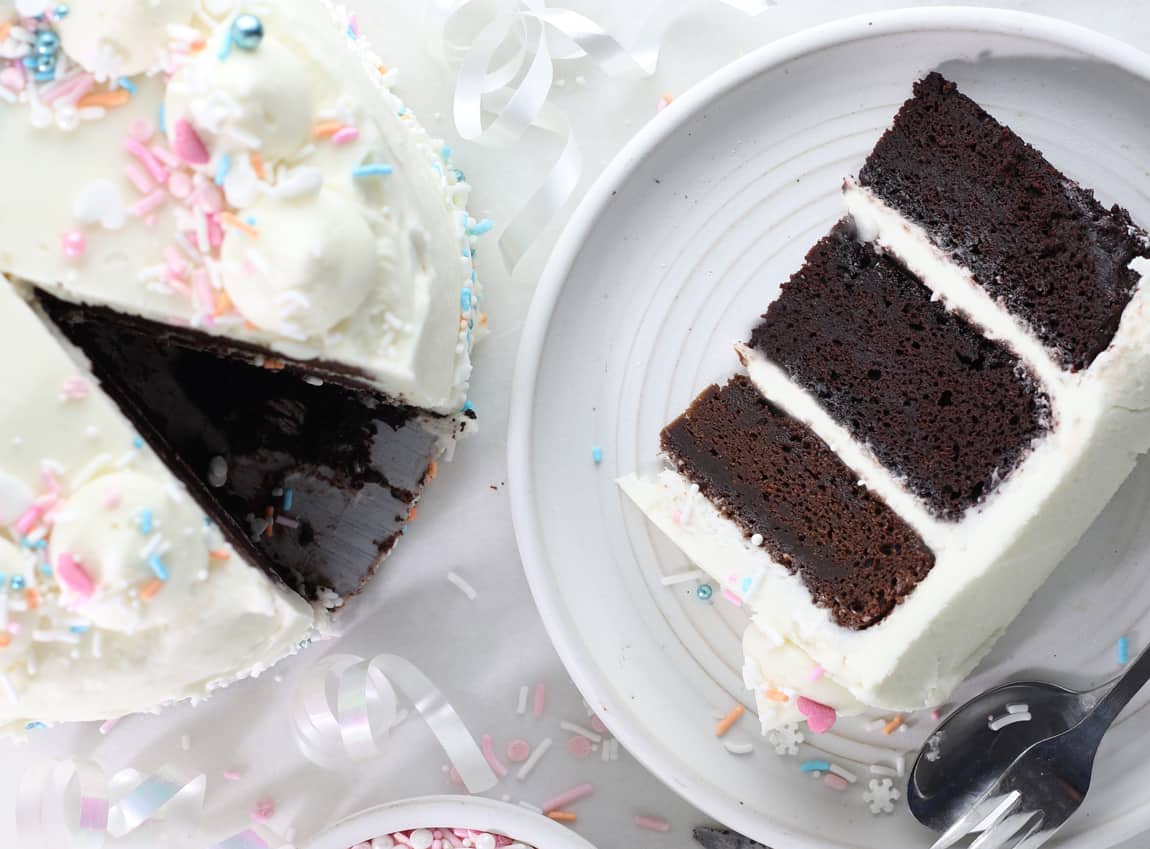 Ingredients
Organic Powdered Sugar: As I noted above, this sugar contains tapioca instead of corn starch found in most commercial powdered sugars, and it tastes so much better that you might want to always buy organic. My favorite brand is Wholesome.
Butter: This butter provides half the fat and I normally use vegan Earth Balance sticks. Be sure to allow the sticks to be at room temperature before use; this takes about two hours or overnight.
Organic Plant-based Shortening: The other half of the fat portion is shortening. Not the white lard-based shortening such as Crisco however. Look for Spectrum or Nutiva brands.
They both produce plant-based shortenings containing the healthier red palm oil. In my fudge frosting, I Nutiva's whose shortening is a mix of red palm oil and coconut oil. It's delicious, but it is yellow, so works best for a chocolate frosting as it discolors white frosting. For this white frosting, I use Spectrum's shortening, made of palm oil and white.

Steps to Make
This recipe makes enough frosting to frost about 18 cupcakes or 1 (2-layer) cake. The detailed recipe is at the bottom of this post but here is a brief overview of the steps:
1. Be sure butter, shortening and milk are all at room temperature.
2. Add all ingredients, except half the milk, to a bowl and hand mix until combined. Add the rest of the milk or more to reach the texture you want. Mix again only just enough to combine.
3. Add the ¼ drop of blue food using the method I describe in detail below on how to make your buttercream bright white.
4. Now it is time to mix the frosting for a solid 2 minutes to incorporate air and achieve an old fashioning fluffy texture.
4. Store your white frosting for two weeks in the refrigerator.
What to Use White Frosting On?
I used it on my dairy free chocolate cake. But I also use it on my fluffy vanilla cake as well. As I mentioned, it pipes beautifully and holds the shape overnight or longer.
Substitutions
There aren't a lot of swaps here. I suppose you could use all butter instead of using any shortening but then you won't have the lovely light bakery frosting crunch on the surface, or the rich flavor.
Recipe Tips
How do you make white frosting from scratch?
It's very easy to make this white frosting. Just put all ingredients in a bowl, mostly sugar, butter, shortening and mix and you have frosting.
How do you thicken white frosting?
I normally thicken frosting by adding powdered sugar or even tapioca or arrowroot if you don't want to add more sugar.
Why is my white frosting grainy?
Any shortening frosting can seem a bit grainy if you don't mix it enough.
How to Store
I keep mine refrigerated for a couple of weeks, or frozen for 3 months. However, I keep frosted cupcakes or cakes on the counter at room temperature for about 24 hours. After that I refrigerate them.
How Do I Make Buttercream White?
Here is how to whiten your frosting and remove the yellowish tinge from butter and vanilla.
Step 1: Add a teeny smear of blue food coloring to your frosting. Getting "a teeny smear" though takes some effort. It's about ¼ of a drop - read drop, not teaspoon - so you can't just drop a full drop from a food coloring bottle into your frosting.
Step 2: To achieve just a ¼ of a drop of food coloring, drop a drop on to a spoon, then dip a corner of a paper towel to the drop and let about ¾ of the drop become absorbed. This leaves ¼ of the drop on your spoon.
Step 3: Dip the spoon holding the remaining ¼ drop of food coloring that is not on your paper towel into the frosting and transfer the coloring.
Step 4: Whip up the frosting, making sure to incorporate the blue dye. What a few minutes to be sure the color registered in the frosting and to your eye. If need be, repeat the process. Sometimes I do have to do this twice - I think there are variations in yellow in certain butters and vanillas.
It works to whiten buttercream because the blue is opposite yellow in the color wheel, so blue offsets the yellow and brings out the white. Beautiful!
Other Frosting Recipes
Fudge Frosting
Cookie Dough Frosting
Vegan Royal Icing for Sugar Cooking Decorating
Vegan Buttercream Frosting
Sweet Potato Chocolate Frosting
Peanut Butter Frosting
Are you on Pinterest? Perhaps share this image.
I invite you to keep up with me on: Facebook | Pinterest | Instagram | Twitter
Don't miss a thing, subscribe here to get recipes delivered to your inbox!
If you try my recipes, please leave a comment and rating below and tag me on your Instagram post with @greensmoothiegourmet so I can see and share your remakes!!
📖 Recipe
Fluffy White Frosting Recipe
A fluffy white frosting recipe with the light bakery-style crunch, and made bright white thanks to a whitening trick, and has a special ingredient that adds antioxidants in your frosting.
Instructions
Prep
Set the butter out to allow it to reach room temperature overnight or at least two hours before using. Make sure shortening and milk are also at room temperature.
Make Frosting
Put all ingredients - except hold back 2 tablespoons of milk - in a large bowl and use a hand-mixer to mix the frosting until ingredients are just combined. Add the 2+ tablespoons of milk if needed to get the texture you want. Up until now, your whipping is only to combine, not to fluff.

4 cups organic powdered sugar,

½ cup organic shortening,

3-4 tablespoon dairy free milk,

½ teaspoon vanilla extract
Make color bright white
To make your frosting bright white, put a drop of blue food coloring on a spoon. Use a tissue corner to absorb nearly ¾ of it off. You want only the tiniest smear of blue to remove the yellow tinge and make your frosting bright white. Repeat as needed.

¼ drop blue food coloring

Once you have achieved the color you want, make the frosting exceptionally fluffy by whipping it two minutes.
Store
To keep the frosting wet until you are ready to frost your cake, put a soaking wet paper towel over the bowl. This will keep the frosting soft for an hour if you keep the paper towel wet so plan your baking around this window.

Store this frosting in a sealed container in the refrigerator for two weeks. To use it, let it sit at room temperature until it is soft, about 5 minutes. Stir or even whip again briefly if needed for texture.
Notes
This recipe makes enough frosting to frost about 18 cupcakes or 1 (2-layer) cake.
Organic powdered sugar. You can also use regular powdered sugar. The organic type has tapioca instead of cornstarch and tends to taste better, thus your frosting will taste better.
Nutrition
Calories:
201
kcal
Carbohydrates:
27
g
Protein:
1
g
Fat:
11
g
Saturated Fat:
5
g
Trans Fat:
1
g
Cholesterol:
14
mg
Sodium:
47
mg
Potassium:
6
mg
Fiber:
1
g
Sugar:
26
g
Vitamin A:
167
IU
Vitamin C:
1
mg
Calcium:
5
mg
Iron:
1
mg