Homemade Hostess Cupcakes, with rich devil's food cake, a creamy center and a healthy ganache chocolate top. This recipe is so much healthier than other copycat recipes as well as the processed treat with no oil, no eggs and oat flour. Vegan and gluten-free.
Homemade Hostess Cupcakes
These homemade hostess cupcakes are easy to make and so much healthier than the original processed commercial treat, and other copy cat recipes. That's because they use pumpkin puree instead of eggs and oil as well as other healthy ingredients.
Yet these cupcakes use ordinary ingredients, and are incredibly easy to toss together in one bowl.

Table of Contents For this Post
Why These Hostess Cupcakes Are Healthier
Many ingredients in this recipe fall into the healthy category, but I'll point out the top two:
Pumpkin puree: I use canned pumpkin puree instead of eggs and oil to help give this dark devil's food cake structure. Pumpkin is rich in beta-carotene, evident in other red and orange foods as well, and the body uses it to create vitamin A which supports vision, eye healthy, skin and cells. Pumpkins also have a ton of vitamin C, vitamin E, iron, and folate - all of which are anti-viral and help you beat illnesses. [source]
Coconut milk: I make this velvety chocolate ganache topping with coconut milk from a can instead of heavy cream. Coconut milk is high in super healthy fats. The human body uses these efficiently for energy, and doesn't store them as fat. This milk also boosts the immunity, and has a ton of fiber, vitamins, and minerals. [source]
Any dairy-free milk works also however, just try to use one with higher fats such as almond milk or cashew milk. Oat milk would not work, the ganache would be too thin.
How Does This Hostess Cupcake Recipe Taste?
Okay so without eggs and oil, how does this recipe taste? Like the dreamiest chocolate cupcakes you've ever tasted. Just as rich and fudgy as the commercial product.
One way to help provide the chocolate a dense rich flavor is to use a quality cocoa. I use a dutch process brand by Valhrona, the same brand used by top cupcake brands such as Georgetown Cupcakes and Magnolia Bakery cupcakes.
PRO-tip: Note that this recipe can take either a dutch-processed cocoa or regular unsweetened cocoa, because it has both baking soda and baking powder as leaveners so not worry, use either.
Before we continue, I'd like to invite you to sign up for my free chocolate course. Five lessons hit your inbox with detail on how to create your own simple healthy chocolate desserts.
Okay, so back to this recipe...
Ingredients in These Hostess Cupcakes
Flour: I use oat flour for the extra fiber, protein and vitamins. You can buy oat flour by the bag, or simply grind down rolled oats in your blender.
Oat flour is naturally gluten-free but some brands process it in a plant that plant that processes gluten products so to be sure your oat flour is gluten-free choose a brand that certifies that the plant is also gluten-free such as this one.
But this recipe totally works with either all-purpose flour or a GF baking flour. Oat flour would also work, but use more, 1 ¾ cups.
Unsweetened Cocoa: The chocolate flavor depends heavily on the cocoa you choose. Choose the best quality you have access to, I highly recommend using dutch process for the extra rich flavor, but unsweetened cocoa powder works fine too. Remember, even though you'll read that in most recipes dutch process and regular cocoa can't be interchanged, they can be in this recipe.
Sugar: Organic cane sugar tastes much better than refined white sugar because it is much less processed, and is without exposure to pesticides. Being less processed, the sugar retains more nutrients, including essential amino acids, minerals and vitamins. Try to use organic cane sugar that has the fair trade seal which means workers who process and package the product are treated and paid fairly.
Pumpkin Puree: This ingredient basically replace eggs and oil, although you can use other vegetable purees if you have them on hand such as sweet potato or butternut squash or even unsweetened apple sauce.
Do not mistake pumpkin puree for pumpkin PIE puree - the latter has added ingredients such as sugar. I usually use pumpkin puree that has only pumpkin in the ingredients such as Whole Food's 365 brand or Farmer's Market brand.
Leaveners: baking powder and baking soda
Milk & Lemon Juice: My favorite way to provide lift to cakes
Other Essentials: salt and quality vanilla extract
The chocolate ganache on top is simply chocolate chips and coconut milk, or any dairy-free milk.
And the inside cream and the frosting used for the squiggle is merely butter, powdered sugar, more milk and vanilla.
Ingredients That Can Be Substituted
Instead of oat flour, you can use all purpose flour, just use less of it, 1 ½ cup instead of 2 cups of flour.
Instead of butter in the frosting, I have used Spectrum organic shortening - it's white so helps keep the inside cream white color as in traditional hostess cupcakes.
Instead of coconut milk in the glaze, I have used almond milk.
With both substitutions, use the same amounts.
How to Make These Hostess Cupcakes
Make the Cupcakes: This is a one-bowl cake recipe, yippee!
1. Add the lemon juice to the milk five minutes before to allow it to curdle. It reacts with the baking soda to create lift.
2. Toss all the wet ingredients in a bowl, including sugar, and stir.
3. Then add in the dry ingredients. I usually add the dry ingredients through a strainer to break up cocoa clumps but if you don't have any, just measure and add to the bowl.
4. Mix up the batter with and hand mixer or stand mixer.
5. Once the batter is ready, add 1 ½ scoop of batter (3-4 tbsp) to each cupcake well lined with paper.
Bake and allow to cool completely so the piped cream doesn't melt.
PRO-tip: If they dome high above the paper, just press them flat as soon as they come out of the oven. If they don't reach above the paper, don't worry, I explain either way how to glaze the top.
Make the Inside Cream: Microwave your stick of butter for 10 seconds, add that to the powdered sugar, and vanilla. Hold back the milk and add in 1 tbsp increments until you have a creamy texture - it gets liquidy very fast. Add the frosting to a frosting bag fitted with a wide round tip to use to fill the cupcakes. Once filled, add the rest of the frosting to a frosting bag fitted with a #5 writing tip. If you don't have tips, just snip the end of a frosting bag - ½ inch for filling, and a tiny snip for writing. You can also use a ziplock bag if you don't have frosting bags.
Either use the other side of a frosting tip to core your cupcakes, or cut a cone with a knife held at an angle and set aside the cake core you pull out. You can crush them and dry them for future toppings on cupcakes or ice cream. You will not be re-using them on these cupcakes.
Fill each cupcake so the frosting stops at the top. Smooth it with a knife.
Make the Chocolate Ganache: melt the chocolate chips in the microwave for 1 minute. Stir until smooth. Heat a can of coconut milk in hot water on the stove. Stir so the cream is melted into the milk. Pour ½ cup of the hot milk onto the melted chips and stir.
To glaze the cupcakes, you have two choices.
1. If your cupcakes have risen even with the cupcake paper or above, then dip the cupcake into the ganache and set aside to set.
2. If your cupcakes have not reached above the cupcake paper, simply spoon the ganache on to each cupcake and set aside to set.
Once set, draw on a squiggle.
Tips to Make These Hostess Cupcakes
1. Add the batter using only 1 ½ scoop from a medium-sized ice cream scoop. This will fill the cupcake so it is the perfect height for that flat top you need to make the perfect hostess cupcake. Don't fill it any more or the cupcake will dome and not be flat. Sticking to this pattern, you will end up with 12 cupcakes.
PRO-tip: Also, if you don't have a scoop, add 3 tbsp of batter to each liner.
2. It might seem obvious, be remember to use pumpkin puree from a can, and not pumpkin PIE filling. Sweet potato puree is also fine.
3. Also, again obvious, be sure to fill these cupcakes with cream after they have been baked and cooled completely otherwise the cream will melt and soak into the cupcake.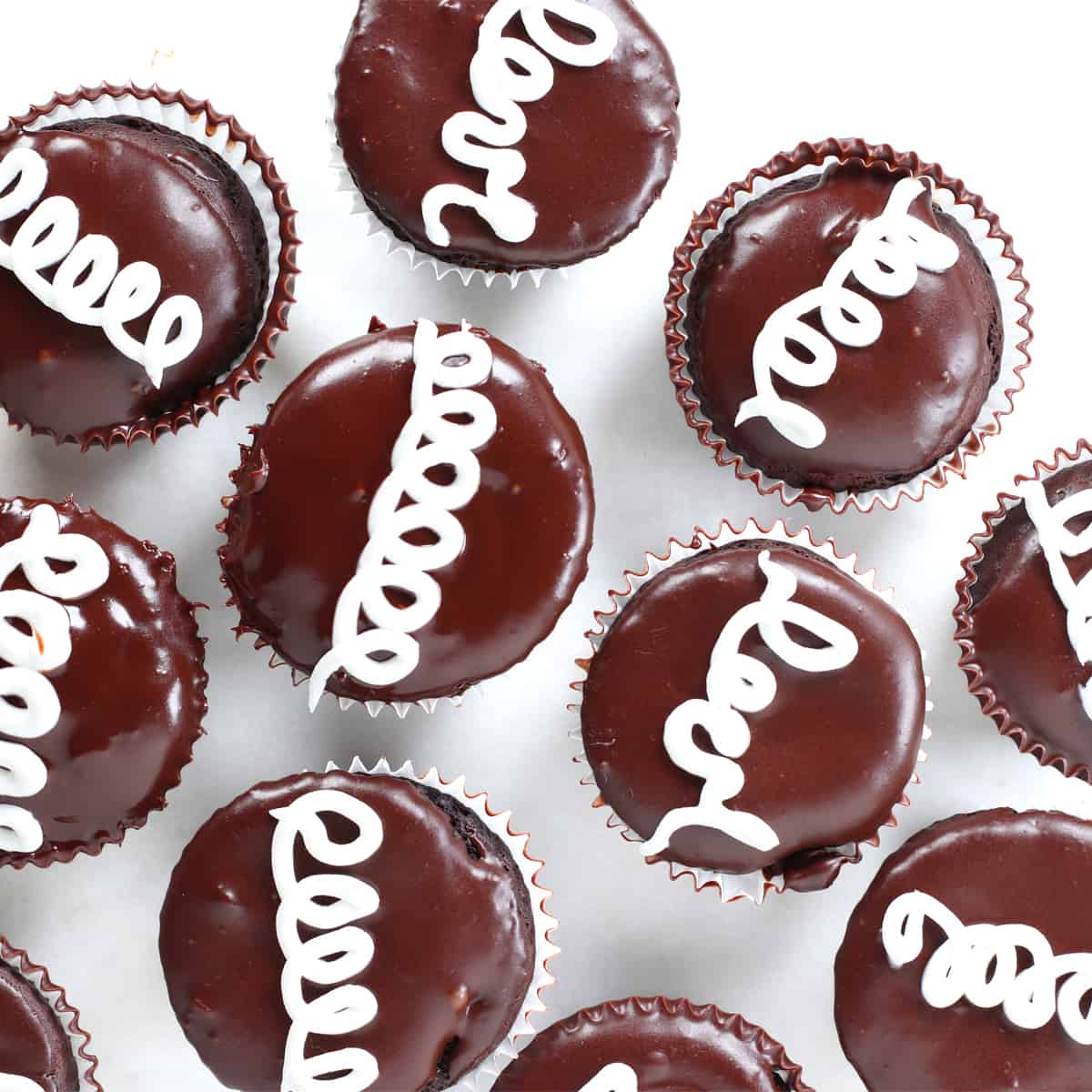 How to Store Hostess Cupcakes
Once frosted, the cupcakes are fine at room temperature for about 2 days and then they begin to dry out, primarily because of the oat flour. If you use all purpose flour, they will last longer at room temperature.
You can freeze them once assembled and frosted. They seem to last about a month in a sealed container before developing freezer burn but that probably varies with each freezer.
Faqs of Hostess Cupcakes
Since hostess cupcakes are a unique social icon, I thought I'd review a few facts about them and their history, as well as answer questions people seem to have about them.
Are Hostess Cupcakes Still Available?
Yes, first launched back decades ago, the original company, Continental Baking went bankrupt around 2012 and stopped making these iconic cupcakes but their buyer went on to rejuvenate the commercial treat. [source]
Can You Fill Cupcakes Before Baking?
You must actually fill cupcakes after baking or else the filling will be tried up or ruined.
What is the Difference Between Chocolate Cake and Devil's Food Cake?
Devil's food cake is usually darker and richer, often made so by the use of a darker cocoa. [source]
What is the filling in a Hostess Cupcake made of?
This recipe is filled with a light white frosting that tastes delicious thanks to the organic cane sugar and quality vanilla.
Other Copycat Recipes To Try
I invite you to keep up with me on:
Instagram | TikTok | Facebook | Pinterest | Twitter
Subscribe HERE to get recipes delivered to your inbox!
If you try my recipes, please leave a comment and rating below and tag me on your Instagram or Facebook post with @greensmoothiegourmet and #greensmoothiegourmet so I can see and share your remakes!!
Homemade Hostess Cupcakes
Homemade Hostess Cupcakes with rich devil's food cake, a creamy center and a healthy ganache chocolate top. This recipe is so much healthier than other copycat recipes as well as the processed treat with no oil, no eggs and oat flour. Vegan and gluten-free.
Ingredients
Instructions
Prep
Preheat your oven to 350 F.

Line cupcake pan(s) with 12 paper liners.

Activate your milk by adding lemon juice to it and let it sit for 5 minutes.
Make cupcakes
To the large mixing bowl, add the wet ingredients - milk activated with lemon juice, pumpkin puree, vanilla and sugar, and mix until smooth. You are looking to melt the sugar.

Add the dry ingredients. I add mine through a strainer if my cocoa is clumpy.

Add the batter about ⅔ full to each cupcake liner using a medium cookie scoop or 3-4 tbsp of batter. Filling the scoop once and ½ half will give you 3-4 tbsp of batter. You don't want to add more or the cupcake will dome and not be flat-topped like the traditional hostess cupcakes.

Bake cupcakes for 18 minutes. Or until tester comes out clean. If they dome anyway, press with a spatula while they are hot to flatten. If they seem to fall below the paper, not to worry, you can spoon on the glaze instead of dip.

Let cool for ten minutes, then put cupcakes on a cooling rack and allow to cool before cutting out a center and then filling. I let mine cool for 2-3 hours. The cupcakes need to be cool so the cream doesn't melt and soak into the cake.
Make chocolate ganache
Melt the chocolate chips in a pyrex measuring cup for 1 minute. Stir until all chips are melted. Microwave another 10 seconds if need be.

If using canned coconut milk, put the open can in a pot of water and heat the water to a boil, stirring the milk occasionally. This will help the solid fat melt and warm the milk. If you are using another dairy free milk, microwave it to warm it, about 30 seconds.

Then pour the milk into the melted chocolate and stir until creamy. And pour it into a dipping bowl.
Make White Frosting for Filling & Writing
Add sugar, butter and vanilla and just 1 tbsp of the milk to a large mixing bowl.

Use a hand-mixer or an electric mixer to combine. Add the remaining 2 tbsp of milk gradually until you have a creamy consistency. You can add more or less milk, but be careful, it can turn too liquidy very fast.

Add frosting to:

To fill the cupcake, add a frosting bag fitted with a wide-mouth round tip or cut a ½ inch opening in a frosting bag or sandwich bag.Once you've filled all the cupcakes, add the left over frosting to a second frosting bag fitted with a tiny writing tip #5 or cut a small opening to use for writing the squiggle.
Assemble the Cupcakes
Cut a cone out of the center of each cooled cupcakes using the tip of knife held at an angle.

Fill the space with frosting, and don't allow frosting to expand beyond the top of the cupcake. You will not be using the cone you removed.

To glaze the cupcakes you have two choices.

1. If your cupcake has domed level or above your cupcake paper, dip each cupcake in the glaze and set aside to dry

2. OR if your cupcake has baked to fall BELOW your cupcake paper, simply spoon on the glaze.

Let the cupcakes sit at room temperature until dry and then add writing or swirls.
Store
The cupcakes are fine at room temperature for about 2 days and then they begin to dry out. If you used all purpose flour, they will last a bit longer - oat flour dries out faster.

To store cupcakes long term, assemble them and then pack them in an air-tight container and freezer for a month.
Video
Nutrition
Calories:
125
kcal
Carbohydrates:
25
g
Protein:
4
g
Fat:
3
g
Saturated Fat:
1
g
Polyunsaturated Fat:
1
g
Monounsaturated Fat:
1
g
Sodium:
172
mg
Potassium:
188
mg
Fiber:
3
g
Sugar:
9
g
Vitamin A:
1589
IU
Vitamin C:
1
mg
Calcium:
58
mg
Iron:
1
mg