Healthy vegan ring ding cakes, or ding dongs as some call them, are round chocolate hand cakes with healthy cream inside. Dipped in a healthy dark chocolate, these little chocolate hand cakes are a dream come true! You can even use your own favorite chocolate cake recipe and just follow my step-by-step.
Healthy Ring Ding Cakes (or Ding Dongs) (vegan/gf)
Healthy Vegan Ring Ding Cakes. Or Ding Dongs as they are called in different parts of the world.
Devils food, cream-filled hand-held cakes. Remember these?
But remember how you stopped eating them when you realized the ingredients were unpronounceable?
Well, my husband has always loved these cakes and we may or may not have arguments at a grocery store over whether to buy the unhealthy artificial-ingredient version. (Ha!)
So, a great solution occurred to us this week, maybe we should make them homemade.
And as in "we", I mean "me" of course. Hubby loves to help in most housematters except at cooking. But that's okay, we all have our strengths – at least he is great at doing the dishes.😀
But I digress. The ring dings.
So, how could we work this out?
Well, I already have a vegan chocolate cake recipe I use for chocolate vegan whoopie pies and have made three times now. And I know it should work well for this with some adjustments, and hold the circular cutout shape (or use you could use your own favorite chocolate cake recipe).
Add in a basic easy coconut whipped cream recipe for the filling.
How Do You Make Coconut Whipped Cream?
It's very easy. Buy a can of full fat coconut milk. Refrigerate it overnight so the solid firmly separates from the liquid.
I usually buy Whole Foods 365 brand but Trader Joe's works too. The problem is the whipping reaction can vary between brands and even within brands.
Next day, open the can, reserve the liquid in a covered container in the refrigerator for smoothies.
Put the solid cream portion into a mixing bowl.
Add a few tsp of maple syrup or organic icing sugar if you want to keep it snowy white, some vanilla, and whip it up into a peaky delicious cream. It takes about 4-5 minutes to really stiffen. A pinch of cream of tartar can also help.
The resulting cream isn't exactly like traditional dairy whip, but it is so close. And of course the nutrition in coconut whipped cream is high, full of nutrition that supports weight-loss and keeps cholesterol levels healthy.
There is a bit of a coconut flavor however, and so if you want more of a vanilla flavor, pay attention to your vanilla.
The Difference between The Vanillas
Did you ever wonder what the difference is between vanilla extract, vanilla beans and vanilla paste?
Here is the scoop folks, vanilla extract is least expensive, least potent, made with alcohol and most likely to find weak imitations.
Vanilla beans are most expensive – about one scraped vanilla bean is equal to 3 tsp extract which is too much for most recipes so not that convenient or cost-effective.
I love vanilla paste because it is essentially a jar of scraped out vanilla beans, so tasty and so fragrant and storably efficient.
Not extremely inexpensive, but one refrigerated jar lasts a long time.
So there we have it. Shall we make ring dings now?
We are now the happy owners of a batch of tidy delicious hand-held cakes made of cream-filled devils food and that are healthy and vegan and all things are good.
Oh, and if you love chocolate dessert recipes, you might want to try my simple vegan cinnamon chocolate cake with whipped chocolate icing!
Are you on pinterest? Perhaps share this image..

I invite you to keep up with me on: Facebook | Pinterest | Instagram | Food Gawker | Twitter
Don't miss a thing, subscribe here to get recipes delivered to your inbox!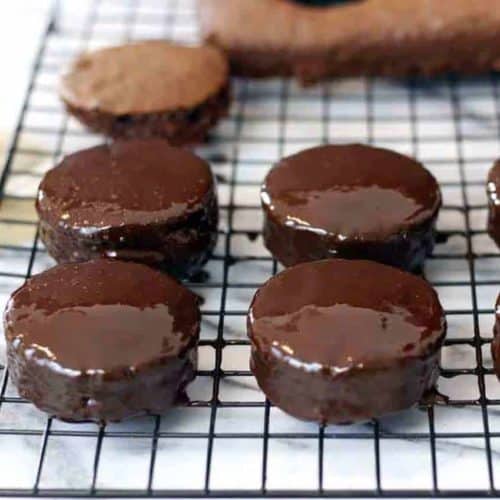 Healthy Ring Ding Cakes (vegan, gluten-free, dairy-free)
Healthy vegan ring ding cakes, or ding dongs as some call them, are round chocolate hand cakes with healthy cream inside. Dipped in a healthy dark chocolate, these little chocolate hand cakes are a dream come true! You can even use your own favorite chocolate cake recipe and just follow my step-by-step.
Print
Rate
Ingredients
In medium bowl
2/3

cup

extra-light olive oil

2

tsp

vanilla*

1 1/4

cups

unsweetened applesauce
Whipped Coconut Cream Filling
Useful Equipment
Instructions
Prep
Put coconut milk can to chill overnight


Ready to bake? Preheat oven to 350 degrees F

Grease a 13-inch by 9-inch rectangular pan with vegan butter, and dust with cacao powder. Cut a square of wax paper and cover the bottom.

In a small bowl, stir together the milk and vinegar and set aside for 5 minutes.
Make Cake
In the large bowl, stir together the flour, cane sugar, cacao powder, baking soda, baking powder, and salt until well combined

In the medium bowl, stir together the oil, vanilla, and applesauce until fairly well combined, some separation is okay.

Pour the contents of the small bowl and medium bowl into the large bowl, and mix with a hand mixer until your batter reaches a smooth pourable consistency.

Pour batter into the rectangular pan, tap to even the surface, and bake 30 minutes, or until a toothpick inserted into the center comes out clean.

Let cool on a rack for 20 minutes, run knife around inside edge, place a rectangular cook rack on top of cake, and tip pan upside down and allow cake to come out of pan and sit on rack. Be very careful to not let cake break. Carefully peel off wax paper.

Place cake on rack in refrigerator for about an hour to allow it to cool and harden a bit before attempting to cut the cake circles. Cut 12 circles using a 2 1/2 circle cookie cutter, in two rows of four each. The left over cake cuttings can be crumbled on to a cookie sheet, toasted for 15-20 minutes at 350F. Don't burn them! Then use the crumbles as dessert sprinkles on ice cream or smoothie bowls.


Wash all three bowls before making cream and chocolate coating.

Make the Cream
To make the cream, open the chilled coconut milk can, and scoop out the solid coconut - there will be 2/3 cup of liquid left behind, save that for future smoothies.

In the medium bowl, blend this solid coconut with the powdered sugar and vanilla with a hand-mixer until creamy. Set in refrigerator to chill for the time left that the cake has to chill.


When both cake and cream are chilled, insert cream into circles using this technique:

Insert a baking tip into a plastic sandwich bag, cut off the bag corner, filled the bag with the cream, and pipe the cream gentle into the center top of each cake circle, or even into each side if you want a lot of cream in the center as we do!
Make the Chocolate Coating
Melt the chocolate and coconut oil in a shallow bowl in the microwave at 60 seconds. Stir until all is melted.

Dip each cake in the chocolate coating bowl using two forks and use a spoon to add mixture all around the cake. Set each coated cake back on the cooling rack and set them in the freezer for a few minutes to set, or leave them at room temperature.


Once set, they are ready to eat! Enjoy!

Dee Dine is founder of Green Smoothie Gourmet, a plant based recipe blog, and author of the recent cookbook, Crazy Healthy with 4 Ingredients . On this blog you'll find incredibly easy recipes with hidden veggies for anyone wanting to eat healthier, regardless of diet. Dee has graduate degrees in sciences and  journalism. More about Dee Dine here.