An irresistible healthy and homemade chocolate ice cream made in a blender! No dairy, no bananas, and plant-based, it's a guilt-free indulgence loaded with a weight-control secret and just 4 simple ingredients.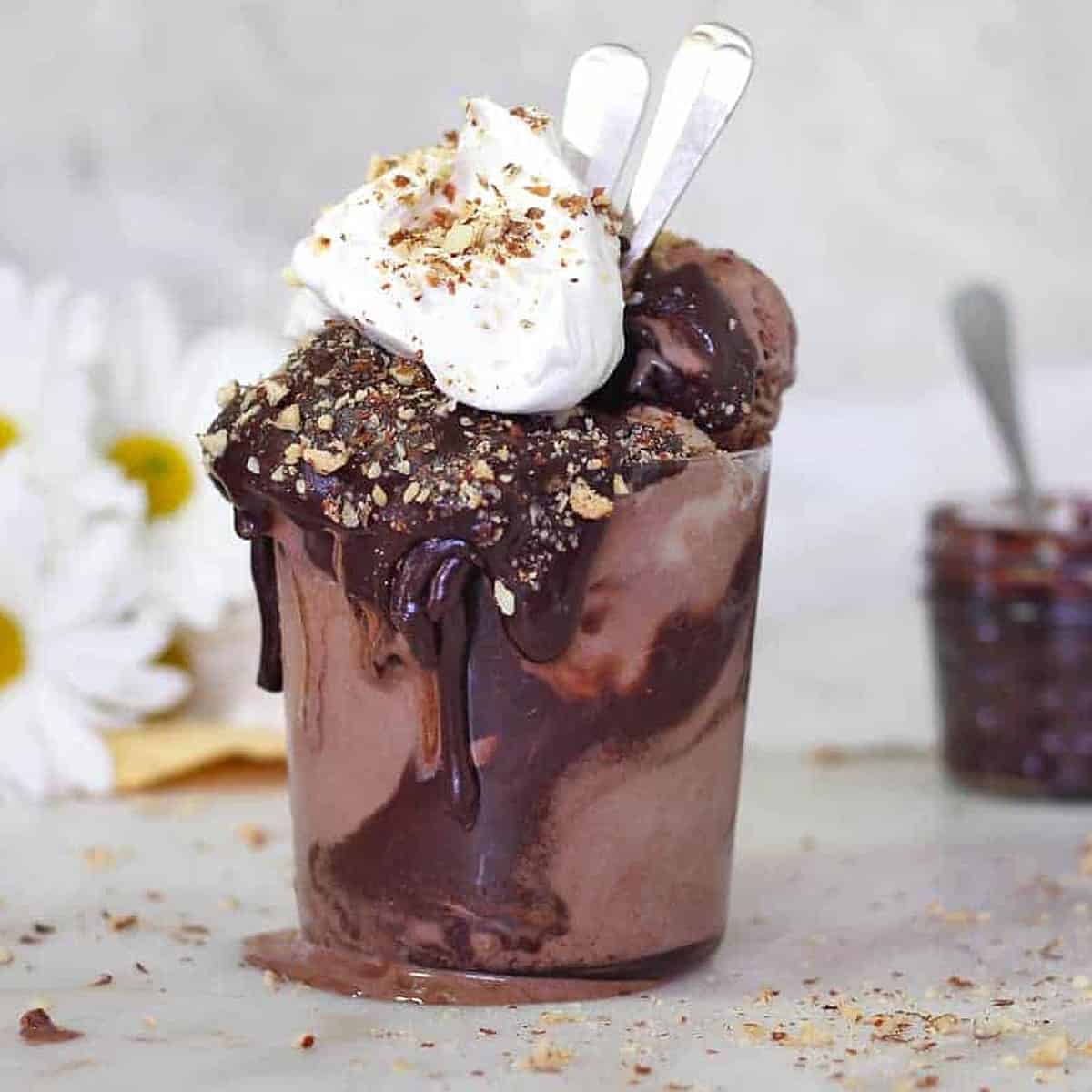 Blender chocolate ice cream is rich and creamy, and you don't need an ice cream maker. Serve it with whipped cream and my chocolate sauce recipe or my magic shell, in three flavors, vanilla, chocolate and peanut butter.
There are no bananas are in my recipe even though that's a popular way to make healthier ice cream as I did in this chocolate ice cream with bananas recipe. My daughter is intolerant to bananas so I came up with this non-banana version. It's so easy, using a full fat coconut cream instead.

Table of Contents
Why You'll Love This Ice Cream
Simple ingredients. The only ingredient that might not be in your kitchen is the can of coconut cream. If you don't need it to be plant-based, heavy cream works as well.
Nutritious. Ice cream that is good for you is exciting. This one is high in protein, refined-sugar-free, boosts your mood if you use quality cocoa (I love Ghiradelli cocoa!), and boosts your metabolism if you use a can of coconut cream.
Easy to make. Just throw all the ingredients in a blender and blend. Pour into ice cube trays or into zip lock bags and freeze flat. Re-blend again, and freeze in a loaf pan or an ice cream container for at least four hours and you have ice cream.
Ingredients Needed
Coconut Milk. Use canned, unsweetened and full fat, not the type from the refrigerator section. I can recommend brands Whole Foods 365, Thai kitchen or Nature's Valley. This is the ingredient that boosts your metabolism, read more below.
Nut butter. I used cashew butter for a neutral flavor but you can use any nut butter.
Cocoa powder. Use the best quality you can find for flavor. Valhrona provides an awesome flavor but it is expensive. Ghiradelli is my favorite.
Vanilla, Maple syrup or date paste to sweeten.
Steps to Make
The secret to making ice cream in a blender with a full fat cream is to blend it twice. If you have an ice cream maker, you can blend it only once and add it to the maker. The general steps to make ice cream with a blender are as follows:
Step 1. First you blend up ingredients, then you freeze them a short time in either ice cube trays, or 1 gallon zip lock bags laid flat in the freezer.
Step 2. After freezing for 1 hour, either pop the ice cubes in a blender or break up the 1 gallon zip lock bag mixture into chunks and put those in a blender.
Step 3. Then blend again. Fold mix-ins now if you are adding, such as chocolate chips or nuts.
Step 4. Now pour this mixture into a loaf pan or ice cream container and freeze for at least four hours to make it scoopable. To scoop, allow the ice cream to thaw about 20 minutes.
Recipe Tips & Tricks
1. Two ingredients are essential to thickening blender ice cream: nut butter and cream.
Choose a nut butter brand that does not added sugar or other ingredients. Choose a canned coconut milk brand, not the coconut milks found in the dairy section. That version is too watery.
When you buy canned, look for brands that are free of other ingredients. Guar gum is hard to avoid in many canned foods and actually is somewhat nutritious. [source].
2. Don't leave off the vanilla. The alcohol in the extract will lower the freezing point making your ice cream softer and easier to scoop.
FAQS
Can You Taste the Coconut?
Lite coconut milk never imparts a coconuty flavor to recipes, but you need full fat here to make the ice cream creamy. However, depending on the can, the strength of the coconut flavor can vary even between brands. The Whole Foods 365 full fat brand doesn't impart a strong coconut flavor. Adding a tablespoon of cold-brew coffee or ¼ teaspoon of cayenne pepper will disguise any coconut flavor.
How Healthy is Coconut Milk?
Unsweetened canned coconut milk is high in saturated fat, which normally would not be good for you, however, coconut's saturated fat is special. It is made up of something called MCTS that make it easy for the body to transform into energy and boosts the metabolism so weight-loss is easier.
Studies done on MCTS (medium-chain triglycerides) show consumption actually supports weight-loss without trying, especially belly fat, primarily because of their ability to boost energy and help you feel full.
Can you blend ice cream in a blender?
Yes, use this 4-ingredient recipe! Just blend up these ingredients, freeze one hour, blend, and freeze again.
How do you make ice cream from scratch in a blender?
Just add all ingredients to your blender, pour mixture into ice cube trays or zip lock bags and freeze for one hour. Then blend again and freeze in a loaf pan or ice cream container for 4 hours. You have ice cream!
How do you make ice cream in a mixer?
The same as blender ice cream only instead of a blender to combine all ingredients, you use a mixer.
Other Ice Cream Recipes
Chocolate Ice Cream (with bananas)

Want to share this recipe on Pinterest? Maybe use this image..
I invite you to keep up with me on: Facebook | Pinterest | Instagram | Food Gawker | Twitter
Don't miss a thing, subscribe here to get recipes delivered to your inbox!
Blender Chocolate Ice Cream (no bananas)
A blender chocolate ice cream recipe! Only 4 ingredients. Dairy-free, vegan and no bananas! The perfect homemade ice cream and it contains an ingredient that helps you control weight!
Ingredients
Useful Equipment
I use this ice cube tray for no-churn recipes and make-ahead smoothies

Covered Ice Cube Tray

Blender or Ice Cream Maker
Instructions
Make Ice Cream
Don't chill the can of coconut milk overnight or it will separate into liquids and solids. Keep it at room temperature and shake hard before blending.

Blend up all ingredients until smooth. Taste-test to be sure it is sweet enough. Add more maple syrup if it is not. Add any additions now.

2 cans coconut milk,

3 tablespoon maple syrup,

½ cup nut butter,

5 tablespoon cocoa powder,

1 tablespoon vanilla extract

Spoon mixture into ice cube trays or zip lock bags and flatten. Freeze for at least 1 hour.

Chocolate Chip Cookie - mix in chunks of vegan chocolate chip cookie dough

Blend the cubes or broken shards. If you intend to add mix-ins, such as chips or cookie dough chunks, fold them in now.

Pour the mixture into a parchment-lined loaf pan.

Cover and freeze another 3-4 hours or until you reach the texture you want.
Serve
Once frozen overnight, let thaw 20 minutes before scooping.

Top with homemade chocolate sauce or a melted chocolate bar! Enjoy!
Notes
*cold coffee and/or cayenne pepper will overpower any coconut flavor.
Nutrition
Calories:
248
kcal
Carbohydrates:
11
g
Protein:
4
g
Fat:
23
g
Saturated Fat:
16
g
Polyunsaturated Fat:
1
g
Monounsaturated Fat:
5
g
Sodium:
13
mg
Potassium:
292
mg
Fiber:
1
g
Sugar:
4
g
Vitamin A:
21
IU
Vitamin C:
1
mg
Calcium:
29
mg
Iron:
4
mg