An easy recipe on how to create date paste, a healthy sugar substitute rich in fiber and iron, and without refined sugar. Easy recipe with step by step instructions to make this delicious sugar substitute in 10 minutes.
How to Make Date Paste (best healthy sugar substitute)
Dates are the best natural sweetener, loaded with fiber (10% daily requirement), and essential minerals like calcium and iron and magnesium.
And they do not cause glucose spike which work against weigh-loss.
So making a paste out of date is a terrific way to create a healthy, plant-based sugar substitute.
Ingredients in Date Paste
Fresh Dates - I used Medjool dates because they are big and meaty, but you can use smaller dates as well. Just be sure to boil them at least until soft, usually about 10 minutes.
I find dates in the produce area of most supermarkets. They are not usually free, but encased in packages.
Lemon Juice - I add lemon juice to add a brighter flavor and cut through the sweetness.
Water - of course!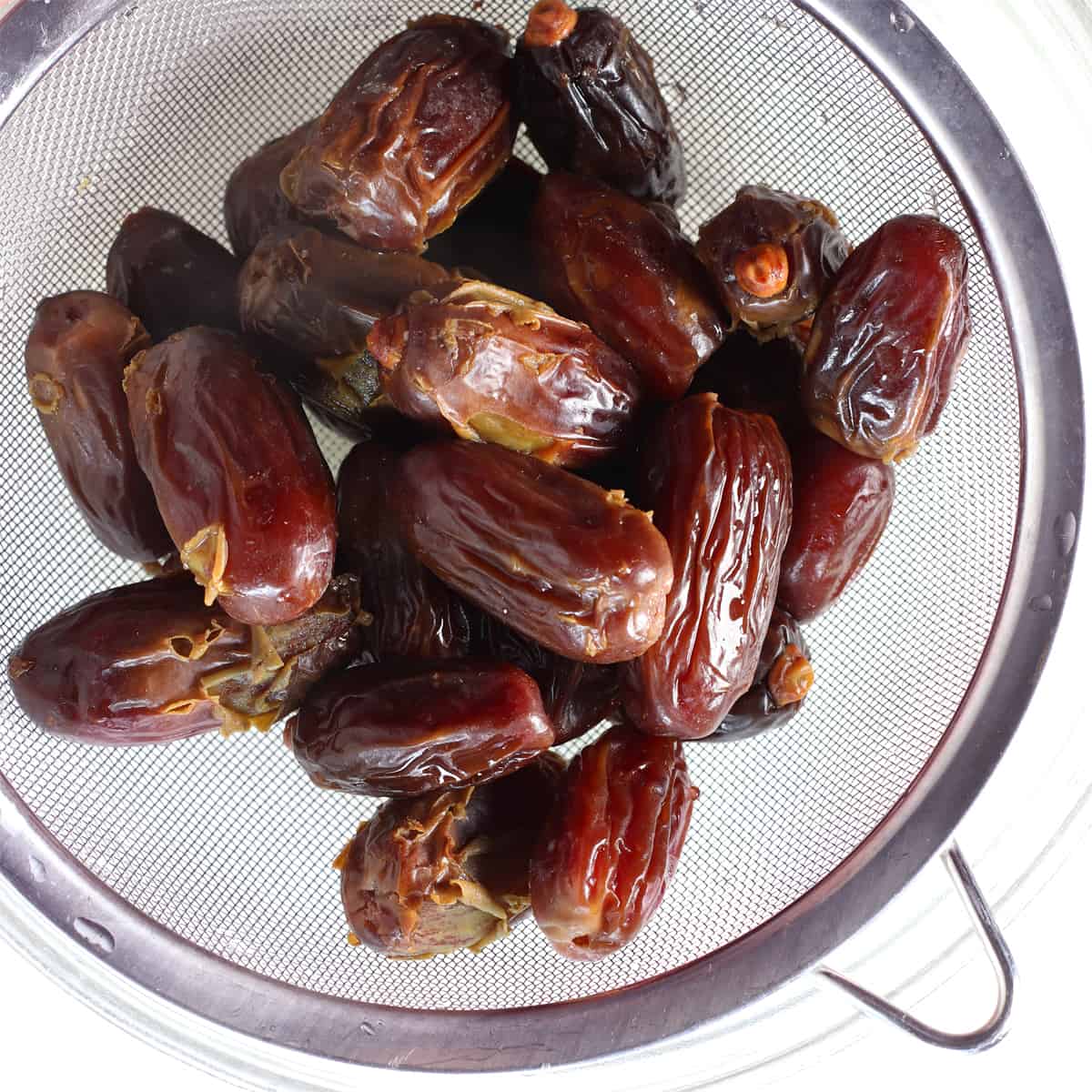 How to Make Date Paste
1. Prep dates by boiling them to soften them no more than 10 minutes.
2. Rinse them, pit them and add them to a blender.
3. Add lemon juice and water and blend until creamy.
4. Store date paste covered one week in the refrigerator, or frozen for 3 months.
How to Make Date Paste Without a Recipe
To create a paste without using a recipe, just use the ratio of 2 parts dates to 1 part water. And it is really best to use a high speed blender like a Blendtec to get a really creamy texture.
So how to make date paste?
It's easy, soak, pit, blend with water. See the steps pictured below.
What Kind Of Dates Are Best for Date Paste?
To make date paste, you need to find some dates. Medjool are best because they are big and meaty. I love this brand. They come in a great container and last a long time in my refrigerator.
Let me tell you a bit about dates. Dates are found in hot-dry climates such as the middle east, Africa and California. I find them most often in the produce section of a supermarket.
I use medjool dates in this recipe. I have heard that deglet dates also work, however deglet have less nutritional value then medjool and they are smaller.
The best way to soften medjool dates is to soak them the night before. And then don't forget to pit them before you put them in the blender or you'll hear a lot of clanking.
Also, PRO-TIP, chop the soaked, pitted date meats into as tiny bits to get a faster puree.
How to Store Date Paste
I store my date paste spread in jars in the refrigerator, and in the freezer, some spread thin in sandwich bags, so I can simply break off chunks when I need it for blended recipes such as smoothies or desserts like these homemade protein bars.
Recipes that Use Date Paste
If you are on Pinterest, perhaps save the recipe using this image..
I invite you to keep up with me on: Facebook | Pinterest | Instagram | Food Gawker | Twitter
Don't miss a thing, subscribe here to get recipes delivered to your inbox!
If you try my recipes, please leave a comment and rating below and tag me on your Instagram or Facebook post with @greensmoothiegourmet and #greensmoothiegourmet so I can see and share your remakes!!
How to Make Date Paste (best sugar substitute)
Here is the ultimate guide to creating date paste, a healthy sweetener that can be used to create healthy desserts rich in fiber and iron and without refined sugar. It's easy to make and I provide step by step illustrated instructions.
Ingredients
Useful Equipment
Weck glass storage jars with lids (5.6oz)
Instructions
Prep dates
To make 1 cup of date paste, boil 12 dates for 10 minutes in clear water.

Rinse, strain and pit the dates.

Add them to a blender along with ⅔ cup of water and lemon juice.
Blend dates
Blend until it becomes a smooth paste.
Store
Store as a paste in covered containers in the refrigerator for one week, or in the freezer long term.
Nutrition
Calories:
34
kcal
Carbohydrates:
9
g
Protein:
1
g
Fat:
1
g
Sodium:
1
mg
Potassium:
85
mg
Fiber:
1
g
Sugar:
8
g
Vitamin A:
18
IU
Vitamin C:
1
mg
Calcium:
8
mg
Iron:
1
mg