Samoa Cookies, a healthy copycat of the traditional girl scout cookie, only 5 ingredients, and full of fiber, iron and potassium, supporting hair, skin, nails and providing energy. View step by step video in this post.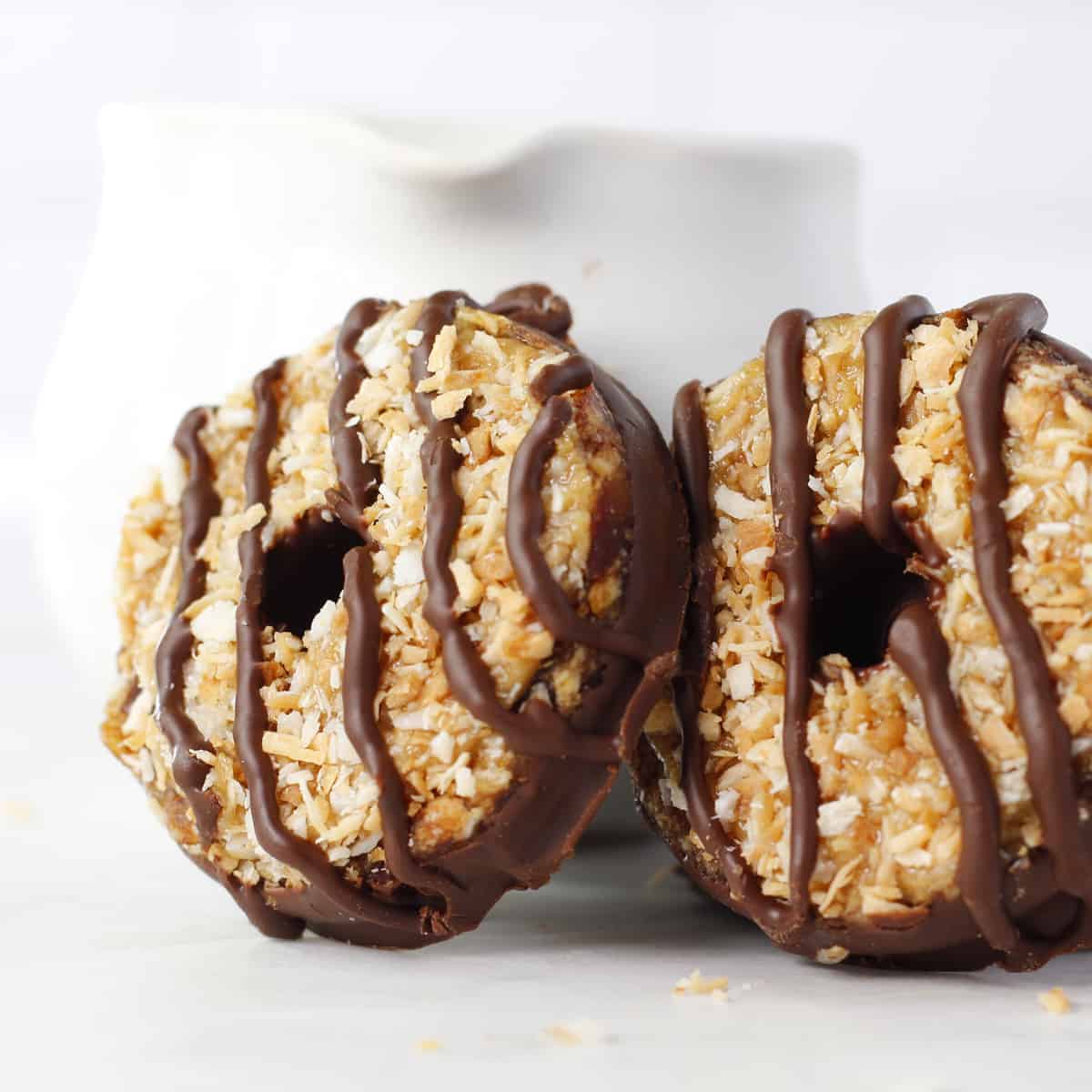 Samoa Cookies
Samoa cookies are melt-in-your-mouth wonders, with a buttery shortbread base, melted chocolate and fresh coconut. They are easy to make, use only a few ingredients and are full of healthy benefits.
I make them in a mini donut pan mold but you can also make them without the hole in a cupcake pan.
Table of Contents For this Post
What Is a Samoa Cookie?
A Samoa cookie is a round, buttery shortbread base topped with a creamy caramel, sprinkled with toasted coconut and dipped and drizzled with dark chocolate. The cookie was made famous in 1970s by the Girl Scouts, a youth girls organization, when they included the cookie during their annual food drive.
Girl Scout Cookie Changes Name
A little fun trivia for you. The Girl Scout's made this Samoa cookie famous, but recently had to change the name to Caramel Delites because the Girl Scouts switched manufacturers, and the original manufacturer of Samoa cookies had a federal trademark on the name.
Main Ingredients for Samoa Cookies
Dates: Full of iron and fiber, as well as add sweet flavor and binding. I used Medjool, but you can use the kind you can find. Look in your grocer's produce area for packaged dates, not dried.
Maple Syrup: A sweetener with a healthier panel than sugar so we can use less brown sugar.
Nut Butter or sunflower seed butter: This ingredient is important as a binder and instead of processed oil. I have made these with nut butter as well as Sunbutter, an excellent sunflower seed butter if you want to make these cookies nut-free.

Shredded coconut: Use shredded coconut that is unsweetened and as fresh as you can buy it.
Chocolate: I use chocolate chips but you can also chop chocolate. I use Enjoylife chips for their clean ingredient panel, or HU gems if you don't want cane sugar in your chocolate.
Before we dive into the recipe, I'd like to invite you to sign up for my free chocolate course. Five lessons hit your inbox with detail on how to create your own simple healthy chocolate desserts.
Okay, so back to this recipe...
How to Make Samoa Cookies
Step 1: Bake the shredded coconut for 5 minutes until brown. Boil dates for 5 minutes as well to soften enough to pit them.

Step 2: Make the cookies by processing the browned shredded coconut and dates into a sticky mixture. I used a food processor but a blender will also work.

Step 3: Press the mixture into a mold or the bottom of a cupcake pan. Chill while you make the caramel center.
Step 4: Put the nut butter and maple syrup in a pyrex measuring cup and microwave for 15 seconds, stir until smooth. Pour on chilled cookies.

Step 5: Sprinkle more browned coconut on cookies and drizzle with chocolate.
Step 6: Store Cookies in a sealed container at room temperature for 4 days or freeze for three months.
How Healthy Are Homemade Samoa Cookies
Samoa cookies are relatively healthy as cookies go with 2 grams of protein and fiber each, and only 4 grams of sugar.
The sweet flavor and texture of the cookie comes primarily from fresh dates which have a highly nutritious composition, including potassium and iron, and antioxidants which fight off disease. [source]
The other prominent ingredient in samoa cookies is shredded coconut. The shredded nature helps the cookie bind the dates into the soft chewy texture found identical to the processed commercial version. And raw coconut brings an extraordinarily nutritious profile to the cookie, including cholesterol control, weight loss support, digestion help and blood sugar stablization. [source]

Tips To Make Homemade Samoa Cookies
Tip #1: Make sure the dates are fresh and soft. I buy them packaged in the produce section of the grocery store, and always check the date (haha). But at home, before use, I boil them for about 5 minutes to soften them up, then pit.
Tip #2: Make sure the shredded coconut is fresh and from a reputable company. If it's not fresh, the taste will reflect a stale quality. Bob's Red Mill and Let's Do Organic are always fresh in my experience.
Tip #3: To produce a flat chocolate base on the cookie, dip and place the cookie immediately on wax paper. Parchment paper might work but I find wax works better. Once the chocolate is set, peel the cookie off the paper.
Try My Other Healthy Chocolate Treats
Chocolate Brownie Protein Bars
I invite you to keep up with me on: Facebook | Pinterest | Instagram | Food Gawker | Twitter
Don't miss a thing, subscribe here to get recipes delivered to your inbox!
Samoa Cookies
Samoa Cookies, a healthy copycat of the traditional girl scout favorite, only 5 ingredients, and full of fiber, iron and potassium, supporting hair, skin, nails and providing energy.
Ingredients
Caramel filling
4

tbsp

nut butter

or sunflower seed butter to make nut-free

1

tbsp

maple syrup
Coconut sprinkles
¼

cup

shredded coconut, unsweetened
Equipment
Instructions
Prep
Preheat your oven to 375 F.

Line quarter cookie sheet with parchment paper

Boil 8 dates for 5 minutes, drain and pit
Make Cookie base
Toast coconut by spreading 1 cup on to the parchment paper and bake for 5 minutes or until browned.

Add ¾ cup browned shredded coconut and pitted dates to a food processor and process mixture until sticky.

Press 1 tbsp per well into a mini donut mold. If you don't have a mold, press into a paper-lined cupcake pan.

Freeze while you make caramel center
Make Caramel Center
Mix the nut butter (or sunflower seed butter) and maple syrup in a pyrex measuring cup, microwaving for 15 seconds to make it smooth.

Spread over the cooled cookies while still in the mold (or cupcake pan).

Sprinkle tops with fresh shredded coconut.

Place the mold (or cupcake pan) in the freezer for 30 minutes to allow the caramel to set.
Dip the Cookies
Remove the cookies from molds.

Melt the chocolate chips and coconut oil in the microwave for 1 minute.

Dip the cookies bottoms until coated. Because they are frozen, the chocolate should set fast but set them on a cooling rack up side down until that chocolate bottom is set.
Drizzle the tops
When the bottoms are set, drizzle the tops with melted chocolate. I use a frosting bag with the tip cut off but you can use a ziplock sandwich bag as well with the tip cut off.
Store Cookies
Store in a sealed container at room temperature for 4 days or freeze for three months.
Video
Nutrition
Calories:
74
kcal
Carbohydrates:
7
g
Protein:
2
g
Fat:
4
g
Saturated Fat:
2
g
Polyunsaturated Fat:
1
g
Monounsaturated Fat:
2
g
Sodium:
15
mg
Potassium:
89
mg
Fiber:
2
g
Sugar:
4
g
Vitamin A:
1
IU
Vitamin C:
1
mg
Calcium:
21
mg
Iron:
1
mg