A creamy chocolate smoothie that is a delicious meal replacement shake. Also high in protein and fiber, kid-friendly. Vegan and banana-free. View my step by step video below!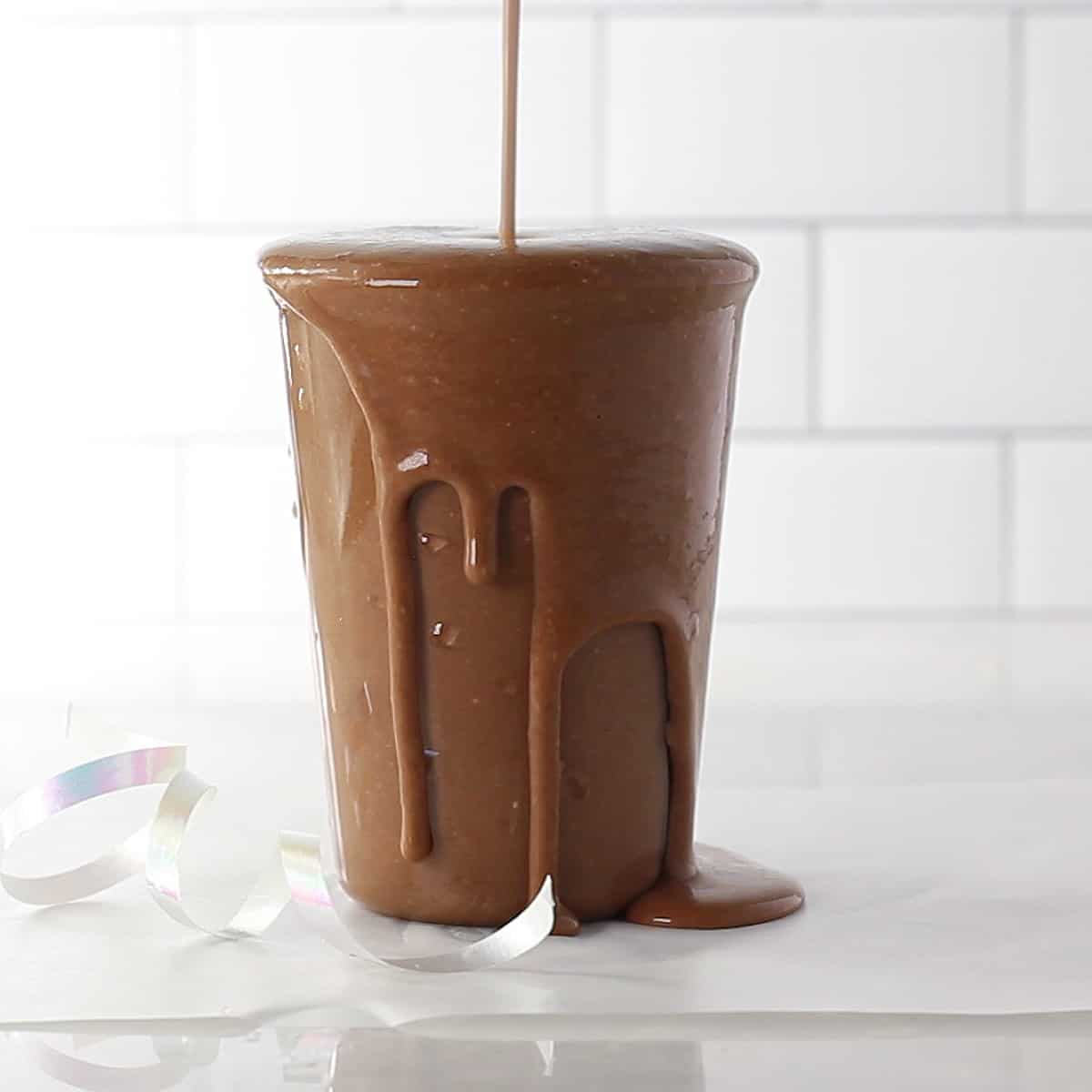 Creamy Chocolate Smoothie
This creamy, delicious chocolate smoothie is the best way to kick off your day. Rich in deep chocolate flavor, it is also filling, easy to make and super kid-friendly. Customize it if you want, with even more nutrition. I share options below.
But even if you don't change a thing, this chocolate smoothie is so utterly decadent and delicious that I dream about it before I go to sleep at night, and it helps me spring out of bed in the morning.

Table of Contents For this Post

Experts say be cautious about replacing a meal with a smoothie, but they would approve of this one with 9 grams of protein and 12 grams of fiber, and untold healthy fats and other nutrition. [source]
So what is this dreamboat smoothie made of? You probably have the ingredients in your kitchen right now!
Hey, a quick note to say I offer two free email courses - smoothie challenge or a chocolate treats course. Sign up below if you are interested in both or either.
Chocolate Smoothie Ingredients & Nutrition
Milk Cubes - Freeze a milk in ice cube trays and use these cubes to make your smoothie creamy and thick just like bananas would. (this is a banana-free smoothie). The higher the fat milk, the creamier your smoothie will be. I used canned coconut milk here, but almond or cashew milk are also creamy. Plant-based milks have enormous nutrition, including antioxidants, protein, and a broad panel of vitamins and minerals depending on the milk source. [source]
Rolled Oats - Oats add fiber, nutrition and a thickening factor. [source]
Cocoa - I used unsweetened powdered cocoa. The higher the quality, the deeper the chocolate flavor. I used Ghiradelli's dark cocoa. Cocoa contributes antioxidants which fight disease and is high in magnesium which supports digestion and mood. [source]
Chocolate chips - Again, use a quality chocolate, either chips or even a chocolate bar. At least 70% cacao. I used Enjoy Life brand chips.
Dates - Medjool dates are best. Pit them before adding them to your blender. Find them boxed in your grocery produce section. If they are older, soak them in just boiled water for 5 minutes. Dates are high in antioxidants, vitamins C and E, fiber and iron. [source]
Peanut Butter - Up the protein with this or leave it off.
Milk to Blend - You can use water but it will be thinner smoothie. I used almond milk.
How Do I Make A Creamy Chocolate Smoothie?
One trick to a creamy smoothie texture is to make and use frozen milk cubes. A high-fat milk is best such as canned coconut or almond or cashew. But if you want to reduce even the healthy fats, you can freeze zero fat yogurt instead.
So how do we make this smoothie? Although normally it is best to add liquids to a blender first when making a smoothie, with this one, add the ice cubes first because you want them to begin to melt straight away.
For the best results, you'll want to add the ingredients to the blender in this order:
step 1: Freeze away milk in ice cube trays. If your dates are on the dry-side, soak them in just boiled water.
step 2: Add into a blender the ingredients in this order: Frozen Milk Cubes, Oatmeal, Cocoa, Chocolate chips, Dates, Peanut Butter
step 3: Pour in 1 cup of milk and blend for at least a minute. Pour and serve!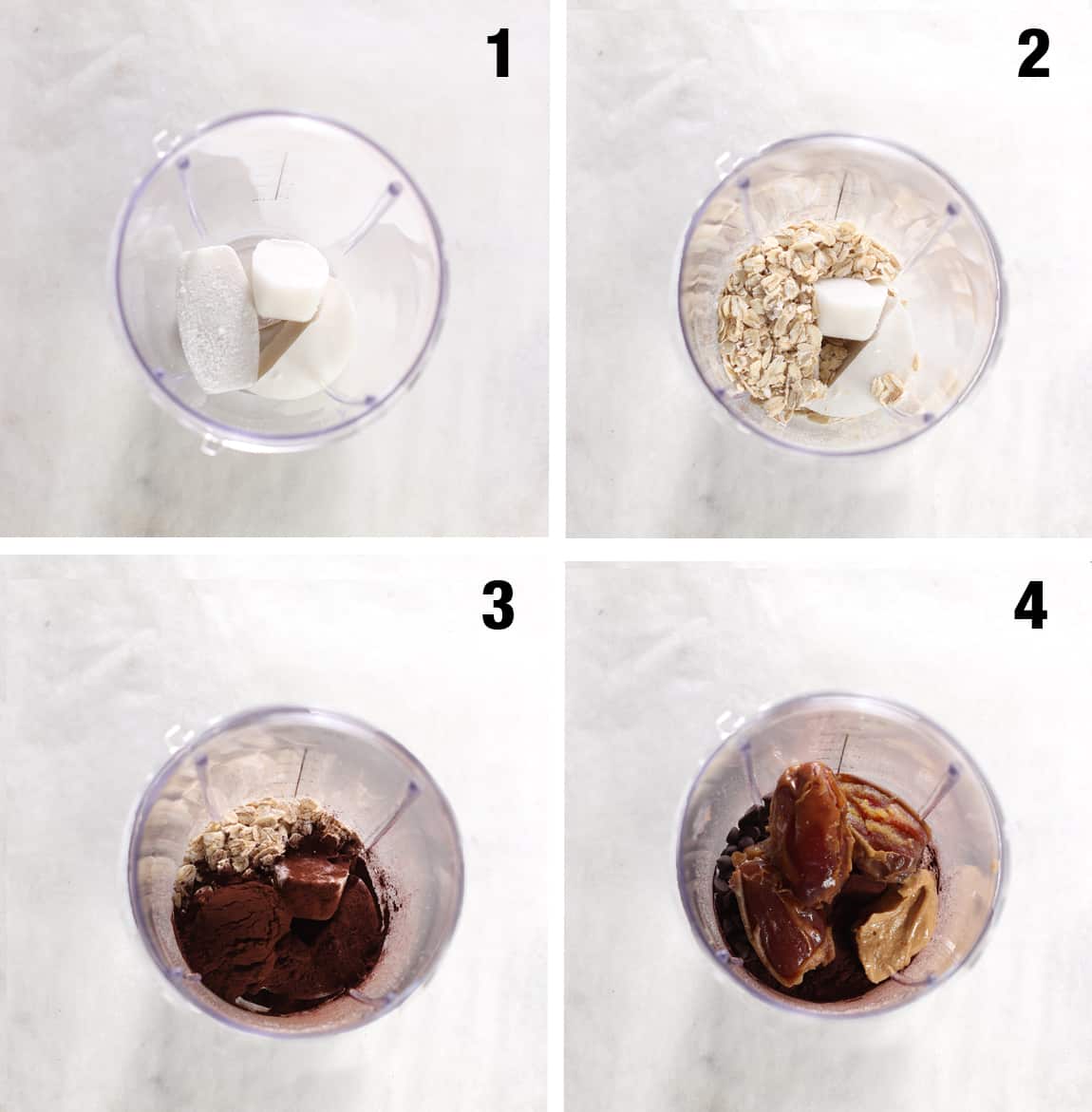 Chocolate Smoothie Frequently Asked Questions
Is a smoothie good for weight loss?
Smoothies high in protein and fiber may even aid weight loss by keeping you full. If you're looking for a creative way to boost your fruit and veggie intake, smoothies may be the way to go.
How do you make a cocoa smoothie?
Start by placing cocoa powder and chocolate chips in a blender. ...
What type of cocoa powder is best for smoothies?
Hershey's unsweetened cocoa powder is used. If it is not available, you can use any other brand's sweetened or unsweetened cocoa powder.
Are chocolate smoothies healthy?
Chocolate smoothies made without bananas are high in protein, fiber, magnesium, and iron, primarily from the chocolate, dates and milk and peanut butter. And it is full of healthy fats.
Is this Smoothie Vegan & Gluten Free?
Yes, provided you use rolled oats that are not from a gluten-contaminated factory - the brand Bob's Red Mill is a good one.
How do I Add More Nutrition to This Smoothie?
Of course you can add anything to any smoothie, but to keep the delicious taste and texture of this one, here is what you can add:
Seeds - Chia, flaxseeds, hemp are always good choices for added protein, fiber and omegas. Add 1 tbsp of each.
Avocado - add ½ frozen for extra creaminess and added benefits. They actually contribute nutrients to every cell process in the body.
Spinach - ½ cup of packed raw spinach leaves won't be tasted and will add potassium.
Yogurt - freeze yogurt instead of milk for the cubes, and/or replace half the added milk with plain yogurt.
Chocolate Smoothie Tips & Variations
I think this smoothie is perfect but if you want to reduce the sweet flavor, reduce the dates, to either 2 dates or even 1 ½ dates. It depends on how bitter your unsweetened cocoa is; different brands have different levels of bitter. I used this cocoa: Ghiradelli Cocoa
This chocolate smoothie is delicious as is, but it also makes a wonderful chocolate base smoothie to build your own. Here are two different flavors you can change it to:
Miso - Add ½ teaspoon of white miso paste to add a umami and salty flavor
Cayenne Pepper - Add ¼ teaspoon of cayenne pepper to give your chocolate smoothie a spicy Mexican or Aztec chocolate spin.
More Smoothie Recipes
Chocolate Peanut Butter Smoothie
If you try my recipes, please leave a comment and rating below and tag me on your Instagram post with @greensmoothiegourmet so I can see and share your remakes!!
I invite you to keep up with me on:
Instagram | TikTok | Facebook | Pinterest | Twitter
Subscribe HERE to get recipes delivered to your inbox!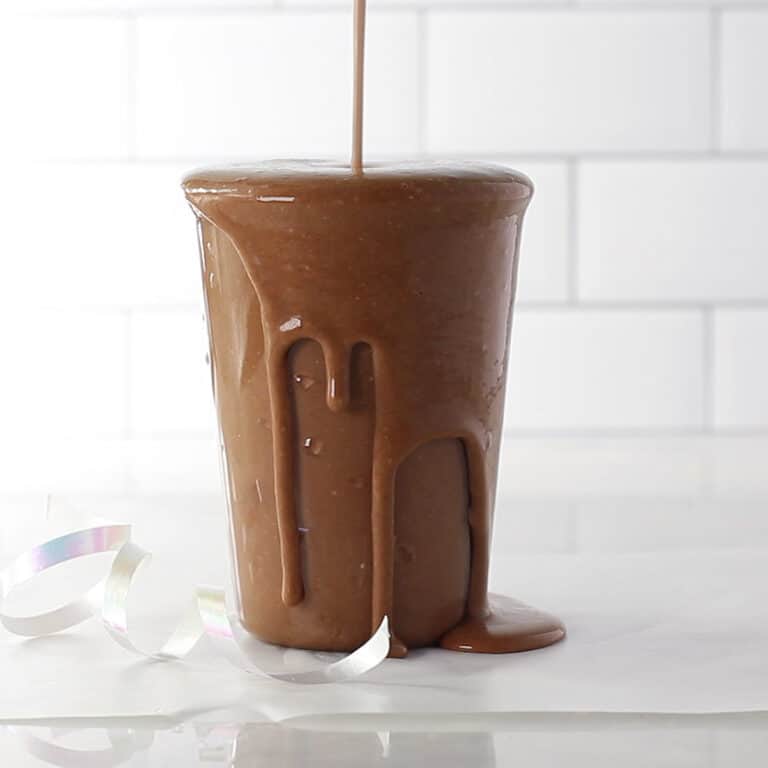 Creamy Chocolate Smoothie
A creamy chocolate smoothie that is a delicious meal replacement shake. Also high in protein and fiber, kid-friendly. Vegan and banana-free.
Ingredients
3

tbsp

frozen milk ice cubes

I froze canned coconut milk; almond or cashew is also healthy-fat-rich

3

tbsp

rolled oats

1

tbsp

cocoa

1

tbsp

chocolate chips

3

dates

1

tbsp

peanut butter

optional

1

cup

dairy free milk
Instructions
Prep
Freeze milk the night before in ice cube trays. If your dates are older and dry, soak them for five minutes in just boiled water, then pit them.
Make Smoothie
Add all ingredients into a blender and process.
Store
Drink the smoothie immediately. Or refrigerate for one day.

Or freeze in ice cube trays and blend up again when you are ready, or put the cubes the night before in a glass or covered jar refrigerated, and let them thaw overnight then stir or shake.
Nutrition
Calories:
527
kcal
Carbohydrates:
57
g
Protein:
12
g
Fat:
34
g
Saturated Fat:
17
g
Polyunsaturated Fat:
4
g
Monounsaturated Fat:
7
g
Sodium:
402
mg
Potassium:
468
mg
Fiber:
9
g
Sugar:
31
g
Vitamin A:
2
IU
Vitamin C:
1
mg
Calcium:
383
mg
Iron:
6
mg