A healthy strawberry smoothie with hidden zucchini, making it high in fiber and nutrients yet thick like a strawberry milkshake, and healthy enough to support skin, hair, weight control, fight disease and even improves your sleep.


Healthy Strawberry Smoothie
This strawberry smoothie is full of vegetables yet is still creamy and delicious. That's because strawberry's have such a strong flavor that it's great at hiding vegetables where they normally aren't expected. So the nutrients add up! It also fits anyone's diet, but is specifically cleared as vegan, vegetarian, gluten-free, dairy-free, refined-sugar-free and plant-based.
And zucchini is the perfect vegetable to hide in a smoothie because it has a bland flavor, thickens the smoothie and adds as slew of fiber and nutrients. But other vegetables work too. Cauliflower is probably my next favorite vegetable to add to a strawberry smoothie, or any smoothie really. Avocado also works to thicken smoothies.

Table of Contents For this Post
How to Make This a Strawberry Banana Smoothie
This smoothie has hidden zucchini but if you are in the mood for a Strawberry Banana Smoothie - not just a Strawberry Smoothie, simple swap the zucchini out and toss in a frozen half banana.
Bananas thicken smoothies and add a sweetener. So why is zucchini in this smoothie instead? I explain further down, but trust me, you need to try zucchini in your smoothie some day please.
This Really Is The Perfect Strawberry Smoothie
This is the perfect strawberry smoothie for three reasons: creamy texture, sweet fruity flavor and very high nutrition.
If you have ever thrown ingredients into a blender and found your smoothie is too watery, or thick or warm, I have sympathy. It's hard to just throw a smoothie together. I wrote a smoothie book and had to test 100 smoothies and it wasn't easy creating those recipes. Here's why I love this recipe in particular:
Creamy Texture: It's just perfectly creamy, with a tinge of chill if you use frozen strawberries.
Fruity Bright Flavor: I let the strawberry flavor shine here, and it helps this smoothie taste like a strawberry smoothie, and not like a candy smoothie. (candy is cool, but not as a smoothie flavor). And fresh lemon juice brightens the flavor.
Top Nutrition: I give details about how nutritious this smoothie is, but suffice it to say it can definitely be breakfast and hold you until lunch.
Prefer a greener smoothie? How about my Easy Ultimate Green Smoothie Recipe! It combines even more vegetables and is super high in nutrition yet tastes rich and creamy and sweet thanks to a secret healthy sweetener perfect for green smoothies.
How to Make A Strawberry Smoothie
1. Measure out your ingredients.
2. Rinse and core the strawberries.
3. Rinse and chop the zucchini.
4. Peel the kiwi.
5. If you want a super cold smoothie, you can either freeze fresh ingredients now after you prepped them, or use one of them pre-frozen, such as strawberries since it's easy to buy a bag of frozen organic strawberries. And don't forget the lemon juice.
6. Put all ingredients in a blender and blend into a frothy smoothie! Drink it cold, over ice or in a mug with whipped cream.
How Healthy Is A Strawberry Smoothie
This strawberry smoothie is so healthy, it's perfect to drink daily and feel confident you are starting your day with a huge amount of nutrition.
Specifically, this smoothie provides a ton of vitamin C and vitamin A, both excellent immunity boosters as well as contributors to glowing, healthy skin. Tons of minerals such as magnesium which helps with sleep and mood, and lots of digestive nutrition.
The strawberries, like all berries, are rich in antioxidants, substances that help keep your cells operate correctly and that kick disease out of your system. The zucchini offers fiber and essential minerals unique to this green veggie [source]. And the kiwi is uniquely helpful in a smoothie at helping you stay asleep as it is rich in serotonin.
You'll get protein from the milk or yogurt you use, and of course you always have to option to toss in a tablespoon for chia seeds for those extra omegas which are so important to keep your body humming. [source]
Ingredients In This Strawberry Smoothie
The ingredients in this smoothie are simple, including strawberries, an additional fruit, a liquid and a thickener. Specifically they are:
Strawberries: Organic frozen. I suggest you use frozen so your smoothie is chilled after blending.
Kiwi: Or use a different fruit like mango. Fresh and peeled. This little fruit is packed with nutrition. It boosts immunity, balances blood sugar, support even blood flow, and is rich in vitamin C, vitamin K, vitamin E, folate, and potassium, antioxidants and fiber.
Zucchini:Raw and not peeled is best, but choose organic only. I keep bags of frozen chopped zucchini for smoothies. It also provides fiber and a slew of vitamins, especially vitamin A which supports immunity, skin and eyes.
Dairy Free Milk or Yogurt:your favorite! But watch the sugars in your choice. I use unsweetened cashew milk.
Lemon Juice: So important to brighten the flavor. Fresh or organic bottled. Or throw in a chunk of organic lemon, rind included. The peel of a lemon holds Vitamin C and calcium, so it's great for skin and bones. Lime juice also works.
Chia seeds:Optional but they add fiber, antioxidants, minerals, and heart-healthy omega-3 fatty acids, and have been found to help ward off heart disease and diabetes, as well as benefit digestion and gut health. [source]
Zucchini Thickens This Strawberry Smoothie Recipe
One role zucchini plays in a smoothie is to thicken the texture. Zucchini takes the place of what a banana does in many other strawberry smoothie recipes you'll find on the internet. You can use it raw or steamed although steamed might make it too watery.
To use it raw, be sure to buy organic zucchini as this is one vegetable that unfortunately easily absorbs pesticides. I don't peel it because the peel is full of fiber, but I do slice it thinly to help the blender along.
Other Ways To Thicken a Smoothie
Other smoothie thickeners are frozen riced cauliflower and even half an avocado. If you choose to use cauliflower, be sure to use it steamed as raw can be hard to digest. I use the riced cauliflower bags that are frozen and easy to microwave. Let the riced cauliflower cool though before adding it to a smoothie.
Avocados are another awesome thickener and banana-replacer in smoothies but of course I didn't add them here because it would turn the color green. Avocados work great in darker color smoothies however, such as my chocolate smoothies, including my Chocolate Beet Smoothie here and my Chocolate Peanut Butter Smoothie here.
Of course you can always thicken a smoothie by adding a cup of ice cubes, but I prefer to add vegetables for the added fiber and nutrients or even another fruit like frozen mango. Ice cubes can make a smoothie watery so I strongly advise against adding ice to a smoothie.
Yes, we have no bananas! Since bananas seem to be the primary way most smoothies on the internet are thickened, I thought I should offer alternatives, and less sweet ones at that.
What Does A Strawberry Smoothie Contain?
A strawberry smoothie is one of the easiest, most delicious smoothies to make! It contains only four basic ingredients: strawberries (of course!), another fruit, a liquid and a thickener such as a vegetable or yogurt, and optional additions such as seeds or nuts.
How to Sweeten A Strawberry Smoothie
In the interest of keeping this strawberry smoothie healthy, I would not suggest adding sweeteners. If you must because you think your strawberries are not sweet, then add 1-2 pitted Medjool dates. Dates will add iron, magnesium and fiber to your smoothie as well as sweeten it up.
Are Strawberry Smoothies Good for Your Skin?
Yes! They are rich in the natural collagen builder, vitamin C. Collagen, eaten naturally from fruits like strawberry, are said to be a natural anti-aging elixir helping skin stay smooth and supple and resistant to wrinkles.[source]
Strawberry Smoothies Help Control Weight
Strawberries are rich in bioactive compounds that fight unwanted weight gain on a level scientists are just beginning to understand.[source]
And of course, they are high in fiber and low in carbohydrates so whet appetites which also help stop weight gain.
Strawberry Smoothies Contain Fewer Free Sugars
Free sugars go up when you puree fruit and free sugars are the kind you don't want to be eating. In fact, most governments - USA and UK at least - recommend adults have no more than 30g of free sugar daily. A single candy bar has about 25g to put it in perspective.
How much sugar is in Strawberries? Well, 1 cup of sliced strawberries holds about 7g of sugar while 1 cup of puree strawberries holds about 10g. Why does the amount of sugar rise when you puree the fruit?
That's because pureeing breaks down the fruit's cell walls and releases more sugar. This means you shouldn't depend on smoothies entirely, and mix them with whole fruits and vegetables as well. [source]
How to Store This Smoothie
I love to drink my smoothies same day, same hour to be sure I get all the frosty flavor and nutrition, but if you just can't drink it right away, pour it into a mason jar, and leave it in the refrigerator for 24 hours before it really will lose nutrition. Before you drink, shake it up because it will have separated but it should take great!
Join my 6-Day Smoothie Challenge
While we are talking smoothies, I'll just pop in here and invite you to my FREE 6-Day Smoothie Challenge. I email you recipes and you make them, drink them and feel awesome. Sound good?
Sign up by simply dropping your email in the sign-up box and you'll receive an email with a welcome instructions and grocery list so you can begin as soon as you'd like.
How to Make Strawberry Smoothies Healthy
The best way is to follow these tips:
Use only fresh or frozen fruits and veggies, and use at least one of each but two is better.
Use low sugar fruits such as berries, or if using high sugar fruits like mango, than use twice as much of the veggie.
Use a healthy liquid, such as water, dairy free milk or coconut water
Do NOT add any sweeteners, even maple syrup. Depend on the fruit for flavor.
Flavor with herbs and spices such as ginger and lemon
Do NOT use too many ingredients. The flavors will get muddled.
Other Drinks To Check Out
Tropical Smoothie with Jackfruit
Mango Smoothie
Raspberry Smoothie
Blender Ginger Shots
Turmeric Latte
Ultimate Green Smoothie
Chocolate Beet Smoothie
Chocolate Peanut Butter Smoothie
I Wrote a 4-Ingredient Smoothie Book
Did you know? It's full of 100 recipes that are super healthy smoothies, made with only 4 ingredients. And most recipes have a picture of it so you know what it should look like, and has nutritional information and substitutions in case you don't have all the ingredients on hand.
Tap to Buy My Smoothie Book
I invite you to keep up with me on: Facebook | Pinterest | Instagram | Twitter
Don't miss a thing, subscribe here to get recipes delivered to your inbox!
If you try my recipes, please leave a comment and rating below and tag me on your Instagram post with @greensmoothiegourmet so I can see and share your remakes!!
I invite you to keep up with me on: Facebook | Pinterest | Instagram | Twitter
Don't miss a thing, subscribe here to get recipes delivered to your inbox!
If you try my recipes, please leave a comment and rating below and tag me on your Instagram post with @greensmoothiegourmet so I can see and share your remakes!!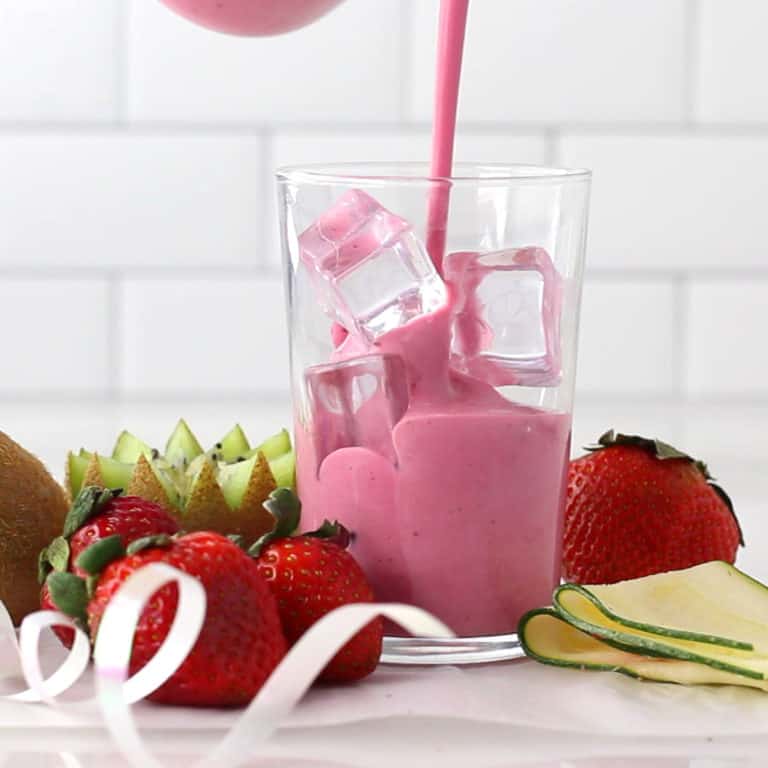 Healthy Strawberry Smoothie
A healthy strawberry smoothie with hidden zucchini, making it high in fiber and nutrients yet thick like a strawberry milkshake, and healthy enough to support skin, hair, weight control, fight disease and even improves your sleep.
Ingredients
3

cups

strawberries

frozen is easiest, organic is best

1

cup

kiwi, peeled (about 6)

or use blueberries or mango, fresh or frozen

½

cup

zucchini, raw and not peeled, but organic

if not organic, peeled

1

cup

dairy free milk

or yogurt for a thicker smoothie

2

tbsp

lemon juice

optional for brighter flavor

1

tbsp

chia seeds

optional for fiber, protein and omega 3 & 6
Instructions
Prep
Peel the kiwi, wash the zucchini. If using cauliflower instead, steam and refrigerate for 30 minutes to cool. Rinse berries, and cut off green stem from strawberries.
Make Smoothie
Add all ingredients to a blender.

Process until mixture is smooth.

Enjoy immediately or refrigerate for drinking within 24 hours.
Video
Nutrition
Calories:
131
kcal
Carbohydrates:
23
g
Protein:
5
g
Fat:
3
g
Saturated Fat:
1
g
Polyunsaturated Fat:
2
g
Monounsaturated Fat:
1
g
Sodium:
64
mg
Potassium:
593
mg
Fiber:
5
g
Sugar:
15
g
Vitamin A:
553
IU
Vitamin C:
147
mg
Calcium:
206
mg
Iron:
2
mg