A thick peanut butter oatmeal smoothie as delicious as an oatmeal cookie, yet full of protein. It's quick to make, healthier and packed with protein thanks to peanut butter, oats, milk and a sweetener. This morning drink is the perfect energizer and weight loss smoothie.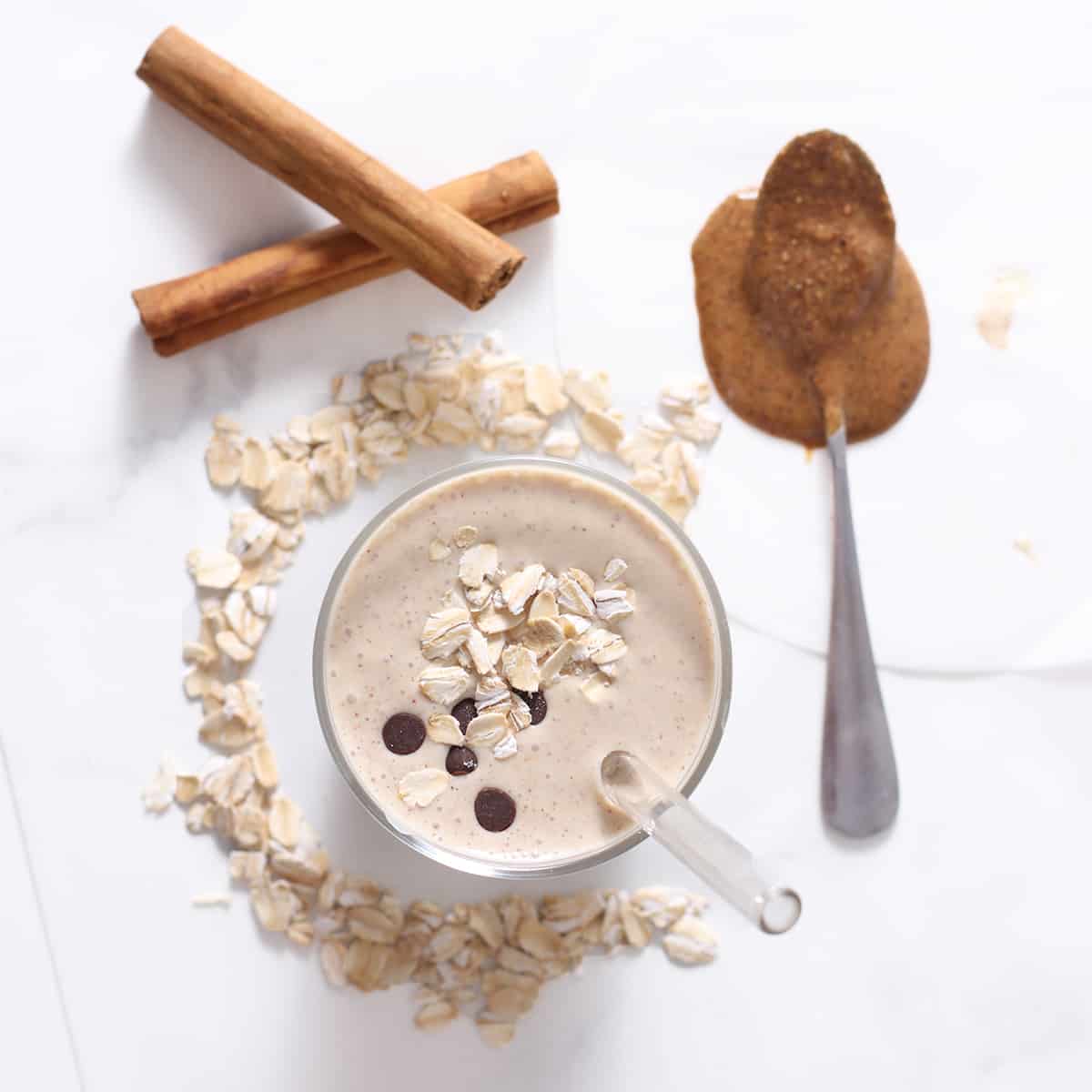 This peanut butter oatmeal smoothie is full of fiber, micronutrients, and healthy fats. It also has 12 grams of protein per smoothie! That's the perfect fuel to wake up your brain and energize your limbs.
Like my other oatmeal recipes, my chocolate baked oats, and my oatmeal peanut butter bars, and my chocolate oatmeal bars, and even my protein overnight oats, this smoothie is full of rolled oats. I love to add oats to my breakfast recipes because they are inexpensive, wildly nutritious, low in calorie and so useful - they can be blended or sprinkled on almost any recipe.
And peanut butter is also a wonderful addition, and just like my dark chocolate peanut butter cups , my no bake chocolate brownies, and my no bake chocolate peanut butter pie, it satisfies my peanut butter craving.
Jump to: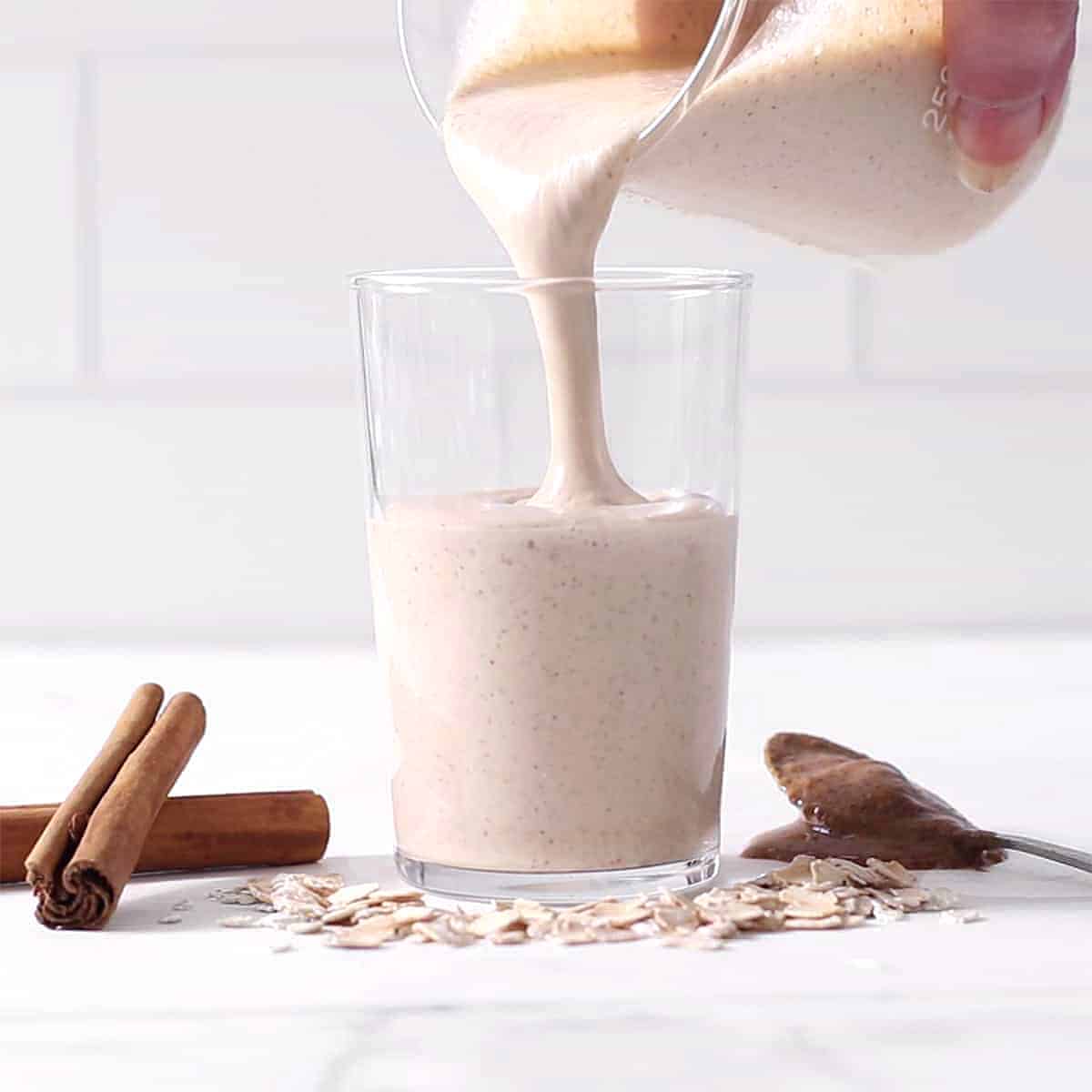 Why You'll Love This
Quick & easy to make. Just toss the ingredients into a blender, and you have a super creamy protein-rich peanut butter smoothie in a few minutes.
Family & kid-approved. It tastes like an oatmeal cookies so it is the perfect smoothie for picky breakfast eaters! And easily made with ingredients probably in your kitchen right now.
Perfect for all diets. This peanut butter oatmeal smoothie is dairy free, gluten free, vegan, refined sugar free and even soy free. And this peanut butter smoothie aids in weight loss in a few ways including simply being filling and helping you avoid unhealthy snacking.
Ingredients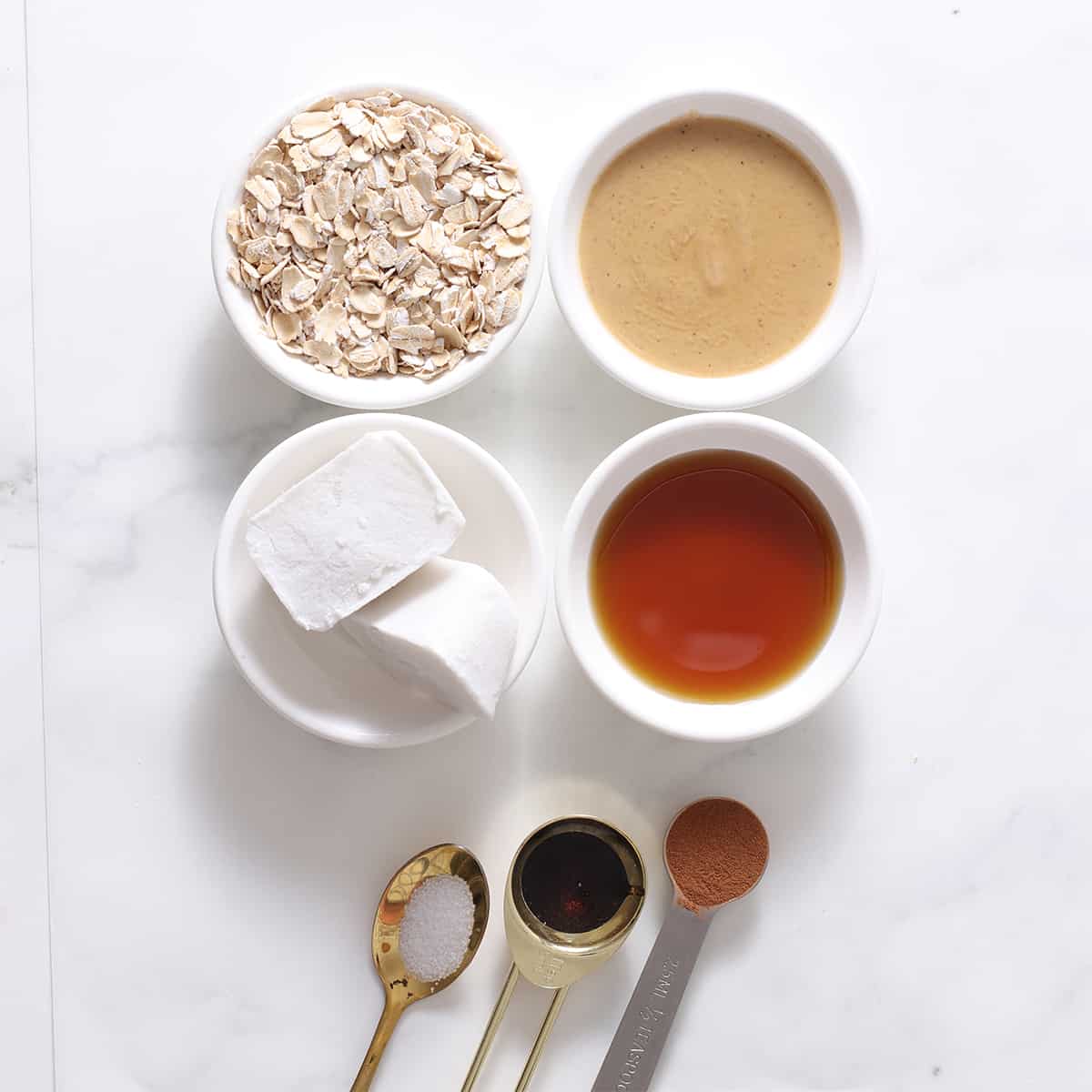 Rolled Oats. I use rolled oats in this smoothie, although quick oats would also work. The oats are very nutritious and can be eaten raw, and provide a lot of benefits including being heart-healthy, terrific at lowering cholesterol, improving digestion, and great at keeping blood sugar balanced.
Peanut butter. Choose your favorite peanut butter. To raise the health bar, I suggest using a natural version that has only nuts and oil in the ingredients. Creamy or crunch texture is a matter of your preference.
Milk. Use a mix of frozen milk cubes and liquid milk. I freeze full fat coconut milk to thicken my smoothie, but your favorite milk will also work. Try to use one that is not sweetened or flavor, but if you do taste-test before adding any sweetener in case the smoothie is sweet enough.
Maple syrup. This adds a caramel flavor to this peanut butter oatmeal smoothie and it's a plus that this sweetener is refined sugar free.
Vanilla extract, ground cinnamon and salt. These three are small but important flavor boosters to this smoothie.
See the recipe card at the bottom for full information on ingredients and quantities.
Step by Step Instructions
For more detail, visit the complete and printable recipe at the bottom of this post, but here are general steps.
Step 1: Loosen the peanut butter by stirring it up in the jar and then measuring it out. If it's hard to stir, you can microwave it for 15 seconds at a time to loosen it up.
Step 2: Put oats in a fine mesh strainer and rinse with cold water to remove phytates.
Step 2: Add all the ingredients to the blender jar, and process. Taste test, and add more oats or peanut butter to thicken or strengthen flavor.
Step 3: Pour into a glass, sprinkle oats and chips, and add a straw. Enjoy!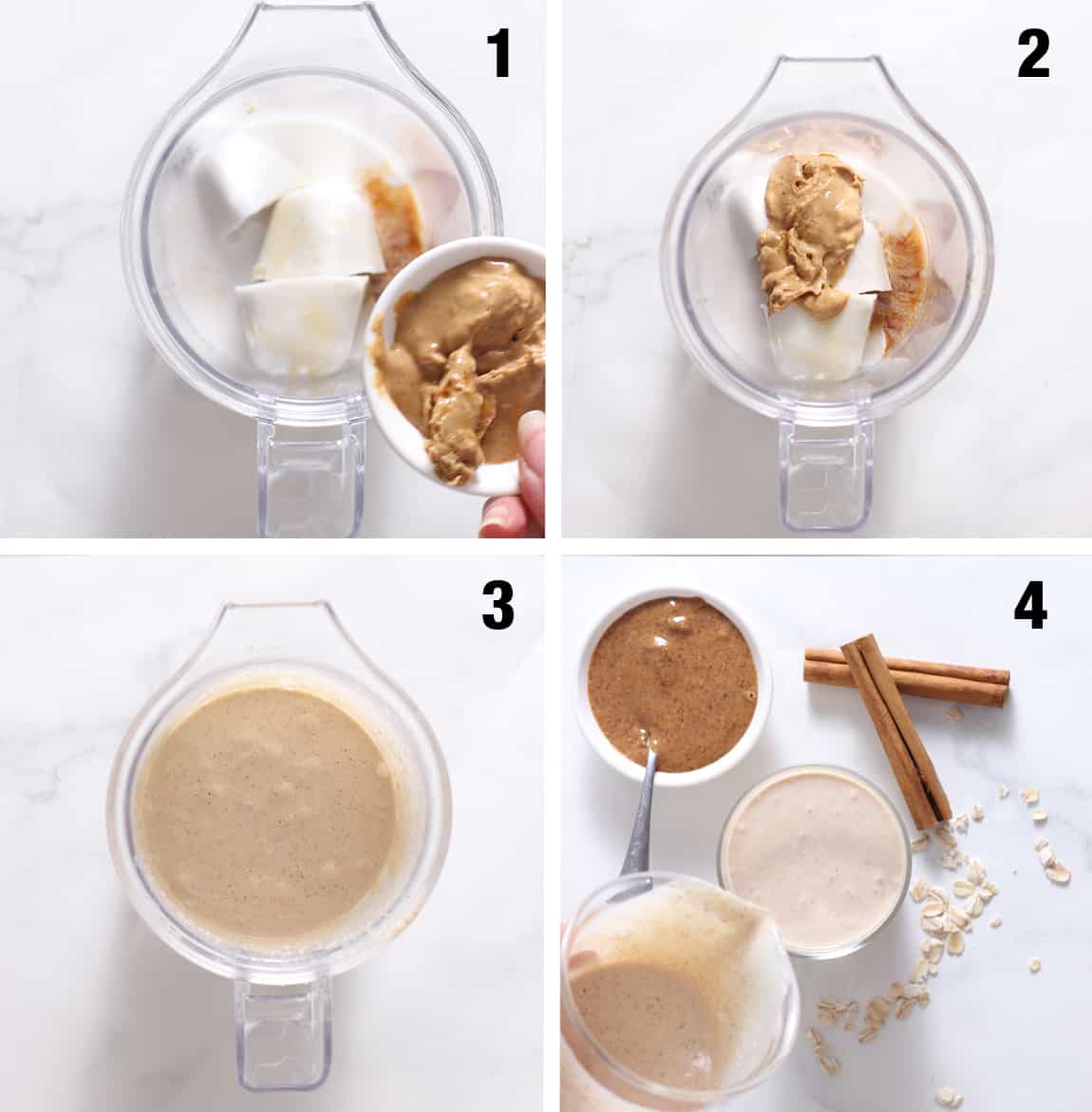 Recipe Tips
Rinse the oats. Be sure to rinse the oats in a fine mesh strainer, running under cold water for a few seconds, moving the oats around with a spoon so they all get rinsed. This is to remove some of the naturally occurring phytates, a compound found on oats that nature provided to help the plant deter animals from seedlings before they had a chance to grow.
Drink it chilled. For best flavor, make sure the smoothie is chilled before drinking. The frozen milk cubes might make it cold enough, or you might want to refrigerate it before drinking.
Storage
Refrigerated. The smoothie can remain fresh in a closed jar in the refrigerator for about 48 hours. You'll want to stir or shake if the layers have separated.
Frozen. You can make the smoothie ahead of time and pour it into ice cube trays to freeze. Once frozen, add the cubes to freezer bags and store frozen for up to three months.
Substitutions
Rolled oats. You can use quick or instant oats. Do not use steel cut as they won't blend smoothly.
Peanut butter. You can use peanut butter powder instead of peanut butter. It will be thinner though so you might want to add a few more frozen milk cubes and even liquid milk to help it blend.
Frozen milk cubes. If you don't have time to freeze the milk, just use it in liquid form. Any milk works but full fat coconut milk will add healthy fats and a thicker texture.
Maple syrup. You can use any liquid sweetener, or even dates. To use dates, either make date paste and make a 1:1 swap with maple syrup, or use soften, pitted dates.
Weight Loss Smoothie Options
To increase this smoothie's ability to support weight loss, you have the following options:
1. Add a scoop of protein powder to bulk up the smoothie's ability to support muscle mass and trigger metabolism into burning fat.
2. Add a tablespoon of instant coffee which is known to trigger fat burning.
3. Add a tablespoon of cocoa which turns this peanut butter smoothie into a chocolate smoothie but also boosts metabolism and reduces cravings.
4. Add ½ cup of frozen zucchini or fresh spinach, both add potassium which supports fat burning.
FAQS
Is it OK to put raw oats in a smoothie?
Yes, raw oats are safe to eat and add fiber and nutrition as is. It is true however that cooked oats can be easier to digest in general, but adding this small amount to a smoothie should cause no digestive issues, especially if rinsed first.
Does peanut butter work in smoothies?
It works so well, adding peanut flavor, as well as healthy fats, fiber and protein. It even contributes to a smooth texture.
Does oatmeal in a smoothie keep you full?
Yes, adding rolled oats to smoothies keeps you feeling full much longer than if you were to drink a fruit smoothie. Oatmeal smoothies create a satisfying meal that will help you be less likely to reach for less healthy snacks.
Can I add banana to this smoothie?
You can! I like to make banana-free smoothies because there are so many smoothie recipes built around bananas on the internet, but if you want, add ½ frozen banana to this recipe.
More Peanut Butter & Oatmeal Recipes
If you tried this peanut butter oatmeal smoothie recipe or any other recipe on my website, please leave a 🌟 star rating and let me know how it went in the 📝 comments below. Thanks for visiting!
📖 Recipe
Healthy Peanut Butter Oatmeal Smoothie (without banana)
A peanut butter oatmeal smoothie that tastes like an oatmeal cookie and packed with protein. Make it in minutes in your blender and drink up a breakfast smoothie made with just peanut butter, oats, milk and sweetener. A great weight loss smoothie.
Ingredients
½

cup

rolled oats

1

cup

frozen milk ice cubes

6-8 cubes

¼

cup

milk

optional

¼

cup

peanut butter

2

tablespoon

maple syrup

½

teaspoon

vanilla extract

½

teaspoon

ground cinnamon

pinch

of salt
Instructions
Prep
Freeze your milk in ice cubes the night before.

Measure out the oats and add them to a fine mesh strainer and rinse a few seconds under cold water, moving them around with a spoon so they all get wet.
Make smoothie
Add all ingredients to a blender.

½ cup rolled oats,

1 cup frozen milk ice cubes,

¼ cup peanut butter,

2 tablespoon maple syrup,

½ teaspoon vanilla extract,

½ teaspoon ground cinnamon,

pinch of salt,

¼ cup milk

Blend all ingredients until smooth and creamy.

Taste-test and add more oats or peanut butter to thicken or strengthen peanut flavor.

Pour smoothie one smoothie into a glass for now, and the other into a jar with a lid to drink the next day.
Notes
You can use date paste, or date syrup or agave instead of maple syrup.
You can use your favorite milk; I used canned coconut milk to make the smoothie thick.
You can use quick oats instead of rolled oats, but don't use steel cut oats.
You can use 2 tablespoon of peanut butter powder instead of peanut butter, but the smoothie will be thinner.
Nutrition
Calories:
290
kcal
Carbohydrates:
33
g
Protein:
12
g
Fat:
17
g
Saturated Fat:
5
g
Polyunsaturated Fat:
4
g
Monounsaturated Fat:
7
g
Cholesterol:
15
mg
Sodium:
152
mg
Potassium:
440
mg
Fiber:
3
g
Sugar:
15
g
Vitamin A:
199
IU
Vitamin C:
0.02
mg
Calcium:
199
mg
Iron:
1
mg