Healthy Chocolate Crumble Bars are like a brownie between a cookie crust and a crumble top, made from the same easy oatmeal recipe. This brownie bar is high in fiber, protein, gluten-free, dairy-free and vegan. Bake or no bake.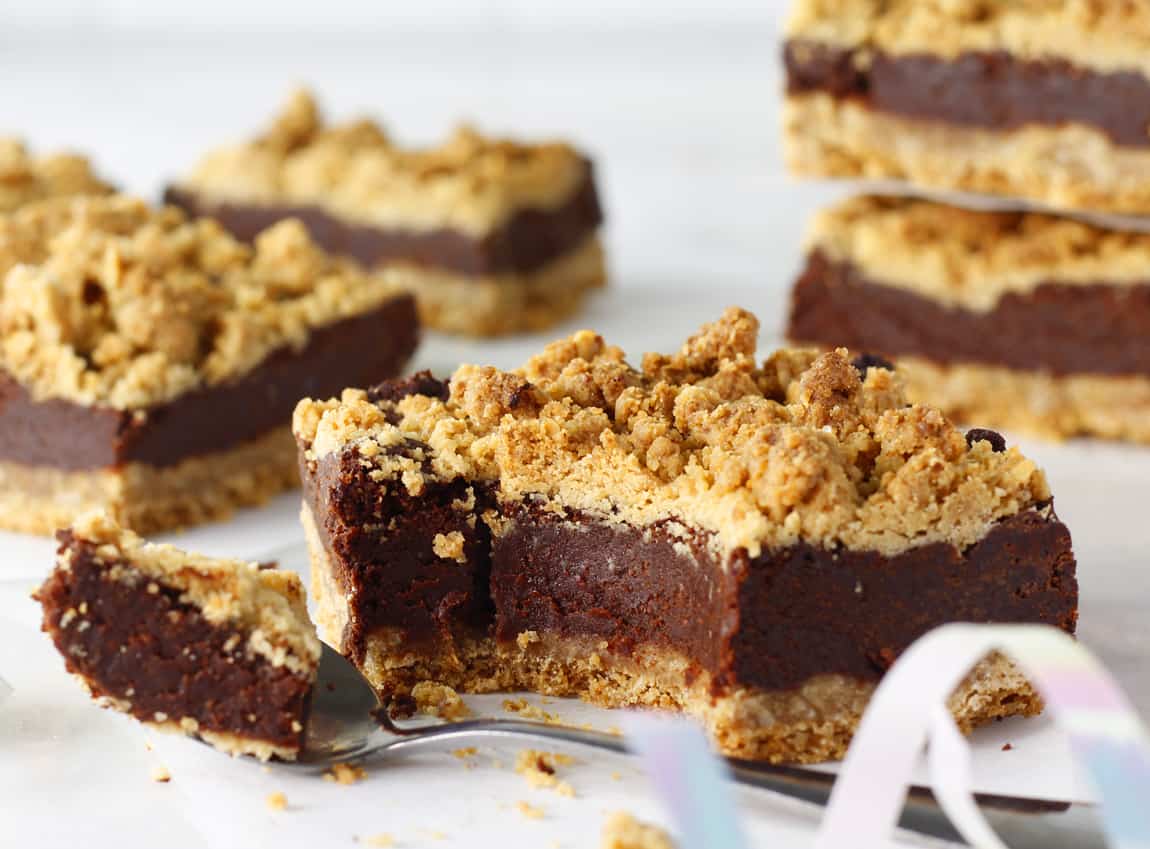 Healthy Chocolate Crumble Bars
Chocolate crumble bars are so easy to make. There is just one recipe for both the crust and crumble top, and another for the chocolate fudge brownie filling.
Yes, they are baked, but they could also be no bake since no eggs are used (aquafaba instead), just pop the pan in the freezer. I more often like to bake this recipe however because the middle filling turns out like a fudgy brownie.
This recipe was hard to name because it really is just a brownie between oatmeal cookies, sort of, only healthier.
As with all my recipes, I try to make sure the ingredients are main-stream enough so anyone who wants to eat healthier probably has the ingredients to make them. I provide a list of the ingredients below, as well as substitutions.

Before we dive into the recipe, I'd like to invite you to sign up for my free chocolate course. Five lessons hit your inbox with detail on how to create your own simple healthy chocolate desserts.
Okay, so back to this recipe...
What Are The Ingredients in Chocolate Crumble Bars?
Oat Flour & Rolled Oats - both are needed for structure
Sugar - coconut palm sugar or cane sugar or even a mix of the two work well
Baking Soda & Baking Powder - to provide lift to both the crust and filling
Chocolate chips - semi-sweet is best
Aquafaba - provides plant-based stability, instead of eggs
Butter - I use Earthbalance vegan butter. Melted oconut oil is possible at least for the middle brownie layer but will definitely change the texture.
sunflower seed butter or nut butter or use more plain butter
How To Make Chocolate Crumb Bars
Step 1: Make the crust and crumb recipe. Mix all ingredients together. Press ¾ of the mixture into an 8-inch by 8-inch pan and bake. Save the remaining ¼ for the crumble on top.

Step 2: Make the chocolate filling. Mix ingredients into a creamy texture, and pour onto a cooled, baked crust. Sprinkle with left over crumble and bake golden.

Would you prefer to not bake these crumb bars? Then chill the crust instead of baking, and chill the assembled bar recipe, instead of baking.
How Do These Chocolate Crumb Bars Taste?
deep chocolate flavor
like a brownie baked between two oatmeal cookies
melt in your mouth texture
Why Use Sunflower Seed Butter in Recipes
Desserts of course should be eaten in moderation. But it's wonderful to find ways to make them healthier, and that's why I like to work with sunflower seed butter.
Sunflower seeds are healthy as you can see from this article from Time Magazine. They are full of protein, fiber, zinc, folate and vitamin B6, and vitamin E. Sunflower seeds are also loaded with B complex vitamins, essential for the healthy nervous system, and also supply iron, phosphorus, and zinc.
The USA brand SunButter is my favorite sunflower seed brand. Their version is free of the top 8 allergens, namely peanuts, tree nuts, milk, eggs, fish, shellfish, wheat, and soybeans.
And this year, as I have mentioned in other posts, they came out with a chocolate flavor. This chocolate flavor has 6gms of protein per 2 tbsp, and 3gms of fiber. Plus it tastes awesome - kind of like peanut butter meets Nutella, only healthy! This is the version I added to my brownie middle layer.
Of course, if you don't have to use sunflower seed butter at all, you can replace it with more butter or any nut butter you choose.
More Healthy Chocolate Bars For You
If you like this recipe, you might like to try these:
Chocolate Peanut Butter Bars
Chocolate Oatmeal Bars
Are you on Pinterest? Perhaps share this image.

I invite you to keep up with me on: Facebook | Pinterest | Instagram | Twitter
Don't miss a thing, subscribe here to get recipes delivered to your inbox!
If you try my recipes, please leave a comment and rating below and tag me on your Instagram post with @greensmoothiegourmet so I can see and share your remakes!!
Healthy Chocolate Crumble Bars
Healthy Chocolate Crumble Bars are like a brownie between a cookie crust and a crumble top, made from the same easy oatmeal recipe. This brownie bar is high in fiber, protein, gluten-free, dairy-free and vegan. Bake or no bake*.
Ingredients
Chocolate Filling
1

cup

oat flour

or ⅔ cup all purpose flour

1

cup

brown sugar

or coconut sugar or cane sugar

1 ½

cups

chocolate chips I used Enjoylife semi-sweet mini chips

6

tbsp

aquafaba

room temperature

pinch

of salt

3

tbsp

butter

chunks are fine, I use Earthbalance vegan butter

1

tbsp

nut or seed butter
Instructions
Prep
Preheat the oven to 325°F.

Line a 8-inch by 8-inch pan with parchment paper.

Be sure aquafaba is at room temperature

Melt crust butter in microwave in 15-second increments.
Make Crust & Crumb
Combine crust dry ingredients, then stir in melted butter or use a hand-mixer but only just combine. You want it to be sticky and crumbly.

Remove ¾ cup of the mixture and set aside to use for the top crumb.

Press the rest into the parchment-lined pan.

Bake the crust for 8 minutes at 325 F.

Remove from oven, keep the crust in the pan and allow it to cool, about 30 minutes.
Make Chocolate Filling
Put the butter and chocolate, broken or use chips, into a 2-cup pyrex glass measuring cup and microwave for 1 minute. Stir until creamy. Spoon in the aquafaba, stir again. Add in the nut or seed butter, stir again.

Into a mixing bowl, combine the dry ingredients.

Add the chocolate mixture to the dry mixture and stir into a batter. It will be a bit like a brownie batter.

Spoon it onto the baked crust, and smooth the surface.
Add Crumb Top
Sprinkle the reserved crumb top onto the brownie batter.

Bake for 30 to 35 minutes or until the crumb is golden brown. Lift the Chocolate Crumb Bars using the parchment paper and set it on a wire rack to cool.

I let it cool for 30 minutes, then I refrigerate it for 3 hours to get clean slices. If you don't mind slightly rough slices, cut after cooling only 30 minutes.
Storage
Store the crumb bars in the refrigerator for 1 week in sealed container. Or freeze for 3 months.
Notes
If you prefer to "no bake" this dessert, just chill the crust for 10 minutes instead of baking, and chill the final dessert for an hour or two in the refrigerator before slicing. If the inside is still too soft to slice, freeze for one hour.
Nutrition
Calories:
280
kcal
Carbohydrates:
35
g
Protein:
3
g
Fat:
10
g
Saturated Fat:
9
g
Trans Fat:
1
g
Cholesterol:
22
mg
Sodium:
135
mg
Potassium:
153
mg
Fiber:
2
g
Sugar:
16
g
Vitamin A:
251
IU
Calcium:
28
mg
Iron:
2
mg
This post is sponsored by Sunbutter. My opinions are my own.