The best oat milk you will ever make! Creamy, perfectly sweet, non-dairy, nut-free milk option that costs pennies. Want to avoid gummy, slimy oat milk? I have a secret ingredient and it's in your refrigerator.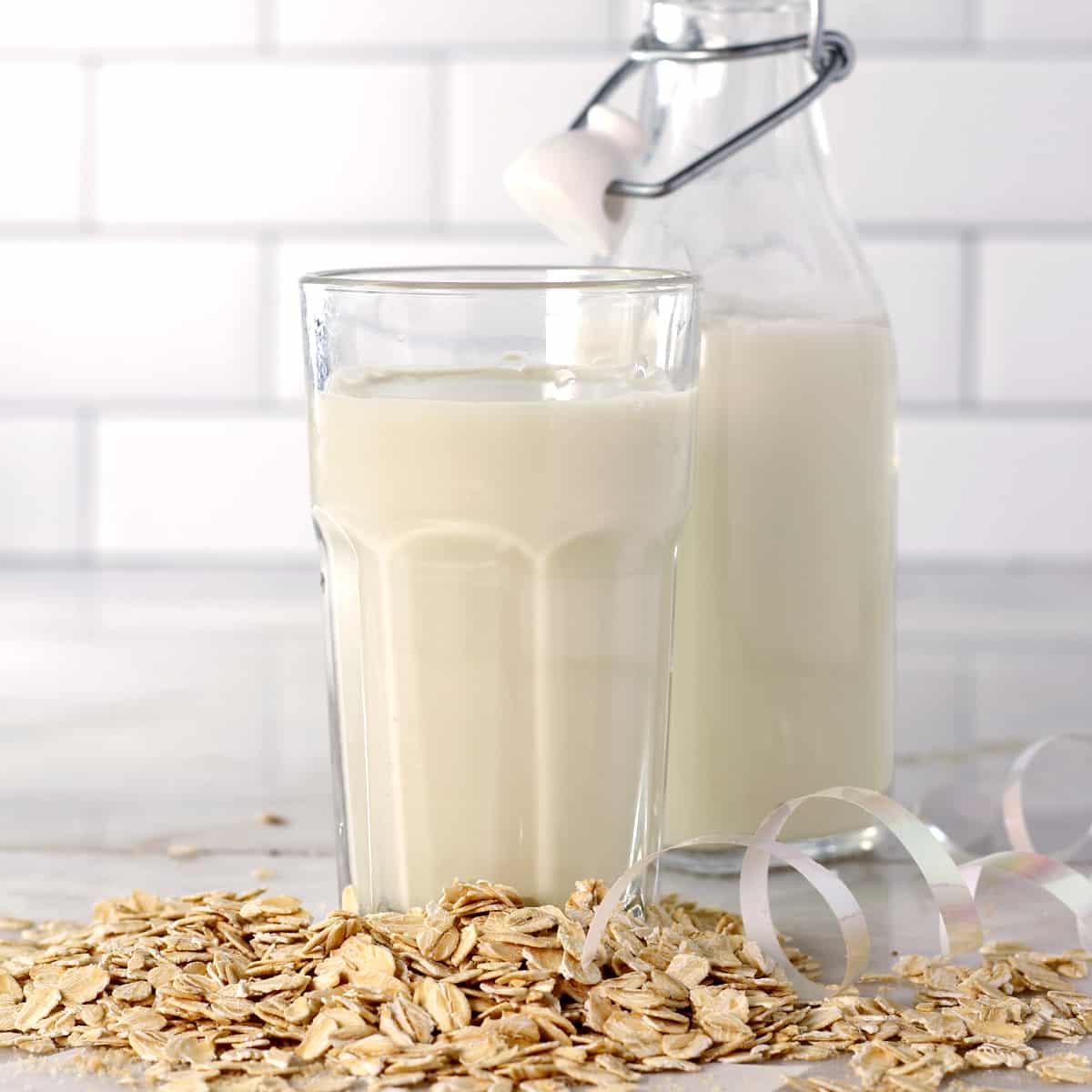 How to Make Oat Milk (creamy not slimy)
Oat milk is considered one of the healthiest non-dairy milks. It is also the creamiest, and both dairy-free and nut-free.

Table of Contents For this Post
The advantages of making it at home are many.
1. It will cost you just pennies to make - 1 cup costs less than a $1 to make while a top commercial oat milk brand costs three times as much.
2. Your homemade milk will be free of preservatives or chemical additives, and be higher in nutrition.
3. Convenience. You can make as much or as little as you need, or even fresh daily.
But homemade oat milk can be slimy when made at home unless you follow my tricks and tips to keep the texture creamy.
A Secret Trick to Non-Slimy Oat Milk
Oat milk can become slimy because oats, when made wet and ground up, release substances that make it gluey, and one such substance is phytic acid.[source]
Some suggest adding a digestive capsule or a commercial version of Amylase, but I disagree with these suggestions. First of all, digestive capsules and random enzymes are not a common purchase for most people, and secondly you are making homemade milk to avoid adding chemicals and processed additives to your milk.
Buying sprouted oats is an option, but as they are not easily available. An easier suggestion is to add the familiar ingredient you probably already have in your refrigerator - lemon juice.[source][source]
Lemon juice will help you avoid slimy oat milk.
Lemon juice de-activates phytic acid easily, is easy on digestion naturally, and adds a fresh flavor to your milk. There is not enough to add a citrus tang, so no worries there.
How Healthy is Oat Milk
Oat milk has emerged as the healthy non-dairy milk of choice lately probably because of it's unusual nutritional benefits. Even Medical News Today says studies show oat milk is one of the top three healthiest milk on record, below almond milk and hemp.

Oat milk offers many health benefits. Here are just some:
Boosts Immunity. Oat milk has been found to be a powerful force behind a stronger immunity system. According to several studies, nutrients essential to a strong immunity, such as copper, iron, selenium, zinc, and glutamine, are found in great abundance in oat milk.[source]
Soluble Fiber. Oat milk typically provides 3gm fiber per serving, a much higher level than most milks. And because it is the healthy version of fiber, soluble, it will help you feel full longer.
Calcium. Oat milk contains 25% of the daily requirement for calcium. Calcium is essential for for bones, teeth, and many cell functions. [source]
B vitamins. Oat milk is very high in B vitamins (except B12) which are important to fight disease, stress and boost digestion.
Naturally Gluten-free. Oats are naturally gluten-free but the rolled oats used in this recipe should be from a facility that is certified GF to prevent cross contamination. [source]
Lowers Cholesterol. Oat milk can lower cholesterol levels according to a respected scientific study by the NIH. [source]
I should note that commercial oat milks tend to be boosted with additional vitamins, including B12, which is not found in homemade oat milk. However commercial oat milks also contain preservatives, artificial flavorings and many contain sugar.
Tips To Making Creamy Oat Milk
1. Use cold water, or at least no room temperature water. It doesn't have to be ice cold. This is to prevent the water from 'cooking' the oats and turning it slimy.
2. Add lemon juice to break down the phytic acid found in rolled oats. Not only does phytic acid make oat milk slimy, it inhibits proper digestion so it is important to get rid of it. Plus the lemon gives your oat milk a bright flavor.
3. When you strain your milk, just pour it, and don't press any solids through or use a nut bag that you squeeze as you do with making nut milks. The squeezing action will only contribute to a slimy texture.

4. Don't soak the oats. For overnight oats, you should soak them to remove the phytic acid which can be hard to digest for some people, but soaking is like "cooking" and not the best option for oat milk. So if phytic acid is a concern for your digestion, consider using sprouted oats from brands such as One Degree Organics.
5. Also use a fine sieve, and double-strain until you see few specs. A few specs are okay to eat, if you don't mind them visually.
Steps on How to Make Homemade Oat Milk
Step 1: Add oats, water, lemon juice, and salt to a blender, and blend for about 40 seconds or one smoothie run. Don't blend twice or the mixture can break down and become gluey.
Step 2: Put a strainer over a large container, and pour the mixture through the strainer. Do not press on the oat residue.
Step 3: Put the strainer over another large container, and strain the mixture again.
Step 4: Add flavorings and taste-test.
Step 5: Pour the oat milk in to a bottle and store refrigerated for 3-4 days.
Q & A on Making Oat Milk
With the rise of oat milk's popularity, come the questions on Google. Here are a few with answers.
Is it Cheaper to Make Your Own Oat Milk?
Yes, so much cheaper. Using my recipe, each glass of homemade oat milk is about 0.15 cents as opposed to 6 times that amount for store-bought.
Can I Make Oat Milk with Quick Oats?
No quick oats are dehydrated and processed and will not give you the proper texture or nutrition for oat milk. Use rolled oats, and looked for those certified gluten-free - this means they were packaged in a plant that does not also package gluten products.
How Long Does Homemade Oat Milk Last?
About 3-4 days in the refrigerator. It can last longer, but to be safe I try to make enough that lasts three days.
What are the Negatives of Oat Milk?
Commercial oat milk is often high in sugar, but your homemade oat milk need not be high in sugar - you can control. Even this recipe, with 1 tsp of maple syrup added, contains only 1 gm of sugar per cup. Compare that to commercial options which often have up to 7g of sugar per cup.
How to Use the Leftover Oat Pulp
The pulp you gather in the strainer is nutritionally useful! Refrigerate it for three days, and add it to smoothies. You can also toast it in a granola recipe for added fiber. Even add it to a face mask for a healthy skin rejuvenator.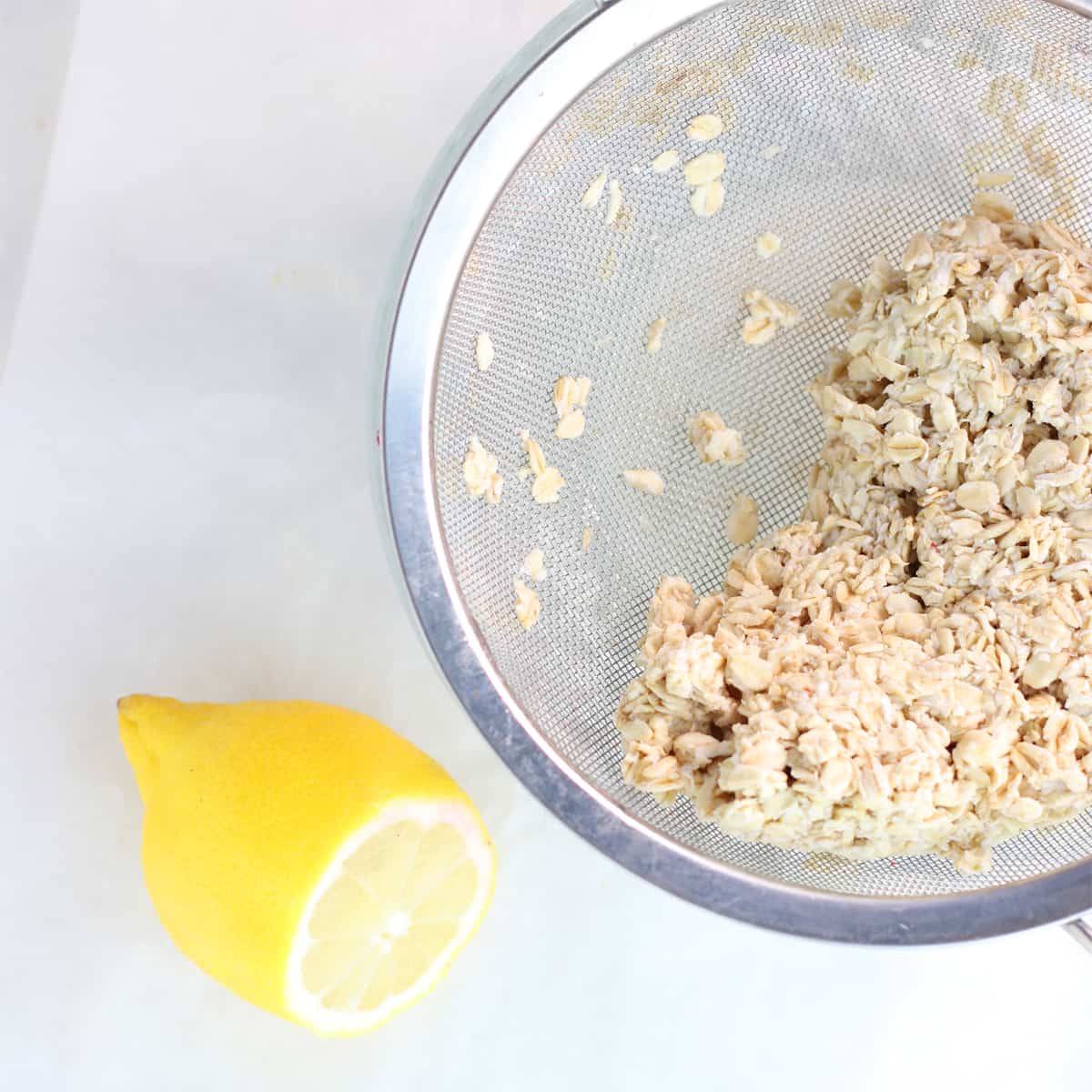 I invite you to keep up with me on: Facebook | Pinterest | Instagram | Twitter
Don't miss a thing, subscribe here to get recipes delivered to your inbox!
If you try my recipes, please leave a comment and rating below and tag me on your Instagram post with @greensmoothiegourmet so I can see and share your remakes!!
How to Make Oat Milk in 3 Minutes
Here I show you how to make oat milk in three minutes so you can have a creamy, perfectly sweet, non-slimy, non-dairy, nut-free milk option. This recipe makes 3 cups of milk.
Ingredients
1

cup

rolled oats

choose a certified gluten-free brand to be sure they are GF

3

cups

cold water

1

tbsp

lemon juice

pinch

of salt

2

tbsp

maple syrup

Add more or less according to taste

1

tsp

vanilla extract

1

tsp

cinnamon

(optional)
Instructions
Add oats, water, lemon juice, and salt to a blender, and blend for about 40 seconds or one smoothie run. Don't blend twice or the mixture can break down and become gluey.

Put a strainer over a large container, and pour the mixture through the strainer. Do not press on the oat residue.

Scrap oat residue into a container, and strain the oat milk a second time.

Add flavors into the milk, such as vanilla, cinnamon and maple syrup and taste-test. Blend briefly to disburse the flavorings.

Pour the oat milk to a bottle and store refrigerated for up to 3 days. I have never tried freezing it; I think it's best to just make it fresh
Video
Nutrition
Calories:
72
kcal
Carbohydrates:
14
g
Protein:
2
g
Fat:
1
g
Saturated Fat:
1
g
Polyunsaturated Fat:
1
g
Monounsaturated Fat:
1
g
Sodium:
1
mg
Potassium:
67
mg
Fiber:
1
g
Sugar:
4
g
Vitamin A:
1
IU
Vitamin C:
1
mg
Calcium:
178
mg
Iron:
1
mg