An easy chocolate fudge recipe high in protein, all the nourishment of seeds or nuts and dark chocolate. A vegan and gluten-free recipe that uses only two ingredients. Check out my step by step video below!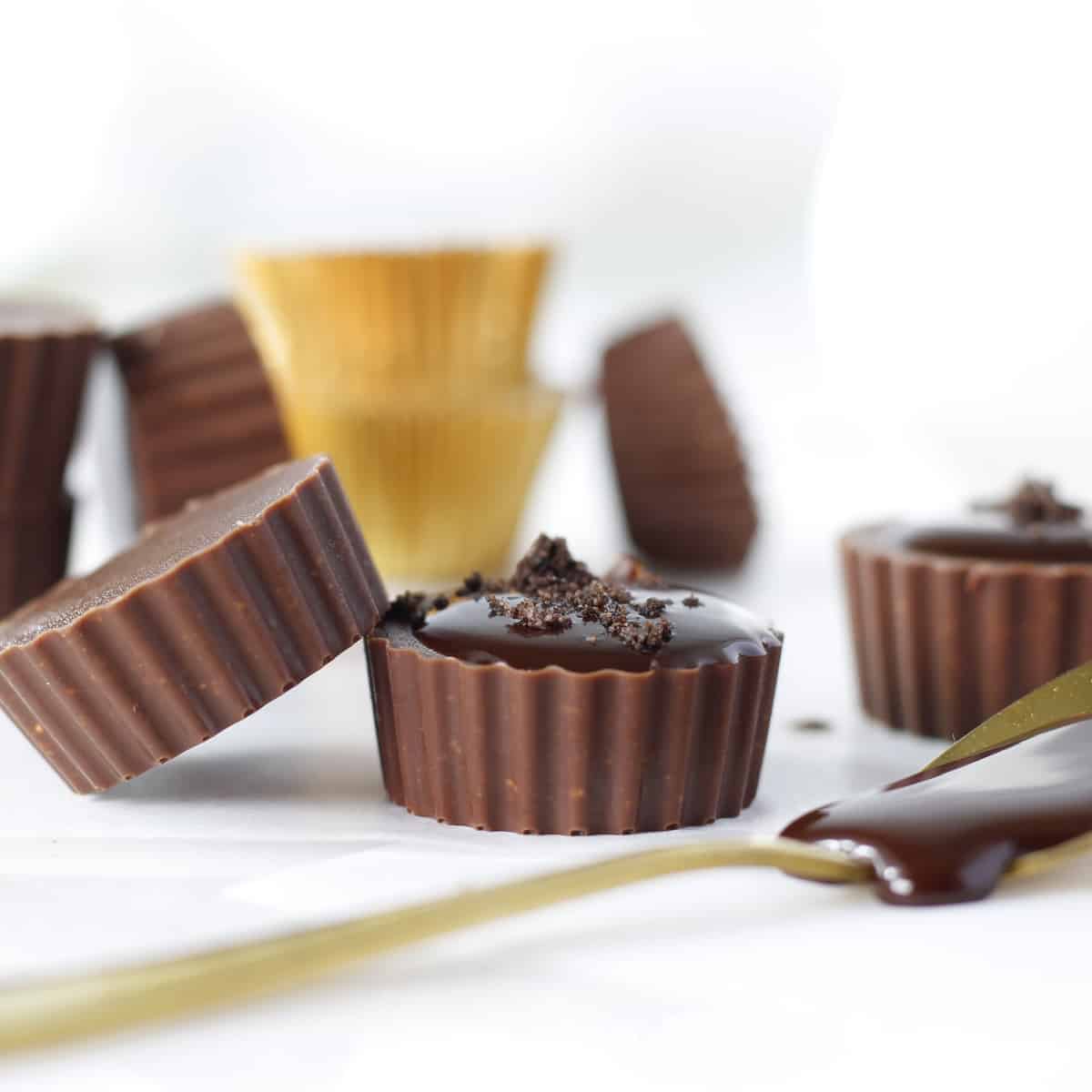 Easy Chocolate Fudge Recipe
This easy chocolate fudge recipe is the best dessert to find in your freezer, especially when it is made with healthier ingredients. Sure you can make fudge the traditional way with cream and chocolate, but making it with a healthy nut or seed butter tastes the same and is oh so much healthier. Also, remember, this fudge is a shortcut fudge in another way, no cooking is involved, unless you count heating something in a microwave cooking. Do you? I don't.

Table of Contents For this Post
What Does This Chocolate Fudge Recipe Taste Like?
If you've ever had fudge shop fudge, this is it! Only you'll feel great after eating it because it's super high in protein and will actually make you feel full. Depending on the chocolate you use, the nut butter or sunflower seed butter doesn't show up.
How to Make This Easy Chocolate Fudge Recipe
It's easy to make just as the name says.
1. Put chocolate chips and all other ingredients in a glass pyrex measuring cup and microwave for 1 minute.
2. Stir and microwave again for 15 seconds. It should be all melted but if not repeat.
3. Pour the mixture into molds or in a loaf pan. If you prefer pouring into a loaf pan, don't worry if it doesn't reach the edges. Letting it form a flat oval replicates a fudge shop slab.
4. Chill the mold or pan in the refrigerator until they are firm. Molds might take longer to chill before you can remove the fudge.
How to Make Homemade Fudge Nut Free
Since this fudge is made with a nut or seed butter, it's important to note that using sunflower seed butter is the best way to make it nut free.
In fact, I strive to use a chocolate that is allergen free such as Enjoylife. That way this candy can be safe for school treats. My favorite brand of sunflower seed butter is SunButter. They also have a chocolate version that is awesome.
How to Store This Fudge
Keep the fudge chilled in the refrigerator until ready to eat. You can freeze it as well for months.
What is the Secret to Making Fudge?
The secret to making fudge is to melt the chocolate and other ingredients sufficiently.
What are the Ingredients of Fudge?
The ingredients of traditional fudge are sugar, butter and cream. The ingredients of healthy fudge are melted dark chocolate and nut or seed butter.
What Makes Fudge Harden?
This chocolate fudge recipe hardens using a cold temperature. The healthy fats in the nut or seed butter harden as the treat turns cold.
Why Does My Fudge Taste Grainy?
Stirring the warm fudge sufficiently is key to keeping the texture smooth and reduce any grainy flavor.
Holiday Chocolate Fudge Recipes
Although the main way I use this recipe is to put the fudge in mold, there are many different ways to mold the fudge. For instance, you can pour it onto a parchment-lined cookie sheet and make bark. Or use other molds, such as holiday forms. Here is a recent Halloween version.
I invite you to keep up with me on: Facebook | Pinterest | Instagram | Food Gawker | Twitter
Don't miss a thing, subscribe here to get recipes delivered to your inbox!
Chocolate Fudge Recipe
Easy chocolate fudge recipe high in protein, all the nourishment of seeds or nuts and dark chocolate. A vegan and gluten-free recipe that uses only two ingredients.
Ingredients
Fudge
1

cup

chocolate chips

½

cup

seed or nut butter

Use Sunbutter sunflower seed butter to keep it nut free.
Useful Equipment
Instructions
Prep
Use silicon molds or line a cupcake pan with paper liners.
Make fudge
Put the seed or nut butter and chocolate chips in a 2-cup pyrex measuring cup, and microwave for 60 seconds. Stir until melted. If chips remain, microwave again for 30 seconds.

When fully blended, pour into a piping bag to more neatly deposit the fudge into molds. Or use a spoon.

Freeze the pan or mold until chocolate is set - probably an hour or until you can get the squares out of the mold easily.

Keep the fudge in a sealed container in the refrigerator until ready to eat, or frozen for 3 months in an air-tight container.
Video
Nutrition
Calories:
70
kcal
Carbohydrates:
6
g
Protein:
2
g
Fat:
5
g
Saturated Fat:
2
g
Polyunsaturated Fat:
1
g
Monounsaturated Fat:
2
g
Sodium:
1
mg
Potassium:
39
mg
Fiber:
1
g
Sugar:
4
g
Vitamin A:
1
IU
Calcium:
28
mg
Iron:
1
mg
This post is sponsored by Sunbutter. My opinions are my own.