My marzipan chocolates are chocolate cups and hearts stuffed with nut butter and my homemade marzipan, a sweet almond paste, that contains no eggs. Use a mold and make festive holiday candies.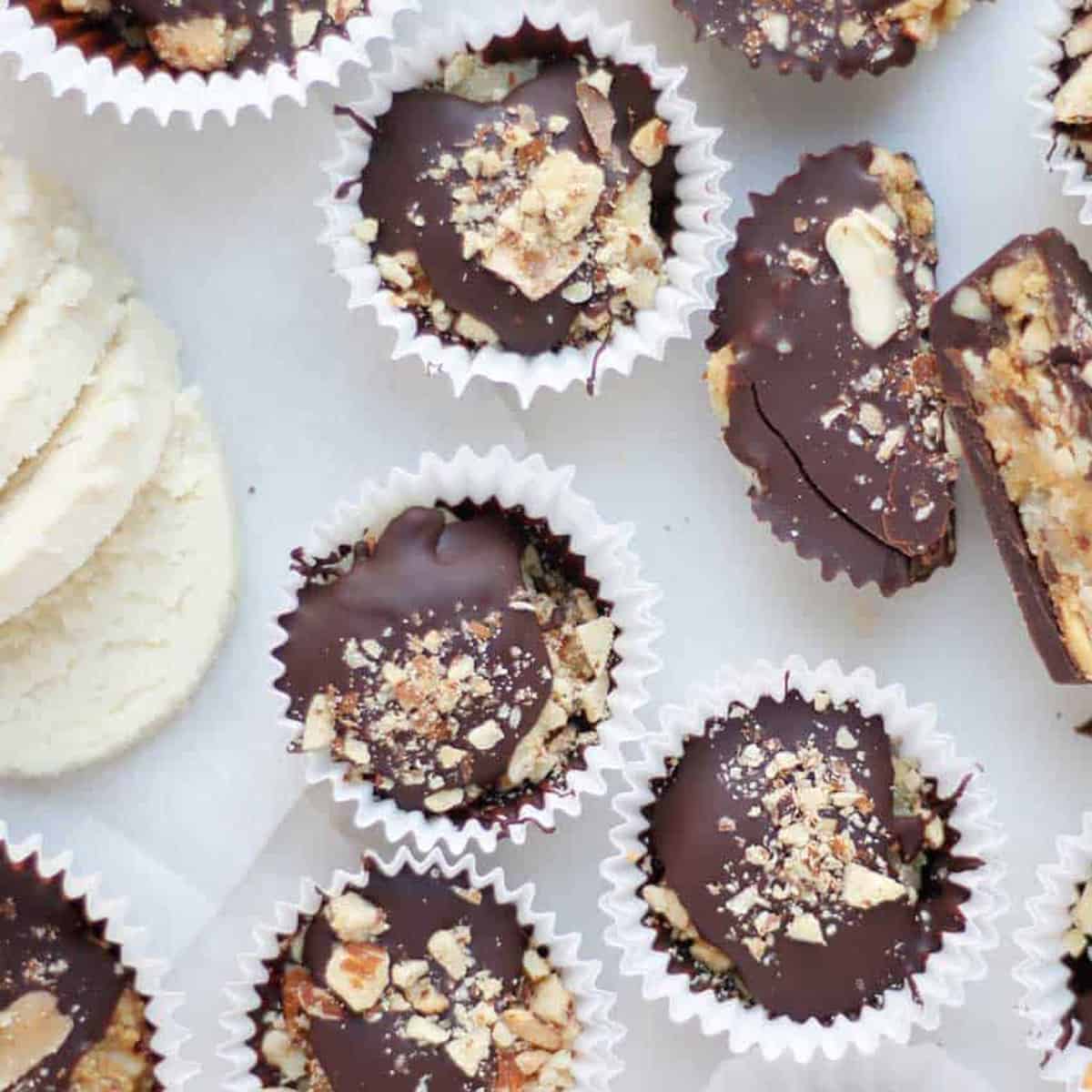 I filled these homemade marzipan cups with my homemade marzipan, a sweetened almond paste, with a touch of nut butter. The cups are actually higher in fiber and protein than most candy, and can serve as a healthy snack.

Jump to:
Why You'll Love These
Fun shapes, creamy filling. Marzipan chocolates are chocolate treats filled with a fresh homemade marzipan that melts in your mouth. My marzipan paste recipe uses maple syrup as the sweetener, making a creamy texture perfect to fill chocolate cups and shapes.
Protein-rich filling. The creamy marzipan paste in the center is not just soft and creamy but also rich in protein thanks to almond flour.
Easy to make. The marzipan paste filling is made with only three ingredients in one bowl and is ready in minutes. Melt the chocolate in another minute and you have a marzipan chocolate treat in under ten minutes.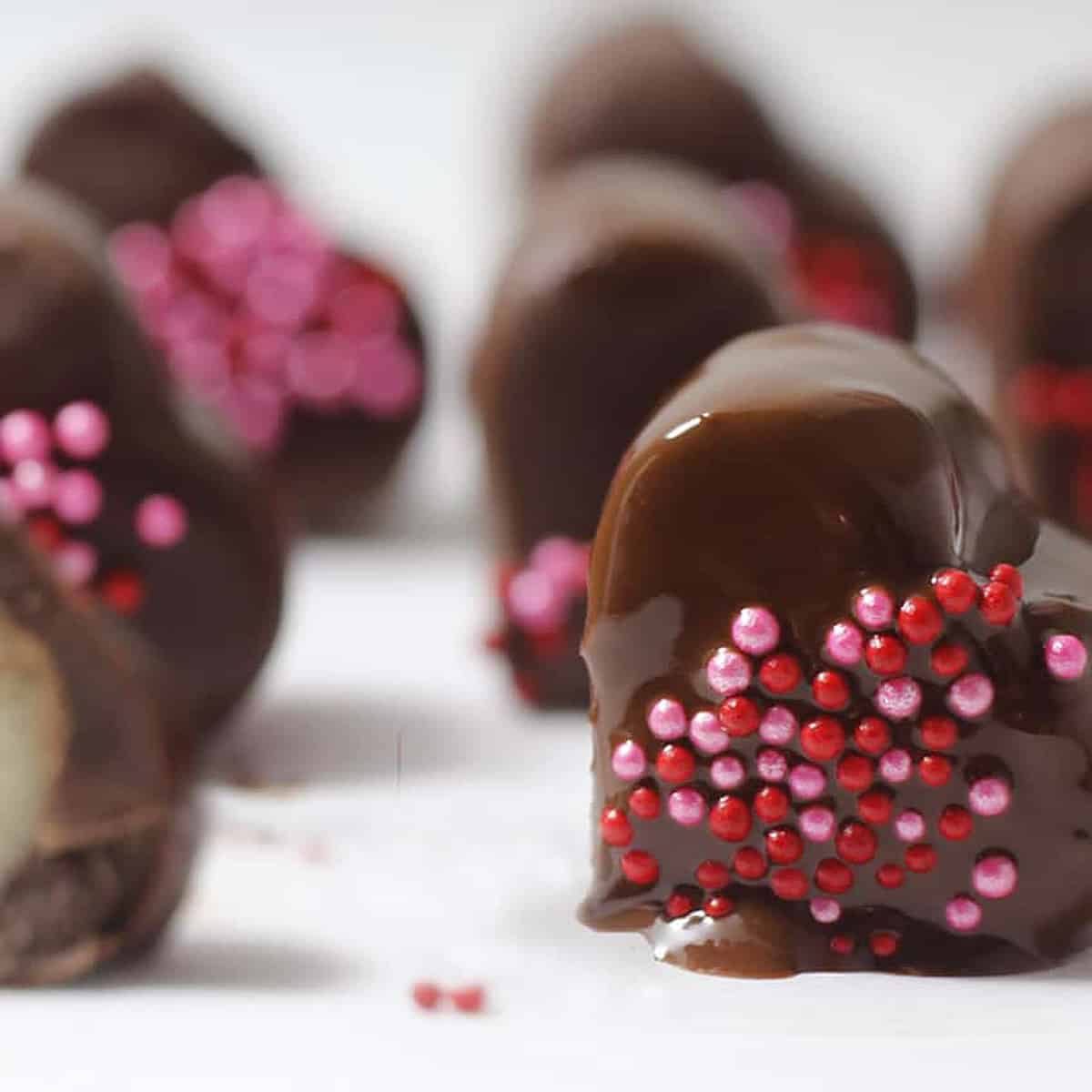 Ingredients
Homemade Marzipan - Use a batch of my healthier marzipan recipe which calls for almond flour, maple syrup and almond flavoring.
Nut Butter - Use a natural nut butter, with only nuts as ingredients. I use cashew to keep the taste more neutral. Or you could use almond butter to match the flavor of the marzipan which is made with almond flour.

Chocolate - Chocolate chips or a chocolate bark chopped up are both easy to melt in the microwave.

Steps to Make
Step 1: Make the homemade marzipan, using my recipe below or in my blog post here.
Step 2: Line cupcake cups or a mold with melted chocolate. Chill to set.
Step 3: Layer in marzipan, almond butter and nuts, or just marzipan if you are using a mold like the heart one I used, and space in the well is limited.
Step 4: Spoon on melted chocolate topping or dip in the case of using a mold.
Step 5: Chill and enjoy
How to Store
Tightly wrap the log and store it in an air-tight container in the refrigerator for an hour before serving or using in this chocolate cup recipe. Or store sealed tightly for two months or so.
FAQS
What are the Ingredients for Marzipan?
Traditional marzipan contains almonds, eggs and sugar. My healthier version contains almond flour, lemon juice and maple syrup. I also have a more traditional yet still vegan recipe here which uses powdered sugar.
Is Marzipan Healthy?
Well, it contains sugar and sugar is never healthy, but it also is made of primarily almond flour. Almond flour is high in protein and gluten-free. It is also considered helpful in reducing bad cholesterol, and with its low glycemic index, is great at balancing blood sugar. And finally, it is packed with nutrients, high in protein and rich in vitamin E and magnesium, two important nutrients for the immune system, sleep, mood and hormone-balance. It is the darling of brain support, high in riboflavin and L-carnitine, two important nutrients that boost brain activity and may reduce the risk of Alzheimer's disease.
Is Almond Paste and Marzipan the Same Thing?
Almond paste is coarse, while marzipan is creamy. Unlike marzipan, almond paste can be baked.
What is the Purpose of Marzipan?
Marzipan is used more as a filling for candy, cakes and cookies.
More Holiday Recipes
Interested in sharing on pinterest? Perhaps use this image...

Or this one for your Valentine Celebrations!

If you try my recipes, please leave a comment and rating below and tag me on your Instagram post with @greensmoothiegourmet so I can see and share your remakes!!
I invite you to keep up with me on:
Instagram | TikTok | Facebook | Pinterest | Twitter
Subscribe HERE to get recipes delivered to your inbox!
📖 Recipe
Marzipan Chocolates
My marzipan chocolates are chocolate cups and hearts stuffed with nut butter and my homemade marzipan, a sweet almond paste, that contains no eggs. Use a mold and make festive holiday candies.
Ingredients
Marzipan Recipe (with maple syrup)*
Instructions
To make marzipan recipe
Make homemade marzipan in a food processor

1 cup almond flour,

¼ cup maple syrup,

1 teaspoon almond extract,

1 teaspoon lemon juice
To make the chocolates
Line a mini cupcake tin with mini cupcake paper liners, or produce a mold**.

Melt the chocolate in the microwave in a pyrex measuring cup in 60 seconds. Stir until all is melted.

1 cup dark chocolate,

1 tablespoon coconut oil

Spoon the melted chocolate into the liners or mold wells. Tip each cup or the mold around by hand to coat the sides. Refrigerate for 15 minutes to set this shell.

Spoon 1 teaspoon of marzipan, 1 teaspoon of almond butter, 1 teaspoon crushed almonds into each cup or mold well. Or just add a small ball of marzipan as I did for the hearts pictured.

½ cup crushed almonds,

½ cup almond butter,

1 cup homemade marzipan

Add melted chocolate on the mixture within each cup or mold well.

Sprinkle with a final dusting of crushed almonds, chill in the refrigerator for about 15 minutes, then they are ready to eat!
Notes
*The marzipan paste recipe here uses maple syrup for a sweetener, but I have a more authentic marzipan paste recipe here that uses powdered sugar, although also egg-free.
**Make these cups using a mini cupcake pan or a regular cupcake pan.
Using a mold. You could also use a mold, press in marzipan and freeze it, then dip the frozen molded marzipan in melted chocolate. To melt the chocolate, microwave 1 cup of chocolate chips for 60 seconds.
Nutrition
Serving:
1
g
Calories:
106
kcal
Carbohydrates:
9
g
Protein:
2
g
Fat:
7
g
Saturated Fat:
3
g
Polyunsaturated Fat:
0.1
g
Monounsaturated Fat:
1
g
Trans Fat:
0.003
g
Cholesterol:
0.3
mg
Sodium:
2
mg
Potassium:
80
mg
Fiber:
2
g
Sugar:
5
g
Vitamin A:
4
IU
Vitamin C:
0.1
mg
Calcium:
25
mg
Iron:
1
mg