How to make sugared berries with just water and sugar for a beautiful sparkling garnish for desserts, platters, pies and drinks, made with blueberries, cranberries, raspberries, blackberries, strawberries and more.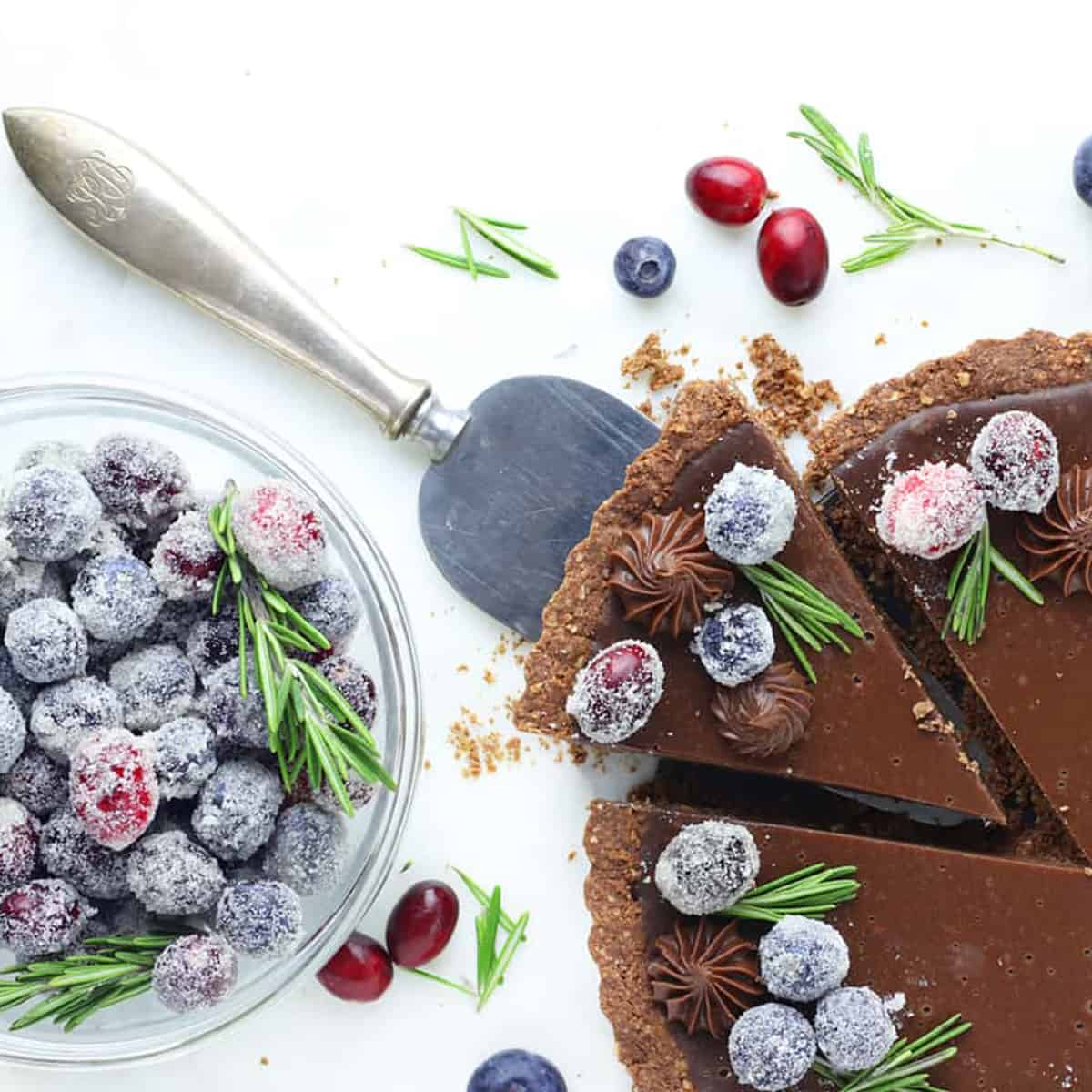 How to make sugared berries, also called frosted berries or candied berries. Sugared blueberries, sugared cranberries, sugared raspberries, they all make the easiest prettiest healthy garnish.
Sugared berries can be dazzling and they couldn't be easier to make. They require 2 ingredients, just sugar and water. My recipe is egg-free and use it to dress up your favorite pies such as my chocolate cream pie or my peanut butter pie or top your charcuterie platters or dessert presentations at brunch.
Why You'll Love This
Simple syrup is just 2 ingredients. The sugar syrup used to make these crystal berries is made by a simple ratio of 1 to 1 water and sugar. And it can be heated in the microwave, no pan or stove needed.
Use any berries and fruit. This process to make sugared berries applies to any berry, such as blueberries, blackberries, raspberries, cranberries, strawberries and even chopped fruit such as kiwi and even herbs.
Egg-free and no waiting to dip. Traditional recipes for candied cranberries have you dipping berries in egg white - not safe and not necessary because a water sugar syrup works perfectly. Similarly other candied berry recipes also have you waiting an hour for the dipped berries to become sticky before rolling them into sugar. My way is much quicker, and double dipping gives a heavy coating.
Ingredients
Fresh Berries. Use any sturdy berry such as cranberries, blueberries, raspberries and others. Use them fresh and not frozen.
Cane sugar. I use organic cane sugar because it tastes better and works best for the coating because the granules are larger and sparkle more as a coating, but any sugar works for both the sugar syrup and the coating.
Tools Needed
2 small bowls, one for cane sugar for coating, one for sugar syrup
A slotted spoon to dip berries in sugar.
A glass measuring cup to heat the sugar and water in the microwave.
Cooling rack, parchment paper
Step by Step Instructions
Visit the recipe card on the bottom of this post for detailed steps. Here are general instructions.
1. Make a simple sugar syrup by microwaving sugar and water together for one minute. Let it cool for ten minutes or until it is cool to touch. Then dip each berry by lowering a few at a time using a spoon.
2. Roll the berries in sugar and let them dry. That's it! You can apply two coats, directions are in the recipe card below.
Expert tip: Be sure to cool the sugar syrup before dipping the berries. If used too warm, it will pop the berries.
Storage
Store sugared cranberries or sugared blueberries or any berry you sugar coat in a sealed container at room temperature for up to two days.
You can refrigerate for longer, up to 4 days, but spots where the sugar melted may appear. If that happens, just reroll the berries in fresh sugar to repair the bare spots.
Freezing will not work as the berries will collapse.
Variations & Substitutions
Strawberries. You can use fresh strawberries for this recipe to make candied strawberries. Just chop them into somewhat uniform sizes first.
Raspberries. Fresh raspberries are tricky to coat in sugar because they are so fragile. Try putting them in the freezer for five minutes just prior to dipping in syrup to firm them up. Use light pink raspberries that are firm. Squishy overripe raspberries will not work.
Blackberries & blueberries. To make sugared blackberries and blueberries, just be sure they are firm and dry.
Candy coat herbs. You can also coat rosemary needles, mint leaves, even sage leaves and rose petals to use as garnishes along with your candied berries.
Ways to Use
I put them on my chocolate cream pie here, but you can do so many things with sugared berries. Here are a few ideas you can add them to:
Cakes and pies and tarts
Ice cream and pudding dessert bowls
Charcuterie platters for splashes of color and sweet
Speared on tooth picks for cocktail garnishes
On their own as a dessert
FAQS
Can You Eat Sugared Fruit?
You can eat these straight instead of using as a garnish. Of course the berries are nutritious but the sugar isn't so I'd pop a few but not have a bowl of sugared berries for my breakfast lol.
How Do You Sweeten Blueberries?
Easy, just use my sugared berries recipe right here. Blueberries are a bit sour so they are the perfect berry, just like cranberries, to coat in sugar.
Can You Use Frozen Berries To Decorate A Cake?
Of course, but sugared berries are even prettier.
Can You Eat Raw Cranberries?
Yep! Sugared cranberries cut the sourness however.
Are Cranberries High in Sugar?
No, quite low, so are blueberries. That's what makes them the perfect candidate for sugared berries.
Desserts To Garnish
Chocolate Cream Pie
Dairy Free Chocolate Cake
Vanilla Cake
Sweet Potato Ice Cream
I invite you to keep up with me on: Facebook | Pinterest | Instagram | Twitter
Don't miss a thing, subscribe here to get recipes delivered to your inbox!
If you try my recipes, please leave a comment and rating below and tag me on your Instagram post with @greensmoothiegourmet so I can see and share your remakes!!
📖 Recipe
How to Make Sugared Berries
How to make sugared berries with just water and sugar for a beautiful sparkling garnish for desserts, platters, pies and drinks, made with blueberries, cranberries, raspberries, blueberries, strawberries and more.
Equipment
glass measuring cup

slotted spoon

2 small bowls

Cooling rack
Ingredients
Berries
1

cup

blueberries

1

cup

cranberries
Sugar for coating
½

cup

cane sugar*

I used organic because of the larger grain
Instructions
Prep
Rinse and pat dry fresh berries. Remove any soft berries or those that are gone. Set aside.

Set out a cooling rack with a protective paper or cookie sheet beneath to catch loose sugar.

Pour ½ cup sugar to a bowl to prepare for rolling the berries to coat.
Make Sugared Berries
First, make the simple sugar syrup by adding ½ cup of sugar to ½ cup of water and set into microwave for 1 minute. Remove cup and stir until all sugar is melted. Microwave another 15 seconds if you need to dissolve any further.

½ cup organic cane sugar,

½ cup water

Set the syrup aside to cool, about 20-30 minutes. Don't use it warm or it will pop the berries.

1st coating: When the syrup is at room temperature, dip each berry using a slotted spoon or fork to coat it completely. Lift the berry out and let excess syrup drip off. Pro-tip: Tap the fork or slotted spoon for about 15 seconds to be sure the berry is left with a sheen of syrup, not a thick layer that might cause clumps.

Then roll the berry in the sugar in the bowl. Set coated berry on cooling rack to dry. Do this until all berries are coated.

1 cup blueberries,

1 cup cranberries,

½ cup cane sugar*

2nd coating (optional): If you want to apply a second coat, dip each freshly coated berry once more in the bowl of sugar.Pro-tip: For second coating, there is no need to dip in syrup again.
Dry the Coated Berries
Whether dipped once or twice, line the berries on the rack to dry.

Drying takes 30 minutes at room temperature to dry the berries well enough to be able to work with them.
Store Sugared Berries
Store them uncovered in the refrigerator for 4 days. If they get wet and the sugar coating seems to dissolve, simply roll them in sugar to refresh the coating.
Notes
Strawberries. If you use strawberries, chop them into similar sizes first. Other berries. Use very unripe and firm berries. Over-ripe berries will not work. Herbed candied berries. As you make any candied berry, add herbs such as rosemary needles, mint leaves, even sage leaves in with the liquid syrup, and sugar coat those along with the berries. Use the candied herbs to garnish the candied berries. *Try to use organic cane sugar because the texture is coarse and more like diamonds, so will give your sugared berries a prettier effect than would, say, regular cane sugar which is dusty.
Nutrition
Calories:
113
kcal
Carbohydrates:
29
g
Protein:
1
g
Fat:
1
g
Saturated Fat:
1
g
Sodium:
1
mg
Potassium:
25
mg
Fiber:
1
g
Sugar:
12
g
Vitamin A:
17
IU
Vitamin C:
3
mg
Iron:
1
mg