An easy Asian mushroom stir fry using shiitake mushrooms high in essential nutrients and vitamins, with a delicious umami flavor, and wonderfully filling with seasoned broccoli and cauliflower.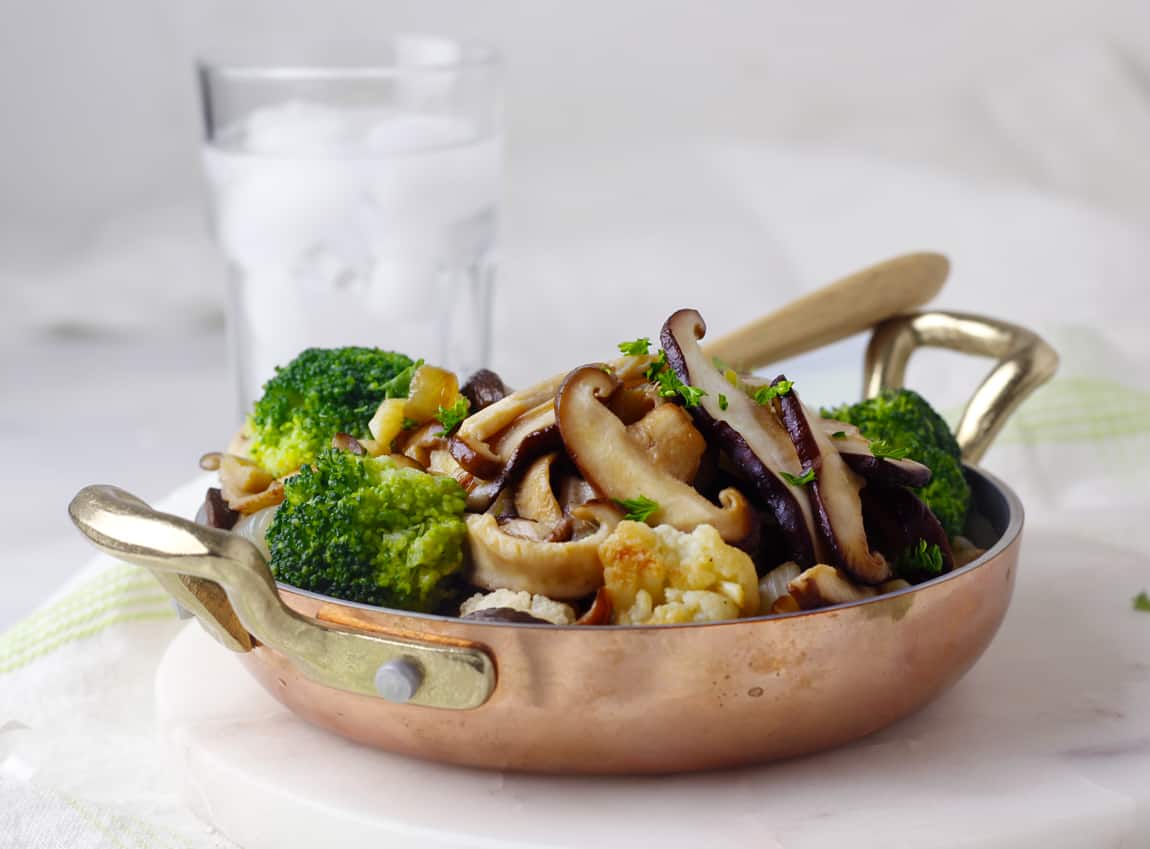 Cauliflower Shiitake Mushroom Stir Fry
This easy cauliflower shiitake mushroom stir fry is a healthy dinner that can boost your immune system, and is so easy to throw together with few ingredients. Cauliflower and broccoli were used here with Shiitake mushrooms, and the result is a tasty, filling nutrition booster.

Table of Contents
Shiitake Mushrooms Make This Recipe An Immunity Booster
In light of our current circumstances regarding the pandemic, it's important to point out that shiitake mushrooms in particular can boost your immune system. Now, to be sure, ALL mushrooms you can grab in the grocery store are immune boosters, so use any mushroom you can get your hands on.
Meanwhile, let me tell you about shiitake mushrooms, since I happened to find them, I want to tell you about them.
Shiitake mushrooms, cooked or dried, can reduce inflammation as noted in this study. And the qualities of shiitake mushrooms in particular are said to improve age-related declines in immune systems.


In addition, shiitake mushrooms are awesome for heart health and more. Read more about the nutritional power of shiitake mushrooms here.
How Easy Is This Mushroom Stir Fry Recipe?
So easy. I used veggies steamed in the microwave, chopped some ginger and garlic, and tossed it all with mushrooms into a skillet.
How Does This Stir Fry Taste?
It really tastes like a delicious Asian recipe with the use of liquid aminos (or coconut aminos if you need to avoid soy and gluten). And with the mushrooms, there is a umami flavor as well.
Top Tips to Make this Shiitake Mushroom Stir Fry
1. First, wash the mushrooms carefully. Shiitake mushrooms are delicate so I add them to a strainer and rinse them gentle and pat them dry on a paper towel.
2. Next, chop onions, ginger and garlic and saute gently, until onions are just translucent. You do not want to burn the ginger and garlic.
3. Finally don't over saute the mushrooms and veggies - just enough to heat through both.
Storing the dish is easy - refrigerate for a week, or freeze long term.
4. Finally, don't toss the sauce in until you are ready to eat. Even refrigerate the left overs without the sauce. That way each person you serve can choose the version correct for them.
5. Choose your favorite Asian seasoning sauce. I use aminos which are concentrated amino acids and thus provide more nutrition than most seasonings. I have two favorites:
--Liquid aminos for those who can eat soy but want a healthier soy sauce alternative. Liquid aminos have less sodium then soy sauce, and are high in essential amino acids, thus protein.
--Coconut aminos for those who cannot eat soy or gluten. Coconut aminos are made from coconuts and are free of gluten, wheat and soy, and contain less salt than soy sauce.
But of course you can use your favorite traditional Asian seasoning sauce such as soy sauce. You are only using it for flavor so no worries if traditional soy sauce is your choice.
6. Final tip, don't add much in the way of either sauce, especially the aminos - a little adds a lot of flavor! Too much can overwhelm the subtle mushroom umami tones.
Substitutions Possible for This Mushroom Stir Fry
There are countless substitutions possible here. Although shiitake mushrooms offer a strong boost to the immune system, other mushrooms boost immunity and add nutrition as well.
1. Mushrooms: It's fine to swap out shiitake mushrooms for white caps or bella, or any mushroom mix really.
2. Veggies: It's also fine to use any veggies you have on hand. I have used all broccoli when I couldn't find cauliflower, especially during the panic buying episodes when grocery story shelves are bare. And I have used asparagus and even green beans.
3. The soy sauce can be just that, or liquid aminos or coconut aminos, depending on your needs and taste. As I noted before, soy sauce and liquid aminos are made from soy and are quite salty. Coconut aminos are lower in salt, do not contain soy and are gluten-free.

How to Make Shiitake Mushroom Stir Fry
Wash the mushrooms, and dab them dry.
Chop the onions, garlic, and ginger.
Steam or microwave the veggies you choose, I chose broccoli and cauliflower.
Heat a skill with olive oil, and toss in the onions, garlic and ginger, sauting until the onions are translucent.
Add in the broccoli, cauliflower, and mushrooms. Toss and saute for about 3-4 minutes or until the whole mess is hot.
Transfer to a bowl, and serve with a choice of sauce on the side. The dish is quite bland without the sauce, but I think it is important to allow each person to add the amount to their own taste.
I hope you love my foray into shiitake mushroom land. I have loved this mushroom adventure and will be bringing you lots more mushroom dishes soon!
I invite you to keep up with me on:
Instagram | TikTok | Facebook | Pinterest | Twitter
Subscribe HERE to get recipes delivered to your inbox!
Cauliflower Shiitake Mushroom Stir Fry
An easy Asian mushroom stir fry using shiitake mushrooms high in essential nutrients and vitamins, with a delicious umami flavor, and wonderfully filling with seasoned broccoli and cauliflower.
Ingredients
4

cups

shiitake mushrooms

or white cap or bella

3

cups

of cauliflower

steamed

1

cup

broccoli

steamed

½

cup

yellow or white onion

sliced

½

cup

green onions

sliced'

3

cloves

of garlic

minced

1

teaspoon

ginger

chopped

2

tablespoon

olive oil
Choose Soy Sauce or alternative
4

tablespoon

liquid aminos

soy-based but gluten-free, healthier than soy sauce

4

tablespoon

coconut aminos

soy-free, gluten-free, low GI, also healthier than soy sauce
Instructions
Prep
Rinse the mushrooms gently, and pat them a bit dry.

Steam the vegetables in a steamer on the stove or use microwavable bags to steam the veggies in a microwave. Set aside to drain, but cover so they remain warm.

Peel the yellow onion, cut in half, and chop into slivers.

Chop off the ends of the green onions (scallions), and chop off the feathery rooted end as well. Chop the final stem into circular chunks.

Cut off a 2-inch knob of ginger. Scrap off the ginger skin with the back of a spoon, chop the ginger into tiny chunks.
Make Mushroom Stir Fry
Heat the oil in a skillet, and add the onions. Stir fry for 3 minutes until the onions become translucent.

Add the garlic, ginger, and stir to combine for 5 seconds. Then quickly add the mushrooms and combine all and stir fry for 4-5 minutes or until mushrooms look limp and browned. Stir and the fold the mixture continually so each mushroom has a turn on the skillet surface.

Add the veggies and stir and fold the mixture again so all are combined and warm.

Serve immediately with a choice of seasoning sauce to add, either liquid aminos, coconut aminos or soy sauce.
Seasoning Sauce Guideline
Per 1 cup of mixture, I found 1 teaspoon of liquid aminos or coconut aminos was sufficient for flavor. Or add soy sauce to taste.
Storage
Refrigerate leftovers in a covered container for three days. Reheat in microwave to serve.
Nutrition
Calories:
121
kcal
Carbohydrates:
16
g
Protein:
5
g
Fat:
6
g
Saturated Fat:
1
g
Sodium:
36
mg
Potassium:
704
mg
Fiber:
6
g
Sugar:
6
g
Vitamin A:
178
IU
Vitamin C:
41
mg
Calcium:
33
mg
Iron:
1
mg