Chocolate mini donuts, baked, bite-sized and the perfect texture without eggs or oil. Vegan and gluten-free, and a rich chocolate flavor and 2-ingredient glaze.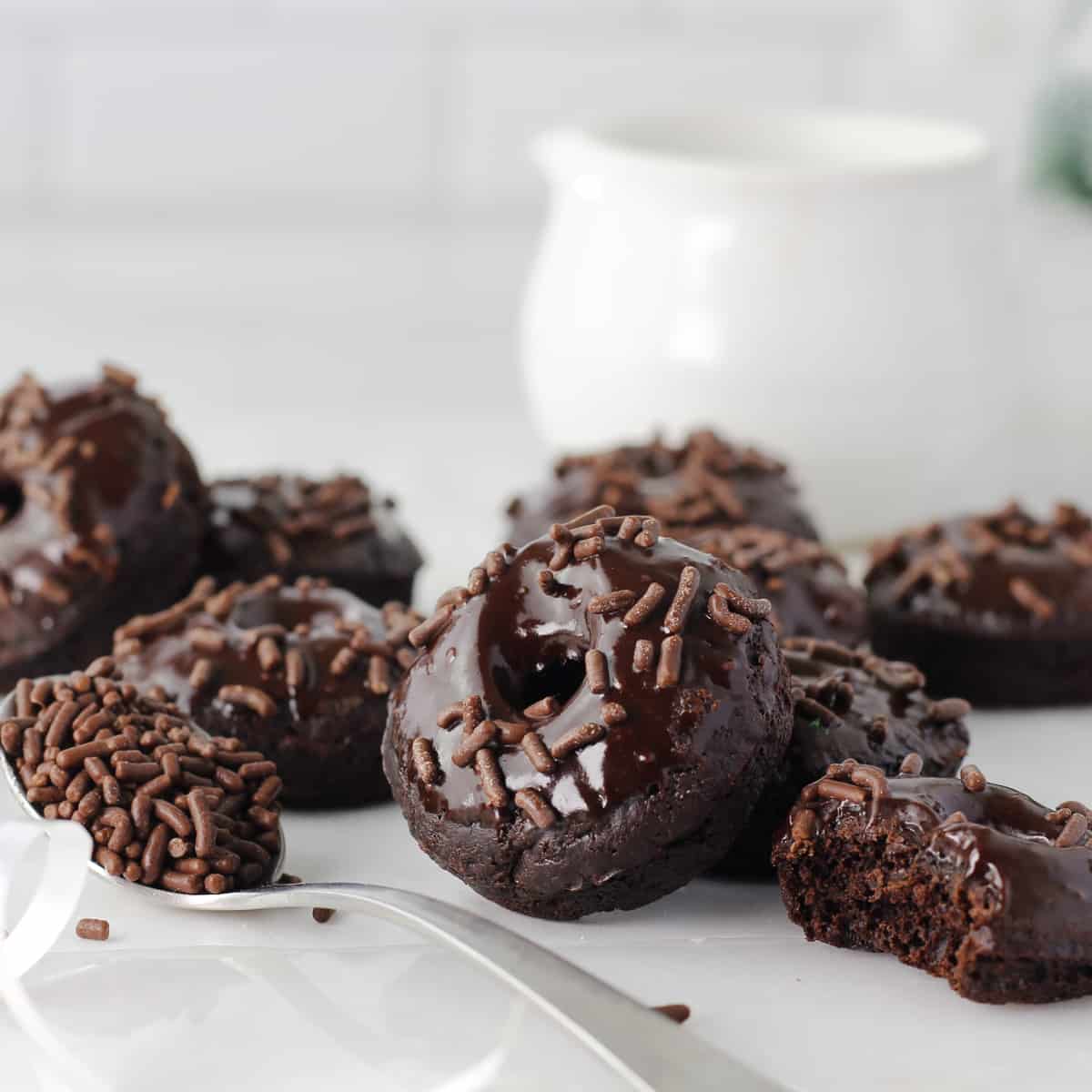 Chocolate Mini Donuts
These easy chocolate mini donuts are healthier and so easy to make that they are ready in 20 minutes. And they are naturally gluten-free in an unprocessed way thanks to oat flour.

Table of Contents
How These Chocolate Mini Donuts Are Healthier
It's not complicated. These donuts are healthier and the recipe works deliciously for several reasons.
1. These donuts are baked, not fried so no cooking in oil.
2. They are made with nutritious-rich oat flour. It is rich in fiber, protein, calcium, iron and I could go on. [source]
3. These donuts are made without oil and eggs. Instead I used unsweetened apple sauce, or yogurt if you want a different option. The resulting texture is delicious, light and fluffy.

Before we dive into the recipe, I'd like to invite you to sign up for my free chocolate course. Five lessons hit your inbox with detail on how to create your own simple healthy chocolate desserts.
Okay, so back to this recipe...
Ingredients in These Chocolate Mini Donuts
With all this talk of healthier ingredients, I should tell you what they are.
--Oat flour (or all purpose, or GF baking flour) - try to use oat flour if possible. If you can't find oat flour in your grocer, you can make it by grinding rolled oats into a flour. Easy!
--Cocoa powder - the quality of the cocoa makes the donut. As I always say, the quality of your cocoa makes the donut. I love using Valhrona's dark cocoa for these.
--Organic Cane Sugar - sugar is sugar and I'm not going to tell you it's healthy but try to use organic if possible, it tastes better and is less process.
--Dairy-free Milk - Do you want a puffier donut? Add 1 tablespoon of lemon juice and allow a few minutes for the milk to curdle. Otherwise, leave it off.
--Cinnamon, Baking powder, Vanilla
Steps to Make Chocolate Mini Donuts
It's fun and fast to make mini donuts. Follow the steps here and in my recipe card below.
Step 1. First grease and flour your donut pan with cocoa powder. I use a light avocado oil spray, spritz a single spot in the donut well, and use a paper towel corner to rub inside the well.
Step 2. Mix up the dry ingredients first.
Step 3. Then mix up the wet ingredients in a different bowl, and pour that into the dry. Stir up until just combined. You can't over-stir oat flour, but you can over-stir all purpose.
Step 4. Pour the batter into a plastic zip log bag or a frosting bag, snip the tip, and pipe batter into each donut well. You'll be putting about 1 tablespoon of batter in each well if you use my mini donut pan.
Step 5. Bake and cool!
Step 6. Glaze these donuts by stirring up my 2-ingredient glaze and dipping cooled donuts. Store at room-temperature for one day. These donuts are best eaten same day since oat flour dries out fairly quickly.
Tips to Make Chocolate Mini Donuts
1. Be sure your applesauce has no added sugar.
2. Measure your oat flour carefully by loosening it in the bag, then spooning it loosely into a 1 cup measuring cup.
3. Use a dark cocoa to get this lovely dark color and rich flavor.
4. If you don't have a mini silicon donut pan, than use a mini muffin pan, or a regular-sized donut pan, or regular sized muffin pan.
More Easy Healthy Donuts
I invite you to keep up with me on: Facebook | Pinterest | Instagram | Twitter
Don't miss a thing, subscribe here to get recipes delivered to your inbox!
If you try my recipes, please leave a comment and rating below and tag me on your Instagram post with @greensmoothiegourmet so I can see and share your remakes!!
Chocolate Mini Donuts
Chocolate mini donuts, baked, bite-sized and the perfect texture without eggs or oil. Vegan and gluten-free, and a rich chocolate flavor and 2-ingredient glaze. View step by step video!
Ingredients
Donuts
1

cup

oat flour Or ¾ cup all-purpose or GF baking 1 to 1 flour

2

tablespoon

dark unsweetened cocoa powder

Use Valhrona for an incredible flavor

¼

cup

organic cane sugar

½

teaspoon

baking powder

½

teaspoon

baking soda

⅓

cup

dairy-free milk

¼

cups

unsweetened apple sauce

or plain yogurt

1

teaspoon

vanilla

1

teaspoon

cinnamon

optional

pinch

of salt
Chocolate Glaze
½

cup

chocolate chips

I use Enjoylife brand, or HU gems

2

tablespoon

dairy-free milk

½

teaspoon

vanilla
Essential Equipment
Instructions
Prep
Preheat the oven to 350°F.

Grease the 12 wells of the mini donut pan. Even though it is silicon, because we are baking in it, it needs to be greased and floured well, just like a regular sized metal donut pan. I use cocoa powder to dust with because if I used white flour, the donut would turn white.
Make Donuts
In a large bowl, mix up oat flour, baking powder, cocoa powder, salt and cinnamon.

In a smaller bowl, stir up apple sauce, sugar, milk, and vanilla. Pour the wet into the dry mixture and use a hand mixer to blend smooth.

Use a frosting piping bag to fill the wells to the top. You can just snip the piping bag to use it, no need to use a frosting tip. Or use a zip-lock bag with a corner snipped. To fill the bag, prop it up in a tall glass to fill it.

Then squeeze batter into donut pan rings. Fill up each well ⅔rds.

Bake donuts for 8-10 minutes, or until a tester comes out clean.

Cool pan for 10 minutes, then extract the donuts and line them on a cooling rack.
Bake Donuts Mixture in Muffin Pan
To use a mini muffin pan, line them with paper, fill ⅔rds and bake at 8 minutes or until a tester comes out clean.
Make Glaze
Melt the chocolate chips in a glass pyrex measuring cup, microwave at 1 min and stir until all chips are melted. Microwave an additional 10 seconds if chips need more melted.

Stir in the milk, and stir vigorously until you have a creamy, shiny glaze. Pour glaze into a shallow bowl for dipping donuts in.

Dip one side of each donut, allow excess to drip off, and set non-glazed side down on a cool rack. Allow glaze to set, about 10 minutes or less.
Store
Store covered lightly for one day on the counter; any longer and they dry up. You can refrigerate them covered for a week, or freeze for a month. If you freeze, don't glaze them.
Video
Nutrition
Calories:
61
kcal
Carbohydrates:
12
g
Protein:
2
g
Fat:
1
g
Saturated Fat:
1
g
Polyunsaturated Fat:
1
g
Monounsaturated Fat:
1
g
Sodium:
51
mg
Potassium:
70
mg
Fiber:
1
g
Sugar:
5
g
Vitamin A:
27
IU
Vitamin C:
1
mg
Calcium:
22
mg
Iron:
1
mg