These baked apple cider donuts with only 6 main ingredients, including pumpkin or sweet potato purée .No eggs, no oil, no dairy. Light, fluffy and loaded with apple cider flavor!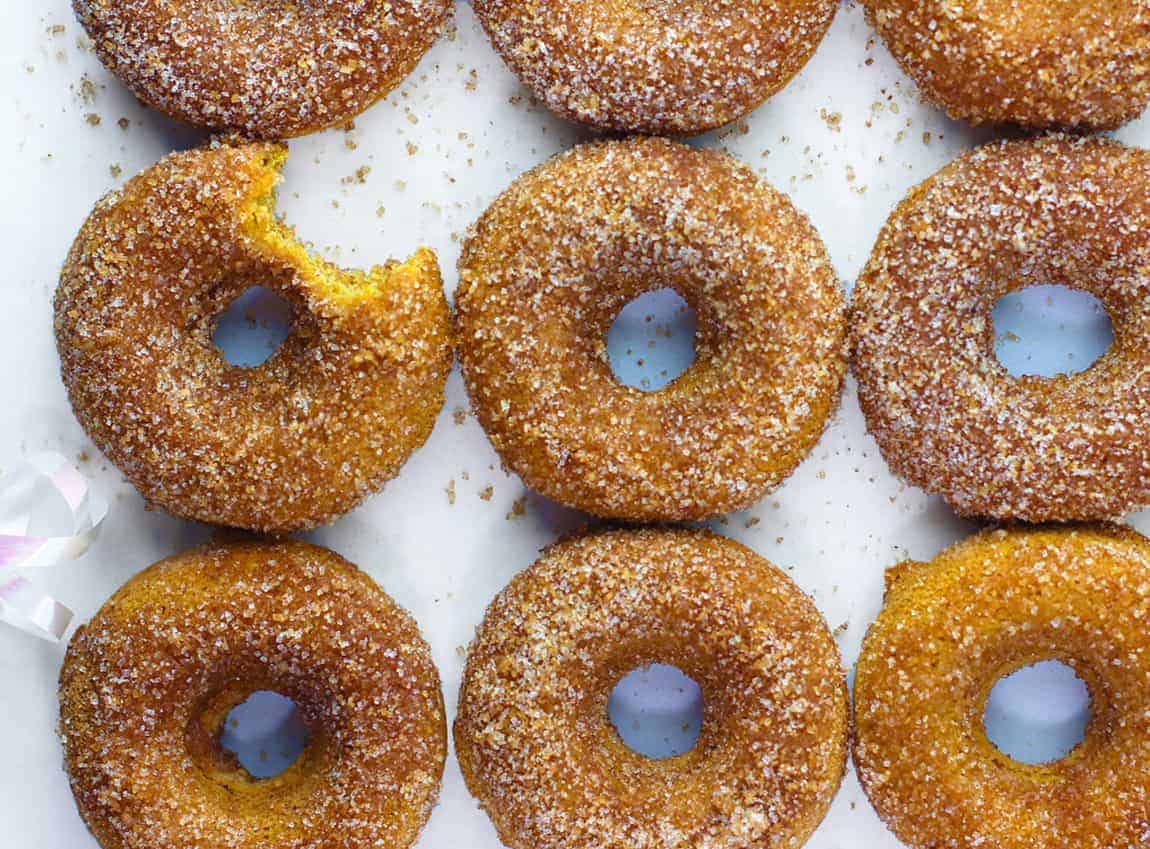 Baked Apple Cider Donuts
Apple cider donuts that are easy to make, vegan and gluten-free. One of the easiest apple cider donut recipes there is! Make this fall treat fast and easily. For donuts, you'll need a donut pan, but you can also make these in a muffin tin.
Before we dive into the recipe, I'd like to invite you to sign up for my free chocolate course. I realize my recipe here is not chocolate, but I'm assuming you also like easy chocolate treats? Five lessons hit your inbox with detail on how to create your own simple healthy chocolate desserts.
Okay, so back to this recipe...
How Do You Make Apple Cider Donuts From Scratch?
Very easily! Just combine oat flour, apple cider, flour, baking powder, vanilla and cinnamon. So easy! Mix it up and pour it into a donut pan or muffin liners. Bake, coat and eat!
Why Are They Called Apple Cider Donuts?
They are called apple cider donuts because the liquid in the recipe is apple cider. If you don't have apple cider, apple juice concentrate also works.
Does Dunkin Donuts Have Apple Cider Donuts?
I'm not sure but it is so easy to make homemade apple cider donuts, it really doesn't matter, does it?
How Many Calories in a Baked Apple Cider Donut?
Less then 300 calories in my apple cider donuts. They are also high in fiber and low in carbs.
What Makes A Baked Apple Cider Donut?
My donuts are an easy donut recipe with apple cider as the liquid.
Baked Donuts Without Donut Pan
Yes, it can be done. Just pour the batter into mini muffin pans, with paper liners and bake for 10 minutes.
Do Baked Donuts That Taste like Fried Donuts?
Yes! My baked donuts definitely taste like your favorite fried donuts especially with the sugar cinnamon coating. But they are baked and have no oil! So much healthier and lighter. Feel great after eating more than one!
Other Healthy Baked Donut Recipes
Date Sugar Donut Recipe
Chocolate Baked Donuts
Chocolate Frosted Donuts
Funfetti Vanilla Baked Birthday Donuts
Pumpkin Spice Donuts
Chocolate Chickpea Protein Donuts
Chocolate Chickpea Chocolate Glazed Donuts
Are you on Pinterest? Please share this image..

or this one..


I invite you to keep up with me on: Facebook | Pinterest | Instagram | Food Gawker | Twitter
Don't miss a thing, subscribe here to get recipes delivered to your inbox!
If you try my recipes, please leave a comment and rating below and tag me on your Instagram or Facebook post with @greensmoothiegourmet and #greensmoothiegourmet so I can see and share your remakes!!
Baked Apple Cider Donuts
These healthy baked apple cider donuts have only 6 main ingredients, including sweet potato. No eggs, no oil, no dairy. Light, fluffy and loaded with apple cider flavor! The zippy flavor makes them more like fried.
Ingredients
Donuts
1 ¾

cup

oat flour

Or 1 ¼ cup all-purpose or GF baking 1 to 1 flour

2

tsp

baking powder

1

tsp

apple pie spice

pinch

of salt

½

cup

fresh apple cider

(you can also use apple juice if need be)

½

cups

pumpkin or sweet potato puree

(I used canned but you can also use fresh. Don't use pumpkin PIE purée, I mean pure pumpkin. Whole Foods 365 brand or Farmers Market Brand.

½

cup

organic cane sugar

1

tsp

vanilla
Instructions
Prep
Preheat the oven to 350°F.

Grease a 6-well donut pan or cupcake pan.
Make Donuts
In a large bowl, mix up oat flour, baking powder, apple pie spice, and salt.

In a smaller bowl, stir up sweet potato puree, sugar, apple cider and vanilla. Pour the wet into the dry mixture and use a hand mixer to blend smooth.

Pipe or use a spoon to fill the wells to the top.

Bake for 20 -25 minutes, or until a tester comes out clean.

Cool pan for 10 minutes, then transfer to a cooling rack.
Make Cinnamon Sugar Coating
Stir together the sugar cinnamon mix. Spray donuts with coconut oil spray, dip both sides and spoon mix over to coat whole donuts.
Store
Store covered lightly for one day on the counter; any longer and they turn soggy. You can refrigerate them covered for a week, or freeze for a month. If you freeze, just set them on the counter to defrost for 20 minutes.
Nutrition
Calories:
174
kcal
Carbohydrates:
31
g
Protein:
6
g
Fat:
3
g
Saturated Fat:
1
g
Sodium:
18
mg
Potassium:
429
mg
Fiber:
3
g
Sugar:
4
g
Vitamin A:
4484
IU
Vitamin C:
5
mg
Calcium:
103
mg
Iron:
2
mg