These 7 vegan holiday cookie recipes are festive, delicious, perfect for your dessert table or to be wrapped as gifts. Gingerbread cookies, chocolate oatmeal cookies, 2-ingredient holiday sugar cookies and even matcha sandwich cookies. All easy and beautiful.
7 Vegan Holiday Cookie Recipes
You will be happy to wrap this cookies as gifts or to eat them all yourself. The gingerbread cookies are hermits, or hand cookies, and they are perfectly symmetrical, angled like biscotti, such an eye-pleaser as a gift or on a dessert table. The same with the oat cookies, crinkle cookies and even a beautiful green Matcha sandwich cookie. And if you want to ice or frost any one of them, use my easy vegan royal icing recipe.

Hermit Cookie Recipe
Hermit Cookie Recipe. A soft spicy hand-cake cookie that is the perfect holiday gift as well as a treat for your dessert table. This soft chewy gingerbread cookie is dairy-free, and bursting with spicy flavors of cinnamon, ginger and molasses !
View Recipe
No Bake Chocolate Oatmeal Cookies
Easy homemade no bake chocolate oatmeal cookies that will boost your energy sky high, and make a good start on your daily nutritional requirements. Vegan, gluten-free, dairy-free, refined-sugar-free.
View Recipe
2-Ingredient Healthy Sugar Cookies
Delicious 2-ingredient healthy sugar cookies that are high in protein. Incredible? It's true! And the recipe is fail-proof. All you need is almond flour and maple syrup! And your imagination for toppings. Vegan, gluten-free and even a nut-free option.
View Recipe
Healthy Matcha Shortbread Cookies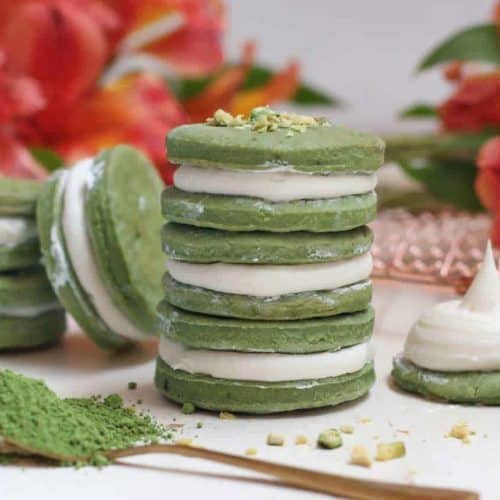 Matcha shortbread cookies that are flaky, and filled with whipped cream, and full of Matcha green tea, an antioxidant super power. Vegan, dairy-free, gluten-free.
View Recipe
Crispy Chocolate Chip Cookies (vegan, double chocolate)
Learn how to make these crispy chocolate chip cookies using my secret baking trick. Double chocolate and snappy and delicious, frost them with fudge or fill them with a creamy delight, both recipes are included! They are also perfect for those eating vegan, vegetarian, dairy-free and gluten-free.
View Recipe
Vegan Candy Bars - 2 Flavors
These vegan candy bars are powerfully nutritious and full of protein and fiber. In fact, they are so nutritiously robust, they can be used as a meal replacer. They are also gluten-free and refined sugar free, easy to make and budget-friendly. The best kind of candy bar.
View Recipe
Tocos Chocolate Crinkle Cookies
Soft and chewy tocos chocolate crinkle cookies are also super healthy for your skin thanks to vitamin-E rich tocos, a creamy like powder that resembles coffee creamer in texture and is full of nutrition. These cookies are vegan, dairy-free and gluten-free and easy to make.
View Recipe
If you found this round up helpful, you might want to see my 7 Vegan Chocolate Dessert Recipes round up post.
And I should tell you another excellent holiday dessert recipe is my Homemade Marzipan Recipe. Also known as Almond Paste.
I invite you to keep up with me on: Facebook | Pinterest | Instagram | Food Gawker | Twitter
Don't miss a thing, subscribe here to get recipes delivered to your inbox!
And if you make this recipe, leave a comment and rating below and tag me on your Instagram or Facebook post with @greensmoothiegourmet and #greensmoothiegourmet so I can see and share your remakes!!
Are you on pinterest? Perhaps share this collection using the image below..

Dee Dine is founder of Green Smoothie Gourmet, a plant based recipe blog, and author of the recent cookbook, Crazy Healthy with 4 Ingredients and another immunity-boosting smoothie shot book, 4-Ingredient Smoothies + Juices , due out in January 2021. On this blog you'll find incredibly easy recipes with hidden veggies for anyone wanting to eat healthier, regardless of diet. Dee has graduate degrees in sciences and  journalism, editor at The Feedfeed and a nutritional expert at WikiHow. More about Dee Dine here.