Matcha shortbread cookies that are flaky, and filled with whipped cream, and full of Matcha green tea, an antioxidant super power. Vegan, dairy-free, gluten-free.
Matcha Shortbread Cookies
I brought superfood matcha shortbread cookies to the table today. A superfood powerhouse, in cookies!
These easy to make cookies are buttery shortbread cookies that are full of green tea. And not just sit-there-and-do-nothing cookies, but cookies stuffed with a sweet whipped cream. ALL vegan and gluten-free, helped along in that direction using organic coconut palm sugar and gluten-free baking flour.
What is Matcha?
Matcha powder is a quality version of green tea. It has origins from China, dating back to 1100s.
It is made from crushing quality matcha leaves, actually called ceremonial-grade matcha leaves.
That powder is what we whisk into hot water to create Matcha Tea as a creamy green drink. So this green differs from the normal green tea which is actually made by steeping and discarding the leaves as with any traditional tea.
Is Matcha Vegan?
Yes, of course, it's made from a plant.
How Nutritious is Matcha Tea in Cookies?
Matcha powder is useful in baking and other recipes besides drinks. This is great news because there is potential to turn desserts into powerfully nutritious snacks.
So how nutritious is matcha powder in snacks? Well just a few tsps can add a slew of vitamins and minerals, and antioxidants that protect against disease, support the heart and anti-age!
One NIH study attests that matcha powder contains 137 times more antioxidants then other teas, even anti-oxidant-strong traditional green tea.

Also matcha is supposed to boost metabolism, making weight control easier.
I love that it has slow-absorbing caffeine so you don't get a rush and tumble as with coffee – although I still love coffee, but it's fun to switch off. But no drinking today. Today, I used matcha in a recipe for cookies!
How to Make Matcha Shortbread Cookies
These buttery matcha shortbread cookies that are flaky and filling and haunting in flavor. The cookies are made of 5 simple ingredients. The sweetener I used is a coconut palm sugar, but the flakey texture comes from the coconut oil. Use refined coconut oil if you don't want any coconut flavor. However virgin coconut oil provides more health benefits.
The whipped cream is coconut whipped cream with powdered sugar and a stiffener – not the healthiest with the sugar, but fun! However, obviously you do not have to make them into sandwich cookies – you could just eat them on their own, dipping into a cup of hot tea!
Tips to Make Matcha Cookies Work Out
This recipe is versatile in that you can use the flour of choice, however, I have only tested it with All Purpose flour and Bob's Red Mill Baking 1 to 1 gluten free flour. When I used All Purpose flour, I had to add a bit more. The trick is to reach a dough texture similar to a roll and cut kind of cookie.
How to Store Matcha Cookies
We keep our refrigerated or frozen before filling with frosting. Once you fill them, they become soft so it's best to eat straight away.
More Delicious Cookie Recipes
2-Ingredient Holiday Sugar Cookies (video)
Chocolate Homemade Crunch Bars
Chocolate Sugar Cookie Truffles
Chocolate Chickpea Clusters
Are you on pinterest? Perhaps you'd like to share this recipe! Use the image below..
I invite you to keep up with me on: Facebook | Pinterest | Instagram | Food Gawker | Twitter
Don't miss a thing, subscribe here to get recipes delivered to your inbox!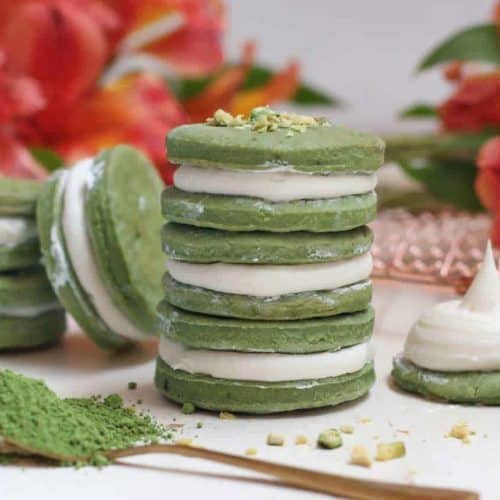 Healthy Matcha Shortbread Cookies
Matcha shortbread cookies that are flaky, and filled with whipped cream, and full of Matcha green tea, an antioxidant super power. Vegan, dairy-free, gluten-free.
Print
Rate
Servings:
9
sandwich cookies
Ingredients
Matcha Shortbread Cookies (Add ingredients to one bowl)
Whipped Coconut Cream (Add ingredients to one bowl)
1

can (13.5oz)

high fat coconut milk

(solid cream scooped from a can chilled overnight in refrigerator)

1/4

cup

organic powdered sugar

(a vegan brand with no bone char)

1/2

tsp

vanilla powder

1

tsp

arrowroot or tapioca

(for stiffening)
Instructions
Make the Cookies
Chill a can of full fat coconut milk in the refrigerator overnight.

On baking day, preheat the oven to 350 F

Blend up the wet ingredients in a mixing bowl with a hand-mixer or wisk.

Do the same with the dry ingredients in another bowl.

Add the dry to the wet and mix to achieve a dough that can be pressed onto parchment and either rolled or pressed flat for a cookie cutter.

You can play with the flour and milk amounts to get the kind of texture you need. For instance, depending on the flour you use, you might have to add a tbsp more milk. And depending on your flour, you might need to add as much as 1/3 cup more.

Once you have a texture that can be shaped into a ball and rolled out, sprinkle some flour on a piece of parchment paper, and press the dough onto it.

Then place another sheet of parchment on top of the dough, and roll it flat. I used a glass but you can use a rolling pin. If the dough is sticking to the top parchment, you might want to sprinkle a bit of flour on top of the dough. But be careful about using too much flour during the rolling step because the more flour you sprinkle, the more it dries out the dough.


Peel back top parchment and cut cookies out.

Either peel away excess dough and roll and cut again, or remove the circles from this parchment paper and place on the cookie sheet parchment paper. Sometimes I like to leave cut out cookies undisturbed on the parchment so they don't become distorted.

Bake 10 minutes.

Remove from oven, cool in pan 2 minutes, and on a cooking rack for 10 minutes.

Pro tip: Four or so of my cookies had a bubble of air rising up so I put them under a layer parchment and put a pot on top of that to flatten them so I could have 18 cookies flat and uniform to create 9 sandwich cookies.

Mix Coconut Cream
Scoop only the solids out of the chilled coconut cream (or milk) can. Save the coconut water for another recipe. Blend up ingredients using a hand mixer until creamy.

Use a frosting piping bag or sandwich bag with corner snipped to pipe about 1 tbsp of cream onto one cookie and top it with the other.

Keep the cookies refrigerated in a sealed container, although by the next day the cookies will soften considerably.

I like to eat them the first day, while the cookies are flaky and the frosting is fluffy.

Enjoy!
Notes
Variations in texture of batter can be caused based on the flour you use. I used Bob's Red Mills gluten-free all purpose flour. If you use a different brand, you might need to add  1/4 tsp xanthan gum or arrowroot or tapioca powder to stiffen the flour.
And you should weigh the flour to get the exact amount. However, if you don't weigh it, fluff it with a fork first before you scoop and don't pack it down in the cup.
Nutrition
Serving:
1
filled sandwich cookie
|
Calories:
114
kcal
|
Carbohydrates:
13
g
|
Protein:
1
g
|
Fat:
6
g
|
Saturated Fat:
5
g
|
Sodium:
26
mg
|
Sugar:
6
g
|
Vitamin A:
45
IU
|
Calcium:
23
mg
|
Iron:
0.5
mg

Dee Dine is founder of Green Smoothie Gourmet, a plant based recipe blog, and author of the recent cookbook, Crazy Healthy with 4 Ingredients . On this blog you'll find incredibly easy recipes with hidden veggies for anyone wanting to eat healthier, regardless of diet. Dee has graduate degrees in sciences and  journalism. More about Dee Dine here.