Chocolate covered cranberries are insanely nutritious thanks to fresh cranberries, raw toasted almonds and dark chocolate. All are full of anti-oxidants, fiber, essential vitamins and more. And the flavor is a fresh spark with the sour of cranberries balanced by sweet chocolate. A speedy healthy snack. View the step by step recipe video here.

Chocolate Covered Cranberries
Chocolate covered cranberries are an awesome way to have a chocolate snack bursting with nutrition, including protein, fiber and disease-fighting properties. And the recipe could not be easier to throw together. And I literally mean throw.
Ingredients for These Chocolate Covered Cranberries
So I chose to pair cranberries and almonds in these clusters because both ingredients have an insane amount of nutrition and other benefits. Add in mood-boosting quality dark chocolate and we should throw a party! I'll break down the benefits of each for you:
1. Cranberries
Cranberries are wildly healthy. They are called a "superfood" because they have so many nutrients not found in other foods and are terrific at blocking disease and detoxing the body with their antioxidant content. They are even said to lower blood pressure.
The healthiest way to eat cranberries is raw, which is why this Cranberry Chocolate Almond Cluster recipe is the perfect way to eat them. We don't cook this cluster!
2. Almonds
Almonds are also wildly healthy, so they pair well with cranberries that way as well as flavor! Almonds are full of healthy fiber, fats, protein, magnesium and vitamin E. They also target and help issues such as blood pressure and cholesterol, and help balance blood sugar. They are also great at supporting weight loss.
Experts say eating 8-10 almonds a day can provide you with an astonishing level of nutrients you wouldn't get otherwise. I am not sure if you should eat that portion in clusters however. Each cluster will have 2-3.
I roasted my almonds for a few minutes in the oven to bring out flavor. But I did not remove skins. There is a question whether soaking and removing skins is healthier because tannin in the skins can inhibit some digestion of the nutrients. I didn't do that here but be my guest if you want to.
How to Blanche or Remove Skins From Almonds
Just boil the almonds for 1 minute ONLY. Bring the water to a boil, toss in almonds and after 1 minute, drain and rinse them in cold water. Then pinch each almond and they will pop out of the skin.
3. Chocolate
For the chocolate in these clusters, I melted 60% cacao chocolate chips by Enjoylife but several brands will work well. Look for a high quality dark chocolate that has at least 60% cacao and very few other ingredients. Chocolove, Theo, Divine, and Ghiradelli are a few brands I love.
Speaking of chocolate, before we dive into the recipe, I'd like to invite you to sign up for my free chocolate course. Five lessons hit your inbox with detail on how to create your own simple healthy chocolate desserts.
Okay, so back to this recipe...
How to Make Chocolate Covered Cranberry Clusters
Find the complete recipe at the bottom of this post and a step by step recipe video here, but here is a brief overview:
As I said, this recipe is easy to throw together. Just wash and dry the cranberries. I suggest washing them the night before and set them on a rack overnight to dry. That's because even a tiny bit of water will cause the chocolate to seize (clump together in a hair-pulling dull mess).
In fact, I've made this recipe twice, and the first time I sliced the cranberries and the second time I used them whole. I would recommend using them whole because the little bit of liquid that comes out of some riper cranberries when sliced can cause the chocolate to seize.
Roast or blanche your almonds and be sure they are dry.
Once you are ready to make your clusters, melt the chocolate. Toss in the cranberries and almonds. Toss to coat.
Spoon a loaded tablespoon onto a parchment lined pan. Either set on counter to set. It takes about 20 minutes. If shine is important to you at least at first serving, don't refrigerate because the shine will certainly dull.
But you will have to refrigerate to store so that shine is only apparent that first day. If you do refrigerate to speed chill, about 10 minutes does it! A chocolate treat DONE in 20 minutes!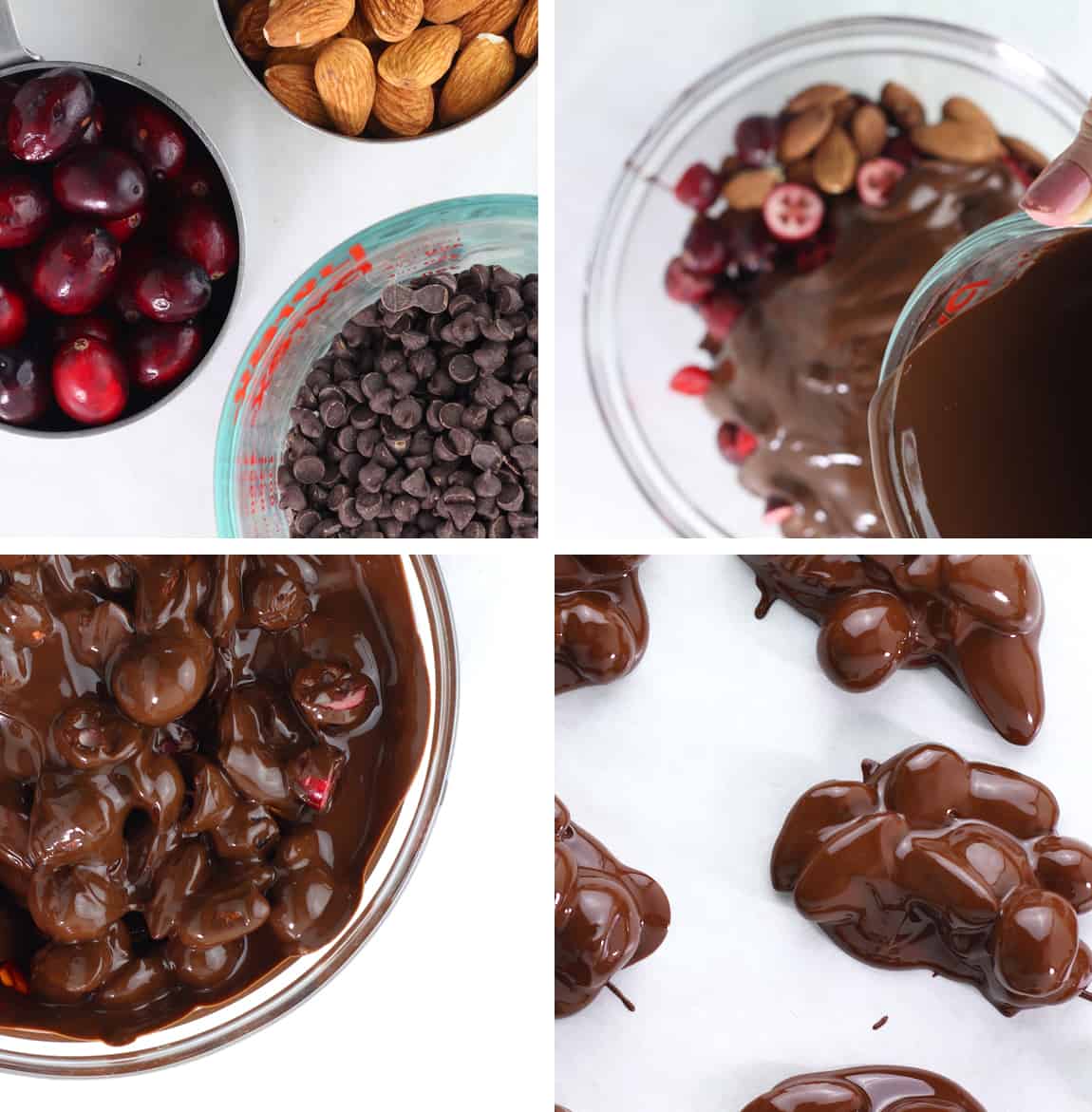 Tips & Questions On Chocolate Covered Cranberries
Do Almonds Need To Be Sliced or Slivered?
In this recipe, I didn't slice or sliver them, just for speed. I didn't remove skin either. You can do what you want, slice, sliver and remove skin if you'd like. Just be sure the almonds are dry before you touch them to chocolate. And if you remove skin, you probably do not want to roast them or they will dry out.
How Healthy Are Chocolate Almond Clusters?
SOOO healthy. Just look at the nutrition of cranberries, almonds and chocolate combined!
How Easy Are Chocolate Almond Clusters?
This is such an easy candy to make. Just a bowl,spoon and surface needed regarding equipment.
What Type Of Chocolate Do Clusters Need?
I used a quality dark chocolate chip that is 60% cacao butter and few other ingredients. The brand is Enjoylife but there are so many other quality brands. Chocolove, Ghiradelli, Theo are just some.
How Do They Make Chocolate Covered Almonds?
Commercially, they use processed ingredients and factory equipment and certainly use stabilizers so the chocolate can be packaged and shipped. Not so if you make them in your own kitchen. Just fresh cranberries, almonds and dark chocolate.
Can You Substitute Chocolate Almond Bark for Chocolate Chips?
Sure you can, that would be fun I guess. But be sure the bark is made with quality chocolate with no preservatives. Again, look at the brands I named above.
Are Chocolate Covered Almonds Unhealthy?
The processed brands are not so healthy just because of all the preservatives and processing. But chocolate covered almond clusters made at home can be as healthy as you want them to be.
What is Chocolate Almond Bark Made Of?
This recipe is similar to clusters in nutrition and easy. Here is my own homemade chocolate almond bark recipe if you want to try. I made it nutella flavored. Homemade nutella!
What is The Healthiest Way to Eat Cranberries
Raw! That's why they are so healthy in these Cranberry Chocolate Almond Clusters.
Do You Need To Remove Seeds From Cranberries?
Nope, too tiny anyway.
What Can I Do With Raw Cranberries?
Make these Cranberry Chocolate Almond Clusters.
Other Cranberry & Chocolate Treats to Try
Sugared Cranberries | Sugared Blueberries
Chickpea Chocolate Clusters
Blueberry Chocolate Cashew Clusters
2-Ingredient Fudge
Healthy Filled Chocolates Recipe
I invite you to keep up with me on: Facebook | Pinterest | Instagram | Food Gawker | Twitter
Don't miss a thing, subscribe here to get recipes delivered to your inbox!
If you try my recipes, please leave a comment and rating below and tag me on your Instagram or Facebook post with @greensmoothiegourmet and #greensmoothiegourmet so I can see and share your remakes!!
Chocolate Covered Cranberries
Chocolate covered cranberry clusters are insanely nutritious thanks to fresh cranberries, raw toasted almonds and dark chocolate. All are full of anti-oxidants, fiber, essential vitamins and more. And the flavor is a fresh spark with the sour of cranberries balanced by sweet chocolate. A speedy healthy snack.
Ingredients
1 ½

cup

chocolate chips

1

tbsp

coconut oil

1

cup

cranberries

fresh cranberries, whole

¾

cup

almonds

use raw almonds, toast them or not prior to making clusters
Instructions
Prep
Line a cookie sheet with parchment paper.

Rinse the fresh cranberries and set aside perhaps overnight to dry. Or use a towel to thoroughly dry so the chocolate doesn't seize.
Make Clusters
Add the cranberries and almonds to the a bowl.

Melt the chocolate chips in a pyrex measuring cup in a microwave at 60 second intervals.

Pour the melted chocolate over the cranberries and almonds in the bowl.

Spoon overflowing tablespoons of mixture onto the pan.

Let the chocolate clusters set for 20 minutes on the counter or speed it up by refrigerating for 10 minutes. This chilling will dull them though so if you want them shiny for one day, just let them set at room temperature.

Store chocolate covered clusters in the refrigerator for up to a month.
Video
Nutrition
Calories:
51
kcal
Carbohydrates:
4
g
Protein:
1
g
Fat:
4
g
Saturated Fat:
1
g
Sodium:
1
mg
Potassium:
52
mg
Fiber:
1
g
Sugar:
2
g
Vitamin A:
7
IU
Vitamin C:
1
mg
Calcium:
3
mg
Iron:
1
mg