Almond flour pizza crust topped with arugula, cauliflower and other veggies, dolloped with creamy vegan mozzarella cheese. Vegan, dairy-free, gluten-free.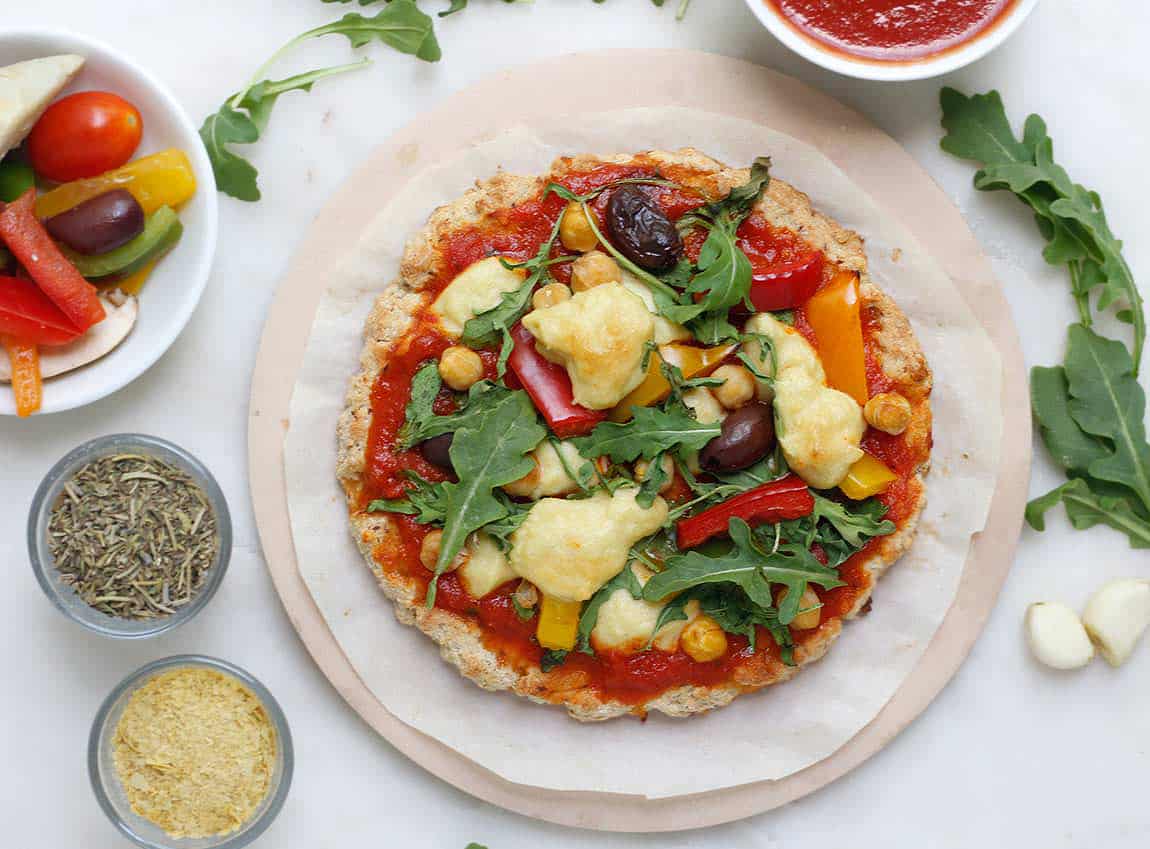 This almond flour pizza crust is so easy!
Gluten free homemade pizza recipes abound on the internet but many have varying rates of success and require use of a combination of flours. Here is a wonderful easy path to a gluten-free pizza - use almond flour as your base.
I topped mine with veggies and a wonderful stretchy vegan mozzarella recipe that tastes so cheesy thanks to nutritional yeast. Nutritional yeast is not only deliciously cheesy in flavor but terrifically healthy, full of essential vitamin Bs.
Ingredients
almond flour
arrowroot powder (or corn starch)
flax seed eggs
baking powder
Italian seasoning
light olive oil
How to Make
The two recipes together are fairly easy - the crust dough is stirred up in one bowl, while the stretchy cheese is blend up into a liquid and that liquid warmed up in a saucepan until you have a stretchy delicious cheese ready to plop on top of your pizzas.
And toppings? Well I used veggies, chickpeas, walnuts and arugula, but you can use any topping combo you want!
Other Healthy Pizza Crusts
If you tried this recipe or any other recipe on my website, please leave a 🌟 star rating and let me know how it went in the 📝 comments below. Thanks for visiting!
📖 Recipe
Almond Flour Pizza Crust
Almond flour pizza crust topped with arugula, cauliflower and other veggies, dolloped with creamy vegan mozzarella cheese. Vegan, dairy-free, gluten-free.
Ingredients
Gluten-free Pizza Crust
½

cup

almond flour

¼

cup

arrowroot powder

(or corn starch)

3

flax seed eggs (3 tablespoon ground flax seed stirred into 9 tablespoon of water)

2

teaspoon

baking powder

2

tablespoon

italian seasoning

2

tablespoon

light olive oil
Vegan Mozzarella Cheese
½

cup

cashews (soaked overnight to soften and remove phytates)

3 ½

tablespoon

tapioca flour

2

tablespoon

nutritional yeast

1

teaspoon

apple cider vinegar

1

teaspoon

pink salt

½

teaspoon

garlic powder

1

cup

water
Instructions
Prep Work
The night before, set ½ cup cashews to soak in water in the refrigerator. The next morning, rinse them and they are ready for the recipe.

Ready to make pizza? Then begin by preheating oven to 400F.

Prepare the pizza pan you choose - I made personal pizzas on 7-inch stones, but you can use a parchment-lined cookie sheet and shape dough in circles.

Make flax eggs and set aside for 5 minutes.
Make Pizza Crust
Combine the dry ingredients and stir until combined. Add the wet ingredients to that and mix until you have a dough that is sticky. Refrigerate for ten minutes so you can handle it better, or just go straight to the next step.

Press the dough into your pizza pan or create two crusts on your cookie sheet.

Bake 400F for 8-11 minutes. Look for the edges to be browned and the center to be dryish.

Remove from oven and set aside while you make the vegan mozzarella.
Make Vegan Mozzarella Cheese
Blend up all ingredients in a blender until mixture is pureed. It will be air-bubbly and liquidy.


Pour mixture into a sauce pan on the stove on high heat, not the highest, and stir continually. The mixture will turn lumpy quite quickly and soon be sticky and stretchy! Magical! Turn off stove and go begin to top your pizzas.

Prepare Pizzas
If you want to top them the way I did, spread a layer of tomato sauce, then dollop on 3-5 spoonfuls of vegan mozzarella. At this point, I sprinkle a lot of nutritional yeast, and then top with arugula, peppers, olives, mushrooms and walnuts, and plop on more cheese.


Bake your pizzas, depending on the size you chose, for about 10 minutes or enough to cook the toppings. Serve and enjoy!!

Nutrition
Calories:
117
kcal
Carbohydrates:
13
g
Protein:
3
g
Fat:
7
g
Saturated Fat:
1
g
Sodium:
3
mg
Potassium:
284
mg
Fiber:
3
g
Sugar:
1
g
Vitamin A:
43
IU
Calcium:
181
mg
Iron:
2
mg