Healthy lemon cupcakes with a fresh vegan lemon curd filling and a fancy cake top! These cupcakes are vegan, gluten-free and dairy-free, and so is my Healthier Lemon Curd recipe. No oil, no eggs, no dairy, and so easy to create!
Healthy Lemon Cupcakes
Healthy homemade lemon cupcakes that are vegan, dairy-free and easy to make using lots of lemon juice for a bright citrus flavor. And these easy cupcakes are dairy-free, and can be made gluten-free. The light and lemony texture and flavor comes about using a bit of oat flour, and more lemon juice than most lemon cake recipes use. I filled them here with my new healthier Lemon Curd recipe!

The result is an airy texture and strong citrus flavor. And this cupcake recipe probably works well as a layered or sheet cake as well. I made these with a mix of all purpose and oat flour, but I'm sure you can make them gluten-free by replacing the all purpose flour using this GF baking flour.
Ingredients to Make Healthier Homemade Lemon Cupcakes
First, if you want to fill your cupcakes, make a batch of my easy healthier Lemon Curd so it can chill while you make the cupcakes. You can find the Lemon Curd recipe here.
To make the cupcakes you'll need:
Lemon Juice: I used organic bottled, but of course fresh would be great if you want to take the time to juice.
Flour: I used a mix of all purpose and oat flour. The oat flour really helps bring out the lemon flavor, and almost adds a muffin-like quality to the cupcake. But if you only have all purpose flour on hand, you can use all all purpose flour.
Sugar: I used organic cane sugar

It also matters what cane sugar you use. I use organic cane sugar to avoid additives and to be sure the product is labeled "fair trade" which means sugar cane workers are treated and paid fairly. My favorite brand for this is Wholesome or Whole Food's 365 brand, but there are probably others. Just search for a Fair trade organic cane sugar.
Milk: You can use any milk, but I find a lighter milk such as oat or almond works best. The reason is you have to activate it with lemon juice.
Supporting Ingredients: Baking soda, baking powder, vanilla .
Aquafaba: Instead of eggs of course for these vegan cupcakes, I use aquafaba which is the liquid from a can of chickpeas. You could also use the liquid from a can of white or navy beans, but don't use the liquid from a darker bean or you will color your cupcakes dark. Also be sure to use a can of UNSALTED beans. Very important. Search for UNSALTED beans, and preferably in a BPA-free can or organic. I use Whole Food's 365 brand garbanzo beans and a few others.
What Is Another Egg Replacer Besides Aquafaba?
This is a question I often get. If you don't have a can of beans on hand, use the same amount of unsweetened applesauce.
How to Use Aquafaba as An Egg Replacer
If you do want to work with Aquafaba, I here to tell you exactly how to use aquafaba instead of eggs. So I'm here to explain exactly the steps to take to use aquafaba in baking.
The way I work with aquafaba is I take a room-temperature can from the pantry and pour the liquid that the beans are floating in (that's the aquafaba) into a storage jar. I refrigerate the beans to be eaten within 1 day in a salad or other recipe such as these Chickpea Italian Meatballs or Chickpea Chocolate Clusters.
Then, I measure out the aquafaba I need for the cupcakes or other baking recipe, and store the remaining aquafaba in the refrigerator. Just know that you probably need to use refrigerated aquafaba in three days or so; it can start to grow mold even refrigerated.
How to Use Aquafaba to Bake A Cake
I use aquafaba as an egg replacer in baking recipes in two ways:
1. I use it straight from the can, as a room-temperature liquid. 1 egg = 3 tbsp of aquafaba. As you measure it out, you'll see it has the consistency of egg whites. If a recipe calls for a LARGE egg, then go ahead and use 4 tbsp of aquafaba to represent a large egg.
2. If I want to really lighten a cake's crumb, I whip this aquafaba. I could have done that here for this lemon cupcake recipe but I didn't take the trouble to do so, so I didn't want to complicate the recipe since they came out so light without whipping the aquafaba. However, if you ever want to add your aquafaba whipped, then put at least 6 tbsp or probably 9 tbsp, representing 3 eggs, into a mixing bowl and simply mix until fluffy.
Here's the catch. It might take 7-9 minutes to become a fluffy whip texture. Now you understand why I don't whip my aquafaba for every baked recipe, but I encourage you to try it once and see if it makes a difference in texture in your cake. Oh, and you have to whip at least 6 tbsp or there won't be enough to achieve whipping. However, if you only need one egg, measure out twice as much whipped aquafaba. For instance, 6 tbsp of whipped aquafaba = 1 egg.
How to Make A Lighter Lemon Cupcake
My cupcakes are vegan and made without eggs and butter, by using aquafaba instead. Aquafaba, you may know, is the liquid from a can of unsalted chickpeas. Be sure you use unsalted such as Whole Food's 365 brand. Don't use Goya or any other salted brand or you'll have salty cupcakes.
Okay so how did I make these cupcakes lighter? Well a few tricks.
1. Grind your cane sugar into a fine powder in your blender or food processor. This step is truly optional, and I have made these cupcakes both ways, grinding the sugar and not. I prefer the grinding texture, it produces a lighter crumb, probably because the sugar is incorporated into the batter faster. However, if you don't want to take this step, you really don't have it, I have made them both ways and both ways the texture is wonderful.
2. Test your baking powder and soda to be sure they are active. This might seem tedious or obvious, but vegan cakes depend so heavily on both the powder and soda to help it rise, that I always test mine before any bake. So I suggest the same for you. It's quite easy.
To test if baking powder is still working, pour ¼ cup boiled water over ½ tsp baking powder. If it bubbles up, it's still active, if it doesn't, it isn't and you it won't work to raise your baked goods.
To test if baking SODA is still working, put ¼ tsp of lemon juice or ACV over ½ tsp baking SODA. If it bubbles up, it's still active, if it doesn't, it isn't and you it won't work to raise your baked goods.
3. Sift all the dry ingredients using a fine mesh sieve.
You can see these steps in the panels pictured. And they are explained fully in my tips below and in my recipe instructions.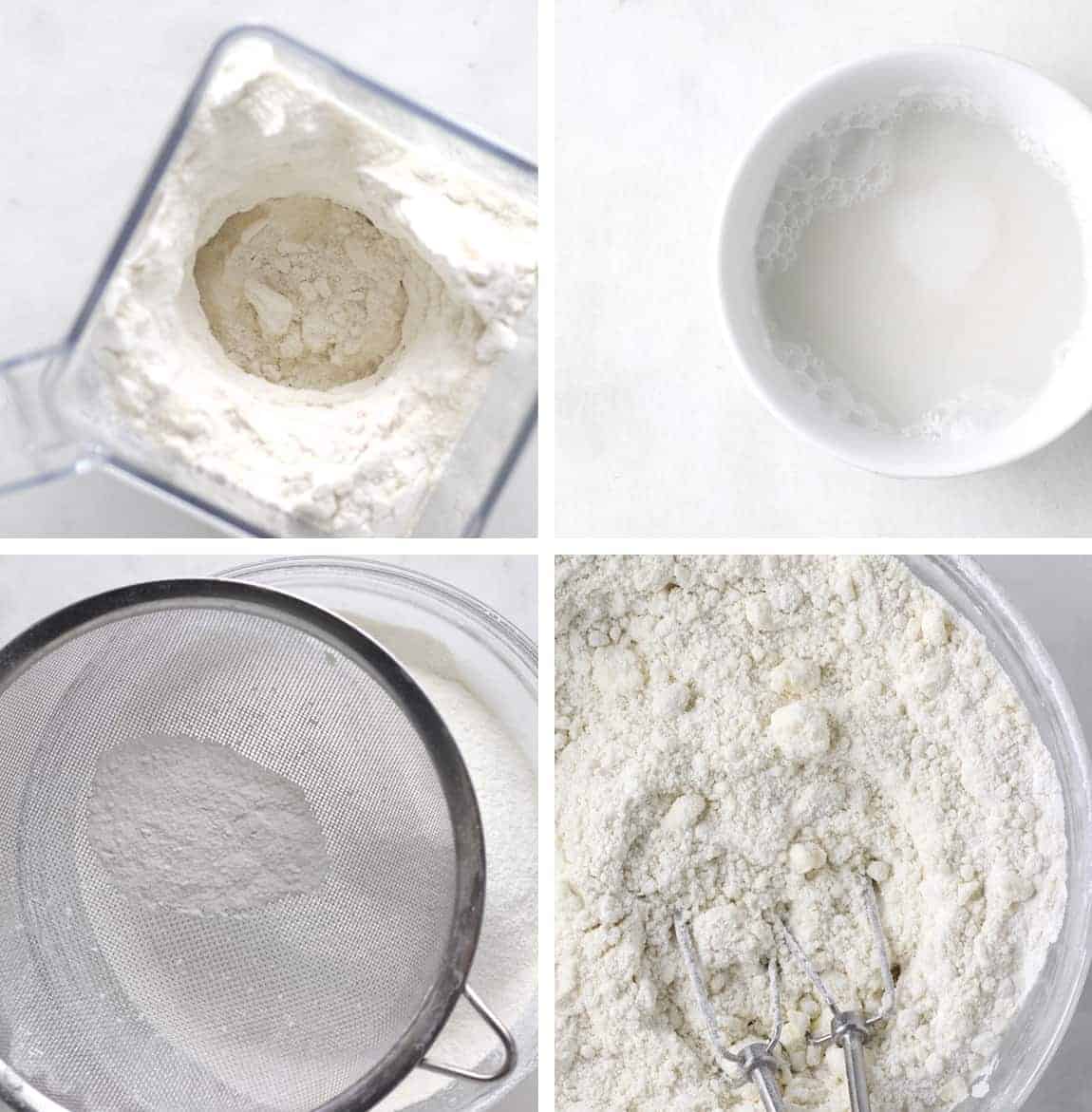 Before we dive into the recipe, I'd like to invite you to sign up for my free chocolate course (I know, I know, this is a lemon flavored recipe, but I probably can assume you like easy chocolate desserts too?). If you sign up, I deliver five lessons to your inbox with detail on how to create your own simple healthy chocolate desserts.
Okay, so let's get started...
How to Make Vegan Lemon Cupcakes
Step 1. Prep your pans, grind your sugar, stir lemon juice into your milk; be sure your chickpea can or aquafaba is at room temperature and measure it out, test your baking soda and powder.
Step 2. Add dry ingredients to a sifter and set that over a mixing bowl and push the dry ingredients through into the bowl.
Step 3. Add the wet ingredients to the dry mixture.
Step 4. Bake, cool, and assemble or just frost!
How to Make Lemon Filled Cupcakes
These cupcakes are perfect to showcase a favorite frosting, or in my case, my new healthier lemon curd.
To make them, simply bake cupcakes, let the cool.
The cut a cone out of the middle. Slice off the cone's tip so you are left with a cupcake disc that is cupcake crust on one side, and cake on the other. Set that aside.
Fill the cupcakes with a frosting bag with the tip cut off so the bag has about a 1 inch opening. Fill the cone hole in the cupcake and then let the filling create a dome above the top of the cupcake.
Press the cupcake disc on top, and dust with powdered sugar.
I keep mine refrigerated because of the lemon curd. They lasted about 2 days uncovered in the refrigerator and were still fresh.
Q&A for Lemon Cupcakes
What is the secret to moist cupcakes?
The secret to moist cupcakes is to add enough aquafaba, activated milk and sugar.
What type of frosting do you put on lemon cupcakes?
Here I put Homemade Lemon Curd, but my Fluffy White Frosting would work as well. YOu can also just top these cupcakes with powdered sugar because they are so full of flavor they really don't need frosting.
What makes cupcakes light and fluffy?
Cupcakes made dairy free and egg free depend on baking soda and activated milk, as well as sugar to become light and fluffy. That's why the activated milk is important. The sugar creates a chemical reaction with protein as well, so grinding it creates more surface area for that reaction to take place, resulting in a cloud-like lemon cupcake.
How do you make lemon cupcakes from scratch?
Combine flour, sugar, aquafaba, milk, lemon juice, baking soda and baking powder, bake and you have made lemon cupcakes from scratch.
More Healthy Lemon Recipes
Ginger Shots Made in a Blender
I invite you to keep up with me on: Facebook | Pinterest | Instagram | Food Gawker | Twitter
Don't miss a thing, subscribe here to get recipes delivered to your inbox!
If you try my recipes, please leave a comment and rating below and tag me on your Instagram or Facebook post with @greensmoothiegourmet and #greensmoothiegourmet so I can see and share your remakes!!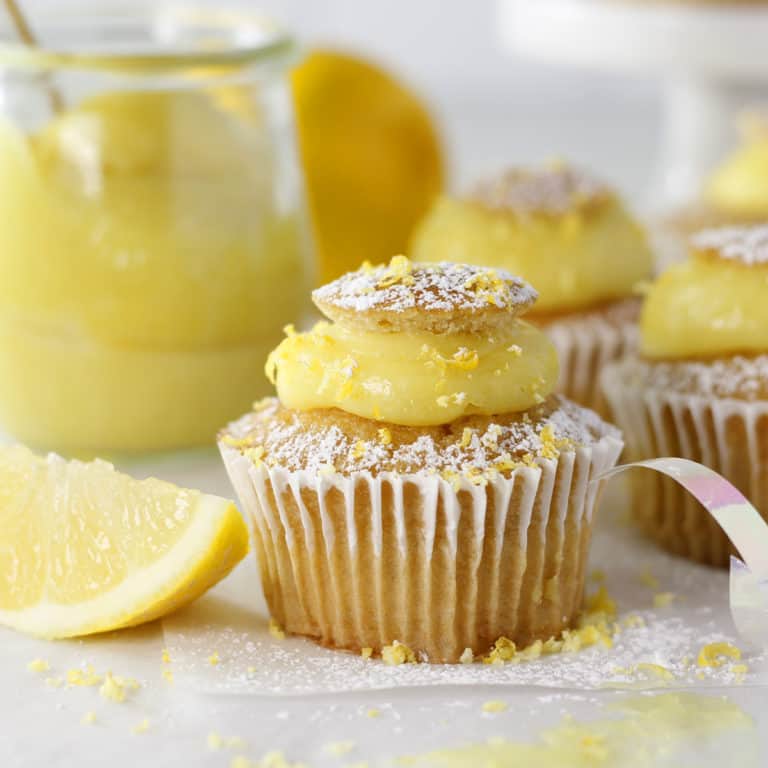 Healthy Lemon Cupcakes
Healthy lemon cupcakes with a fresh vegan lemon curd filling and a cake top! These cupcakes are vegan, gluten-free and dairy-free, and so is my healthier lemon curd used to fill them. No eggs, no dairy, and so easy to mix up!
Ingredients
Dry Ingredients
1 ¼

cups

oat flour

or use more of all purpose

1

cup

flour

use all purpose or a GF baking flour like Bob Red Mill

½

cup

organic cane sugar

2

tbsp

grated lemon rinds

2

tsp

baking soda

1

tsp

baking powder

1

tsp

salt
Wet Ingredients
6

tbsp

aquafaba

liquid from a can of beans, chickpeas or white beans will provide a light color. OR 6 tablespoons of unsweetened apple sauce.

½

cups

dairy free milk

activated with 1 tbsp of lemon juice

¼

cup

fresh lemon juice

1

tsp

vanilla
Instructions
Prep
All ingredients need to be a room temperature

Preheat oven to 350 F.

Add the lemon juice to the milk, stir and set aside.

Line baking containers with parchment and/or grease and flour.

Prepare the aquafaba. Measure out the liquid from a can of beans and set aside.
Add Dry Ingredients Through a Sieve
Add all the dry ingredients into a large mixing bowl through a sifter.
Add Wet Ingredients
Add the wet ingredients to the mixture and mix until creamy.
Bake the cupcakes
Fill each cupcake well about ⅔ full. Bake the cupcakes at 14 minutes.
Cooling & Storage
Cool cupcakes in the pan for 10 minutes, then remove and cool on a rack.
Fill with Lemon Curd
To make filled lemon cupcakes, cut a triangle out of the top of each cupcake. Level that cutout by remove the bottom so you have a disc.

Set the cupcake cutout on top and dust with powdered sugar.
Nutrition
Calories:
81
kcal
Carbohydrates:
17
g
Protein:
2
g
Fat:
1
g
Saturated Fat:
1
g
Polyunsaturated Fat:
1
g
Monounsaturated Fat:
1
g
Sodium:
256
mg
Potassium:
75
mg
Fiber:
1
g
Sugar:
6
g
Vitamin A:
26
IU
Vitamin C:
2
mg
Calcium:
25
mg
Iron:
1
mg