Healthy chocolate cupcakes made with veggie puree instead of oil and eggs. The results are a delicious decadent cupcake that is vegan and gluten-free. Top them with my chocolate buttercream frosting and you have a cupcake that will make you feel great! Watch step by step video in the post below!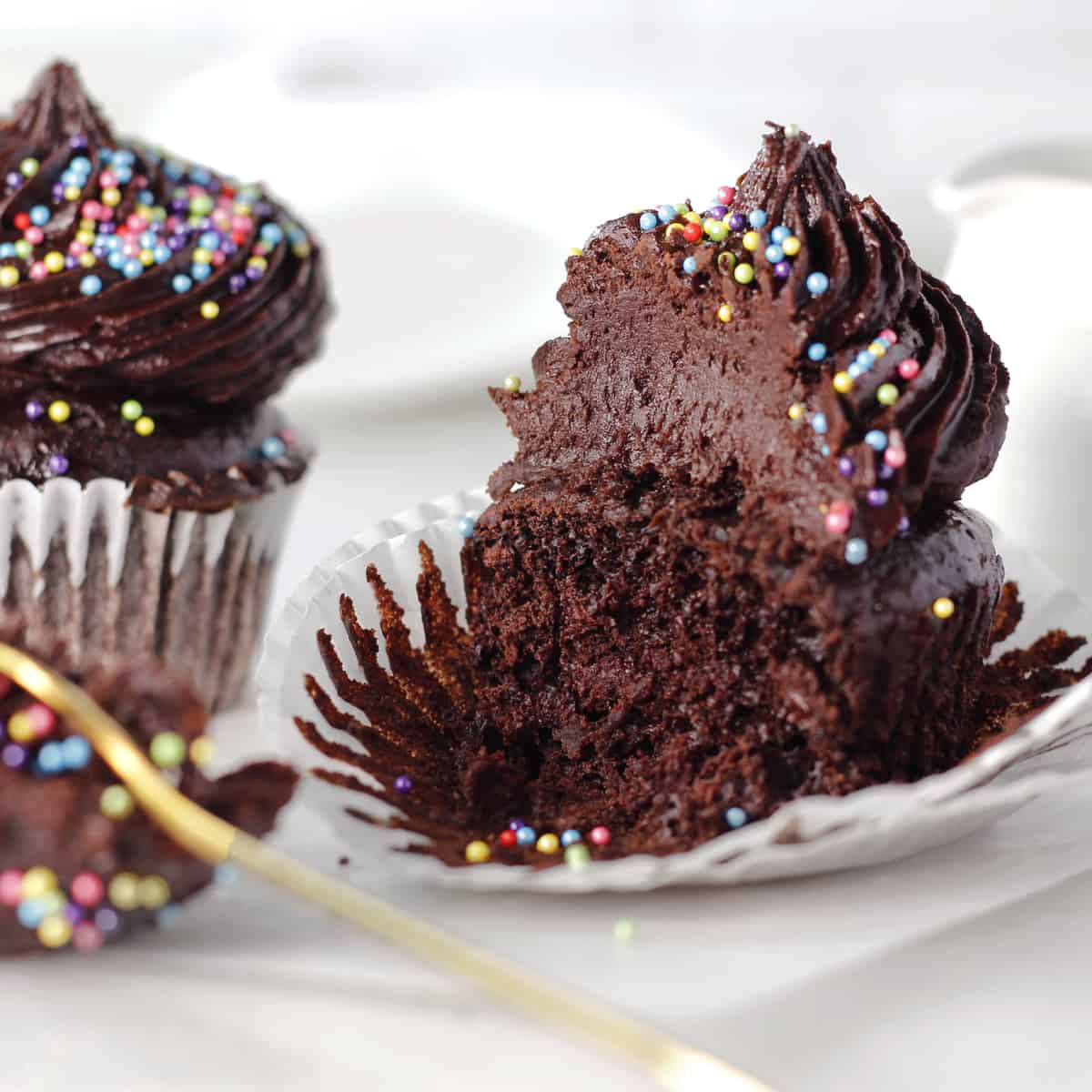 Healthy Chocolate Cupcakes
When you think of making a healthy chocolate cupcake recipe from scratch, rarely does the word "healthy" pop into your mind. But mine are just that while still tasting like the classic chocolate cupcake you know and love. I use pumpkin puree or sweet potato puree, instead of eggs and oil, and that makes all the difference.
Table of Contents For this Post

My cupcake is also so easy to make, just toss ingredients in a bowl, bake and frost. I share my awesome chocolate buttercream frosting as well or you can use my super healthy 2-ingredient sweet potato chocolate frosting, recipe here. These cupcakes are moist with a soft tender crumb, and a deep chocolate flavor that you can even eat them without a frosting, muffin style.
Before we dive into the recipe, I'd like to invite you to sign up for my free chocolate course. Five lessons hit your inbox with detail on how to create your own simple healthy chocolate desserts.
Okay, so back to this recipe...
How to Make Chocolate Cupcakes Healthier
It's easy to make cupcakes healthier. Here is how:
1. Be sure to make your cupcakes from scratch. From scratch baking is easy, just combine ingredients, bake and eat. Just as easy as a box mix and far healthier because you can control the ingredients and vastly reduce processed additions.
2. Use a vegetable puree such as pumpkin or sweet potato instead of processed oil. I also use aquafaba or unsweetened apple sauce instead of eggs. Eggs are not unhealthy but they are not vegan and all my recipes are vegan so I never use eggs.
3. I keep sugar low in all my recipes, and I use organic cane sugar which has no bone char and is fair trade which means workers who package the product are treated fairly.
Common Questions Regarding Chocolate Cupcakes
Chocolate cupcakes seem like a common recipe but a few answers to common questions will make them an easy recipe as well.
How to Make Healthy Chocolate Cupcakes Moist
Make chocolate cupcakes moist by adding a vegetable puree such as pumpkin puree or sweet potato puree, or even zucchini puree. Make zucchini puree by steaming chopped zucchini soft and blend into a puree.
These Are Eggless Chocolate Cupcakes
Use aquafaba or unsweetened apple sauce to make a chocolate cupcake recipe that is eggless.
Chocolate Cupcake Recipe without Buttermilk
You don't need to buy buttermilk for this chocolate cupcake recipe. Just add lemon or apple cider vinegar to milk and wait a few minutes. That is a healthy vegan form of homemade buttermilk.
Steps To Bake Chocolate Cupcakes From Scratch
1. Line your cupcake pans with paper liners and preheat your oven to 350 F.
2. Mix wet ingredients in a large bowl, and stir with hand-mixer or spoon until combined.
3. Add dry ingredients to another bowl and quickly combine with a spoon.
4. Add dry ingredients to the wet and stir or mix just enough to combine. Don't over-stir or you'll create a "tough" cupcake.
5. Fill each cupcake liner about ¾ full and bake for 18 minutes at 350 F.
Let them cool in pan for 5 minutes and then transfer to rack to cool.
Pro-tip: Scoop using a medium-sized ice cream scoop for the perfect amount per cupcake liner. That way you avoid adding too little which results in a dry cupcake, or too much which spills over and sticks to the pan.
What Do Healthy Chocolate Cupcakes Taste Like?
OMG, they are so fluffy and chocolate-y. You will not taste any veggie puree and the texture is perfect, just like a chocolate fudge cupcake from a bakery shop.
Other Cupcakes & Cake Recipes To Try
Chocolate Dipped Cupcakes (hi tops)
Fluffy Vegan Vanilla Birthday Cake
I invite you to keep up with me on: Facebook | Pinterest | Instagram | Food Gawker | Twitter
Don't miss a thing, subscribe here to get recipes delivered to your inbox!
If you try my recipes, please leave a comment and rating below and tag me on your Instagram or Facebook post with @greensmoothiegourmet and #greensmoothiegourmet so I can see and share your remakes!!
Healthy Chocolate Cupcakes
An easy healthy chocolate cupcakes using pumpkin puree instead of eggs and oil. It is easy to make, super moist, and vegan, gluten-free, oil-free, egg-free and delicious.
Ingredients
Instructions
Prep
Preheat your oven to 350 F.

Measure out aquafaba (liquid from a can of unsalted chickpeas or garbanzo beans) OR mix up flax egg by adding 1 tbsp flaxseed to 3 tbsp of water, stir and set aside for 10 minutes.

Line cupcake pan with 12 paper liners.

Activate your milk by adding lemon juice to it and let it sit for 5 minutes.
Make cake
To the large mixing bowl, add in the curdled milk, veggie puree, flax egg (or aquafaba) and vanilla.

To another bowl, add the flour/cocoa mixture, sugar, baking powder, baking soda, and salt. Or add to a strainer to use one bowl.

Combine the dry and wet mixtures, and mix until combined, but don't overmix.

Pour the batter evenly into the cupcake liners using a medium cookie scoop.

Bake cupcakes for 18 minutes. Or until tester comes out clean for all of them.

Let cool for a ten minutes in pans, then put cupcakes on cooling rack and allow to cool before frosting.
Make frosting
Add powdered sugar, cocoa powder, vegan butter, vanilla extract and 2 tbsp of the milk to a large mixing bowl. If butter is cold, microwave it for 10 seconds to soften.

Use a hand-mixer or an electric mixer to combine. Add the remaining 3 tbsp of milk gradually until you have a creamy consistency. You can add more or less milk, but be careful, it can turn too liquidy very fast.

Add frosting to a frosting bag with your chosen tip.
Store
To store cupcakes in the freezer for a month, pack them unfrosted in a sealed container.

Once frosted, the cupcakes are fine at room temperature for about 3 days and then they begin to dry out.
Video
Notes
Nutrition is per unfrosted cupcake.
Nutrition
Calories:
126
kcal
Carbohydrates:
32
g
Protein:
3
g
Fat:
1
g
Saturated Fat:
1
g
Polyunsaturated Fat:
1
g
Monounsaturated Fat:
1
g
Sodium:
217
mg
Potassium:
126
mg
Fiber:
2
g
Sugar:
17
g
Vitamin A:
1059
IU
Vitamin C:
1
mg
Calcium:
48
mg
Iron:
1
mg