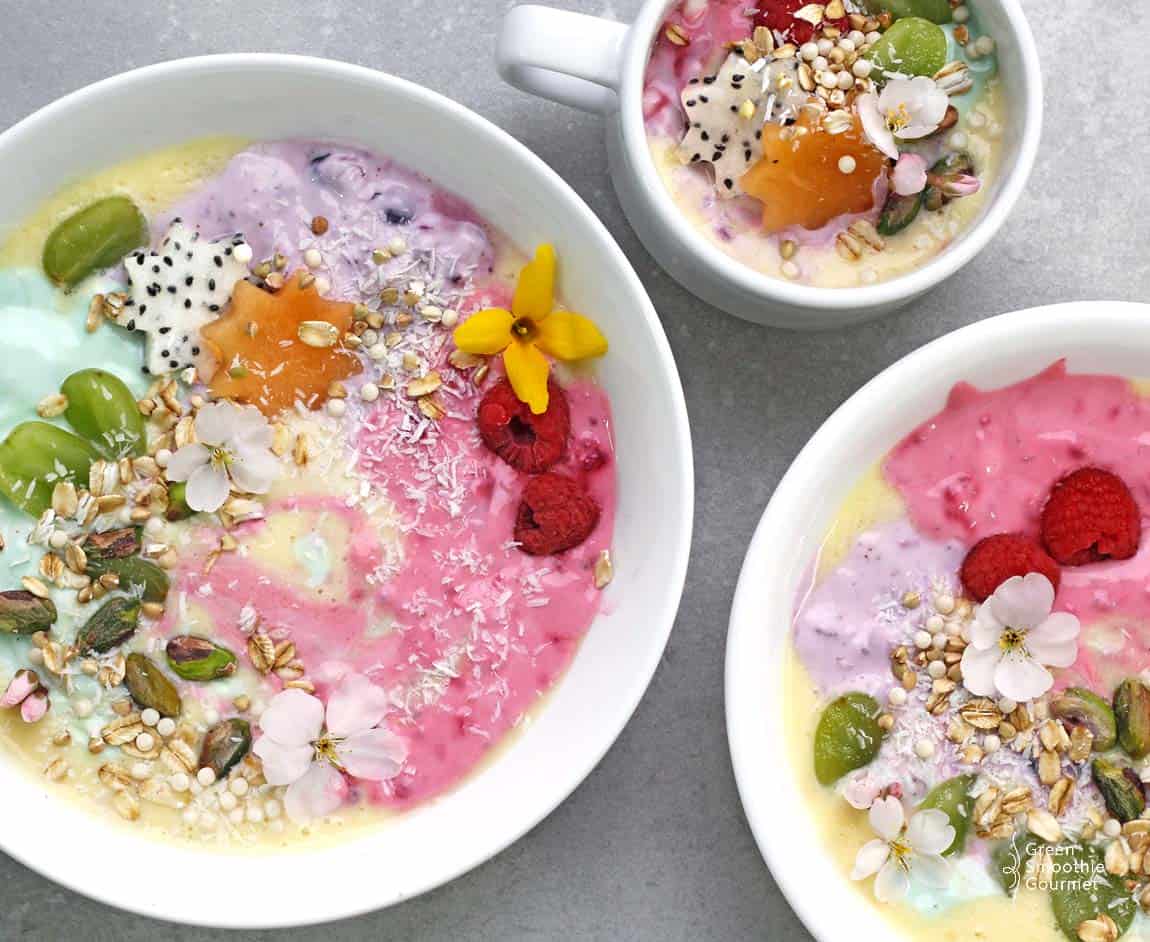 Rainbow Unicorn Protein Smoothie Bowls.
Rainbow food, using color therapy, is said to actually be beneficial in more ways than nutritionally: it can stave off hunger pains, help you lose weight, boost your mood. So make your meal pretty, color it with berries, adorn it with flowers and decoratively-arranged fruits, and make your setting eye-pleasing as well. Toward this end, my British mother always says "If you have 5 pence, spend 4 on bread and 1 on a flower."
Influenced by this thinking, we always set our breakfast table colorfully with napkins, and place-mats, and flowers and a water glass for each. It gives us all such a boost to the start of our day.
But of course the nutritional benefits of eating the rainbow are obviously so important. If you are interested in learning the specific nutritional benefits per color, check out my HOW to eat the Rainbow (Nutrition benefits per color).
So my rainbow unicorn protein smoothie bowls are valuable in multiple ways!
And to up the nutrition, I have also made Rainbow Unicorn Superfood parfaits as well, using more superfoods than fruit for the colors


Both recipes are below.
Happy colorful breakfast to you too!
THIS RECIPE is featured on:
— Well + Good – in a chia seed round up, see article here.
—PureWow – in an article showcasing the new #Unicorn food trend: read article here.
And is also featured here and here. Wow, unicorn food is popular!

Rainbow Unicorn Protein Smoothie Bowls
Ingredients
For Smoothie Bowls : Makes 3 cups
for Superfood Parfaits : Makes 3 cups
Instructions
To make both the bowl and parfaits
Blend up the yogurt with the chia seeds and lemon juice - it freshens the flavor.

Divide that into four bowls.
To make the bowls
Stir in the berries, fruit and spirulina into each to create a pink bowl, a purple bowl, a yellow bowl, and a blue/green bowl.

Distribute in family smoothie bowls for all. I topped mine with coconut dust, pitaya and melon stars, nuts, oats, quinoa pops and fruit for a heavenly unicorn morning.
To make the parfaits
Stir in the matcha in one bowl to make green, the beet powder in another to make dark pink, the blue spirulina in another to make blue, and blend up the blueberries into the last bowl to make purple.

Distribute the colors into parfait glasses, and pipe white yogurt with a french star tip!
Good luck and tag me on
Instagram
if you make it! Or share to other social media using the share buttons, thank you!