Rainbow unicorn food smoothies are beneficial nutritionally as well as mentally. So I challenge you to boost your morning with a pretty rainbow parfait or colorful unicorn smoothie bowl - colored with fruits and veggies and superfoods.

Rainbow Unicorn Food Smoothies
Unicorn food, awash with pastel colors ala Care Bears or Little Pony, began with toast and has swept the food scene including smoothies.
My unicorn smoothies are not only perfectly situated to be shared in the unicorn trend, they designed to be healthy as well as beautiful.
What Are Unicorn Food Ingredients?
Built with wholesome dairy-free and vegan ingredients, and colored with superfoods such as blue spirulina, pink dragonfruit or beets, and green matcha and more.
How Healthy is Unicorn Food?
Rainbow food, or rather unicorn food, uses color therapy which is said to actually be beneficial in more ways than nutritionally: it can stave off hunger pains, help you lose weight, boost your mood.
While we are talking smoothies, I'll just pop in here and invite you to my FREE 6-Day Smoothie Challenge. I email you recipes and you make them, drink them and feel awesome. Sound good?
Sign up by simply dropping your email in the sign-up box and you'll receive an email with a welcome instructions and grocery list so you can begin as soon as you'd like.
So make your meal pretty, color it with berries, adorn it with flowers and decoratively-arranged fruits, and make your setting eye-pleasing as well. Toward this end, my British mother always says "If you have 5 pence, spend 4 on bread and 1 on a flower."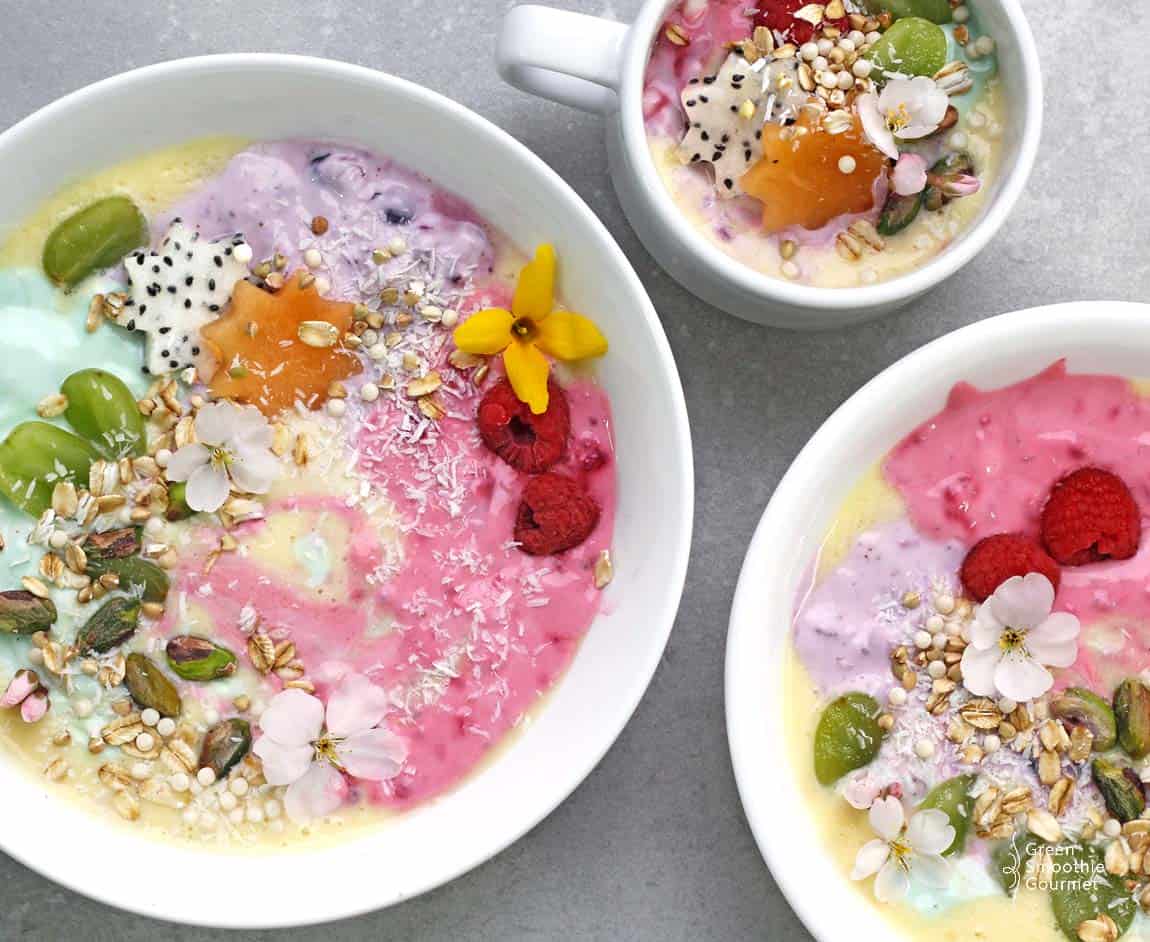 Influenced by this thinking, we always set our breakfast table colorfully with napkins, and place-mats, and flowers and a water glass for each. It gives us all such a mental boost to the start of our day.
But of course the nutritional benefits of eating the rainbow are obviously so important as well. If you are interested in learning the specific nutritional benefits per color, check out my HOW to eat the Rainbow (Nutrition benefits per color).
So my rainbow unicorn protein smoothie bowls are valuable in multiple ways!
How to Serve Unicorn Smoothies
I serve mine in cups or bowls. And, as I said, I colored the smoothies with superfoods and fruits, but also tuck in a fair amount of veggies.
I have provided both recipes below - one for rainbow unicorn smoothie bowls and one for rainbow unicorn parfaits.
These Unicorn Smoothies Are Popular with the Media
THIS RECIPE is featured on:
-- Well + Good - in a chia seed round up, see article here.
--PureWow - in an article showcasing the new #Unicorn food trend: read article here.
And is also featured here and here. Unicorn food is popular!
Rainbow Unicorn Food Smoothie Bowls
Rainbow unicorn food smoothies are beneficial nutritionally as well as mentally. So I challenge you to boost your morning with a colorful unicorn food smoothie bowl - colored with fruits and veggies and superfoods.
Ingredients
For Smoothie Bowls : Makes 3 cups
for Superfood Parfaits : Makes 3 cups
Instructions
To make both the bowl and parfaits
Blend up the yogurt with the chia seeds and lemon juice - it freshens the flavor.

Divide that into four bowls.
To make the bowls
Stir in the berries, fruit and spirulina into each to create a pink bowl, a purple bowl, a yellow bowl, and a blue/green bowl.

Distribute in family smoothie bowls for all. I topped mine with coconut dust, pitaya and melon stars, nuts, oats, quinoa pops and fruit for a heavenly unicorn morning.
To make the parfaits
Stir in the matcha in one bowl to make green, the beet powder in another to make dark pink, the blue spirulina in another to make blue, and blend up the blueberries into the last bowl to make purple.

Distribute the colors into parfait glasses, and pipe white yogurt with a french star tip!
Nutrition
Calories:
557
kcal
Carbohydrates:
80
g
Protein:
42
g
Fat:
9
g
Saturated Fat:
2
g
Cholesterol:
12
mg
Sodium:
509
mg
Potassium:
1872
mg
Fiber:
13
g
Sugar:
62
g
Vitamin A:
446
IU
Vitamin C:
47
mg
Calcium:
1378
mg
Iron:
4
mg

Dee Dine is founder of Green Smoothie Gourmet, a plant based recipe blog, and author of the recent cookbook, Crazy Healthy with 4 Ingredients and another immunity-boosting smoothie shot book, 4-Ingredient Smoothies + Juices , due out in January 2021. On this blog you'll find incredibly easy recipes with hidden veggies for anyone wanting to eat healthier, regardless of diet. Dee has graduate degrees in sciences and  journalism, editor at The Feedfeed and a nutritional expert at WikiHow. More about Dee Dine here.