These 4-ingredient ginger shots are small concentrated drinks of fresh ginger that boost immunity, sooth upset stomachs, speed metabolism and boost energy. Make them easily in a blender, juicer or even a single serving in a jar.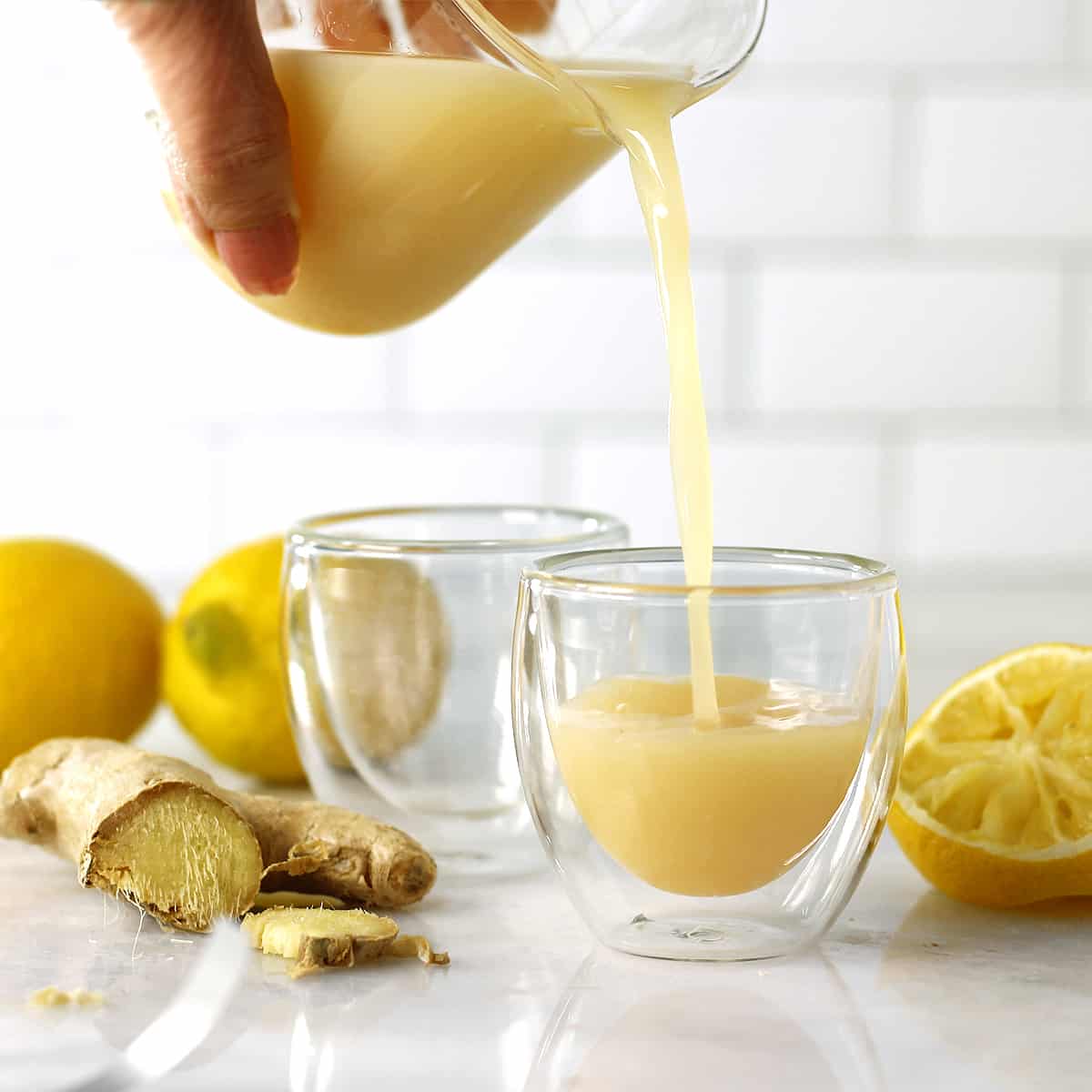 My ginger shots recipe uses only ginger, lemon, cayenne pepper and water, but is easily customizable with any juice such apple, pineapple, lime, even cherry juice.
You can save money making this ginger shot recipe at home as opposed to buying them for $4 a pop. And as with my other wellness shot recipes and my turmeric shots, you don't need a juicer, although this recipe works with one.
I've been using a blender and a fine mesh strainer for making ginger shots for a decade. My method is even featured on Wikihow. In this post, I also show you how to use a jar, and a version that uses ground ginger for convenience.
Jump to: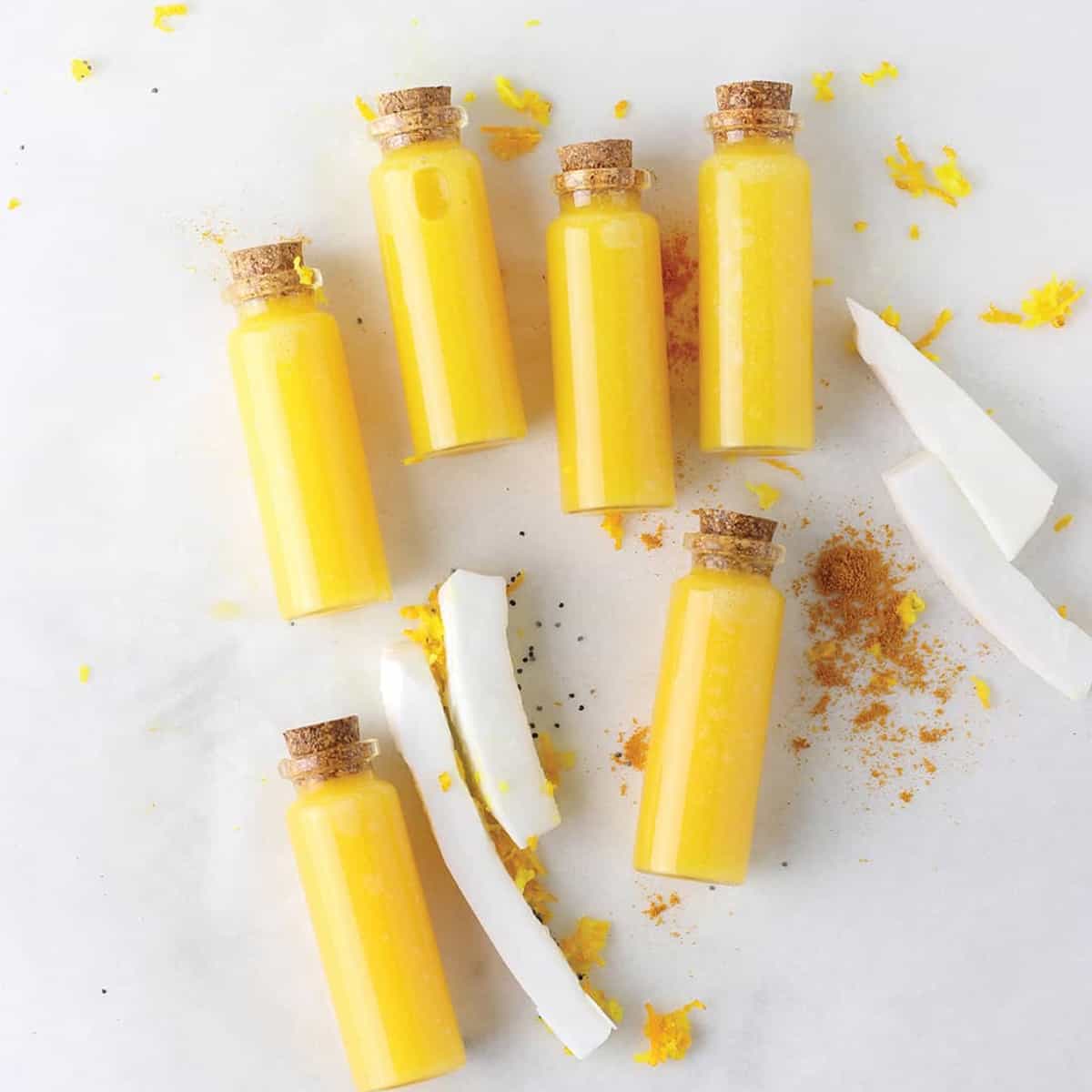 What Are Ginger Shots?
Ginger shots are small fiery drinks typically 2 to 3 ounces made of ginger, water and other ingredients. Popular variations include ginger lemon shots, ginger turmeric shots, ginger pineapple shots, ginger orange shots, ginger lime shots and more.
Health Benefits
Ginger shot benefits are many, stemming primarily from ginger, a spice found in a flowering plant from China, that has long been respected for antioxidant and anti-inflammatory powers. [source] It is one of the most common ingredients worldwide, and has been used to solve many medical issues, ranging from colds to hypertension. Gingerol, the primary antioxidant found in ginger, is the source of its nutritional power. [source].
Specifically science shows that ginger shots:
Boost immunity
Improve your mood instantly
Calm stomach aches
Reduce menstrual cramps & bloating
Fight colds and infections
Energize
Support weight loss by triggering metabolism
Lower blood sugar
Help lower blood pressure
Block skin-damaging free radicals
Reduce migraines
Ingredients Needed
Ginger: Fresh ginger root found in the produce section of your grocer is essential. Look for dry roots as thick and clean as possible.
Lemon: Fresh lemon juice is a powerful antimicrobial, and kicks up your immune system as well and your vitamin C levels to lofty heights! It is also a star antioxidant and high in essential minerals such as potassium and folate. [source]
Cayenne Pepper: Pepper is especially important to provide bioavailability of gingerol. If you customize your shot with turmeric, pepper is especially important for the same reason. In both cases, black pepper is also fine, it just has a larger grain so for that reason powdery cayenne is preferable. [source]
Water: Filtered water or coconut water or even juices may be used. Coconut water lends a sweeter flavor and more electrolytes. Juices will raise the sugar levels.
Swaps & Additions
Boost nutritional targets of your shot by replacing the water with a juice including pineapple, orange, lime or cherry.
Pineapple juice is known for its ability to reduce inflammation due to the ingredient bromelain.
Orange juice is high in vitamin C, potassium and folate.
Lime Juice is known for its ability to protect eyes and boost digestion.
Cherry juice contains melatonin which supports sleep and lowers blood pressure.
Apple Cider Vinegar : Add apple cider vinegar (ACV) to boost fat burning, promote a general detox and decrease blood sugar levels.
Turmeric : Add ground turmeric to increase anti-inflammatories. Or make a separate turmeric shot. Here is my detailed recipe.
How to Make Ginger Shots
It's really easy to make ginger shots at home. Of course you can use a juicer if you have one, just follow the juicer's instructions. To use a blender, here are the steps:
Read my complete recipe below and watch my video below for a step by step but here are the general steps:
Step 1. Wash fresh ginger root with a brush as you with a potato, and chop them roughly. Leave the skin on.
Step 2. Juice 4 lemons to achieve about ½ cup of lemon juice. Or measure out from bottled organic pure lemon juice.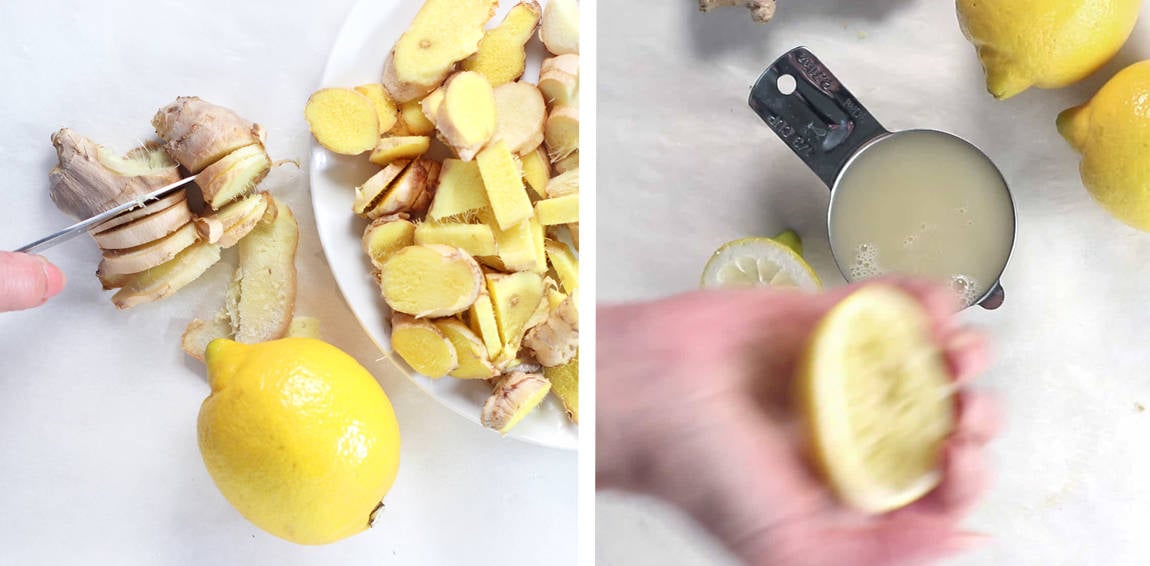 Step 3. Add the ginger, lemon juice plus water and cayenne pepper to a blender or a juicer, and process the mixture until combined. It will be sludgy with specks of skin.
Step 4. If you used a juicer, follow your machine's directions. If you used a blender, pour the mixture into a fine mesh strainer, stirring and pressing the mixture with a spoon until the remaining pulp is fairly dry. For extra clear juice, lay a cheesecloth in the strainer and squeeze more juice from the pulp.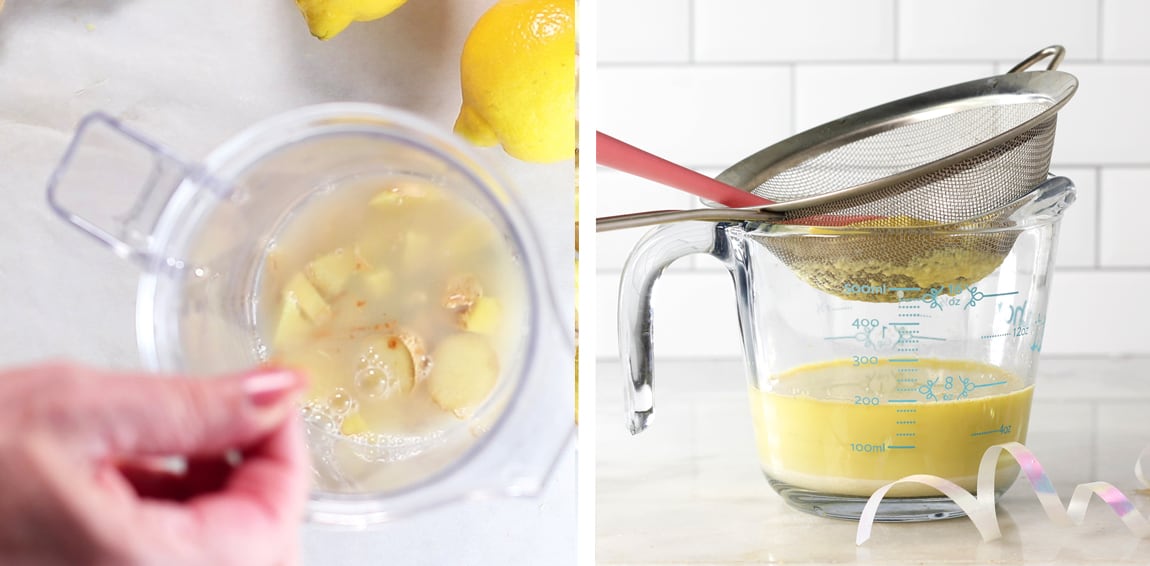 Step 5. The captured liquid is your shots! Drink half and refrigerate the other half for tomorrow. This recipe makes two shots.
Food Waste Hacks: Freeze the pulp in ice cube trays and add some to smoothies and soups for added nutrition and fiber. Or bake the pulp at 250 F for an hour to dry, then run it in a food processor into ginger powder.
Use Ground Ginger Or Paste & Jar
Although the nutrition is strongest with fresh ginger, and fresh juice, here is a recipe to use ground ginger to make a ginger shot. Use it on days you have, say, an upset stomach and desperately need a ginger shot fast.
To make a ginger shot in a jar combine:
½ cup of organic lemon juice (my favorite brand)
½ cup of water
½ teaspoon of ground ginger OR 2 tablespoon organic ginger paste
and a pinch of cayenne pepper
Now shake the jar, taste, double the ginger if you want it stronger, and drink! Here is my ginger shot in a jar video.
To use ground ginger or ginger powder, find it in the spice aisle at a grocery store.
To use paste or pulp, buy it or make it. To buy it look for jars of ginger paste in the Asian ingredient aisle or buy it here. To make it, either use a grater to grate fresh root or push fresh ginger root through a garlic press.
When to Drink
It is best to drink a ginger shot first thing in the morning, on an empty stomach, at cold or room temperature, about 30 minutes before eating. This timing will end your overnight fast, flush out toxins, kick start your digestion and energize your day. [source]
Start with one a day, and go up to two, but no more to avoid side effects.
Negative Side Effects
In general ginger shots are safe, but too much can lead to a heartburn, negative effects on tooth enamel and your esophagus. Also consult with your doctor if you are on any medications that might conflict such as blood thinners.
FAQS
What Makes Ginger Burn?
Ginger tastes hot because of gingerol, the very antioxidant that gives it nutritional power. Though it tastes much less hot than the capsaicin found in searing chili peppers, according to the Royal Society of Chemistry. The bright taste of lemon actually smooths the edge. Chase the burn with water if you must.
How Much Do Ginger Shots Cost?
You probably have seen these shots ready-made at the grocery store, right? Whole Foods and other grocery stores stock ginger-lemon shots by brands like KOR and JUS. But they are expensive - $3 - $4 at least for a few ounces.
Made at home in your blender, your shots will cost a fraction of that, even if you add in the optional cayenne pepper and coconut water. Depending on the cost of your ginger, your homemade ginger shots will cost probably 20 cents or so per shot.
How Do Ginger Shots Taste?
Ginger shots with ginger, lemon and cayenne pepper taste startlingly bright, with a bite from the pepper and ginger, and a touch of sweet and tangy from the lemon. If you choose to use coconut water or juice instead of plain water the flavor is even sweeter.
How Long Do Ginger Shots Last in Fridge?
Ginger shots are most potent for 24 hours, but can last up to a week refrigerated. However it's best to pour extra into ice cube trays, freeze away and thaw when needed.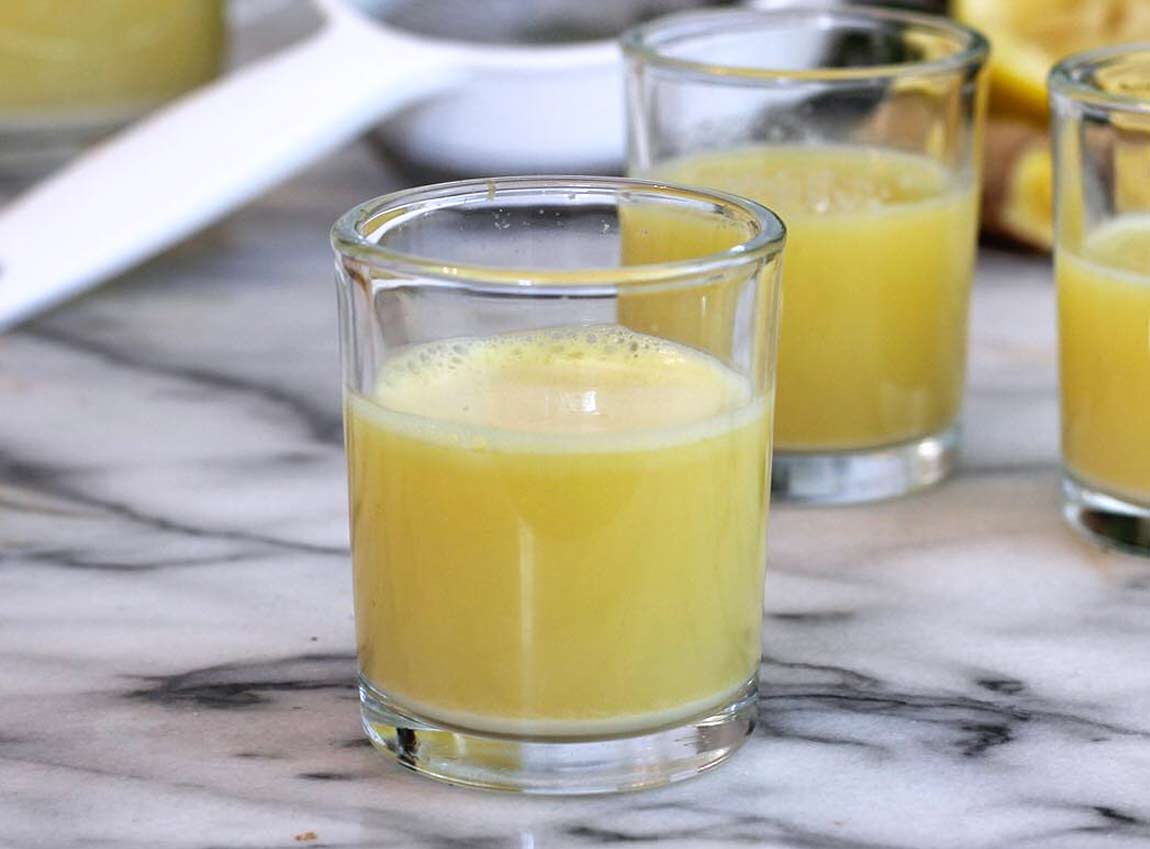 More Healthy Drink Recipes

If you try my recipes, please leave a comment and rating below and tag me on your Instagram post with @greensmoothiegourmet so I can see and share your remakes!!
I invite you to keep up with me on:
Instagram | TikTok | Facebook | Pinterest | Twitter
Subscribe HERE to get recipes delivered to your inbox!
📖 Recipe
Ginger Shots Recipe
These 4 ingredient ginger shots boost immunity, sooth upset stomachs, speed metabolism and spike energy. Full of antioxidants and anti-inflammatory benefits, this ginger shot recipe is easy to make in a blender, juicer or jar using fresh or powdered ginger.
Ingredients
Instructions
Prep
Wash fresh ginger root as you would a potato, with water and a cloth to scrub off debris. Then chop fresh ginger into chunks, just small enough to blend.

Squeeze 4 lemons to gather ½ cup of lemon juice, or measuring it out from a bottle of pure organic lemon juice.
How to Make Ginger Shots
Add all ingredients to a blender or use a juicer and process until combined. If you used a juicer, follow your machine's instructions.

½ cup (50g) fresh ginger root,

¼ cup (60g) water,

⅛ teaspoon ground cayenne pepper,

½ cup (120g) lemon juice
To Use a Blender
If you used a blender, pour the blended mixture through a strainer into a measuring cup.

With a spoon or spatula, push the mixture through a strainer until the pulp is fairly dry and you have captured most of the juice from the blended mixture. For a more clear result, add a cheesecloth inside the strainer, and strain the liquid again, to remove more pulp.
Don't discard the pulp
Freeze the pulp in ice cube trays and add it to smoothies and soups for extra nutrition and fiber.
How to Drink
Pour out the liquid into two glasses and drink one ginger shot and refrigerate the other for tomorrow.
Storage
This recipe makes about ½ cup. It can be stored in the refrigerator for a week but declines in potency with each day.

Make ginger shots in bulk and freeze them in ice cube trays. Then add a cube to a glass the night before, let is thaw refrigerated, then add a bit of water to it and down the shot.
Notes
1. This ginger shot recipe makes two shots, about 3 ounces each.
2. Wash fresh ginger root thoroughly to remove dirt, but no need to peel.
3. Swapping a juice for the water will increase the sugar levels.
4. Drink one ginger shot a day, and cold or room temperature is fine. Avoid drinking more because multiple shots can wear down your teeth enamel or irritate your throat.
5. To make a single serving shot, buy jarred ginger paste or use a garlic press on fresh ginger to create 2 tablespoons of pulp, add this to ½ cup of lemon juice, ½ cup of water, and a pinch of cayenne pepper. I use a jar and just shake it up.
6. To use ground ginger or powdered ginger: Add 1 teaspoon ground ginger powder to ½ cup of lemon juice, ½ cup of water, and a pinch of cayenne pepper. I use a jar and just shake it up. This makes two shots.
Food Waste Reduction Tips
Drink the shots with the pulp if you don't mind the sludge texture. The fiber is excellent for your digestion. Otherwise use the strainer and capture the pulp.
Preserve the pulp in ice cube trays and add it to smoothies and soups for extra fiber and flavor.
Bake the pulp at 250 F for one hour to dry it out. Grind it in a food processor and use the powder as fresh ground ginger.
Nutrition
Calories:
33
kcal
Carbohydrates:
9
g
Protein:
1
g
Fat:
1
g
Saturated Fat:
1
g
Polyunsaturated Fat:
1
g
Monounsaturated Fat:
1
g
Sodium:
5
mg
Potassium:
165
mg
Fiber:
1
g
Sugar:
2
g
Vitamin A:
56
IU
Vitamin C:
25
mg
Calcium:
9
mg
Iron:
1
mg