Chocolate peanut butter ice cream is super healthy, creamy, decadent and rich with chocolate, and made of clean wholesome ingredients - cacao to boost your mood, dates to provide fiber, and superfood Maca to energize you all day!

Chocolate Peanut Butter Ice Cream is such a treat. I read somewhere that it is actually consumed more often in the winter on top of hot desserts? I am not sure I believe that though, but it's something to think about.
What I like best about ice cream is how easy it is to make. Yes, I have an ice cream maker. They aren't that expensive and pretty easy to use and clean. So if you do have one, it will make any no churn recipe, creamier, that's true.
But, if you don't, you can make no churn recipe anyway!
I have several recipes here on the blog. Many are no churn, most are chocolate (I have to branch out, haha), although I do have a blueberry ice cream recipe here. I even have a cauliflower ice cream recipe!
Today, however, I am celebrating peanut butter. I normally move toward almond butter or cashew butter, so today I decided to stay firmly on peanut butter ground.
How Healthy is Peanut Butter?
Now, given the nature of my healthy blog, do you think when I say "peanut butter" I mean mainstream brands like Jif or Skippy? Sorry Jif or Skippy but a great big fat NO! Because those mainstream brands consist of huge amounts of refined sugar and other unhealthy additives. Terrible thing to do to healthy peanuts.
Sorry I'm being judgemental but I have peanut butter's back on this, haha. That's because peanuts themselves are incredibly healthy.
Peanuts have protein, folate, a ton of vitamins including vitamin E, vitamin C, vitamin A. Peanuts also have magnesium to boost your mood and help you sleep. And immune-supporting calcium, iron, and zinc. Peanuts can actually help you control your weight!
Spinning them into a peanut butter with no additives allows you to experience all the nutrition peanuts have to offer. Read more about peanut nutrition here.
So no, I am talking about brands of peanut butter that are made of merely peanuts and perhaps a bit of oil although adding oil is not necessary. Or I am talking about homemade peanut butter. I haven't made it myself so I went to another food blogger to find a homemade recipe and found one here.
If you want to choose a healthy store-bought brand, here is a convenient article ranking 35!
So, with all this wonderful nutrition and of course, FLAVOR, using peanut butter in ice cream is an awesome idea, don't you agree?
Okay, agreed. But what is this stuff we call ice cream? Let's discuss.
The History of Ice Cream
Creamy ice cream is a wonderful invention, isn't it? The stories behind the origin of ice cream are incredible.
According to the BBC, an ice cream originated in China in 618-97AD where the king had nearly 100 men whose main job was to make ice cream from buffalo milk, flour and camphor.
Later, still according to the BBC, a different kind of ice cream was made out of milk, rice and snow. Roman emperors supposedly send slaves up into the mountains to retrieve the snow to make the dessert.
And finally, apparently it was explorer, Marco Polo (1254-1324) who "discovered" the dessert and introduced it to all of Italy.
Ice cream didn't arrive to the United States until the mid-1700s, according to the IDFA.
And when it did, only the elite seemed to have hold of it. President George Washington apparently spent $200 a year making sure the stuff was in his kitchen.
The general public got hold of it in the mid-1800s when refrigeration was created. Hurray, finally!
I am not sure however, when the first non-dairy ice cream was created. Maybe you can look that up for me and tell me in comments.
At any rate, here is another non-dairy, vegan, plant-based recipe to add to your healthy ice cream collection.
How Healthy is This Chocolate Peanut Butter No Churn Ice Cream
OMG, so healthy. Not only because of the peanut butter and raw cacao which makes up the chocolate. This recipe also includes maca powder which has so many benefits, including hormone-balancing effects and energy-boosts galore!
It also has dates which sweeten somewhat but also add iron and fiber. And we have bananas in this recipe - I don't always use bananas in ice cream, but I wanted to be sure there was a very creamy quality and bananas do bring that to no-churn recipes.
You can however, swap bananas for avocado or frozen peeled zucchini or coconut milk. You'd have to adjust the recipe quite a bit however to retain the proper texture and sweetness. I do have a no-banana ice cream recipe if you prefer, here.
Once this ice cream is blended, just eat it as a soft serve. Or, want to scoop it like I did? Pour the blended mixture into a parchment-lined loaf pan, and freeze. To "no-churn" it, chop it up after an hour, blend and re-freeze.
Other Peanut Butter Recipes
Chocolate Peanut Butter Pie
Rolo Candy
Chococolate Peanut Butter Smoothie
If you tried this recipe or any other recipe on my website, please leave a 🌟 star rating and let me know how it went in the 📝 comments below. Thanks for visiting!
📖 Recipe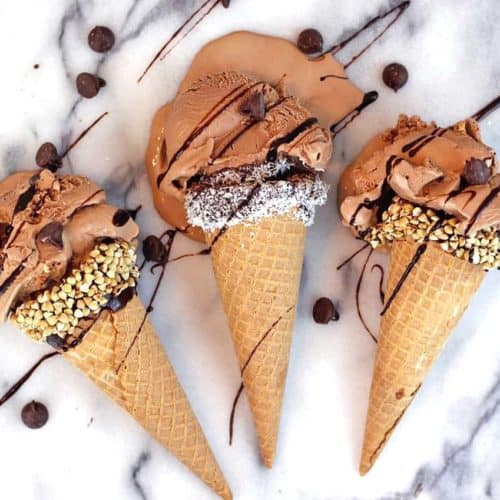 Chocolate Peanut Butter No Churn Ice Cream (refined-sugar-free)
Chocolate peanut butter no churn ice cream that is super healthy, creamy, decadent and rich with chocolate, and made of clean wholesome ingredients - cacao to boost your mood, dates to provide fiber, and superfood Maca to energize you all day!
Ingredients
4

bananas

(peeled, chopped, frozen)

¼

cup

peanut butter

(or sub almond butter or sunflower butter to make it nut-free)

2

tablespoon

cocoa powder

or cacao powder

4

Medjool dates

(soaked and pitted)

1

teaspoon

maca powder

¼

cup

dairy free milk

or more if needed for texture
Instructions
Prep
Freeze ripe bananas in 1-inch chunks overnight.

Soak dates in water in the refrigerator overnight
Make Ice Cream
Add the frozen bananas, peanut butter, cocoa powder and dates into your high-powered blender.

Blend on high speed using a plunger or spoon to push the bananas down as needed.

If the blender stalls, add the dairy-free milk until it runs smoothly.

Either eat the ice cream right away as soft serve or freeze in a parchment-lined loaf pan for 1 hour, chop it up with a spoon, and re-blend, and re-freeze. I did this twice. The more you do it, the creamier it will be.

Or make the mixture and add it to an ice cream maker.

Store in an air-tight container in the freezer for 3 months.
Nutrition
Calories:
190
kcal
Carbohydrates:
28
g
Protein:
6
g
Fat:
3
g
Saturated Fat:
2
g
Sodium:
76
mg
Potassium:
382
mg
Fiber:
5
g
Sugar:
11
g
Vitamin A:
35
IU
Vitamin C:
0.3
mg
Calcium:
39
mg
Iron:
1.3
mg