Healthy cauliflower popsicles are creamsicles made with cauliflower and streaked with rainbows of healthy fruits and vegetables. Easy to make, a creamsicle full of hidden veggies, and refreshing for all ages.
Cauliflower Popsicles
These homemade cauliflower popsicles are a frosty snow summer snow storm on a stick. Made colorful with ripples of fresh fruit and veggie purees. What a delicious cool treat for anyone yearning for a tropical vacation with added veggies.
What Does A Creamsicle Taste Like?
My creamsicle tastes like a tropical pudding on a stick. Basically all creamy and bright with citrus flavor.
The commercial treat sold by the Good Humor company tastes sweet and sticky in a commercial way with a fake orange flavor. I know that sounds judgy, sorry, but when you taste mine made with simple cauliflower and milk you will be judgy too I think, lol.

And of course you won't find cauliflower in the commercial creamsicle. Or berries or veggies for that matter. Those orange creamy wonders are filled with ingredients you don't want to be eating, but they sure taste frosty and fun.
So I thought, let's copy that idea only make them healthy.
What's The Difference Between A Dreamsicle and a Creamsicle?
Regarding commercial treats, the commercial Dreamsicle is made with milk, and the Creamsicle is made with ice cream. BUT my creamsicle is made with cauliflower and milk.
Is a Cauliflower Creamsicle Healthy?
It sure is! Cauliflower is rich in vitamin C and folate, an essential mineral hard to come by in the Western diet. Cauliflower is low in sodium, free of cholesterol, and free of fat. No wonder we want it in a dessert!
Ingredients in My Homemade Creamsicles
The first ingredient I wanted to add is a vegetable. For that, I turned frozen cauliflower, but fresh is totally fine. In both cases, you will steam the cauliflower first and let it cool.
I also added full fat coconut milk to add a liquid creaminess and all the nutrients of coconut. And for the citrus flavor, I used lime juice. I didn't use orange juice, as in the original creamsicle, because I didn't want an orange tinge to color the snowy white. And I used lime juice instead of lemon juice because lime juice is sweeter.
Best Fruits to Add to A Creamsicle
For the rainbow purees, I used a mix of veggies and fruits. Here is my fruit and veggie puree chart:
PURPLE – blueberry puree
RED – strawberry puree
ORANGE – mango puree
YELLOW – pineapple puree

Before we dive into the recipe, I'd like to invite you to sign up for my free chocolate course. Five lessons hit your inbox with detail on how to create your own simple healthy chocolate desserts.
Okay, so let's get started...
How is a Creamsicle Made?
Easy! Just blend up the popsicle base mixture into a snowy white cream, and pour into a popsicle mold, filling each well half way.
Then in four little bowls, stir up the four purees, and pour each into the popsicle wells, then fill the well with remaining white base.
There is a bit of math involved.
If you use a traditional popsicle mold, each well holds ⅓ cup. So you'll need a total of 3 ⅓ cup mixture to fill a 10-popsicle mold. Of that, 2 ⅔ cup is the white popsicle base, both used as the white layers in the popsicles and to make the fruit purees.

Still with me? Stay strong and you'll have a popsicle at the end.
Tips to Make Creamsicles
Over-steam the cauliflower: It's important to be sure the base is creamy so over-steam the cauliflower. I microwaved mine in a bag for 7 minutes. And poke it with a fork. The veggie needs to be extremely soft. Microwave more if the fork meets resistance.
Leave fruit puree chunks: You can use a fork to press the fruit into a puree. I have a mini blender jar so I was able to blend it creamy, but chunky is fine too.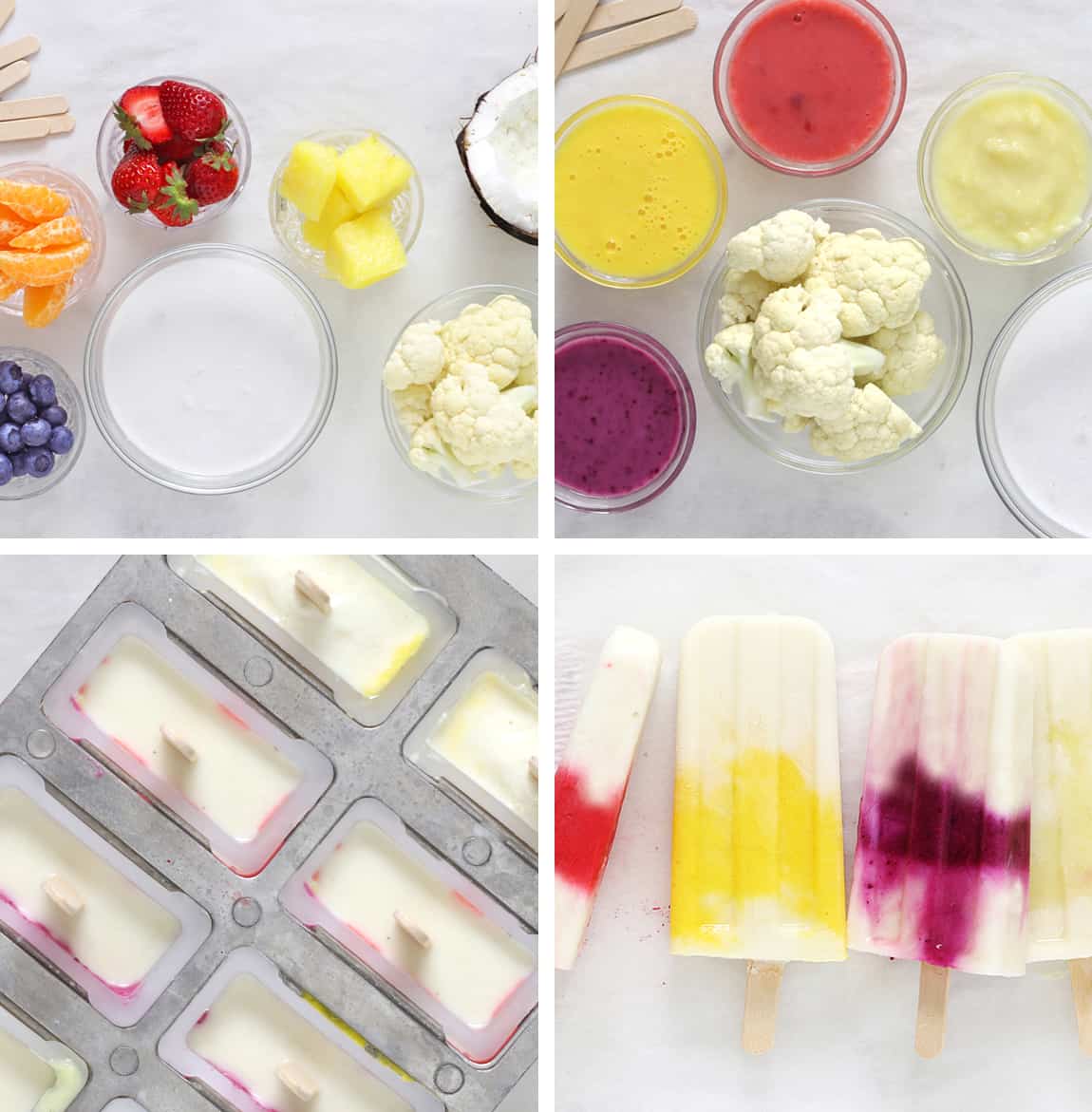 How to work with canned coconut milk: Have you ever worked with canned full fat milk? It's MAGIC. You find it at grocery stores, sometimes in baking, sometimes in the cultural food aisle, or just online. It's a great ingredient because it can replace heavy dairy cream as a creamy liquid ingredient. Coconut milk from the can is basically grated coconut milk, so it contains the valued lauric acid noted for its positive effects on good cholesterol.
To use it in this recipe, use the can at room temperature. Shake it up and open the can. If the fat has separated from the liquid, pour both solids and liquids in a pan and heat until creamy but allow it to cool before blending for popsicle base.
Are you on Pinterest? Perhaps save the recipe there using this image...

I invite you to keep up with me on: Facebook | Pinterest | Instagram | Food Gawker | Twitter
Don't miss a thing, subscribe here to get recipes delivered to your inbox!
If you try my recipes, please leave a comment and rating below and tag me on your Instagram or Facebook post with @greensmoothiegourmet and #greensmoothiegourmet so I can see and share your remakes!!
Cauliflower Popsicles
Healthy homemade cauliflower popsicles are creamsicles made with cauliflower and streaked with rainbows of healthy fruits and vegetables. Easy to make, a creamsicle full of hidden veggies, and refreshing for all ages.
Ingredients
White Citrus Base Popsicle (good for 10 popsicles)
Purple Blueberry puree (good for 2 popsicles)
2

tbsp

base

2

tbsp

crushed blueberries
Red Strawberry puree (good for 2 popsicles)
2

tbsp

base

2

tbsp

strawberries

thawed or fresh
Orange Mango puree (good for 2 popsicles)
2

tbsp

base

2

tbsp

mango

thawed or fresh
Yellow Pineapple puree (good for 2 popsicles)
2

tbsp

base

2

tbsp

pineapple

thawed or fresh
Instructions
Prep
Open the room temperature coconut milk cans. If the fat has separated from the liquid, pour in a sauce pan, heat and stir to create a creamy texture. Let the mixture cool while you prepare the fruits.

Measure out the fruits, set in little bowls and squish with a fork.
Make the White Popsicle Base
Put all ingredients in a blender, and process until creamy. You can taste and if it needs to be sweeter, add a tablespoon of maple syrup if you'd like.
Make the Rainbow Fruit Purees
Add 2 tablespoons of the white popsicle base to each fruit/veggie bowl. Stir with a fork until the mixture is fairly combined. You can add a teaspoon more of the white popsicle base any mixture seems too dry.
Make the Popsicles
Pour the mixture into each popsicle well, filling only ⅓ of the way.

Spoon 2 tablespoons of each color into two wells.

Fill each well to the top with the white popsicle base.

If the rainbow puree appears to be a solid wall between the two white layers, take a fork and push it into the rainbow and tug up and down. You want the rainbow to reach into the white base layers above and below.

Freeze the popsicle mold for at least 6 hours. The longer, the easier the popsicle will stay solid when you remove them from the mold.
Remove Popsicles from Mold
Line a cookie tray with parchment paper and set it in the freezer.

Dip the mold base into hot water either tipping under a faucet or dipping into a large bowl. It's a process. You'll have to dip and tug several times.

As soon as you release each popsicle, lay it on the tray in the freezer.
Storage
Store the popsicles for 2 months in a sealed container in the freezer.
Nutrition
Calories:
107
kcal
Carbohydrates:
6
g
Protein:
1
g
Fat:
10
g
Saturated Fat:
9
g
Sodium:
10
mg
Potassium:
152
mg
Fiber:
1
g
Sugar:
3
g
Vitamin A:
6
IU
Vitamin C:
9
mg
Calcium:
16
mg
Iron:
2
mg