Four recipes for healthy vegan breakfast donuts, baked, fat, and fluffy yet dairy-free, refined-sugar-free, gluten-free and vegan. Enjoy a donut breakfast break on me!
4 Recipes for Healthy Vegan Breakfast Donuts
Welcome to my healthy donut shop! These donut recipes are baked, not fried, so there is minimal oil if any. All the recipes are easy to make in a bowl and a donut pan.
And I use healthier ingredients like oat flour, unsweetened cocoa powder and chickpeas! Yes, try my chickpea donuts!
You can actually bake the donuts in muffin liner if you don't have a donut pan, but I highly recommend you buy one. Find my favorite in my equipment store on my Amazon page.
And I recommend you pipe the batter into the donut pan wells with batter in a gallon ziplock bag with the corner cut off or a large round frosting tip inserted.
Why is it Better to Bake Rather Than Fry Donuts?
Donuts that are baked have less oil than fried donuts.
And in my baked donut recipes, I keep the sugar low and use organic cane sugar which ensures a cakey texture. For chocolate donuts, I use nutritious-rich cacao powder. For the plain, I use chickpeas. And for toppings, date sugar, icing or a frosting made from quality dark chocolate chips, melted with a little coconut oil to help shine.!
Questions Answered About Baked Donuts
1. Do they store?
Yes, feel free to store them unfrosted 3-4 days in a sealed container in the refrigerator, or freeze them covered for 3 months.
2. Can White Beans be Used in the Chickpea Donuts?
Yes, I believe so.
3. Do Donuts Have to Be Frosting?
No, eat plain or dust with cinnamon or sugar. Your call!
Chocolate Protein Donuts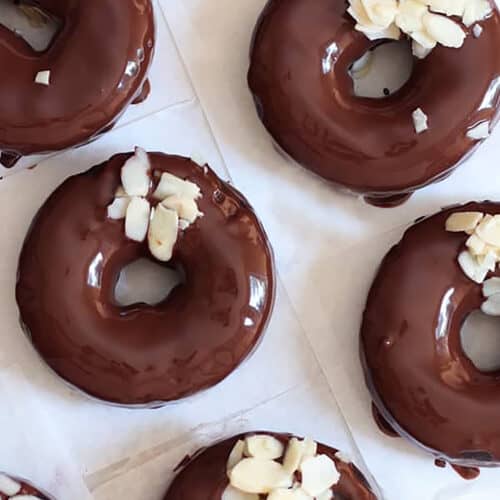 Chocolate protein donuts that are soft, baked and full of protein. Ready in under 30 minutes, these soft donuts each have 6 grams of protein and fiber and topped with a chocolate glaze.
View Recipe
Chocolate Breakfast Donuts
Chocolate breakfast donuts that are soft cake on the inside, with a chocolate glaze on top! These plant-based donuts are egg free and easy to bake within 30 minutes. The perfect dessert for breakfast!
View Recipe
Baked Apple Cider Donuts (low calorie)
These baked apple cider donuts are quick and easy, fluffy and loaded with spicy apple cider flavor! Made with 6 ingredients in 30 minutes. Low calorie, no dairy and with applesauce instead of oil. So sweet and spicy, these fall donuts will easily be your favorite fall donuts ever. 
View Recipe
Chocolate Frosted Donuts with Sprinkles (low calorie)
Chocolate frosted donuts with sprinkles have a soft cake texture and a delicious 2-ingredient chocolate glaze. These donuts are baked, made in one bowl, and only 100 calories thanks to whole food ingredients. A filling and healthy treat for everyday or any festive occasion.
View Recipe
More Healthy Donut Recipes
Are you on Pinterest? Perhaps share this image..
I invite you to keep up with me on: Facebook | Pinterest | Instagram | Food Gawker | Twitter
Don't miss a thing, subscribe here to get recipes delivered to your inbox!
If you try my recipes, please leave a comment and rating below and tag me on your Instagram or Facebook post with @greensmoothiegourmet and #greensmoothiegourmet so I can see and share your remakes!!