An easy homemade vegan fudge recipe that is 2 ingredients, dairy-free, gluten-free and ready in under an hour. Creamy, delicious protein snack that boosts your mood and adds fiber to your day. This recipe uses only 2-ingredients, and you probably have them in your kitchen right now.
Homemade Vegan Fudge (2-ingredients – GF, dairy-free, paleo)
This 2-ingredient homemade vegan fudge doesn't involve heavy cream or condensed milk or any other dairy. No cooking is needed either, not even the stove. And the fudge is creamy, dreamy, vegan, gluten-free and refined sugar free.

Did I just make your day? I made my family's day when I made this. You should have seen the smiles. Maybe you'll get your own smiles.
How to Make 2-Ingredient Vegan Fudge
It really is beyond simple. Just get yourself a quality chocolate, some nut butter, and melt together. Pour into a container or candy molds, freeze and you have HEALTHY FUDGE!
How Healthy is Nut Butter?
The cashew butter in this recipe of course adds protein and healthy fats. I recommend Whole Foods 365 brand or Barney Butter.

Obviously feel free to sub in any other nut butter – almond, hazelnut, pecan, walnut. Just be sure the nut butter ingredient list is only nuts and does not contain sugar or unpronounceable additives.
Again, the Whole Foods 365 brand is perfect for this recipe in terms of wholesomeness and the right amount of nut oil to make this fudge creamy. Other good nut butter brands abound however, pick your favorite.
Of course the other (and only other) important ingredient in this recipe is the dark chocolate.
So I recommend using only quality brands like HU, Theo, Enjoylife or Green & Black or your favorite. Please try to use an organic brand and a fair-trade brand..
Fudge Questions People Ask
When searching for a fudge recipe, people want answers to these questions:
1. How do you make fudge?
Easy, just melted together nut butter and dark chocolate.
2. Can I use evaporated milk instead of condensed milk for fudge?
Not in my recipe. It's vegan and dairy-free. Use just nut butter and dark chocolate.
3. Does fudge have flour?
Not my recipe!
4. Can you remelt fudge?
Sure! Just put in a pyrex measuring cup and microwave for about 30 seconds and stir. Use melted fudge for cake or ice cream, or pour in a different mold to make shapes. Refrigerate until solid again.
Use Fair-Trade Chocolate for Fudge Recipe
I want to digress a moment here to note the importance of buying products with the fair trade seal. Not all products have the potential to be purchased fair trade. I usually buy chocolate, coconut butter, cashews fair trade when I can. You do so by looking for the official fair trade seal provided by the Fair trade nonprofit.
The Fair trade nonprofit works within 30 international offices. They basically help farmers get a fair deal when being paid for products and to help workers have better and more fair conditions. They also work to protect the environment and communities.
For instance, regarding chocolate, the fair trade system puts in place ways to protect cocoa trees from being damaged by climate change. The fair trade system also works to protect children from being exploited as laborers on cocoa farms.

When you choose a chocolate brand that sports the fair trade seal, they earned that seal. How? By being found in compliance with Fair Trade standards. Read more about being Fair Trade Certified here. And here is a guide to help you find products that are Fair Trade Certified.
Endangered Species Chocolate, Green & Black, Trader Joe's are a few chocolate brands that have earned the Fair Trade seal.
Besides choosing a fair-trade certified brand, be sure your quality chocolate choice contains minimal ingredients. Cacao or cocoa should be listed first. The chocolate should have at least 70% cacao or more, and including cocoa butter. You don't want to see sugar or alkali processing.
How Healthy is Fudge Made With Dark Chocolate?
Quality dark chocolate brings to this recipe tons of nutrition. I love the idea of handing out chocolate treats to my family and friends that are good for them. The chocolate in this recipe contributes fiber, antioxidants, iron, magnesium, copper, potassium, zinc, theobromine and more.
How do these nutrients this benefit you? Well all this improves your blood flow, asks your muscles to relax, protects your skin from sun, boosts your cognitive abilities and more. There. So, you are welcome.
Use This Fudge To Make Other Treats
I use this fudge as a filler for many other recipes, including this nonpareil lollipop. Just make the fudge, pour into lollipop silicon molds, freeze, and dip into melted chocolate.
Try My Other Vegan Chocolate Treats
Marzipan
Chocolate Bark Recipe with Nutella
Homemade Snickers
Homemade Protein Bars
Chocolate Protein Bars
Vegan White Chocolate
Chocolate Quinoa Scotcheroos
Chocolate Covered Chickpea Snack
Vegan Fudge
Butternut Squash Fudge Recipe
Interested in sharing on pinterest? Use this image…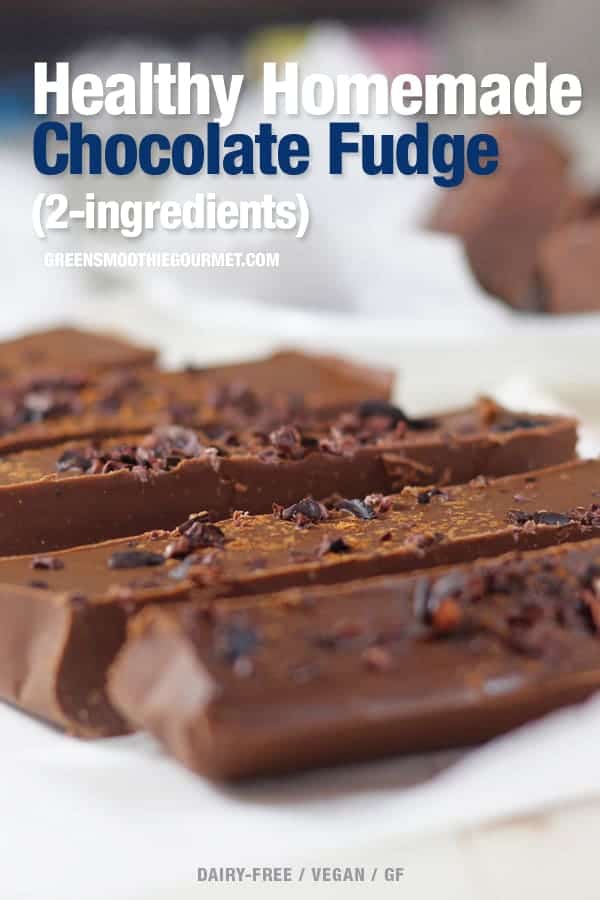 I invite you to keep up with me on: Facebook | Pinterest | Instagram | Food Gawker | Twitter
Don't miss a thing, subscribe here to get recipes delivered to your inbox!
Homemade Vegan Fudge (2-ingredients - vegan, GF, dairy-free, paleo)
An easy homemade vegan fudge recipe that is involves no cooking, and is ready in under an hour. Creamy, delicious protein snack that boosts your mood and adds fiber to your day. This recipe uses only 2-ingredients, and you probably have them in your kitchen right now.
Print
Rate
Ingredients
Useful Equipment
1

8-inch x 4-inch

loaf pan (Use this or the mold)
Instructions
Put the nut butter and chocolate chips in a 2-cup pyrex measuring cup, and microwave for 60 seconds, stirring untill all chips are melted.

When fully melted pour into either the loaf pan (first line it with parchment)
OR

Pour into silicon mold.

Either way, I sprinkled mine with salt and cacao nibs.


Freeze the pan or mold until chocolate is set - probably 30 minutes or more.


You can also speed set in the freezer. You can keep it refrigerated for a week in an air-tight container.
Nutrition
Calories:
91
kcal
|
Carbohydrates:
6
g
|
Protein:
2
g
|
Fat:
7
g
|
Saturated Fat:
3
g
|
Cholesterol:
1
mg
|
Sodium:
3
mg
|
Potassium:
96
mg
|
Fiber:
1
g
|
Sugar:
2
g
|
Vitamin A:
3
IU
|
Calcium:
9
mg
|
Iron:
1
mg

Dee Dine is founder of Green Smoothie Gourmet, a plant based recipe blog, and author of the recent cookbook, Crazy Healthy with 4 Ingredients . On this blog you'll find incredibly easy recipes with hidden veggies for anyone wanting to eat healthier, regardless of diet. Dee has graduate degrees in sciences and  journalism. More about Dee Dine here.