Vegan Khao Soi Thai Soup is the vegan form of a traditional Thai curry noodle soup popular filled with vegetables, noodles and shiitake mushrooms.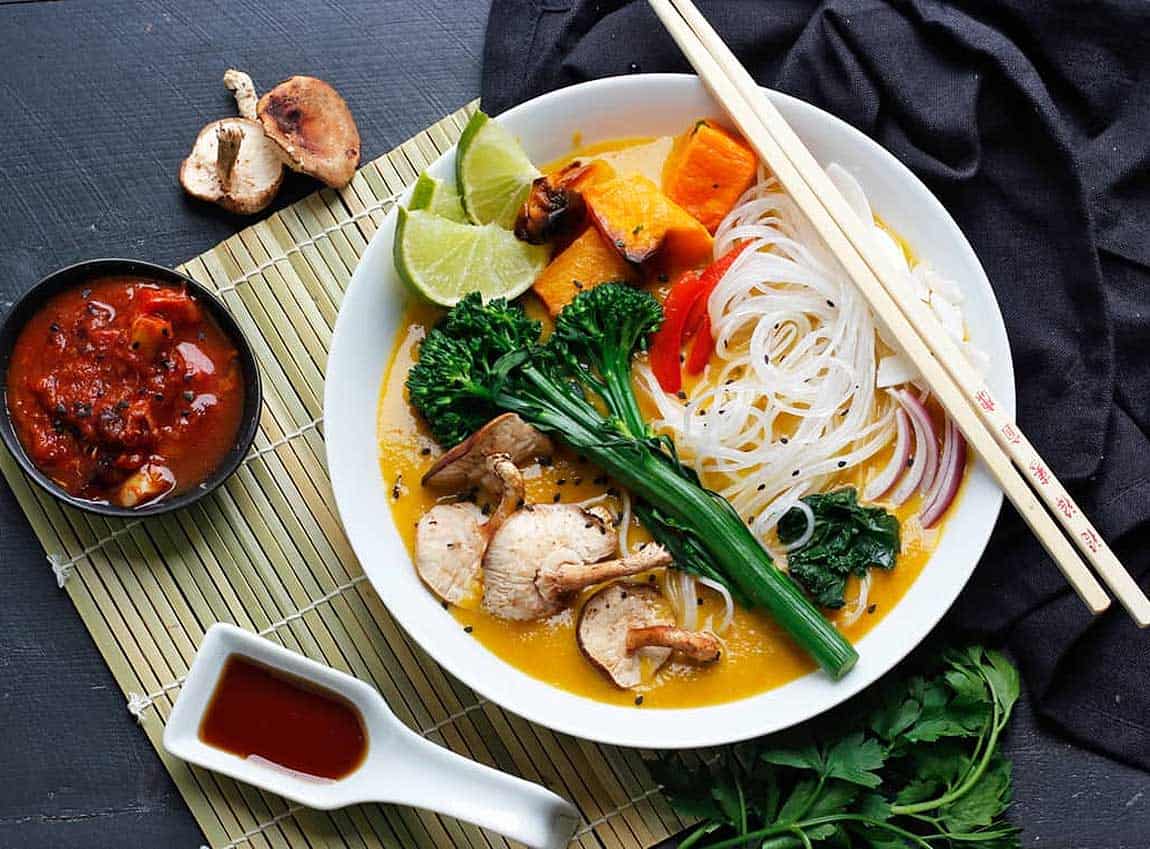 Vegan Khao Soi Thai Soup
Vegan Khao Soi Thai Soup is easy to make and deliciously spicy. I added broccolini and mushrooms but you can add what's in your refrigerator.

Table of Contents For this Post
What Is Khao Soi Thai Soup
Let me tell you more about this Thai noodle soup. Khao soi is a popular dish from the Chiang Mai region of northern Thailand.
It is a coconut curry Thai noodle soup and oddly not often found in Thai restaurants around the world. A co-worker here in Washington DC served an authentic version at an office party recently, and I thought, hmm..this could be made vegan.
The authentic version is made with egg noodles and chicken, which I replaced with glass bean noodles and shiitake mushrooms.
Is This Thai Soup Easy to Make?
Don't worry if you don't normally make your own soups from scratch. This one may have a longish ingredient list, but it is very easy to put together. Just gather the ingredients and get started. The only ingredient you may not have in your pantry is liquid aminos.
Ingredients In Thai Soup
The ingredients are in three parts - the paste, broth and components such as veggies and noodles.
1. The paste: I provide the ingredients to make the paste from scratch but you can also buy it, there is a link in the recipe card for a delicious commercial paste.
2. The broth: The broth consists of vegetable broth, coconut milk, butternut squash and a few residual ingredients like sugar and turmeric and lime juice.
3. The components: And finally, the components I chose include:
broccolini
sundried tomatoes
shiitake mushrooms
butternut squash
black sesame seeds
How Does This Thai Soup Taste?
Spicy! Noodle-y. Comforting. Savory. All the good things in a flavorful soup.
Tips on How to Make This Thai Soup
Here are a few tips to make sure your process goes swimmingly.
1. First, be sure to shake up the can of full fat coconut milk (I know, so many canned coconut milk recipes have you only using the fat separated after a night in the fridge. Well, not this time!). Using both makes for a very rich broth.
2. Regarding the spicy red paste, you can buy it which cuts the time in half. But if you want to make your own, I give you the recipe!
3. And now I'd like to say something about the aminos. In this recipe, I have you marinate the butternut squash (or sweet potato) as well as the mushrooms in this delicious liquid. It only takes 20 minutes or so and brings a delicious savory softness to these veggies. And then no cooking of these ingredients is needed.
Alternatively, if you want to pan fry both, marinate them in the aminos, and then do this: Toss the squash and mushrooms in olive oil and a bit of chopped onion. Heat a skillet, and saute the squash and mushrooms for about 5 minutes or until a touch brown. Then toss them in the soup.
What are Liquid Aminos?
Liquid aminos are a common gluten-free alternative to soy sauce. Also made from soybeans, but in a more natural process that renders it alcohol-free. You can also use coconut aminos, also considered healthier than soy sauce, but which contains alcohol and is a bit low in sodium for some recipes.
I often marinate portebellos, for instance in either coconut aminos or liquid aminos to bring them amazing flavor before using these large mushroom caps as "hamburger buns" for my vegan sandwiches, haha.
But I digress. Let's go make soup!
Like this vegan version? You might also be interested in this James Beard finalist's Thai soup that is a vegetarian version using tofu
Other Recipes That Use Ginger
Ginger plays a prominent role in this soup. Are you interested in more Ginger recipes? Ginger is a great detoxer, as well as an antiseptic. Try these recipes that depend on ginger:
Ginger Shots
Cinnamon cranberry
Hermit cookies
Chocolate Spice Cake
Interested in sharing my recipe on pinterest? Use this image...

I invite you to keep up with me on: Facebook | Pinterest | Instagram | Food Gawker | Twitter
Don't miss a thing, subscribe here to get recipes delivered to your inbox!
Vegan Khao Soi Thai Soup
Vegan Khao Soi Thai Soup is the vegan form of a traditional Thai curry noodle soup popular filled with vegetables, noodles and shiitake mushrooms.
Ingredients
the spicy paste
1-2

red chilis, or more depending on their size

1

tsp

garam masala

2

tsp

ginger, peeled and chopped

4

shallots, chopped

½

tsp

coriander

3

garlic cloves, chopped

2

tsps

ground turmeric

2

tbsp

water

OR

BUY this paste ready-made as a short-cut!

(Here is good brand)
Other Components
1

broccolini stalk per serving

¼

cup

sundried tomatoes

1

cup

shiitake mushrooms

(white button can also be used)

1

cup

butternut squash (or sweet potatoes) (whole veggie, peeled, chopped)

1

tsp

black sesame seeds
Instructions
For Paste
Heat olive oil in a skillet, just enough to coat it. Slice the chilis in half and throw away the seeds. Stir fry the chilis for a minute or two, then toss them and the rest of the paste ingredients into a food processor (I used a mini one) and blend into a lumpy paste (add more or less water to achieve a paste) and set aside.

For the Broth
Heat the broth in a pot. When steaming but not boiling, pour in the coconut milk, stirring as it separates. Stir in a few tablespoons of the paste you made, and then the rest of the broth ingredients. Keep stirring until soup becomes thick. I used a thermal blender so I just finished off the thickening by putting my soup in there for a hot spin, but if you don't have a thermal blender, keep simmering for about 1-2 minutes, keeping up with the stirring..
Prep of other components
Chop the butternut squash and soak them and the mushrooms in the liquid aminos for about 20 minutes or until both are "squishy". If your butternut squash is hard and under-ripe, you might want to steam it first. (Both the butternut squash and mushrooms should be squishy before adding to the soup; another option is to saute them both, after marinading, in a hot skillet with a bit of olive oil to heat them as well as to soften them.)


Steam the broccolini.

Prepare the noodles according to package.

Reconstitute the sundried tomatoes

Soup Assembly
Pour broth in a bowl, top with cilantro, your favorite plant-based noodles, marinated butternut squash and mushrooms, broccolini and sprinkle with black sesame seeds and a sprinkle of lime juice.


Mix a half-cup chopped sundried tomatoes in the remaining paste, and serve on the side to be used as a garnish.
Nutrition
Calories:
161
kcal
Carbohydrates:
33
g
Protein:
8
g
Fat:
2
g
Saturated Fat:
1
g
Polyunsaturated Fat:
1
g
Monounsaturated Fat:
1
g
Sodium:
2440
mg
Potassium:
1036
mg
Fiber:
7
g
Sugar:
15
g
Vitamin A:
4351
IU
Vitamin C:
18
mg
Calcium:
52
mg
Iron:
3
mg