Healthy brownies rich in protein thanks to Sunbutter, and fudgy, sinfully dense and also vegan, gluten-free, dairy free, refined sugar free and paleo.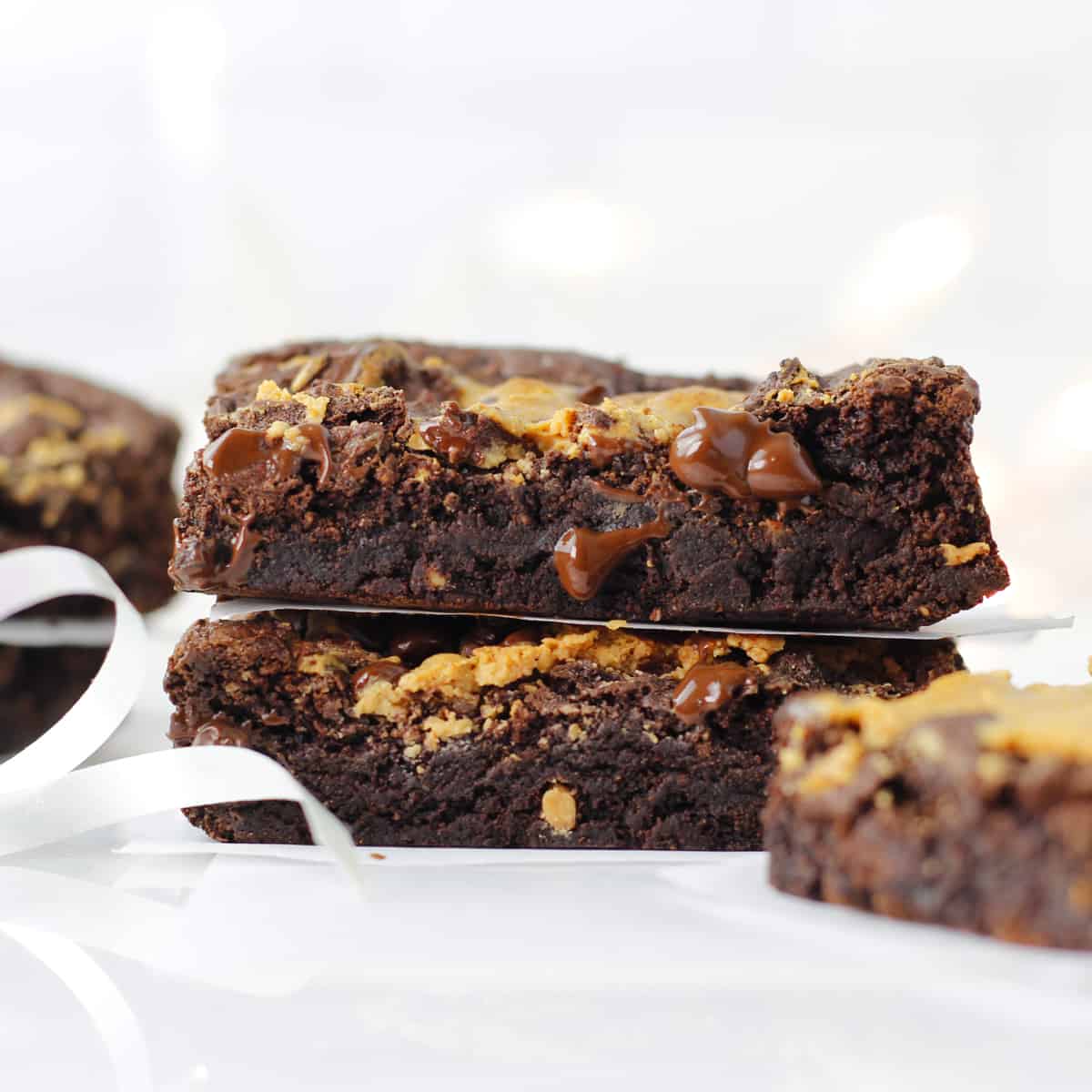 Healthy Brownies
These healthy brownies have an intense chocolate flavor and are the quintessential brownie with an edge of structure so they fall between fudgy and cakey - my favorite kind! Top with frosting, or swirl in a decoration.

Table of Contents For this Post
Ingredients in Healthy Brownies
Chocolate Chips or Chopped Chocolate - the quality of this chocolate influences the flavor and texture of the brownie so choose wisely. I always go with Enjoylife Chocolate Chips, or HU gems (refined-sugar-free), or Lindt 70% chocolate bar.
Butter - I used sunflower seed butter here but any nut butter or even vegan butter will work. The sunflower seed butter I used is Sunbutter, a wholesome brand that works hard to be allergen free.
Sugars - I used a mix of coconut palm sugar (brown sugar made from coconuts), and organic cane sugar (organic cane sugar doesn't have bone char like regular cane sugar does.)
Aquafaba - the liquid straight out of a can of unsalted chickpeas. Or use 3 flaxseed eggs - 3 tbsp of ground flaxseed stirred into 9 tbsp of water.
Cocoa Powder - I use dutch processed cocoa, Valhrona is my favorite. But regular unsweetened cocoa or cacao powder is fine, it just won't have as intense a chocolate flavor.
Flour - To make these gluten-free, I used GF flour, but all purpose is also fine.
How Do You Make Brownies Healthier?
You make some swaps and choose super healthy wholesome ingredients.
In these brownies, I made them higher in protein by swapping butter for sunflower seed butter (Sunbutter!) or nut butter.
I made them closer to refined-sugar-free by using coconut palm sugar instead of ordinary brown sugar although brown sugar is fine.
And they are vegan by using aquafaba instead of eggs. Aquafaba is the liquid from a can of unsalted chickpeas. I use WholeFood's organic 365 brand. I don't recommend Goya, too salty. But if you want to use a flaxseed egg, you can! Just mix 2 tbsp of ground flaxseed into 5 tablespoons of water, stir and let set for 10 minutes.
Before we dive into the recipe, I'd like to invite you to sign up for my free chocolate course. Five lessons hit your inbox with detail on how to create your own simple healthy chocolate desserts.
Okay, so back to this recipe...
Steps to Make Healthy Brownies:
Melt and stir chocolate and seed or nut butter together.
In a large bowl, whip sugars, aquafaba, and other liquids until fluffy.
Into the sugar/aquafaba mixture, fold in the melted chocolate/butter mixture .
Set a strainer or sieve over the bowl, and to it add the dry ingredients. Push them through and stir up the batter.
Transfer this incredible brownie batter into a loaf pan.
Bake at 350 F for about 30 minutes.
Allow the brownies to cool in the pan at room temperature.
Frost or not and EAT straight out of the pan, standing over the counter as fast as you can before anyone else notices you just baked brownies.
Seed Butter Helps Restore Fat to Gluten-Free Brownies
Gluten-free brownies tend to be dryer than regular brownies so the addition of Sunbutter sunflower seed butter instead of butter offsets that. You can of course use a nut butter, such as almond butter or cashew butter, but I wanted to keep this recipe allergen free.
The addition of sunflower seed butter puts healthy fats into the brownie, helping to make them both cakey and fudgy at the same time.
How to Store Healthy Brownies
Cool brownies 1 hour before removing from pan. Chill uncut in refrigerator and then cut with a serrated knife.
Store them in an air-tight container at room temperature for 2 days. After that, refrigerate for a week, freeze after that.
Frequently Asked Questions
Brownies are the most popular dessert there is and so many people have many questions about baking them. I'll try to give you answers to some of them below.
How Do I Substitute Eggs in Brownies?
As you see in this healthy vegan brownie recipe, I used aquafaba instead of eggs. Aquafaba is how you replace eggs in vegan recipes.
Basically 3 tablespoons of aquafaba, the liquid from an unsalted can of chickpeas, is equal to one regular egg.
Aquafaba acts just like eggs do. When aquafaba is whipped, it traps air pockets and helps lift the brownies.
Can You Make Brownies Without Baking Soda?
Certainly. As you'll notice, this healthy brownie recipe doesn't contain any baking soda, but instead baking powder. I wanted to add that to give these brownies a bit of lift since seed butters are heavier than butter. But you don't even have to add that if you want to make gooey brownies that require no raising agents be added.
How Do You Know When Brownies Are Ready?
Gooey brownies will be done after about 20 minutes in the oven, they will sink in the middle and your tester will be fudgy.
Cake-like brownies will be done after 35-40 minutes in the oven, they will rise like a cake in the middle and your tester will be clean.
Either way, test the pan at the time and pull the pan out too early rather than leave them in too long. You don't want them to dry out and they'll continue to firm up as they cool!
Are Brownies Meant to Be Gooey?
Brownies can be gooey, or cake-like.
To make cake-like brownies, add about 1 teaspoon of baking powder, and bake them for 35 minutes, longer than you would to make them gooey. You want a tester to come out clean, then they are done.
To make gooey brownies, don't add baking powder or baking soda and bake them for 25 minutes, less than you would to make it cake-like. That's because a gooey brownie is basically an underdone brownie.
Why Do Brownies Sink in the Middle?
Brownies made to be gooey, and not cake-like, will certainly sink and they are supposed to. That's because gooey brownies are basically underdone.
If your goal is cake-like brownies, and you've added a raising agent such as baking powder, put your brownies back in the oven for 10 minutes and see if they rise back up.
What Do You Put on Top of Brownies?
I love swirling on a topping. Basically I melt seed or nut butter, dollop it on top of the batter, swirl and bake.
You can also top brownies with chips sprinkled on before baking, salt and whipped cream or ice cream before serving.
Tips for the Best Healthy Brownies
Chocolate is the primary ingredient in brownies, so it's important to use the highest-quality chocolate you can get and afford.
PRO-TIP: Use a quality tasting dark chocolate like 70% Lindt or Enjoylife Mini Chips and a quality cocoa, such as dutch process Valhrona. I promise this combo will bring you a better chocolate flavor than using regular cocoa powder such as Hershey's, and any baking chocolate.
That's because dark chocolate varies widely in flavor and Lindt and Enjoylife are known for being delicious, and dutch process cocoa has less acid - it makes it less nutritious than say cacao powder, but it will give your brownies a stronger, clear chocolate flavor.
More Easy Healthy Desserts:
I invite you to keep up with me on: Facebook | Pinterest | Instagram | Twitter
Don't miss a thing, subscribe here to get recipes delivered to your inbox!
If you try my recipes, please leave a comment and rating below and tag me on your Instagram post with @greensmoothiegourmet so I can see and share your remakes!!
Healthy Brownies
Healthy brownies rich in protein and fudgy, sinfully dense and also vegan, gluten-free, dairy free, refined sugar free and paleo.
Ingredients
Brownies
⅓

cup

Sunbutter sunflower seed butter

or nut butter including almond butter or cashew butter your recipe does not need to be nut-free

½

cup

organic cane sugar

½

cup

coconut palm sugar

packed (brown sugar)

6

tbsp

aquafaba

or 3 flaxseed eggs

¼

cup

dairy free milk

½

tsp

vanilla

½

cup

cocoa powder

½

cup

GF flour

or all purpose

1

tsp

baking powder

pinch

of salt

¼

cup

seed or nut butter, melted

(optional)
Instructions
Prep
Preheat oven at 350 F. Measure ingredients. Line a loaf pan with parchment paper

Melt seed butter and chocolate chips for 1 minute and stir until smooth.

In a large bowl, combine the sugars and aquafaba and vanilla and milk, use a hand-mixer or spoon to combine. Fold in the melted chocolate and seed butter mixture.

In a strainer and a sieve, combine the flour, cocoa, baking powder and salt, and stir until combined.

Fold the dry into the wet until fully mixed.

Pour batter into pan, tap to even the surface.

Dollop on seed or nut butter.

Swirl with the tip of a knife. Bake for 30 minutes.

Let them cool in the pan for 30 minutes at room temperature.

Slice with serrated knife.
Nutrition
Calories:
154
kcal
Carbohydrates:
28
g
Protein:
3
g
Fat:
6
g
Saturated Fat:
1
g
Polyunsaturated Fat:
1
g
Monounsaturated Fat:
1
g
Sodium:
25
mg
Potassium:
155
mg
Fiber:
2
g
Sugar:
19
g
Vitamin A:
35
IU
Vitamin C:
1
mg
Calcium:
52
mg
Iron:
1
mg
This post is sponsored by Sunbutter. My opinions are my own.