A fresh tropical smoothie recipe bright with mango, pineapple and an unusual fruit, jackfruit, all making this drink a tropical vacation and a powerhouse of nutrition, including protein, fiber and essential vitamins. Vegan, banana-free and dairy-free, and easy to make!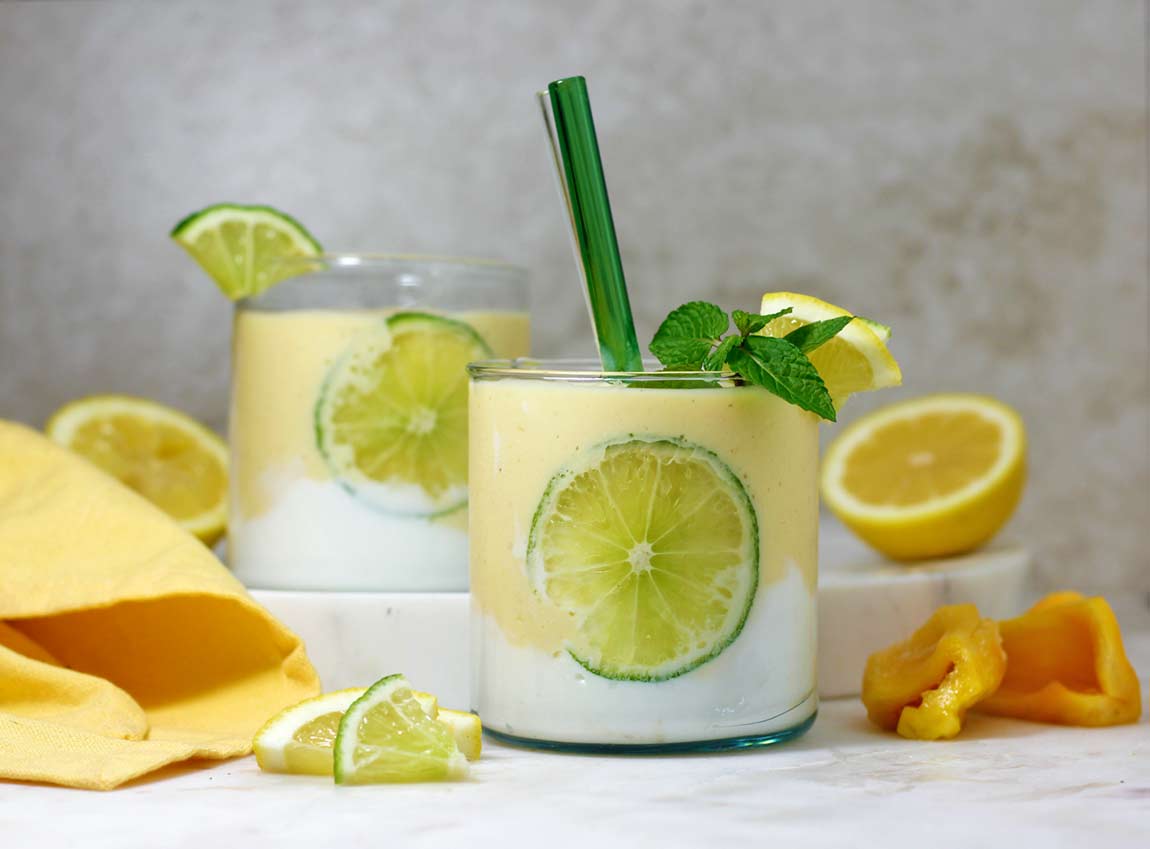 Tropical Smoothie With Jackfruit
A deliciously healthy tropical smoothie with an unsually bright flavor and a boatload of nutrition thanks to exotic jackfruit. See what I did there?
How Healthy Is This Tropical Smoothie?
Jackfruit, mango and pineapple together can replenish, cleanse, energize and fight disease.
Jackfruit alone is full of vitamins, minerals and dietary fiber, and minerals, such as iron, magnesium, potassium and manganese so important to all body processes.
Mango is full of fiber, and pineapple provides compounds that fight inflammation, namely bromelain.
Pineapple provides digestive enzymes and vitamin C which improves your skin, supports weight loss, assists digestion, and even prevents kidney stones.
Ingredients in This Tropical Smoothie
Jackfruit,frozen: Exotic jackfruit is rich in nutrients and fiber and a creamy and delicious as mango!
Pineapple, frozen: Loaded with anti-inflammatories and enzymes that support digestion and the definition of tropical, pineapple is a frosty fruity treat perfect in tropical smoothies.
Mango, frozen: Cool and creamy, sweet mango is also quintessential tropical and low in calorie while high in fiber.
Coconut Milk or Water: Unsweetened coconut milk or water is the essence of all things tropical and high in potassium and the perfect hydrator. Be sure to use the coconut milk found in the dairy section or boxed milk section, do not use canned coconut milk for this recipe - it is too high in fat and thick in texture.
Orange: to bring a tropical citrus punch to the drink.
Dairy free yogurt: Every smoothie needs a thickener and while frozen fruit helps, yogurt adds the perfect creamy texture a tropical smoothie needs. I chose coconut flavor to continue the tropical theme but any version would work here.
How to Make a Jackfruit Tropical Smoothie
It's easy to create this tropical smoothie using with frozen mango and pineapple and jackfruit, all found in the frozen section of my grocery store. The orange doesn't have to be frozen. Your liquid should be coconut-based to bring on the tropical flavor, and can be coconut milk for a creamier texture or coconut water, but be sure to grab unsweetened coconut water. Coconut water is already naturally sweet so don't buy one with added sugars.
What is Jackfruit?
You don't need to add the jackfruit if you can't find it. Just add 1 cup-worth of a mixture of mango and pineapple. However, if you can find frozen jackfruit in your grocer freezer section, grab it! So what is jackfruit?
Jackfruit is a weird Jurassic park-like fruit rich in a slew of vitamins, minerals, phytonutrients, fiber, healthy fat and protein.
Specifically it is a watermelon-like fruit grown on a tree of the same name native to Asia, Africa and South America. The edible part is actually seeds inside giant enormous melons with a bumpy skin. If you visit an Asian supermarket in the summer, you'll see big crates of them in the produce section, much like we are accustomed to seeing watermelons.
The Two Ways to Eat Jackfruit
The edible part is actually not that easy to get to if you buy a raw jackfruit. I have a tutorial on how to cut a jackfruit here. The fruit is unusual because it has two roles in the food world lately, especially the vegan world.
Role #1 is savory: Jackfruit, when underripe, tastes neutral and has the texture of pulled pork when cooked. So it is popular as a meat-replacer now in foods that want to replicate traditional forms but be plant-based. In fact, here is my Jackfruit Pulled Pork in a Bun recipe and it is yummy.
Role #2 is sweet: Jackfruit, when overripe, tastes sweet and this is the version used in this tropical smoothie recipe. And it is overripe jackfruit that is available frozen from the companies I cited above and that is dried into dried fruits snacks.
How to Find Frozen Jackfruit?
For this smoothie, obviously it's best to eat it sweet and frozen.I find it fairly regularly at my local Wholefoods, usually PitayaFoods.com brand or the Jackfruit Company.
If you can't find frozen jackfruit, dried works well in this smoothie as well - just be sure it's a quality version with no added sugar. For instance, here is Whole Food's organic dried jackfruit.
How Nutritious is Jackfruit?
Jackfruit is also known to fight wrinkles, reduce mental stress, and address skin issues.
I posted a jackfruit bbq recipe here and tell exactly what jackfruit is, where to find it, and how to cut it.
How to Find Jackfruit at the Supermarket
To summarize some of the information, green jackfruit or unripe jackfruit is typically bought in cans and used for savory recipes, such as meat-replacements.
However, this smoothie uses ripe jackfruit. I bought it frozen, but you can just use a ripe jackfruit and cut it down the way I explained here.
How Does Ripe Jackfruit Taste?
Sweet! That is why we use it in smoothies and desserts. The unripe jackfruit tastes more bland, perfect to adopt savory flavors in dishes like jackfruit BBQ sandwiches here.
If you can't find jackfruit, you can substitute mango for texture and color but the nutritional benefits will be a bit different. Jackfruit has more protein and potassium than mango. However, mangos are a great source of antioxidants, those little disease-fighters.
I also love this recipe is particular because of the citrus scent and with the addition of fresh mint, it's ability to allow you to unwind.
A true spa smoothie! I hope this smoothie brightens your mood as much as it brightened mine..
Here are a few more lemon recipes you might like:
Lemon Ginger Shots
Quinoa Protein Lemon Squares
Other Recipes to Try
Ginger Shots
Sparkling Water
Cauliflower Smoothie
Seven Lemon Water Recipes
Healthy Homemade Marzipan Recipe
Making Smoothies with Ice Cube Concentrates
5 Blender Wellness Shots
2-Ingredient Fruit Smoothies
Interested in sharing on pinterest? Use this image...

I invite you to keep up with me on: Facebook | Pinterest | Instagram | Food Gawker | Twitter
Don't miss a thing, subscribe here to get recipes delivered to your inbox!
Tropical Smoothie
A fresh tropical smoothie recipe bright with mango, pineapple and an unusual fruit, jackfruit, all making this drink a tropical vacation and a powerhouse of nutrition, including protein, fiber and essential vitamins. Vegan, banana-free and dairy-free, and easy to make!
Ingredients
1

cup

jackfruit, frozen

or ½ cup quality dried jackfruit, reconstituted first in ½ cup water for 10 minutes. OR use more mango and pineapple.

1

cup

mango, frozen

1

cup

pineapple chunks, frozen

1

orange, peeled

1

cup

unsweetened coconut milk, in dairy section of grocer, not canned

or coconut water for a thinner drink

1

cup

dairy-free yogurt
Instructions
Prep
If you need to use dried jackfruit because you can't find frozen, pour half a cup into 1 cup of water about 10 minutes before you make your smoothie to soften it up.
Store
Drink smoothie immediately but if you want to store, put it into a mason jar, and refrigerate for 24 hours. It will lose it's frosty texture however, so you can re-blend with ½ cup of ice, however the flavor will be more diluted.
Nutrition
Calories:
236
kcal
Carbohydrates:
44
g
Protein:
15
g
Fat:
1
g
Saturated Fat:
1
g
Cholesterol:
5
mg
Sodium:
190
mg
Potassium:
902
mg
Fiber:
3
g
Sugar:
41
g
Vitamin A:
1785
IU
Vitamin C:
62
mg
Calcium:
506
mg
Iron:
1
mg