These 7 Homemade Truffle Recipes. Healthy easy chocolate recipes that are vegan, dairy-free and gluten-free.


7 Homemade Truffle Recipes
Enjoy these recipes that are easy, vegan and gluten-free. The ingredients vary but they are all easy and delicious. Consider trying the two ingredient creamy ganache recipe, or the sugar cookie truffle, filled with vegan sugar cookie and coated in chocolate.
Some ingredients include chickpeas and rolled oats and coconut cream and beetroot, and very often, quality dark chocolate. we have chocolate spice truffles, cookie dough truffles, chickpea snacks and just plain chocolate truffles. See which is your favorite.
The black pepper truffles are exotic, and the vanilla cream chocolate truffle is one of my reader favorites.
Protein balls are a different kind of truffle, and so easy to make. And the chickpea clusters are a crunchy truffle while the edible cookie dough recipe can be used as a perfect vegan filling for countless truffle recipes.
How Long do Homemade Truffles Last?
Each of these recipes last probably several months if frozen, and all recipes freeze beautifully. Refrigerate them for 3 days if you don't want to freeze right away.
How Do You Make Homemade Truffles From Scratch?
Pretty easy, especially if you focus on vegan and dairy-free so you are using an easy no-bake method.
Just choose your filling, freeze and dip in chocolate chips melted in the microwave. Easy peasy to make homemade chocolate truffles.
What Can You Do With Chocolate Truffles?
Eat them as protein rich energizer snacks. Serve them at gatherings. Wrap them as edible gifts!
How Far In Advance Can Chocolate Truffles Be Made?
In the refrigerator, they can be stored for 3 days in an air-tight container.
I hope you find a homemade recipes for truffles below that suits your fancy!
Easy Vegan Truffles
These chocolate easy vegan truffles melt in your mouth, use just two wholesome ingredients, have a creamy ganache center and are ready in under an hour. 
View Recipe
Sugar Cookie Truffles
Sugar cookie truffles that are sweet and creamy, made in one bowl, taste just like sugar cookies and are full of fiber and protein. The perfect between-meal snack.
View Recipe
Chocolate Black Pepper Truffles
These spicy chocolate black pepper truffles have a snappy flavor, creamy center, snappy chocolate shell and are made with only 5 ingredients in a single bowl, and only half an hour chill time. The perfect creamy treat for any holiday or celebration.
View Recipe
Chocolate Frozen Yogurt Cups (2 ingredient)
Chocolate frozen yogurt cups, a 2 ingredient recipe made in under half an hour with snappy chocolate shell filled with a light chilled vanilla cream yogurt center. An easy, dairy free dessert.
View Recipe
Peanut Butter Oatmeal Balls (no bake)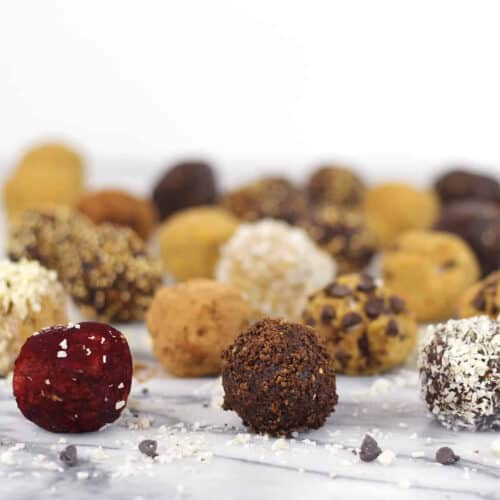 These peanut butter oatmeal balls taste like oatmeal cookies, are nutrient dense and are ready in minutes. I use 5 simple ingredients, including peanut butter and even chickpeas to boost protein. No dates, protein powder or refined sugar. A healthy no bake snack.
View Recipe
Chocolate Covered Chickpeas
Chocolate covered chickpeas are only 2 ingredients, no bake, and easy to make with roasted chickpeas and melted dark chocolate. This protein-rich snack has a Twix or KitKat crunch, is easy to make ahead, and makes the perfect lunchbox treat or afternoon energy booster.
View Recipe
Edible Chocolate Chip Cookie Dough
A creamy edible chocolate chip cookie dough safe to eat, inexpensive to make, and ready in 10 minutes using only a blender. Chock full of chocolate chips, and high in protein.
View Recipe
I invite you to keep up with me on: Facebook | Pinterest | Instagram | Food Gawker | Twitter
Don't miss a thing, subscribe here to get recipes delivered to your inbox!
If you try my recipes, please leave a comment and rating below and tag me on your Instagram or Facebook post with @greensmoothiegourmet and #greensmoothiegourmet so I can see and share your remakes!!
Interested in sharing on pinterest? Perhaps use this image...