A tropical pineapple smoothie is bursting with anti-inflammatory properties that fight disease and soothe aching joints from 5 ingredients, including pineapple and pears.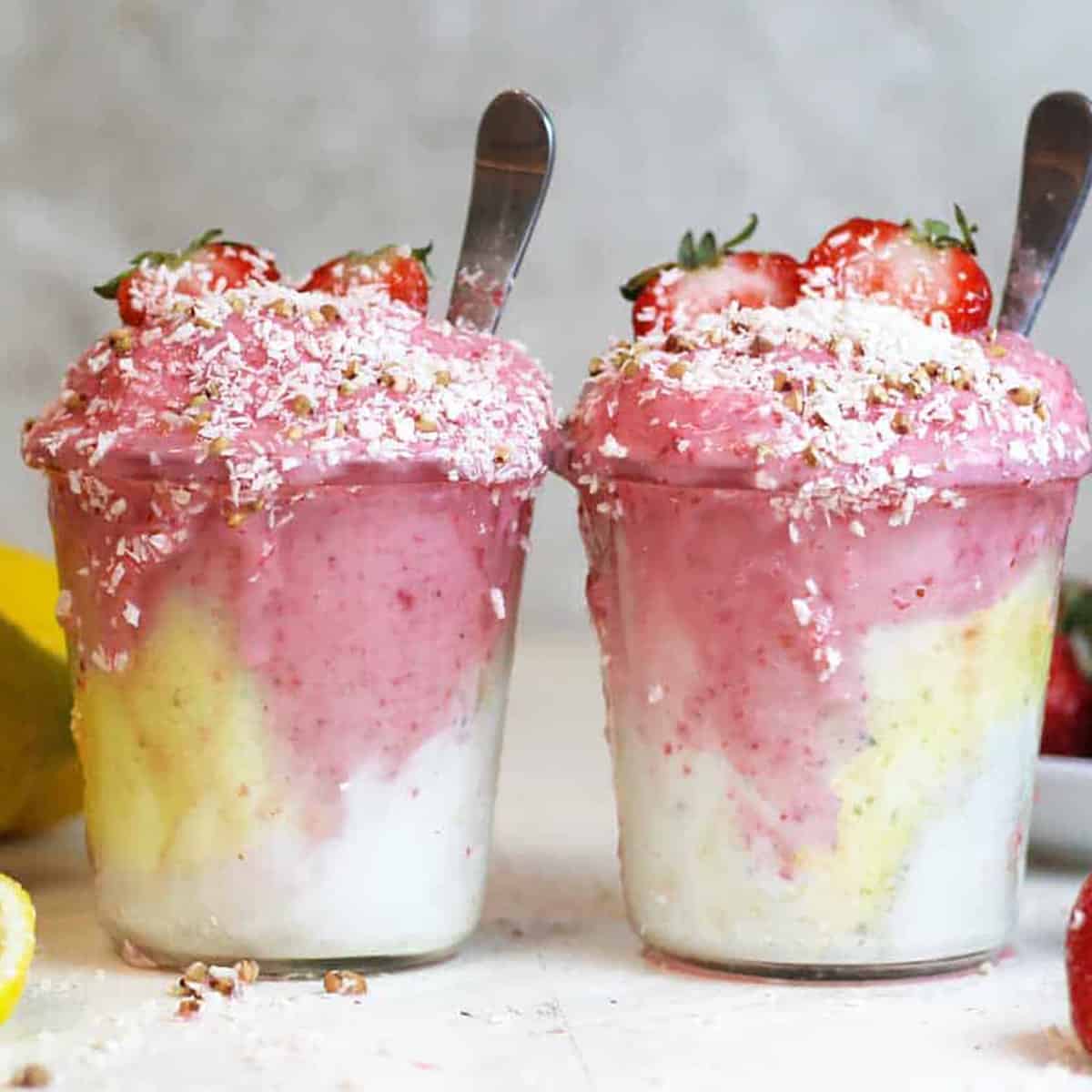 A 5-ingredient pineapple smoothie that is kid-friendly yet tastes like a pina colada. And the ingredients are probably in your refrigerator right now. Just like my fruity strawberry smoothie, and my creamy chocolate shake, this pineapple smoothie goes down fresh and frosty, and there are so many more benefits beyond taste.
Why You'll Love This Smoothie
Sweetened only by fruit. It's sweetened by fruit only, pears and pineapple. That's it! No need for sweeteners, even healthier ones like maple syrup.
Powerful nutrition. This smoothie is high in protein, but also powerful in specific nutrition that boosts the immunity, battles viruses, and helps your body fight headaches, queasy tummy, and aching muscles. And if you add in celery seeds, you'll be benefiting from digestive help as well.
Brain booster. Pineapple and pears combined have also long been known as a brain booster, primarily because of the power behind the enzyme called bromelain which boosts cell regeneration, and support nerve ending health.
Ingredients
So where does this tropical flavor come from? It's in the pineapple-coconut combination. Here are the ingredients you need to make this delicious refreshing smoothie.
Pineapple - Of course. But fresh or frozen? The answer is frozen to keep the drink frosty. You can buy frozen pineapple in bags in the freezer section, or you can buy fresh chunks or even a whole pineapple, chop it up and freeze that.
Milk - I recommend coconut milk found in your grocer's dairy section, not canned. Coconut will contribute to the tropical spirit and flavor, but any dairy-free milk works.
Pears - I like to sweeten all my smoothies with fruit. I often use pears because they are sweet yet neutral in color. But don't use hard green pears or the flavor will be bitter. You can use ripe bananas instead if you can't find ripe pears. Or green grapes work too.
Lemon juice - Even pears and pineapples are sweet so in contrast I like to freshen the flavor with a bite of citrus. Plus the added lemon juice means more vitamin C.
Raspberries - A few frozen raspberries can turn a small portion of the finished pineapple smoothie pink! Use a pinch of turmeric to turn a smaller amount yellow but this coloring is all optional.
Celery seeds (optional) - Add only a half a teaspoon and you can find them in the spice section of your grocery store.The tiny seeds, which actually taste like celery, are also said to support digestion, detox, and de-bloating effects, according to at least one study.
Steps to Make
STEP 1: Blend all the pineapple smoothie ingredients together. You can stop here and enjoy your frosty pineapple smoothie, or you can create the three colors you see in my image.
STEP 2: To create colored layers, follow these steps: Remove one cup of the pineapple smoothie from the blender and stir in thawed raspberries to make it pink. Remove ½ cup of the pineapple smoothie and stir in a pinch of turmeric to make it a more distinctive yellow.
STEP 3: Serve all three colors layered. I layered mine with some fresh coconut yogurt and a dusting of shredded coconut for an even more of a tropical feel.
How To Store
I typically recommend you drink your smoothie immediately. If you must, refrigerate your smoothie only a day. Any longer and the nutrition starts to diminish. Or you could store it in ice cube trays to freeze and then blend and drink later.
Meal-Prep Smoothies
I recommend two ways to meal prep for smoothies:
1. Freeze smoothies in an ice cube tray, store 7-6 in individual bags, and thaw in a glass in the refrigerator the night before. The next morning, stir and drink.
2. Put smoothie ingredients minus the liquid in individual bags, freeze those and blend the next morning with a liquid.
Variations
Greens: Add in a handful of spinach or kale to turn this smoothie or a portion of it green.
Protein: Add 1 tablespoon of chia seeds or flaxseed to up the protein.
Sweeten: For a sweeter smoothie, mix in a tablespoon of maple syrup or swap some of the milk for a sweet juice.
Smoothie Bowl: Serve the smoothie in a bowl with toppings such as chocolate chips, granola, shredded coconut and freshly sliced fruit.
Additional Information
How to Make A Pineapple Popsicle
Pour the mixture in a popsicle mold and insert sticks and freeze. That's it! Don't have a popsicle mold? Use paper cups, bathroom sized are the perfect mold. Just remember to insert sticks or straws before they freeze solid.
How Pineapples Fight Inflammation
Bromelain is the substance in pineapple that knocks inflammation out of your body.
In case you didn't know, inflammation is at the root of many issues -- from sadness to serious illness. So I decided to put at least one anti-inflammatory smoothie into my daily regime.
Free Smoothie Challenge
While we are talking smoothies, I'll just pop in here and invite you to my FREE 6-Day Smoothie Challenge. I email you recipes and you make them, drink them and feel awesome. Sound good?
Sign up by simply dropping your email in the sign-up box and you'll receive an email with a welcome instructions and grocery list so you can begin as soon as you'd like.
More Easy Smoothies
Interested in more easy smoothie & juice recipes? Here are are few more to try:
I invite you to keep up with me on: Facebook | Pinterest | Instagram | Twitter
Don't miss a thing, subscribe here to get recipes delivered to your inbox!
If you try my recipes, please leave a comment and rating below and tag me on your Instagram post with @greensmoothiegourmet so I can see and share your remakes!!
📖 Recipe
Pink Pineapple Smoothie
A tropical pineapple smoothie is bursting with anti-inflammatory properties that fight disease and soothe aching joints from 5 ingredients, including pineapple and berries.
Ingredients
Pineapple Smoothie
3

cups

pineapple, frozen

1

cup

dairy-free milk*

2

fresh soft pears, cored and peeled or not

1

tablespoon

lemon juice

½

teaspoon

celery seeds

(found in your grocer spice section)
Pineapple Smoothie with Pink Tinge
1

cup

pineapple smoothie

½

cup

raspberries, frozen
Yellow Layer
½

cup

pineapple smoothie

pinch

turmeric powder
Instructions
To make pineapple smoothie
Blend all pineapple smoothie ingredients until frosty smooth.
To make a layered smoothie
Make a portion of it pink. Remove one cup of the pineapple smoothie from the blender and stir in thawed raspberries to make it  pink.

Make a portion brighter yellow. For a more vibrant yellow, remove a half cup of original smoothie, and stir in a pinch of turmeric powder.

Serve the smoothie by layering one on the other. I topped mine with some fresh coconut yogurt and shredded coconut for a tropical feel.
Notes
*Using Coconut milk. Any dairy free milk works, but coconut milk pairs especially well with pineapple for a tropical feel. I recommend the coconut milk found in the dairy section of your grocer. Canned coconut milk works but might be over powering for this smoothie.
Sweeten with fruits. I used pears to sweeten. Look for soft pears, and don't peel until the pear is hard and green. You can also use a banana or 1 cup of green grapes instead.
Nutrition
Calories:
180
kcal
Carbohydrates:
37
g
Protein:
5
g
Fat:
3
g
Saturated Fat:
1
g
Polyunsaturated Fat:
2
g
Monounsaturated Fat:
1
g
Sodium:
62
mg
Potassium:
451
mg
Fiber:
6
g
Sugar:
18
g
Vitamin A:
608
IU
Vitamin C:
130
mg
Calcium:
207
mg
Iron:
2
mg