A Mediterranean Chickpea Salad that is easy to make, and full of bright and spicy flavor, tons of daily nutrients, and loaded with enough protein and fiber to keep you fueled for hours. Serve in a bowl or on your favorite sliced bread! Vegan and dairy-free.
Easy Chickpea Salad
This easy chickpea salad is Mediterranean in style yet vegan and gluten-free and just as savory and flavorful as the traditional version. It is so full of healthy nutrients and is so easy to throw together. It's especially perfect as a make-ahead meal as the flavors get more powerful overnight in the refrigerator.

Table of Contents For this Post
Ingredients for Mediterranean Chickpea Salad
Chickpeas: Use canned unsalted chickpeas, and rinse them well. I suggest unsalted so you can control the salt in this dish. Of course you can use homemade cooked chickpeas if that's of interest. I explain how to cook chickpeas further down this post. Shall we talk about how healthy chickpeas are?
Chickpeas are super high in fiber, potassium, B vitamins, iron, magnesium, and selenium. They are known for supporting the heart, including their ability to lower cholesterol levels. [source]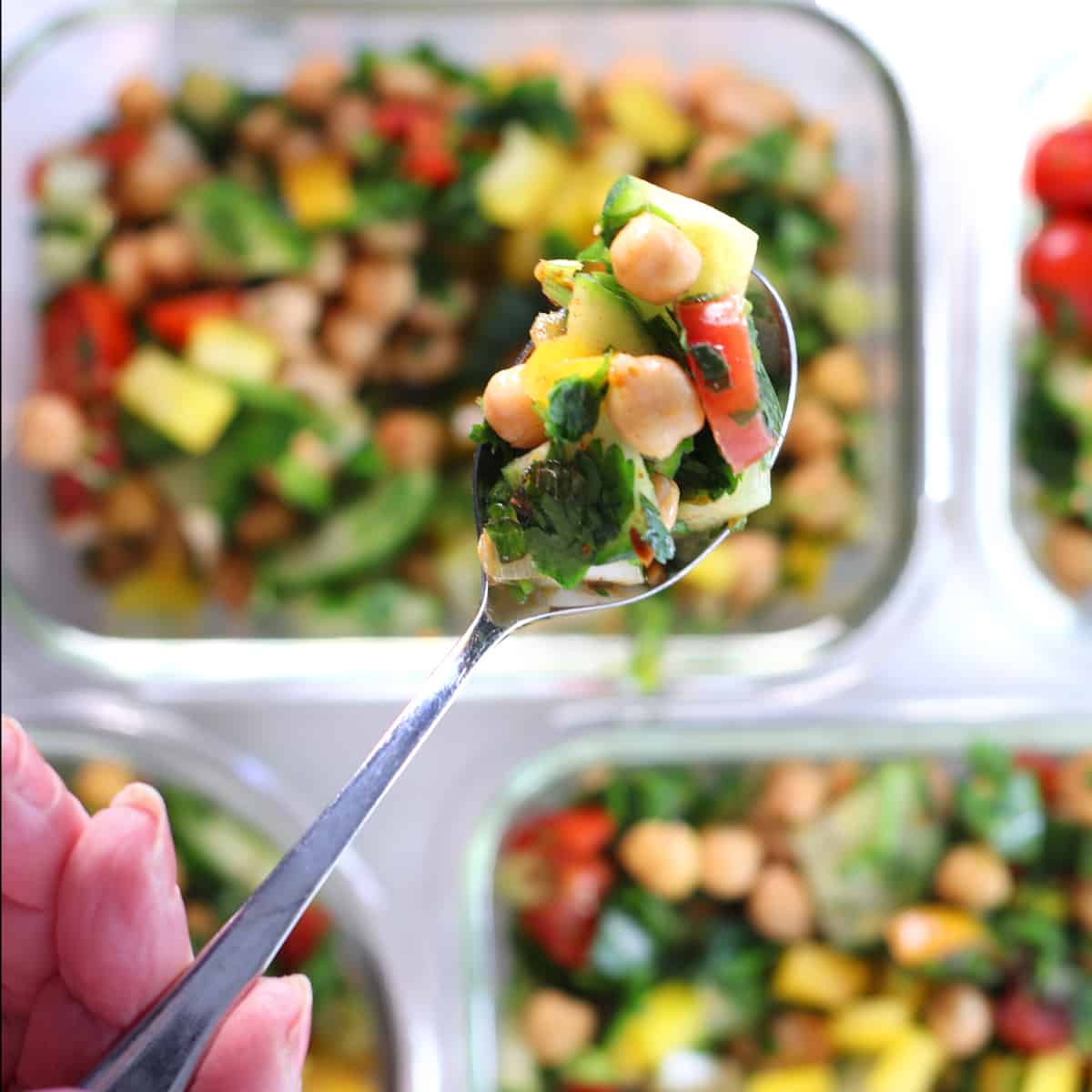 English Cucumbers: English cucumbers are perfect for this salad because they have a strong white inside, perfect for slicing. They come wrapped in plastic, another plus in the name of cleanliness although of course wash them off. Cucumbers, especially the English variety, are high in many essential nutrients including vitamin C, vitamin A, magnesium, and potassium. They are also high in calcium, fiber, and serve to help hydrate. [source]
Tomatoes: I use cherry or grape tomatoes and sometimes I don't dice them as small as I did for these pictures. You can also use large tomatoes. Tomatoes are rich in vitamin C, potassium and folate. Potassium is needed to support your heart, and folate for red blood cell formation. [source]
Bell Pepper: Bell peppers are essential in a salad for the crunch and nutrients they add. Use all colors of bell peppers, red, orange or yellow. They are all super high in vitamin C and fiber. Bell peppers are super good for the eyes, and rich in beta-carotene, potassium, and vitamin A. [source]
Scallions: I love the gentle onion flavor that these little green circles provide, but you can use any kind of onion really. What nutrition do scallions provide? Mostly water and vitamin c. [source]
Fresh Parsley: I choose to use Italian or leafy parsley in this salad so I can chop it finely and it sticks to the chickpeas best. But you can use any type of parsley. Parsley nutrition is huge. From vitamin c, to being an anti-viral, to balancing blood sugar and more. Read up on it here in this Healthline article.
Flavorings: I use lemon juice, olive oil, and spices such as red pepper flakes, paprika, and salt. If you like a more heat consider cayenne pepper or increase the red pepper flakes.
How to Make Chickpea Salad
Step 1: Rinse the chickpeas and marinate them in the flavorings, including lemon juice, olive oil, spices. I toss a few chopped onions in there as well. Stir and set aside for 30 minutes or even cover and refrigerate overnight for more potent flavor.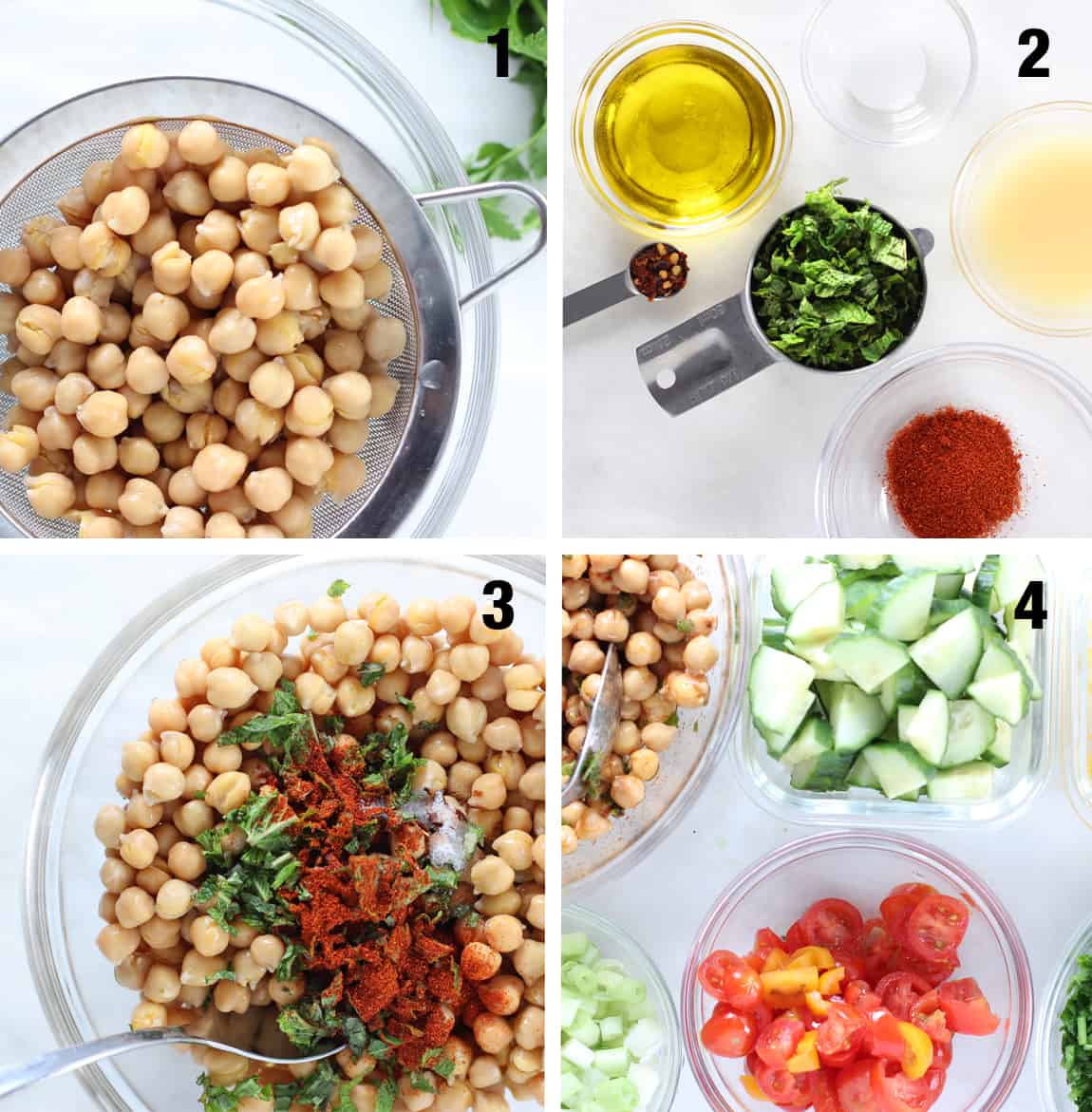 Step 2. Ready to prep? Rinse and chop. The parsley and any other leafy herbs are best rinsed and spun dry if you have a salad spinner, or press between paper towels to dry it off. Then chop finely. Tomatoes and peppers should be diced. Slice them in strips and then dice those.
Step 3. Toss the chickpeas and veggies together, then sprinkle on black pepper to taste.
Step 4. Refrigerate the final salad for an hour if you can to add that chill factor.
How to Store
This salad has no dairy ingredients so it can stand out on a buffet table for quite a while, however it really tastes best chilled. It can last 5-7 days in the refrigerator as long as it is covered. You might want to toss it again in a bit of lemon juice after a day or so if the salad seems a bit dry.
Canned Chickpeas or Cooked From Scratch?
I prefer canned chickpeas always, because I'm lazy, haha. But I also always buy unsalted and organic canned chickpeas which have no added ingredients. If you want to cook them yourself, it's easy, just a bit time-consuming.
Studies show that the nutritional value between cooked from scratch chickpeas and canned is the same provided you buy unsalted organic chickpeas. [source]
To make the 3 cups of cooked chickpeas, you will want to cook only 1 cup of dried chickpeas. You can find dried chickpeas in the soup or canned aisle in bags at the supermarket.
1. To cook 1 cup, first soak that cup full of beans in water overnight.
2. The next day, drain the soaked chickpeas, and add them to a pot and once again submerge them in water.
3. Bring to a boil, add a bay leaf and a tiny pinch of salt, and simmer for about 40 minutes. Drain, rinse and store covered a week refrigerated.
How to Serve Mediterranean Chickpea Salad
This chickpea salad can be a meal or a side, you choose. You can add more protein for fun, but it doesn't need it with 10 gms protein in every cup. My favorite way to serve it is with a hefty bread - I chose a grain bread but you can use a lighter pita or a French baguette.
Tips for Making Chickpea Salad
This salad is so simple, there are only a few recommendations I can make:
1. Use quality canned chickpeas. I use unsalted, organic from Whole Food's 365 brand but there are other good unsalted organic brands including Eden. Try to avoid brands that add salt and other additives.
2. Rinse canned chickpeas very well.
3. Dry leafy herbs and parsley before cutting to get a clean chipped look that tosses nicely with oiled chickpeas.
4. Marinate the chickpeas overnight if you can or at least for 30 minutes for best flavor.
5. Eat this salad chilled if you can for best flavor.
FAQS about Chickpeas
Read below answers to a few questions that often come up regarding chickpeas.
Are Chickpeas Good for Weight Loss?
Yes, chickpeas help with weight loss because all that protein and fiber makes one feel full and less hungry. One cup has 10 gm protein and 9 gm fiber.
Can You Eat Chickpeas Raw?
No, as with many beans, chickpeas need to be cooked to be edible. You can buy them canned - unsalted is healthiest so you can control salt intake, or you can boil dried chickpeas to cook them yourself.
What to Pair Chickpeas With?
Chickpeas are extraordinarily versatile. They can be tossed in salads as in this recipe, or mashed and form the basis of many recipes, including these chickpea meatballs, and these chickpea donuts.
How Many Calories Does Chickpea Salad Have?
My chickpea salad recipe here has a total of 240 calories in 1 serving of this salad and most of the calories though come from protein, fiber and healthy fats.
Try Ela Vegan's New Meal Planner
Try my friend, Ela's incredibly useful Vegan Meal Planner!
It has tons of healthy recipes, personalized meals, pick the plan that fits best, and even grocery lists are included. If you have seen her blog or followed her on instagram, you will get a sense of how awesome her recipes are.
Meanwhile, I have a few more healthy entree recipes as well that you might want to consider.
More Quick & Easy Comfort Meals on My Blog
Grilled Portobello Mushroom Steaks
Italian Vegan Stuffed Mushrooms
Jackfruit BBQ Sandwiches
I invite you to keep up with me on: Facebook | Pinterest | Instagram | Twitter
Don't miss a thing, subscribe here to get recipes delivered to your inbox!
If you try my recipes, please leave a comment and rating below and tag me on your Instagram post with @greensmoothiegourmet so I can see and share your remakes!!
Mediterranean Chickpea Salad
A Mediterranean Chickpea Salad full of bright and spicy flavor, tons of daily nutrients, protein and fiber. Vegan and gluten-free.
Ingredients
Mediterranean Chickpea Salad
3

cups

chickpeas

open 2 (15 oz) cans, unsalted, organic

1

cup

tomatoes

grape or cherry, diced or quartered

½

cup

scallions (green onions)

chopped, buy one bunch

1

bell pepper

diced

1

English cucumber

not peeled, chopped

½

cup

fresh parsley

minced, preferably leafy variety.
Marinade
3

tbsp

lemon juice

2

tbsp

extra virgin olive oil

¼

tsp

red pepper flakes

¼

cup

fresh mint

minced

1

tsp

paprika

for color

½

tsp

salt
Instructions
Drain the chick peas, and rinse under cold water.

Add to a large bowl, and toss with marinade ingredients.

Refrigerate either covered and overnight, or uncovered for just an hour.

Rinse the parsley and spin it dry in a salad spinner or pat dry with paper towels. Mince the parsley.

Rinse and chop all the other vegetables.

Add all chopped vegetables and parsley to the marinated chickpeas, toss thoroughly.

Either cover and refrigerate overnight, or chill for at least 30 minutes.

Serve on or with bread as a main meal or as a side.
Storage
Store the salad covered in the refrigerator for 5-7 days. I generally divide into meal-prep containers and refrigerate to serve as meals all week. Toss with additional lemon juice if the salad has dried up.
Nutrition
Calories:
240
kcal
Carbohydrates:
33
g
Protein:
10
g
Fat:
9
g
Saturated Fat:
1
g
Polyunsaturated Fat:
2
g
Monounsaturated Fat:
5
g
Sodium:
249
mg
Potassium:
562
mg
Fiber:
9
g
Sugar:
8
g
Vitamin A:
1911
IU
Vitamin C:
50
mg
Calcium:
78
mg
Iron:
4
mg