Healthy dragon fruit popsicles are tropical fun and festive for the whole family. Also strong anti-inflammatories, energy producers and they curb hunger!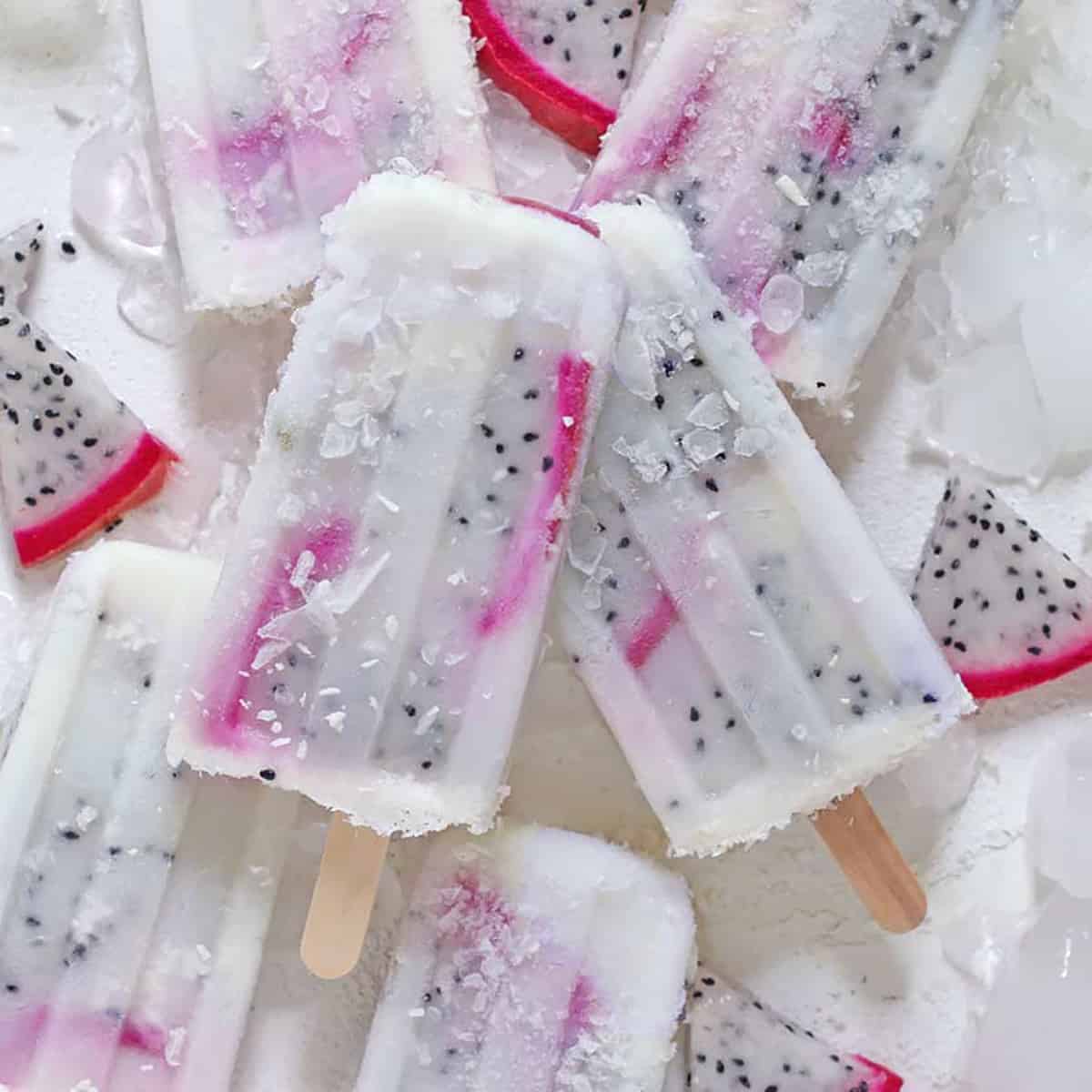 Fresh beautiful dragon fruit popsicals with undercurrants of a pina colada. As easy to blend up as a smoothie, and full of nutrition. They are easy to make with just coconut, pineapple, lemons and dragon fruit? And serious anti-inflammatories thanks to the pineapple and lemons, and healthy fats thanks to coconut milk.
Why You'll Love These
Unsweetened canned coconut milk is high in saturated fat, but it's special saturated fat. It's made up of something called MCTS that are easy for the body to transform into energy.
And so not only are you going to be bouncing around after eating these pops, you aren't going to be that hungry either.
Studies done on MCTS (medium-chain triglycerides) show consumption actually supports weight-loss without trying, especially belly fat, primarily because of their ability to boost energy and help you feel full.
I added the option in the recipe to add white rum present in the quintessentially tropical pina colada drink, but leave it off of course if you so please, and especially leave it off to make it a kid's treat.
And I think popsicles that look fun and festive are best, don't you? So I left the beautiful pink rind on the dragonfruit slices even though they aren't really edible.
As we eat these, when we get to the slices, we simple pull them out, bite off the kiwi-tasting white dragon fruit and toss away the pretty rind. And if you make these for kids, again, haha, please leave out the rum!
And then you have a nutritious recipe for the whole family. The pineapple juice adds bromelain, a de-inflammatory, the dragonfruit, or Pitaya, adds antioxidants, lemon juice adds obvious detoxing vitamin c, and the coconut milk adds healthy fats and many nutrients that support heart, muscle and your immune system.
What is Dragon Fruit or Pitaya?
Pitaya, also called dragon fruit or even dragon fruit, is the fruit of a cactus plant and is grown in California, Central and South America, and Southeast Asia. It was dubbed a "superfood" a few years ago and for good reason.Nutritionally the fruit is a strong source of antioxidants which battle aging and disease. And it also has fiber and heart-healthy fats including omega-3s.
Dragonfruit is very high in diseasing-fighting antioxidants, as well as iron, magnesium and fiber.
How Does Dragon Fruit Taste?
Like a mild kiwi. There are dark pink-fleshed versions and white flesh. I can only find white flesh here in DC so this recipe is perfect for me! When I want to use pink flesh dragon fruits, I use frozen from Whole Foods. A brand I love is called PitayaPlus.com.
It's easy to prepare fresh dragon fruit. Just wash the fruit, cut in half, and scoop out the edible flesh. Cut into cubes for use in a smoothie, salad or to eat like a melon. Or make is recipes...
How to Make Popsicles
Scoop the white flesh from the dragon fruits. Add it to the blender with all other ingredients. Slice another dragonfruit into crescents. Press those on the inside of the popsicle mold.
Pour in the pina colada popsicle mixture, freeze 30 minutes, insert sticks, and freeze overnight.
If you like this tropical pop, I have more fun tropical recipes in my 4-ingredient dessert cookbook here. Meanwhile...
Try My Other Dragon Fruit Recipes
dragonfruit smoothie
making smoothies
dragonfruit smoothie bowl
dragon fruit pink ice cream
dragon fruit protein bites
If you tried this recipe or any other recipe on my website, please leave a 🌟 star rating and let me know how it went in the 📝 comments below. Thanks for visiting!
📖 Recipe
Dragon Fruit Popsicles
Healthy dragon fruit popsicles with a pina colada twist are tropical fun and festive for the whole family. Also strong anti-inflammatories, energy producers and they curb hunger!
Ingredients
½

cup

pineapple juice

¼

cup

lemon juice

1

fresh dragon fruit

(I used the one with white meat inside; you can also buy it frozen if you can find white)

2

cans

coconut milk

(You will use full-fat, and not just the solid portion. Shake up the cans and use all contents)
To Make Them with Rum, add..
Useful Equipment
Instructions
Slice a dragon fruit into small sections and set aside.

The coconut milk cans do not have to be refrigerated as with some coconut milk recipes. That's because you don't want the cream to separate, you will be using the entire can.

Blend pineapple juice, lemon juice, contents of both coconut milk cans until smooth. Taste-test at this point. If you want it sweeter, add ¼ cup more pineapple juice or even 2 tablespoon maple syrup. Just FYI, you need about 3 ⅓ cups of mixture to fill a 10-popsicle mold.

If using Rum, add it now, otherwise leave it off to keep the popsicles non-alcoholic.

Pour mixture into popsicle molds; press in slices of pitaya onto the sides of each pop mold.


Freeze 1 hour, then press popsicle sticks into the pops.


Remove to serve after 8 hours of freezing. If you added rum, you might have to wait longer for the popsicle to be frozen enough to eat; and remember, alcohol will always make a popsicle less frozen.

Enjoy your tropical vacay!! And don't forget to wear a straw hat and dance!! hahaha...

Nutrition
Calories:
164
kcal
Carbohydrates:
5
g
Protein:
2
g
Fat:
8
g
Sodium:
16
mg
Potassium:
190
mg
Fiber:
1
g
Sugar:
2
g
Vitamin C:
4.3
mg
Calcium:
15
mg
Iron:
2.7
mg