Six fruit smoothies only 2 ingredients with veggies, leafy greens, dragon fruit, acai berry, chocolate and spices. Perfect for beginners since they are mild to the taste and full of nutrition. Keep it simple or power up for meal-replacement, energy, hormone-balancing and more.
6 Fruit Smoothies (2-ingredients)
Fruit smoothies with only two ingredients. Six flavors! Perfect for beginners. Breakfast is fast, easy and nutritious with these easy fruit smoothie recipes. If you have at least these two ingredients per day, you are starting your day off right!

Jump to:

Of course, you might be sniggering behind your hand, 2 ingredients a smoothie don't make! So feel free to treat these smoothie recipes as mere launching pads for the Greatest Smoothie Ever Made. Meanwhile, if you stick with my 2-ingredients, you'll have delicious, nutritious starter smoothie.
Are Fruit Smoothies Healthy?
Fruit smoothies are very healthy, especially if they include other things, such as milk, yogurt, chocolate and spices. And veggies.
Yes, fruit smoothies can contain veggies. Together, veggies and fruit provide nutrients and fiber. If your other ingredient is milk and yogurt, you have added protein. Chocolate and spices can provide mood-boosting magnesium and hormone-balancing strengths. So not only can fruit smoothies be healthy, they can be extraordinarily easy to make!
My recipes here taste very mild, so a child or someone new to smoothies would enjoy them.
But when you are ready to boost your smoothie into a more serious level, I have you covered. In this article, I provide other options you can add to your fruit smoothie to make it extremely robust.
What Fruits are Good in Smoothies?
The best fruits for a smoothie start with berries. Strawberries, blueberries, raspberries, blackberries.
Berries are mild in flavor, when frozen they provide a creamy thick texture and the nutrition in berries is astounding, both to fight disease, balance blood sugar, boost energy, provide immunity support. The list goes on, just be sure to buy them organic because they tend to absorb pesticides. [source]
Other terrific fruits to put into your smoothie include apples and pears which provide energy and fiber, kiwi and cherries which provide sleep support, peaches and other pitted fruits which provide a myriad of minerals and fiber.
Is Eating Fruit Smoothies Good for You?
Yes, daily fruit smoothies are good for you provided they are not high in sugar and are made with whole foods and ingredients that are not processed. That's why making your own smoothie is far healthier than buying one because you can control the ingredients. Interested in more recipes? I have a 4-ingredient Smoothie & Juice Cookbook I think you'll love.
Are Fruit Smoothies Good for Weight Loss?
Fruit smoothies are excellent at weight loss provided you drink smoothies with a mix of fruits, vegetables and seeds or nuts. That's because they become filling, and stop you from eating for a while. Plus they provide important nutrients to energize you through that time.
How to Thicken a Smoothie?
The best and fastest way to thicken a smoothie is to blend it with ice. To avoid diluting the smoothie, try to freeze the liquid you will use and blend your smoothie with your frozen chosen liquid.
Another way to thicken a smoothie is to blend it with frozen fruit or frozen vegetables.
Smoothies can also be thickened by adding a certain ingredients, such as yogurt, mango, banana, avocado and tofu.
What Fruits Blend Well Together?
Well, I created the best fruit combinations, but other great combinations include banana and blueberry, raspberries and oranges, and chocolate and cherries. There are more of course, and other ingredients to add to boost your smoothie. So take a look at my individual ingredient lists in this article.
Boost Fruit Smoothies with Seeds
We can start with seeds. Boosting fruit smoothies with seeds is smart. Seeds in general bring in various vital nutrients depending on the seed. Typically though they provide omegas, calcium, protein and fiber.
Chia seeds for instance are high in omega-3's which are largely missing in the western diet today. And also chia provides protein, calcium and more.
Hemp seeds also are high in protein, fiber and magnesium and iron, both of which are needed for sleep and hormone-balancing.
Flax seeds provide major amounts of omega-3 and protein, as well as copper and selenium, needed in many body processes. Use ground to ingest full nutrition with these seeds. You can buy ground or grind the whole seeds with a coffee grinder. Although to be honest, I tried that the flax seed stuck all over the grinder. A pain to clean. But I had to share the idea. Because it's out there, you know?
Sesame, pumpkin and sunflower seeds are also great additions for the high and unusual nutrition they provide.
I suggest adding about 1 tablespoon of each, varying the seed of choice each day.
How to Boost Fruit Smoothies with Healthy Fats
Healthy fats are extremely important for many body processes. I would suggest balancing their goodness with their caloric levels if weight is an issue.
For instance, consider adding ¼ or ½ of an avocado, or 1 tablespoon coconut butter or any nut butter adds nutrition, flavor and creamy dreamy texture.
How to Boost Fruit Smoothies with Plant Protein
My favorite sources of protein for smoothie recipes is white beans, chickpeas, yogurt and tofu. Actually we have a soy allergy in our house so soy is basically avoided, but if you like soy, go for it.
As a rule of thumb, I add about ¼ cup any protein to a 1 ½ cup smoothie to help make it closer to a meal-replacement.
How to Boost Fruit Smoothies with Vegetables
Should we really add veggies to fruits smoothies? Don't get me started. Veggies in smoothies are a dream come true! I'll tell you why. (See? You got me started, haha)
For me, it's always been a struggle to eat five veggies a day personally. As a child, I avoid everything green and wanted peanut butter sandwiches for dinner. (I know, I think I was a nightmare to my poor tolerant mother).
THEN, in college, I got a blender. And I learned the secret.
Veggies can disappear into a smoothie.
I have since grown up a bit and now enjoy very very green smoothies as in 6-cups of spinach blended with 1 cup of blueberries, seeds and milk.
BUT I still love the concept that we can hide veggies in healthy recipes (hence the basic premise of my blog mission).
Which brings us to, which veggies are best for smoothie recipes?
Best Veggies To Add to Fruit Smoothies
The best veggies to add to smoothies are:
carrots
cucumber
zucchini
cauliflower
leeks
leafy greens
sweet potatoes
How to Prepare Veggies to Add to Fruit Smoothies
Preparing vegetables to add to smoothies is not hard. Raw and unpeeled is fine for all. However, steamed will always allow you to create a creamier texture. Especially with cauliflower.
Cucumber might be less bitter if peeled.
Berries, zucchini and cucumber should be bought organic as they are high in pesticide abortion, according to the EWG.org.
And for the brave and true, here are a few less conventional ingredients to consider adding to your smoothie:
More Ways to Boost Your Fruit Smoothie
1. The liquid from a chickpea can (aquafaba) which adds texture and protein.
2. Turmeric and ginger and cayenne pepper to boost immunity.
3. A chopped fennel bulb adds licorice flavor and prevents bloating.
4. Uncooked quinoa. Yes! Just rinse and throw in a fist-full.
5. And overnight oats! Yes, make overnight oats (or overnight quinoa) and then add it to your smoothie. Or just throw in a handful of gluten-free organic rolled oats. (we do a lot of throwing into smoothies in our house, haha)
Either way, your smoothie will taste like a cookie and give you a boost of fiber, iron, selenium, and magnesium.
Need an overnight oats recipe? Here is a set of SEVEN Overnight Oats Recipes!
Other Healthy Recipes to Try
Ginger Shots
Sparkling Water
Cauliflower Smoothie
Seven Lemon Water Recipes
Healthy Homemade Marzipan Recipe
Making Smoothies with Ice Cube Concentrates
5 Blender Wellness Shots
Lemon Smoothie Jackfruit Recipe
I hope these recipes work for you! If you are on pinterest, perhaps share this image with a friend who might need a boost getting started with smoothies.
I invite you to keep up with me on: Facebook | Pinterest | Instagram | Food Gawker | Twitter
Don't miss a thing, subscribe here to get recipes delivered to your inbox!
📖 Recipe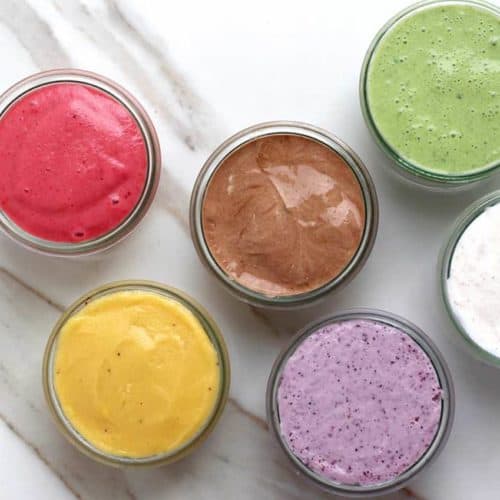 Six Fruit Smoothies (2-ingredients)
Six fruit smoothies only 2 ingredients, including veggies, leafy greens, dragon fruit, acai berry, chocolate and spices. Perfect for beginners since they are mild to the taste and full of nutrition. Keep it simple or power up for meal-replacement, energy, hormone-balancing and more.
Ingredients
Chai Cardamom Vanilla Smoothie
1

cup

almond or cashew milk

1

tablespoon

chai spices

(either buy ground chai spices or mix up your own: ground cinnamon, ground cardamom, ground ginger, ground allspice, ground cloves, ground nutmeg)


Dragonfruit Acai Smoothie
1

cup

plant yogurt

½

packet each of

dragon fruit and acai berry (frozen)

(both found in packets in grocery store freezer section)
Nicecream Veggie Smoothie
1

banana

chopped and frozen

½

cup

carrots or zucchini or cucumber or cauliflower

Uncooked and unpeeled is fine for all. Cauliflower texture might be creamier if it is steamed as rice first and cooled. Cucumber might be less bitter if peeled.
Berry Milk Shake
¾

cup

almond or cashew milk

1

cup

berries - blueberries, blackberries, raspberries, strawberries
Spinach Starter Smoothie
1

cup

almond or cashew milk

½

cup

baby spinach
Instructions
How to Make Smoothies
Choose your favorite recipe.

Gather your ingredients and add them to a blender.

These two ingredients per smoothie are a perfect start, but feel free to throw in 2-3 more ingredients, choosing from what you have available and based on my smoothie add-in list in my blog post.

Add the liquid to the blender first, than add in fruits, veggies or other and blend until creamy.
When To Make Smoothie
Make the smoothie either day of or the night before and refrigerate to drink in the morning.

You can also make large batches, and create smoothie ice cubes using the method in my smoothie ice cube concentrate recipes.
Notes
The nutritional facts are actually the combination of all six smoothies divided by six. Not that helpful, but if you visit this nutritional counter, you can plug in just the ingredients of the smoothie you  make or create for a more accurate nutritional count.
Nutrition
Calories:
111
kcal
Carbohydrates:
18
g
Protein:
5
g
Fat:
3
g
Saturated Fat:
1
g
Cholesterol:
1
mg
Sodium:
185
mg
Potassium:
303
mg
Fiber:
2
g
Sugar:
13
g
Vitamin A:
675
IU
Vitamin C:
16
mg
Calcium:
232
mg
Iron:
1
mg