Seven lemon water drink recipes in a variety of flavors and forms, including refreshing drinks and wellness shots that boost hydration, hike metabolism, shrink the belly, trigger weight-loss, sharpen the brain, and in general expand the nutritional benefits of just lemon and water alone.
7 Lemon Water Drinks For Detox
Lemon water is a popular morning drink, with the benefits in the lemon juice which include hydration, vitamin C and more. Some say the combination also supports weight-loss, improves skin and digestion and more. Although the benefits of just lemon and water are said to be more anecdotal, the popularity of lemon drinks continues to grow.
Warm Lemon Water Drinks Detox
Here I have created at least seven drinks which include not only lemon and water, but incorporate other flavors as well such as dragon fruit, pear, and more.
Lemon is an awesome ingredient to use as a basis of a nutritious, detox and recovery drink. That's because it contains copious amounts of vitamin C as well as potassium. Both support organs, and muscles, provide energy, and detox.
Lemon Water Drinks Boost Immunity
In fact, lemons provide lemons provide nearly 50% of the required daily amount of vitamin C. The vitamin C and other ingredients in lemons help lower cholesterol, according to studies.
Obviously all that vitamin C helps boost your immunity.
Lemon Drinks Support Weight Loss
Drinks with lemon water help control weight because the soluble pectin fiber helps you feel full longer.
So lemons offer loads of health benefits. Read more about lemon benefits here.
Shots, Lemonade, Drinks & Infused Water
These lemon drink recipes are in a variety of forms, including fruit infused waters, wellness shots and even a syrup to be used on pancakes. I hope you enjoy my recipes. Please share and tag me on Instagram if you make any.
Fruit Sparkling Water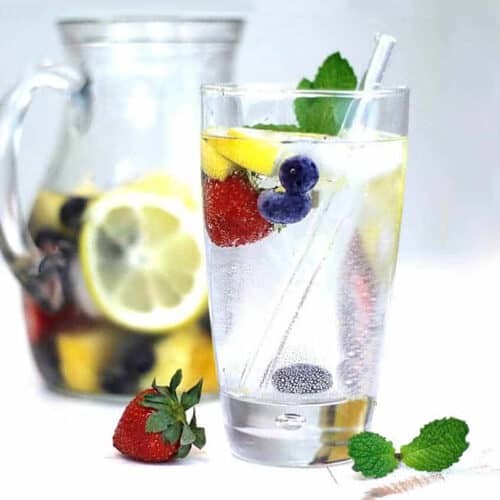 Fruit sparkling water recipes that are refreshing and healthy and take sparkling water to a party level! It takes only minutes to create sparkling infused waters in flavors such as blueberries, lemon, mango, and even mint, sage and basil !
View Recipe
Ginger Shots (recipe & benefits)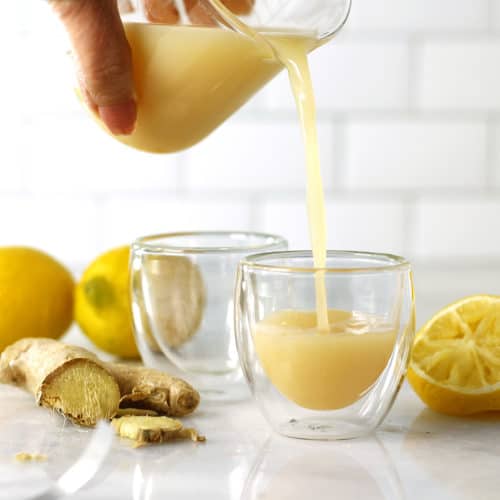 These homemade ginger shots are better than store bought, juice shots made with fresh ginger and lemon juice. A great way to calm stomach aches and boost immunity. Make 2 shots with 4 ingredients in 5 minutes easily in a blender, juicer or even a jar.
View Recipe
How to Make Detox Water for Weight Loss and Wellness
Learn how to make detox water for weight loss and wellness by adding fruits, vegetables and herbs to fresh water. Also known as fruit infused waters, these drinks are hydrating, full of nutrition, can boost energy, metabolism, support weight control, and clear skin.
View Recipe
Dragon Fruit Water
Dragon fruit water is a refreshing drink, or aqua fresca, made from a sweet syrup made with exotic dragon fruit, also known as pitaya. Dragon fruit water is delicious and hydrating, and has a host of health benefits.
View Recipe
Pear Lemonade (no sugar)
A healthy pear lemonade that is homemade and sweetened with fruit and without sugar. It's easy to make in just a blender in 5 minutes with just two whole food ingredients - pears and lemons. A nutritious and delicious summer drink.
View Recipe
5 Wellness Shots For Gut Health, Immunity, Better Health
Here are 5 wellness shots that are easy to make in 5 minutes, using inexpensive ingredients, and are helpful to boost nutrition and support issues such as gut health, weight loss, immunity, and providing overall better health. No juicer is needed, just a blender.
View Recipe
How to Make Lemon Water (cold or warm)
How to make lemon water that is refreshing and hydrating, is easy to make in 2 minutes, and will energize your body like a morning coffee while also boosting your immunity system and providing other benefits. Drink it warm, cold or hot.
View Recipe
Ginger Cayenne Coconut Water
This lemon, coconut water and ginger combo is a go-to remedy shot for ailments ranging in seriousness from colds to hypertension. Combined with lemon, the pair is credited for clearing mysterious issues to skin, joints, digestion, and firing up the metabolism. Find this recipe in my cookbook, "Crazy Healthy with 4 Ingredients" released this fall!
View Recipe
Prefer a Smoothie? Here are Some Recipes to Try
Cauliflower Smoothie
Making Smoothies with Ice Cube Concentrates
2-Ingredient Fruit Smoothies
Lemon Smoothie Jackfruit Recipe
Are you on Pinterest? Perhaps share this image..

I invite you to keep up with me on: Facebook | Pinterest | Instagram | Food Gawker | Twitter
Don't miss a thing, subscribe here to get recipes delivered to your inbox!
If you try my recipes, please leave a comment and rating below and tag me on your Instagram or Facebook post with @greensmoothiegourmet and #greensmoothiegourmet so I can see and share your remakes!!